Highlights
Potluck Season 2 to premiere from February 24 onward
The show is popular for its family-oriented content
A complete binge-worthy family drama, evoking emotions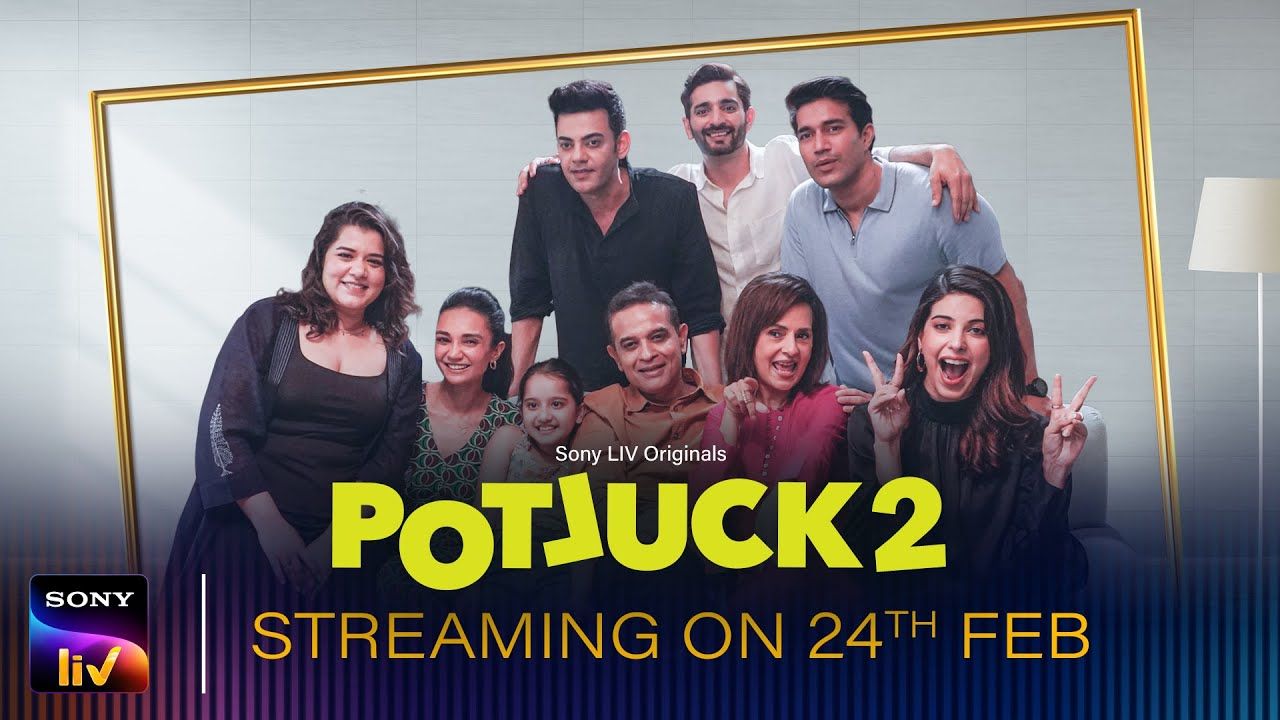 Released in 2021, Potluck- a family drama is all set to get its second season. SonyLiv recently dropped a teaser to announce the date of the second season coming onscreen. An urban family struggles with time management, career, and family balancing, raising children in a working parent's environment, and two parents who are over 60 and addicted to social media who would give anything to have their family get together for a potluck every week, share laughs, and make them feel alive actually end up acting as a mirror of conscience for how and what we are racing towards in this busy, competitive world. Anybody can relate to the show because it is about a middle-class family group living in an urban area and attempting to walk the fine line between ambition and self-satisfaction. It's a relaxed down, easy-to-watch, brief series that will not bear too much on leisurely weekend binge-watch frenzy.
This girls-day-out episode will leave you in splits ! The Shastris arrive with their antics in 3 days.#PotluckS2 streaming on 24th Feb, on #SonyLIV#PotluckOnSonyLIV pic.twitter.com/6HVJcFfjjK

— Sony LIV (@SonyLIV) February 21, 2023
The Shastris, a dysfunctional family made up of the parents Pramila and Govind and their children Vikrant, Dhruv, and Prerna, are the subject of the family drama series Potluck on SonyLIV. The show tells the tale of a family who enjoys spending time together and bonding over a potluck when times are hard and they are unable to find answers to their issues. The show has returned for a second season, which will soon be available on SonyLIV, following a popular first season. Recently, the show's teaser was made public, giving viewers a preview of what to expect. And now, the streaming platform has now announced that the show will stream from February 24, 2023. The second season will focus on the family's efforts to help one another make decisions and resolve issues. This contemporary Indian family, with its younger and older generations, shows how a family can remain close and understand one another even in difficult situations.
Cast
The ensemble cast of Potluck on Sony LIV features some of the best actors, including Kitu Gidwani, Ira Dubey, and Cyrus Sahukar, in addition to Saloni Khanna Patel, Jatin Sial, Shikha Talsania, and Harman Singha. The show is directed by Rajshree Ojha and is a Loose Cannons Content Studio & Vial Content and Triplecom Media production.
Plot
The Shastri siblings are depicted in the season 2 trailer as dealing with significant life issues. While Dhruv lost his job and is still reeling from it, Vikrant is struggling to care for his children without Akanksha. Prerna was not happy when Aalim told her that he wanted to take their relationship to the next level because it seemed like she already had a lot on her plate. To her husband's surprise, Pramila Shastri, on the other hand, announced that she and Mrs. Meadows would be competing in a talent show.
Reception
The IMDb rating of the series is 7.5 and was lauded for its family-oriented story, amidst all the gun-toting to crass-speaking digital content.