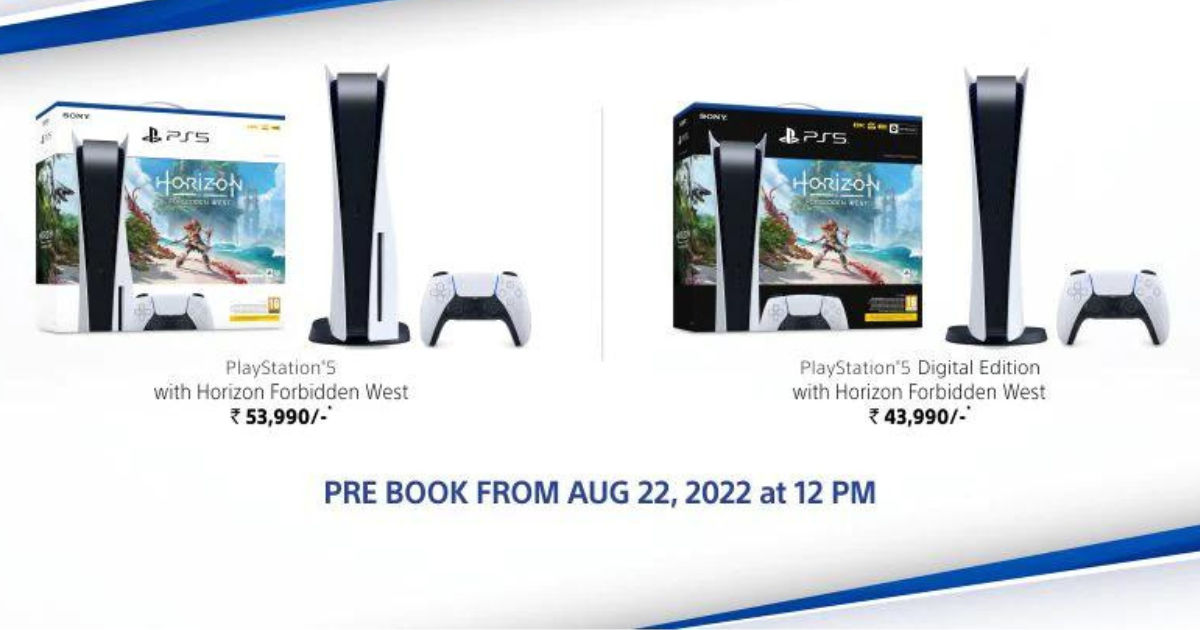 The PS5 Horizon Forbidden West Bundle makes its way to India as the console gets restocked on August 22, 2022, at 12 PM. The Bundle is available with both the standard PS5 and the Digital Edition with the former priced at Rs 53,990 and Digital Edition priced at Rs 43,990.
Stock will be available with the usual retailers, Amazon, Flipkart, GamesTheShop, ShopatSC, and more. This bundle comes with a physical copy of Guerilla Games' open-world title Horizon Forbidden West, one of the biggest releases of 2022. The Digital Edition bundle will come with a code to download the game from the PlayStation Store.
The physical edition of the game is usually priced between Rs 3,390 – Rs 3,999. Getting the bundle will, of course, mean you will have a PS5 and a get ready to go right out of the box.
Also Read: Sony Faces Class Action Lawsuit for Allegedly Concealing PS5 Crash, System Shut Down Defects
PS5 Horizon Forbidden West Bundle Digital Edition Priced at Rs 43,990
PS5 Horizon Forbidden West Bundle August 22 🔥https://t.co/joWAZpUQfbhttps://t.co/AxbArYaeJt#PS5HFWIndia #IndianConsoleGamers #ps5 #ps5india #restockps5india pic.twitter.com/cNlQ028cBt

— Indian Console Gamers (@ICGOriginal) August 19, 2022
Indian PS5 fans had been waiting quite eager to get their hands on one of these bundles as they were made available in other regions quite earlier. The game received favourable reviews from critics and was quite a success commercially as well.
The PS5 has been restocked quite frequently in the country and despite the frequency of the restocks, getting a console remains just as challenging. The PlayStation 5 lineup of games has grown quite an impressive size and with the addition of PS Plus, the console is a much better value proposition than it was at launch.
The console will be available for pre-booking from August 22, 2022, at 12 PM (Monday). While the PS5 Digital Edition is priced significantly lower than its optical disc counterpart, it has proven to be the less popular console in the country.
Skepticism seems to have played a huge part in the consumer's decision to go with the standard console. Skepticism stemming from the fact that digital games could be rendered unusable at the whims of the publisher/platform holder.