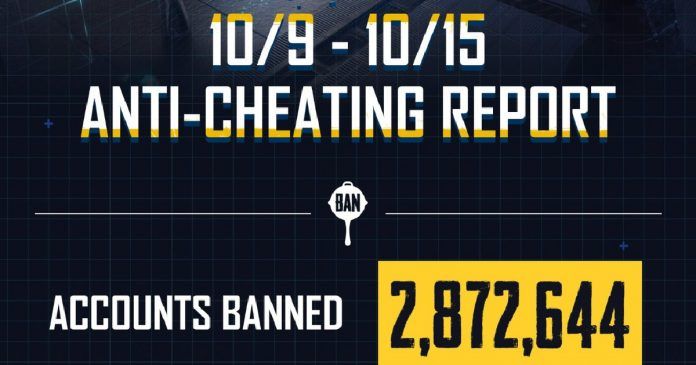 PUBG Mobile is one of the most played mobile games in the world and it has gain popularity in India in a big number. But the popularity of the game also invites a host of hackers who tries to hack the game by using cheat tools. To restrict hackers game developers has introduced several anti-cheat systems like the Video Review System which monitors the gameplay and identify hackers. The moment this anti-cheat system reorganizes a foul play it blocks the player ID then and there.
PUBG Corps has published its seventh list of cheaters who have been banned by the developers for using cheat tools. According to the report, PUBG Corps has more than 2,872,644 accounts for defrauding. The accounts are banned between October 9th to October 15th.
From October 9th-15th, 2,872,644 accounts have been permanently suspended from accessing our game, out of which these are the majority of the reasons:

⬜ Auto-Aim Hacks
⬜ X-Ray Vision
⬜ Other smaller hacks pic.twitter.com/e6yTEIJzWl

— PUBG MOBILE (@PUBGMOBILE) October 16, 2020
List of accounts banned from different levels
1% of Conqueror tier accounts
6% of Ace tier accounts
12% of Crown tier accounts
16% of Diamond tier accounts
17% of Platinum tier account
14% of Gold tier accounts
9% of Silver-tier accounts
25% of Bronze tier accounts
According to the report, developers has banned 21 percent of accounts who were using auto-aim. This tool is used to shoot enemies automatically with the help of third-party scripts. 20 percent of X-Ray visions cheaters accounts and 16 percent of speed hackers accounts are blocked from the PUBG Mobile games.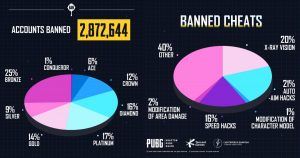 The company has also posted an official statement for PUBG fans to explain how they are fighting against hackers. "We are always dedicated to bringing you a fair gaming environment by punishing players who disturb this environment. Recently, we have successfully combated more Android cheat methods. In July, we discovered a cheat distribution website on which we, through continued monitoring, acquired access to a cheat software with its various versions," reads the official statement.
It's pretty clear by the statement that the PUBG Corps is not going to tolerate hackers anymore and maintain the fair play among the players. Last year the company has also blocked some popular players from South Korea.
Thanks for reading till the end of this article. For more such informative and exclusive tech content, like our Facebook page