Great news for all Battle Royale game fans this week as PUBG will be free-to-play the entire week – with unlimited access to every game mode. Along with access to the game, players will also be able to retain their stats, Pass and Mission Rewards, along with XP and BP.
PUBG has also planned special events to welcome new players to PUBG, meaning there has to e several cool rewards for all players. The game will be free-to-play on Steam, and players will have to create their own Global Account from accounts.pubg.com and link the account with their Steam account.
By linking their Global and Steam accounts, players will also earn special rewards such as Traditional Glasses (Round). Reward distribution takes places every day at: 11:30 pm Indian Standard Time.
Also Read: GTA 5 Expanded and Enhanced Edition to Run at 4K 60FPS on Sony PS5, PlayStation Blog Confirms
PUBG will be free-to-play on Steam this entire week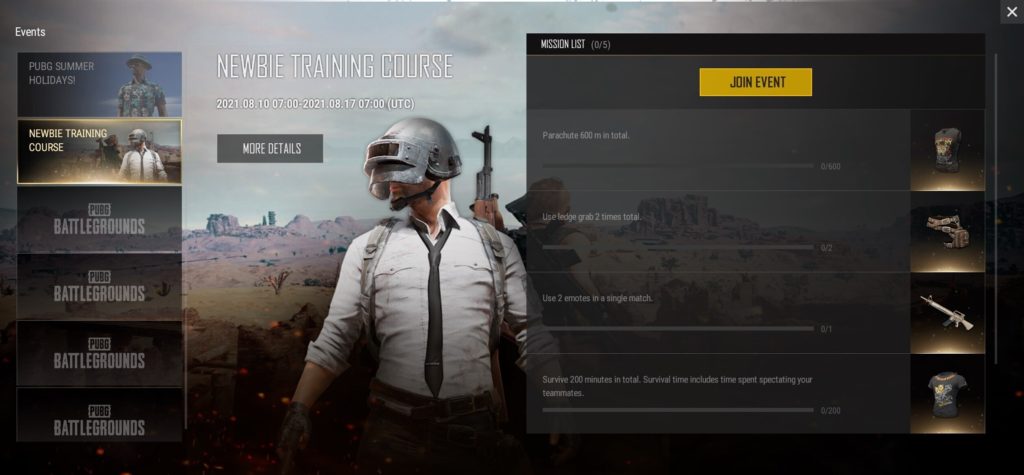 The Free Play schedule looks like this for PUBG on Steam:
PDT: August 9, 2 PM – August 16, 2 PM
CEST: August 9, 11 PM – August 16, 11 PM
KST: August 10, 6 AM – August 17, 6 AM
Players should note that the game will only be free-to-play only on Steam and players will need a Global Account on PUBG in order to play this week for free.
There will also be special drops event for new players tuning in this week, namely:
| | | |
| --- | --- | --- |
| PARACHUTE | TRAVEL 600M IN TOTAL BY PARACHUTE. | SLEEVELESS CHEETAH TOP |
| Ledge grab | Ledge grab over obstacles 2 times. | Utility Belt (Brown) |
| Use 2 emotes | Use emotes 2 times to express an emotion in a single match. | Rugged (Beige) – M16A4 |
| Survive | Survive for 200 min in total. This includes the time for spectating your teammate in duo/squad mode. | Wrangler Shirt |
| Loot items | Loot 300 items in total. | Wide Pants (Red) |
Good news for players who might want to purchase PUBG after the Free Play Week is that they will able to retain all the stats and gameplay records from this week should they purchase the game on the same account on Steam. Perhaps this is a sign of things to come and the devs want to test the waters and how audiences respond to the game being free-to-play.
With its contemporaries such as Apex Legends and Fortnite being free-to-play, PUBG might have to go free-to-play in order to be competitive in more regions.