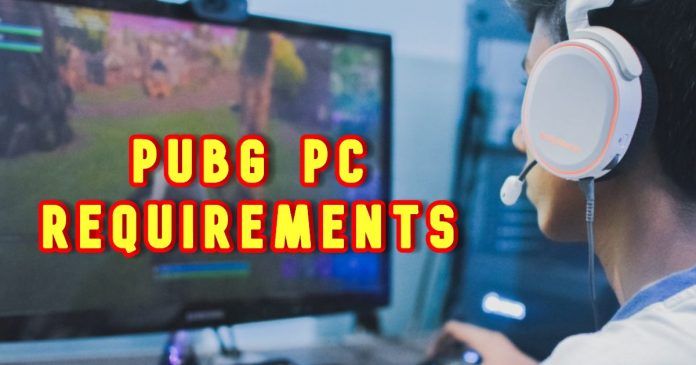 PlayerUnknown's Battleground, the online multiplayer game widely known as PUBG, was debuted back in 2017. Since the game becomes very popular across the globe, the Korea based game developer company Krafton later released the BGMI game for smartphones as well. Both the PC and smartphone versions did well and become one of the most played games.
Just to let you know PUBG PC recorded more than 70 million player base. PUBG is a game where you can get knocked out within a blink of your eyes. You need high skills, focus, and patient too to play the game, the PC version is much more difficult than the mobile version.
Also Read: 5 Best Gaming Laptops (2020) to Play PUBG and Popular Multiplayer Battle Games in India
With high focus and skills, you also need a decent PC or a laptop that is capable enough of taking the load of the hefty graphic game. In this article, we will take you through minimum PC requirements, recommended PC requirements, and the best PC requirements that you can opt for playing PUBG without burning a hole in your pocket.
PUBG Minimum PC Requirements
Going with the official PUBG website, the PUBG Corp suggests that the minimum system requirement of PUBG PC are as follows:
OS: 64-bit Windows 7, Windows 8.1, Windows 10
CPU: Intel i5-4430 / AMD FX-6300
Memory: 8 GB RAM
GPU: NVIDIA GeForce GTX 960 2GB / AMD Radeon R7 370 2GB
Direct: 11.0
Network: Broadband Internet Connection
Storage: 30 GB available space
So these are the minimum configuration you will be needing to run the game without any major lags or frame drops. But do note that these are the minimum requirements, which means it will do the job but you won't provide the smoothest gameplay which you're expecting out of it.
However, if you want the best gameplay experience with the PUBG PC with high frame rates, super smooth animations, and fast pace response then you should opt for the recommended PC requirements which PUBG Corps listed on their website.
Also Read: PUBG India Ban: 4 Games that Witnessed Download Surge After PUBG Mobile Ban in India
PUBG Recommended PC Requirements
Herre's the full list of PUBG PC requirements that can run the game smoothly:
OS: 64-bit Windows 7, Windows 8.1, Windows 10
CPU: Intel i5-6600K / AMD Ryzend 5 1600
Memory: 16 GB RAM
GPU: nVidia GeForce GTX 1060 3GB / AMD Radeon RX 580 4GB
Direct: 11.0
Network: Broadband Internet Connection
Storage: 30 GB available space
These are the PC configuration that will give you an awesome gaming experience with high frame rates, player response, and graphics. Altogether you will be more than happy with this setup while playing PUBG or any other PC game. But the downside is it might cost you a little expensive in your pocket.
Don't worry, we have a solution for this problem. It is not mandatory to spend more to get premium experiences. The above two are the minimum and recommended PC requirements for PUBG, but here we have listed a series of the best hardware that is capable of running the game smoothly without any problem and without implementing pressure on your budget.
Also Read: PUBG Banned: Here's How to Play PUBG Mobile Using VPN on Any Smartphone 
PUBG Best PC Requirements
This is the best PC requirements to run the PUBG game on your desktop or laptop:
OS: 64-bit Windows 7, Windows 8.1, Windows 10
CPU: AMD Ryzen 5 3600XT/ Intel Core i5 9600K 9th Gen
GPU: Zotac GeForce GTX 1050 Ti OC Edition
Direct: 11.0
Memory: 16GB RAM
Storage: 512GB SSD
Network: Broadband Internet Connection
If you make sure you have the above-mentioned specifications then you have one of the best-configured PC for playing PUBG PC. This listing is done based on personal testing, we have tested the game with the aforementioned hardware.
We suggested AMD Ryzen 5 3600XT because it comes with Base Clock: 3.8GHz, Max Boost Clock: up to 4.5GHz, 35MB Cache, TDP: 95W. It is compatible with AMD 400, 500 series chipset based motherboards so you need not have to change the entire motherboard. The CPU paired with the GTX 1050 Ti doubles up the performance.
A 16GB RAM will not go harsh on your budget but it plays an important role in processing. 16GB RAM puts things in the correct place and helps the CPU to perform better by distributing the workload. We recommend SSD because we know that players don't like games to load for long hours here SSD can help in booting up PUBG or any other game in no time.
What is the size of the PUBG PC?
If you are planning to download the PUBG PC game then you should know that it takes approximately 30GB of space on your laptop or PC.
Can I run PUBG on a Core i3 processor?
No, you cannot run the PUBG game if you have a Core i3 processor. The developers have slightly changed the specs for the minimum requirements to play the PUBG PC game. Now, you need to at least have an Intel Core i5-4430 or AMD FX-6300 processor along with a minimum of 8GB of RAM. Furthermore, the graphics card should be a minimum NVIDIA GeForce GTX 960 2GB / AMD Radeon R7 370 2GB.
Is PUBG Free to Play on Desktop?
Yes, the developers have recently announced that the game is available for free. Players can simply download the game and play it for free. The company has revealed that new players will start with a free Basic account, which will allow accessing most of the in-game content. However, players need to subscribe to Battlegrounds Plus membership to access some of its features like custom matches, ranked mode, career – medal tab, and more. The pack comes with a price tag of USD 12.99. The brand has revealed that players that have bought the game will have their account automatically upgraded to Battlegrounds Plus.
Thanks for reading till the end of this article. For more such informative and exclusive tech content, like our Facebook page