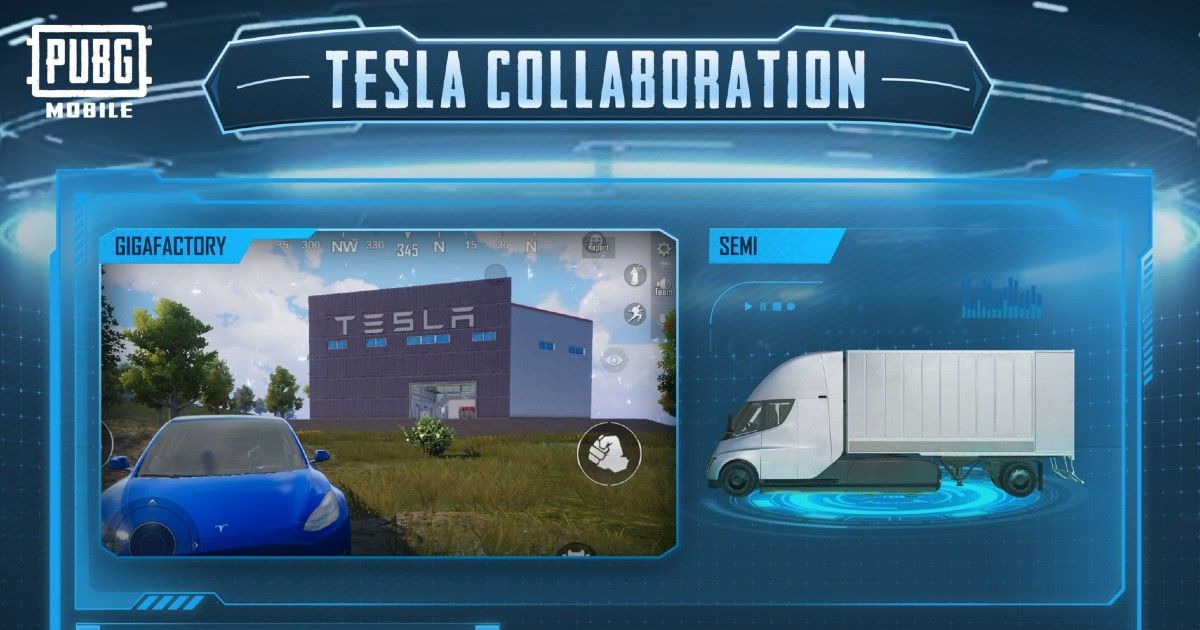 PUBG Mobile has announced a collaboration with Elon Musk's Tesla, as part of which the game would host a number of Tesla cars – as well as the Tesla gigafactory. According to reports on the matter, the new Tesla feature will come as part of the PUBG Mobile 1.5 Ignition update, and it's not yet clear if the update would reflect on the game's India version, Battlegrounds Mobile India, as well. The update will bring the Tesla cars and the battery factory to the Erangel map, which is the oldest and by far the most well known map on the game.
According to reports, players will come across the Tesla gigafactory in Erangel once the update is downloaded and applied. Once inside, players can turn on the switches inside the factory to get themselves one of four Tesla cars – the Tesla semi truck, the Tesla Cybertruck, the Tesla roadster or the Tesla Model Y SUV. All cars assembled out of the Erangel gigafactory will come with the Tesla Autopilot mode, which can be used by players to automatically mark locations on the map and travel to that point.
Some Tesla vehicles will also randomly spawn in the middle of the game, and according to reports, shooting at a Tesla semi truck in the game will give players ammunition supplies. The special feature will be integrated into the usual game modes of PUBG Mobile, and it will be interesting to see Krafton bring this special feature to India as well with BGMI.
Apart from this, one key new feature that the update will bring is Mission Ignition mode, which will be available through the EvoGround game mode. Showcasing a take on a futuristic Erangel, the game mode will revamp major areas of the classic map, which includes renaming Pochinki to Transit Centre – among other things. The mode will be experimental, and will feature an 'Urban Area' on the map, which would bring futuristic elements such as automated doors, HyperLines transit system, Air Conveyor and more.
The game mode will also seemingly bring new weapons, and an anti-gravity motorcycle as well. The update will be available on both Android and iOS for PUBG Mobile, but there's no word on it being available for BGMI as yet.