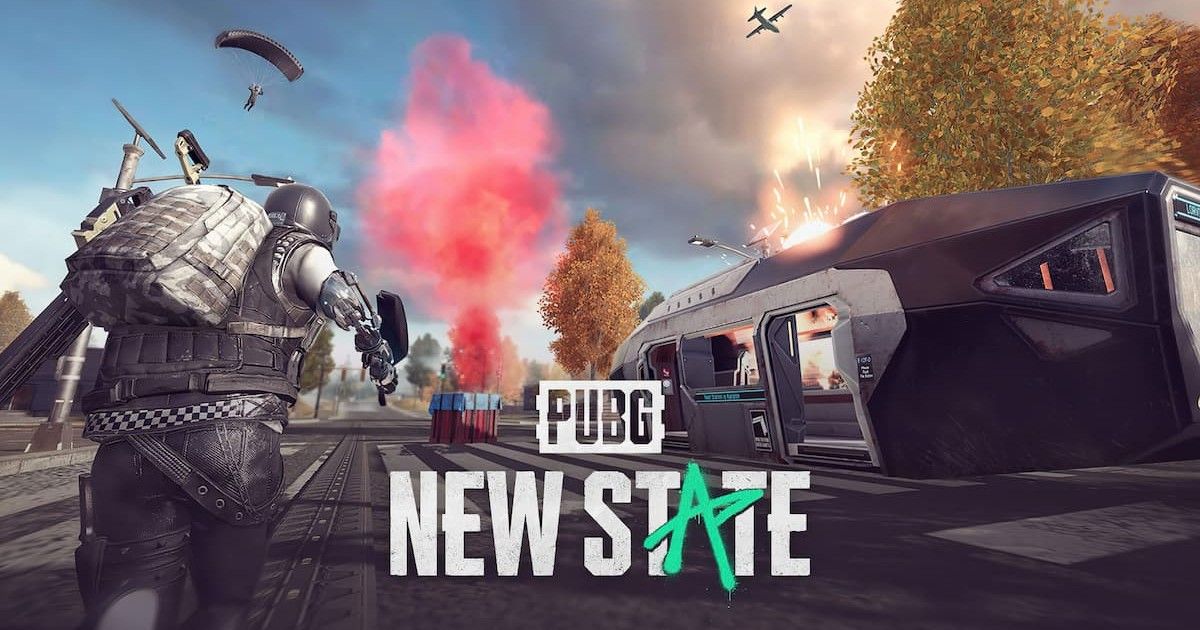 After much hype and teasers, PUBG: New State is finally available to download on both Android and iOS platforms. The latest battle royale game from Krafton brings some existing new features, enhanced graphics, and more. The developer has already revealed that PUBG: New State will provide a better gaming experience as compared to Battlegrounds Mobile India and PUBG Mobile.
The developers have introduced some exciting free rewards along with some interesting events that will surely tempt some players to download the game right away. These include new vehicle skins, chicken medals, BP points, new emotes, and more. So, if you are planning to try this new game, now is the right time. In this article, we are going to give you the detailed list of rewards that you can claim in PUBG: New State right away.
Also Read: PUBG New State Launched in India, Available for Download on Google Play Store: APK Link, File Size and More
PUBG New State Launch day-Welcome Gift Rewards: How to Claim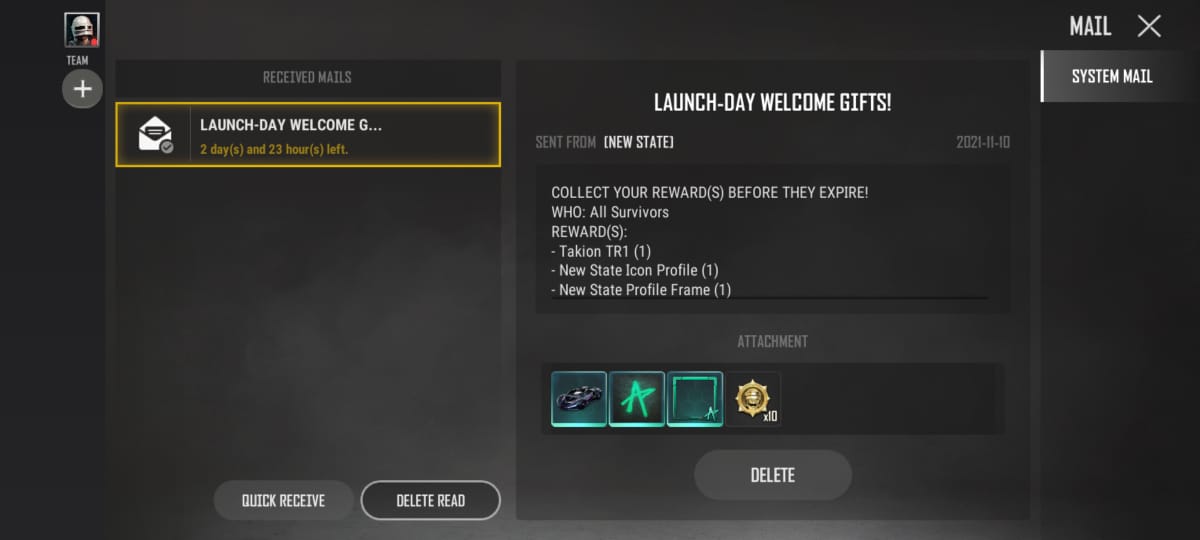 Krafton is currently giving out free rewards to those who have downloaded the PUBG: New State game on their devices. The developer is giving free Launch-Day Welcome Gift rewards to everyone who has installed the game. The rewards include one Takion TR1 (vehicle skin), one New State Icon Profile, 10x chicken medals, and one New State Profile Frame. To claim them, you need to follow these steps:
Open PUBG New State game on your Android or iOS device.
In the game lobby, you will find the Mail icon at the top-right corner of the screen. Click on it.
There you will see Launch-Day Welcome Gifts message. Tap on it to claim all the free rewards.
However, it is important to note that the Launch-Day Welcome Gift rewards will expire in the next 3 days. So be sure to claim them quickly.
Also Read: PUBG New State Bugs and Glitches: How to Fix the Known Issues Krafton Has Acknowledged
PUBG: New State Events and Rewards
PUBG New State also brings a host of events and rewards for its players. The company is currently holding five different events in the game with each offering some good rewards. Let's take a closer look at all these events:
Daily Roulette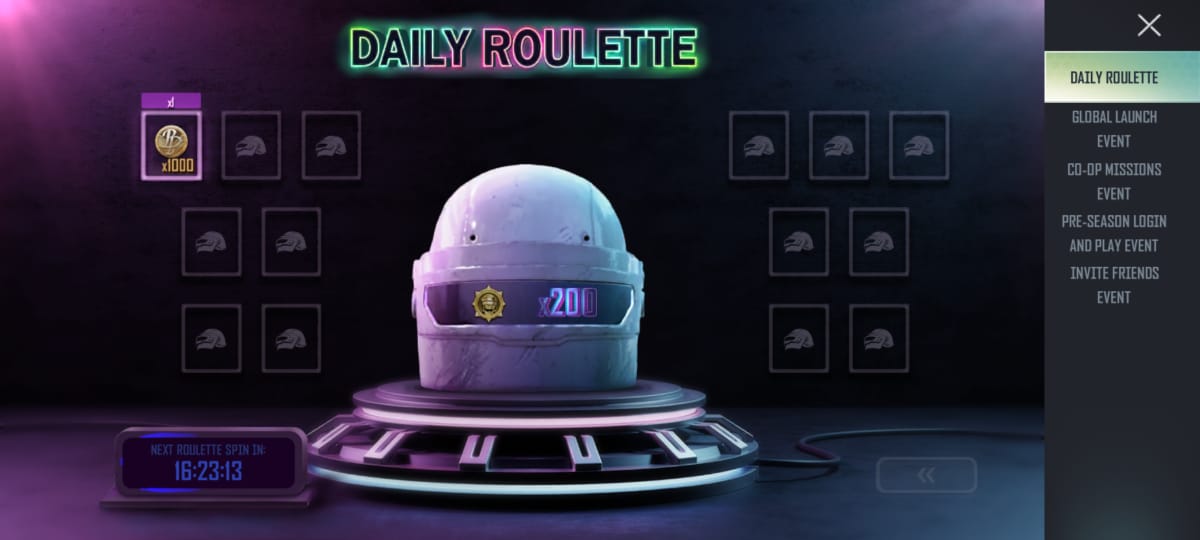 In this event, players will get a free spin each day. Once you click on it, you will different rewards including free Battle Coins (BC), chicken medals, limited-limited skins, and more.
Global Launch Event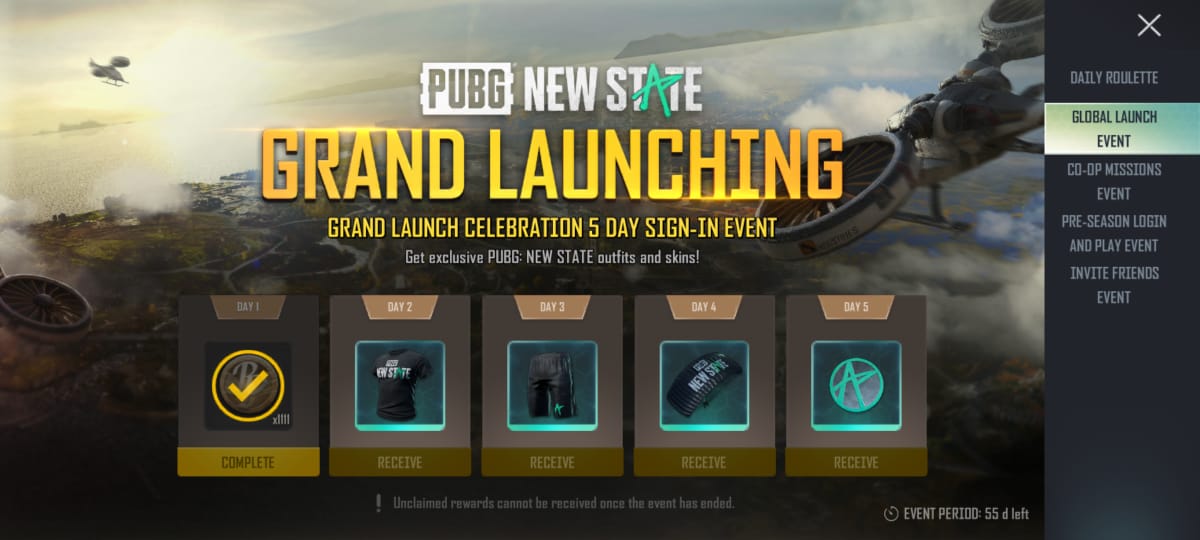 Next on the list is the Global Launch Event. In this event, players will get different rewards each day. Players will get 1,111 BP on Day 1, a PUBG: New State T-shirt on Day 2, New State Logo Pants on Day 3, New State Logo Parachute on Day 4, and New State Patch on Day 5. The event is available from November 11th and will end on December 1st.
Co-Op mission Event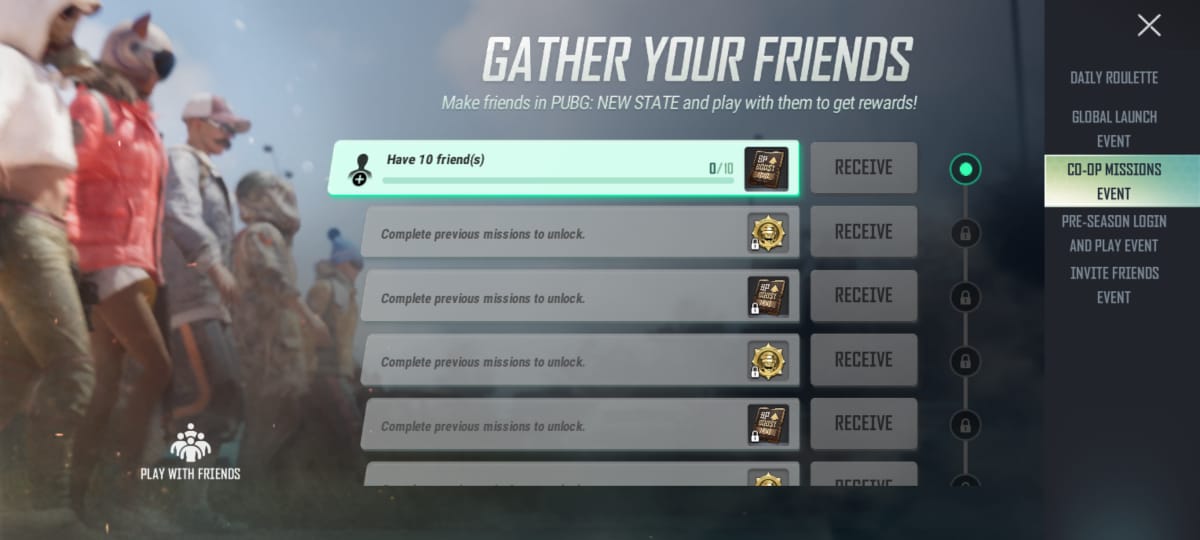 Then there is the Co-Op Missions Event. In this, players will need to complete certain tasks to get different rewards. For example, a player needs to have 10 in-game friends to get a 150% BP Boost card. Moreover, you need to complete the given task to unlock the next mission.
Pre-Season login and Play Event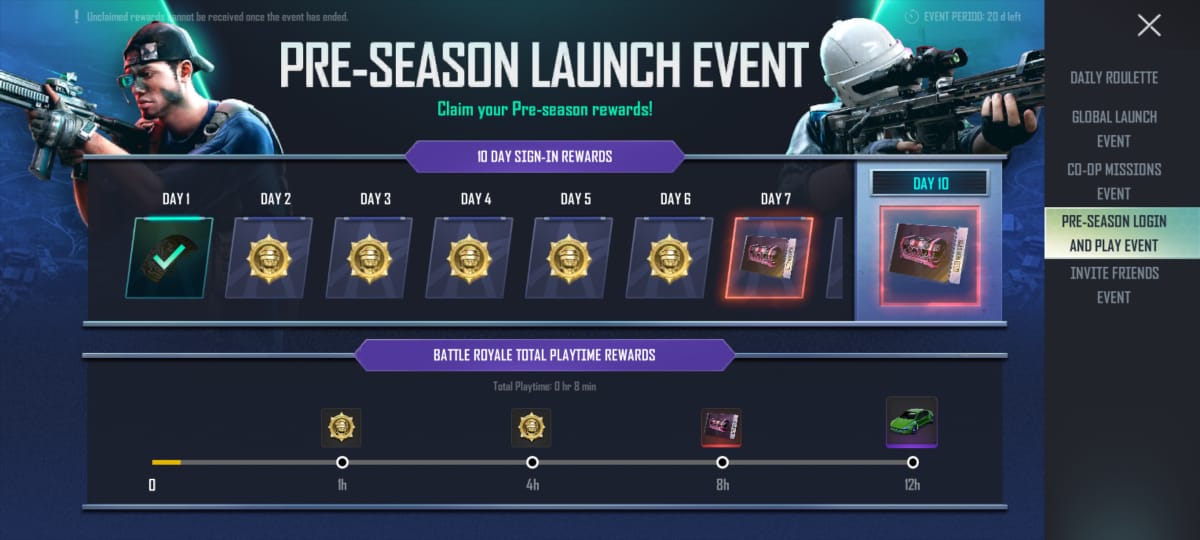 The company is holding a Pre-Season Launch Event for all the players. In this event, players will get chicken medals each day along with Cosplay Band Crate Ticket on Day 7 and Day 10. All you need to do is log in for 10 days straight to get these rewards. Furthermore, players will also get extra rewards for playing the game. As per the event, players will get Battle Royale Playtime rewards for playing the game for up to 12 hours. Players will get chicken medals, a Cosplay Band Crate Ticket, Spring Green – Volta (vehicle skin) for the corresponding hours of playtime.
Invite Friends Event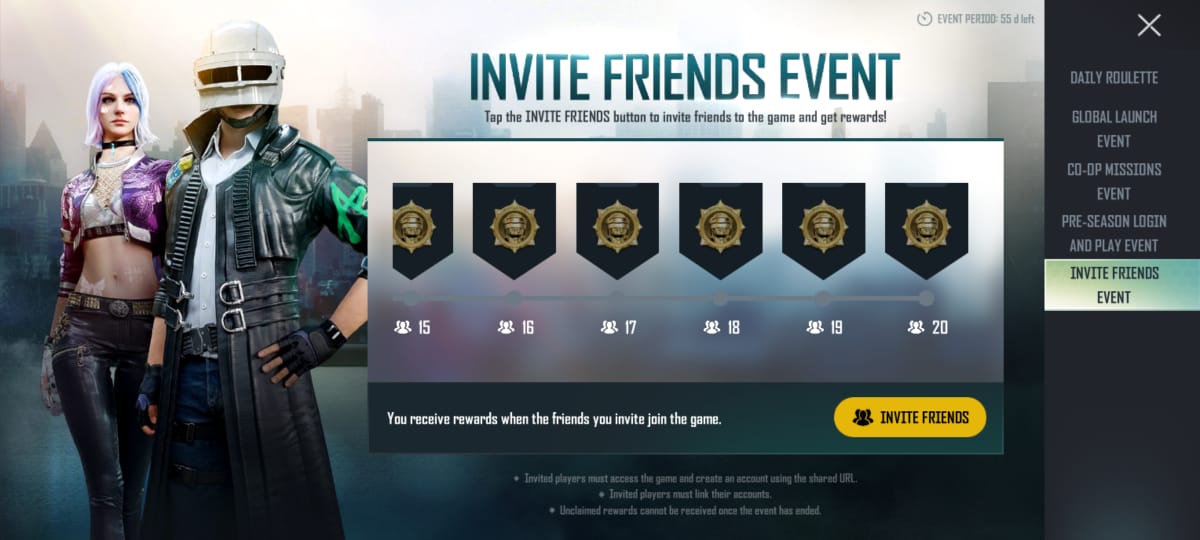 Lastly, we have the Invite Friends event. As the name suggests, players can invite their friends to play the PUBG New State by sending them a personalised link. For every friend that uses the link to download the game, the sender will get some extra rewards. These include new emote and chicken medals. The event is available till January 5th, 2022.