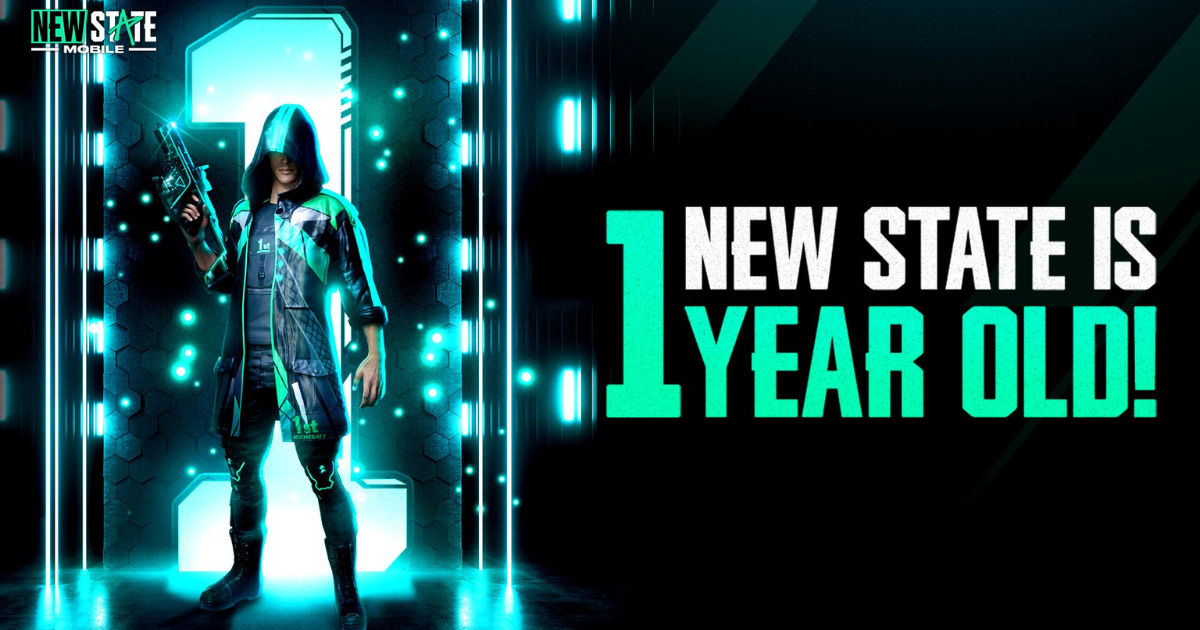 Krafton is celebrating the One-Year Anniversary of New State Mobile with a special #NewState1Year event which brings players a chance to play new missions, get exclusive anniversary outfits and participate in new events. The special anniversary event gives players a chance to score some chicken medals by participating in daily events as well as using new emotes such as the "Kinda Cute Dance" and other exclusive outfits.
The event kicks off on November 6th and will last until November 18th. All events will be held in the 1st anniversary-themed lobby. Anniversary Event:
Users can enjoy the party using various emotes, including the "Kinda Cute Dance" provided in celebration of the 1st anniversary
Players stand a chance to win a Chicken Medal by uploading the video or screenshot of the party on their social media accounts using the hashtag #NEWSTATE1YEAR. To complete the participation process, users can submit all the required information onto Google Forms after uploading the social media post
Out of those who uploaded the videos or screenshots, 100 winners will be selected and each winner will be provided with 100 Chicken Medals
Starting November 6th, players will be able to participate in Daily Events for 15 days to get rewards such as BPs, in-game items, and more. All players participating in the event will get an exclusive, 1st Year Anniversary Outfit.
Also Read: PUBG Mobile Tipped to Collaborate with Lionel Messi, Will We See Him on BGMI Too?
PUBG New State Mobile 1st Year Anniversary Event is Now Underway
In celebration of our 1st anniversary, we have sent everyone a free "Kinda Cute Dance" emote 🕺💃
Using various emotes, show us your best celebratory moves for #NEWSTATEMOBILE's first birthday!

🎉Participate now🎉https://t.co/OJl4DAy2ni#NEWSTATEMOBILE #NEWSTATE1YEAR pic.twitter.com/FNu9bwgqVY

— NEW STATE MOBILE (@NEWSTATEMOBILE) November 6, 2022
PUBG New State Mobile arrived a year ago and has placed itself quite nicely within the Indian gaming community. The game fills the BGMI-shaped crater that has emerged within the gaming scene, although, it hasn't had quite the flourishing esports ecosystem around it. Even though the game is mildly popular, the reason why it hasn't taken off as much as BGMI or PUBG Mobile is probably down to the seemingly high system requirements that the game demands.
The game itself is pretty solid as it introduces a bunch of new gameplay elements to the usual PUBG affair such as the introduction of the Drone Store. The movement and gunplay of New State Mobile make for some of the best mobiles FPS action currently available, and with time, the game has introduced a number of cool elements for players to toy around with.
A large part of New State Mobile's appeal is derived from its vastly superior visuals and graphics, as compared to PUBG Mobile or BGMI. That, however, comes with a rather taxing set of system requirements that seems to have turned away a large portion of the Indian gaming community. Perhaps with the introduction of a version in the vein of PUBG Mobile Lite – New State Mobile can better capture the Indian gaming community's attention.