Highlights
The Rs 99 PVR movie ticket offer is valid only for January 20.
Customers can pre-book the ticket today.
The offer price is slightly higher in a few states.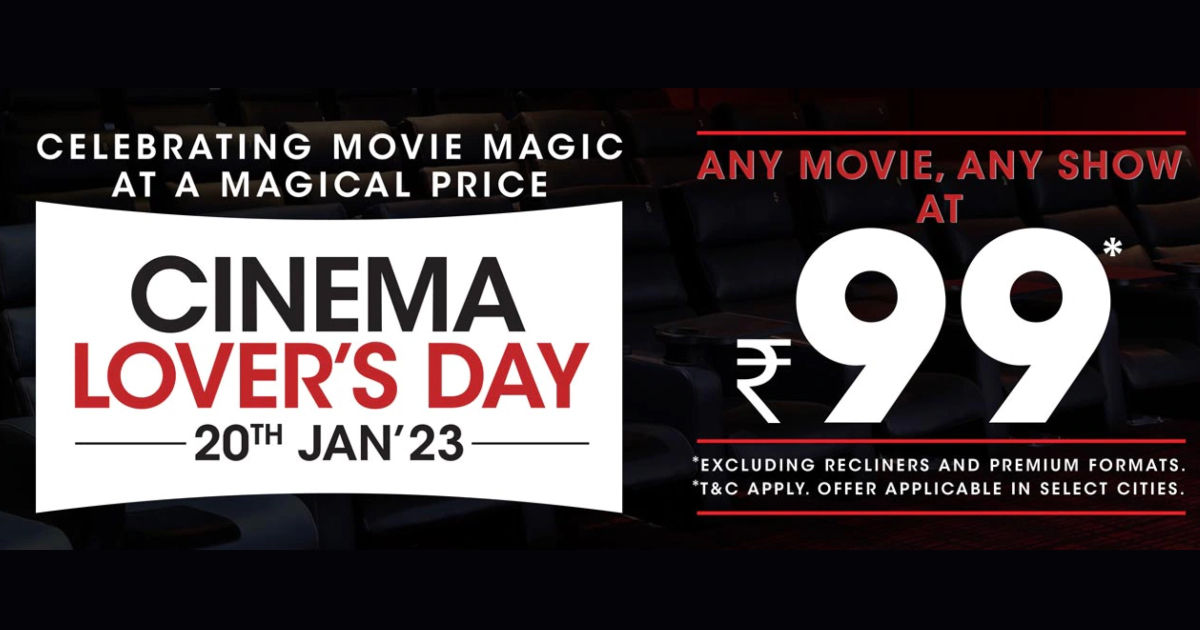 PVR Cinemas, one of the largest multiplex chains in India, is offering a great discount for movie-goers in the country. The multiplex chain is celebrating Cinema Lover's Day and offering a sweet deal for individuals who want to enjoy watching a movie at an affordable price. Customers can go to PVR and watch any movie for Rs 99. To make the PVR Cinema Lover's Day deal sweeter, the theatre chan is making the offer available for all shows. This means that users can watch a movie at 9 am or 11.30 pm for the same Rs 99 rate. Keep in mind that the show timings are subject to scheduling and availability of the tickets.
The offer is available only on January 20, which is a Friday. Here's everything you need to know about the Rs 99 ticket offer from PVR Cinemas.
PVR Cinema Lover's Day Offer
PVR Cinemas movie ticket can be booked for Rs 99 on January 20 for all customers. The PVR Cinema Lover's Day offer price is valid for all shows at all times. To celebrate Cinema Lover's Day, the multiplex chain will let users watch movies for Rs 99. The price is only for the mainstream seat. Premium screens that offer 4DX, and IMAX experience are not a part of the deal.
Customers who want recliner seats or any other premium seat will have to pay extra. The company also revealed that the Rs 99 offer is available in select states and cities.
A few states will have to pay slightly more than Rs 99. Ticket pricing of Rs 100 will be applicable in Tamil Nadu, Kerala, Karnataka and Andhra Pradesh. In Telangana, consumers will have to pay Rs 112 as a minimum price for a PVR movie ticket on January 20. On top of the pricing for the mentioned states, there will be a 28 per cent GST.
We are celebrating the magic of movies at a magical price for #CinemaLoversDay! Watch movies at #PVR for just ₹99 on 20th Jan'23.
Applicable for any movie, any show; so book your tickets ASAP!
Book your tickets now: https://t.co/TGQXYwiL22#MoviesAt99 #CinemaLovers #Offer pic.twitter.com/f6MVphkVnT

— P V R C i n e m a s (@_PVRCinemas) January 17, 2023
It is also worth noting that the Rs 99 offer is not valid in a few cities/ Union territories. These include Chandigarh, Pathankot and Pondicherry.
Customers can go to the PVR app/ website or their nearest theatre today to book a show for January 20 for Rs 99/ Rs 100/ Rs 112 (+GST). 
It is worth noting that Cinepolis also has tickets for the same price in various cities. Theatres which were previously under the Cinemax branding and are now owned by PVR Cinemas are also offering the same deal. There are multiple movies available across various genres and languages. Which one are you planning to watch? Let us know in the comments below.