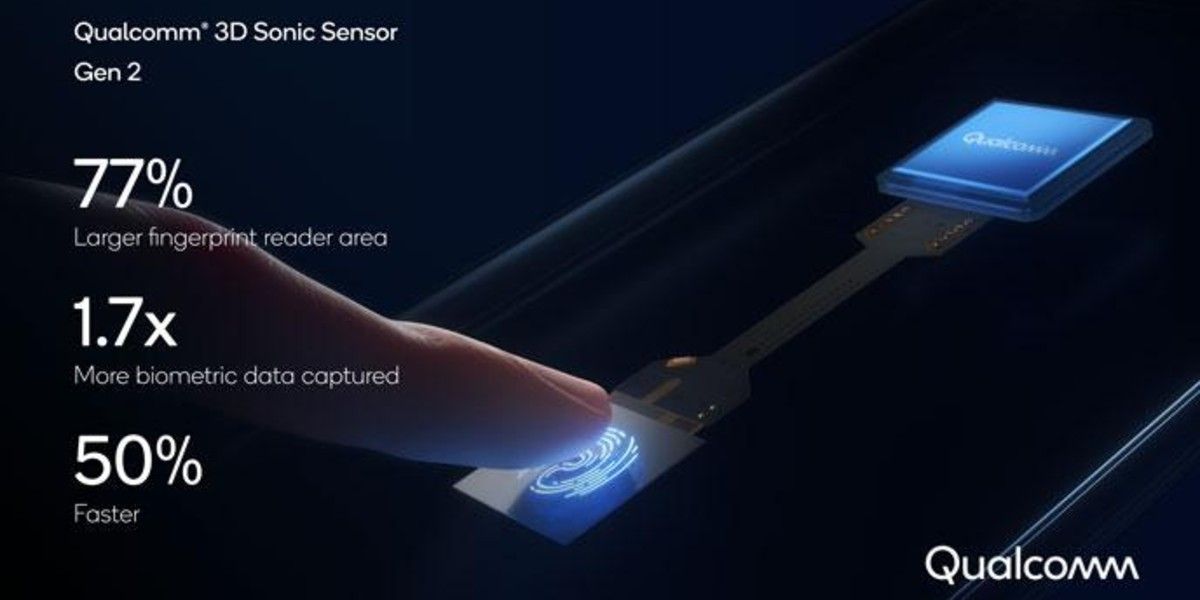 Smartphone chipset maker, Qualcomm, today announced a new under-glass fingerprint sensor. The sensor, called the 3D Sonic Sensor Gen 2, is the newest version of the company's ultrasonic in-display sensors. The company says it's an improvement on the original model and has a larger surface area than that one, while also processing fingerprints faster. That means phones in 2021 will not only have faster fingerprint sensors, but they'll likely be more accurate than earlier as well. It's unclear which companies will use the sensor right now, but flagship devices from companies like Samsung, OnePlus etc. will likely incorporate it.
Qualcomm 3D Sonic Sensor Gen 2 Features
The new fingerprint sensor has 8mm by 8mm dimensions, which is significantly larger than the 4mm by 9mm that the first generation in-display sensor used to be. According to the company, the surface area is 77 per cent larger, and it collects more data with each scan, which is what enables better response to fingerprints. Qualcomm claims that the 3D Sonic Sensor Gen 2 will be 50 per cent faster than its predecessor. The 3D Sonic Sensor is usually part of the suite of products Qualcomm offers its customers along with its chipsets.
The company also claimed that the new sensor is "ultra-thin", which allows original equipment manufacturers (OEMs) to offer "cutting-edge form factors". That probably means the chipset maker is targeting flexible displays on phones like the Samsung Galaxy Z Flip 2 and Samsung Galaxy Z Fold 3. Companies like Xiaomi and Motorola are also expected to bring new foldable phones this year.
It took Qualcomm two years to upgrade this sensor. The company first announced the 3D Sonic Sensor in 2018. The sensor was an upgrade over offerings from competitors at the time, which used optical scanners that are theoretically slower and less accurate than the ultrasonic sensors incorporated by Qualcomm. That said, the first generation sensor did run into troubles, and had a fatal flaw that allowed users to unlock their phones with any fingerprint when they used a screen guard. 
According to Qualcomm, the 3D Sonic Sensor Gen 2 will be seen on smartphones launched in "early 2021". This means the sensor should appear on phones like the Samsung Galaxy S21, which is expected to be launched on January 14. Companies like OnePlus, Xiaomi and others who use Qualcomm's sensors should also use the same eventually. It's unclear whether the company is making the 3D Sonic Sensor 2 exclusive to its premium Snapdragon 888 chipset.