In-display fingerprint readers have finally become a reality, almost ten years after fake fingerprint reading apps hit the Play Store for Android smartphones. Almost all smartphones that were launched in 2018 with in-display fingerprint readers were optical in nature, which means they basically use a camera to measure fingerprints. Although fifth-generation optical fingerprint readers are much faster than first-gen sensors, they're still not as fast or as reliable as capacitive fingerprint readers.
In late 2017, Qualcomm came up with a fingerprint sensor that uses ultrasonic waves to measure fingerprints. It is faster and more reliable, even when fingers are covered in dust, sweat or water. However, no smartphone used it until earlier this year. The Galaxy S10 and the Galaxy S10 Plus became the first phones in the world to use Qualcomm's 3D Sonic fingerprint readers, and from what we're observing in our review unit, they are really faster and more reliable. However, Qualcomm is reportedly working on a second-generation 3D Sonic fingerprint reader that's even faster and reliable.
Qualcomm's Second-Gen Ultrasonic Fingerprint Reader Will Be Larger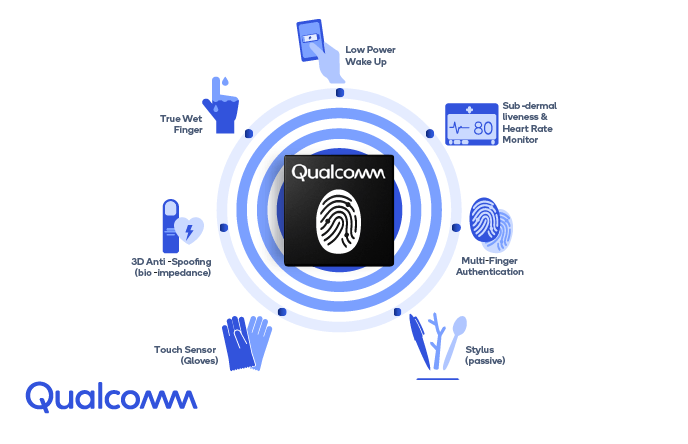 Qualcomm has announced that its second-generation 3D Sonic fingerprint reader will have a larger area of recognition and that it will be released in the second half of 2019. The first-generation reader is 9mm wide and 4mm tall, making its total surface area of 36 square millimeters. The second-generation reader from Qualcomm is said to be 8mm×8mm, bring its surface area to 64 square millimeters. This will make it much easier and comfortable to use. Interestingly, its thickness will still remain the same, at 200 microns in spite of a larger area. In comparison, optical fingerprint readers are 3mm thick.
The San Diego-based company's official Gordon Thomas explained to BGR.in that its 3D Sonic fingerprint reader solution consists of three elements: ASIC (Application-Specific Integrated Circuit) that drives the sensor, an FPC, and the sensor itself. The main layer of the sensor reportedly uses a glass layer which is used as a substrate on which the circuit resides. Moreover, Qualcomm's sensor doesn't use silicon, making it cheaper and easier to manufacture. Hopefully, we'll be able to see this upcoming sensor in the Galaxy Note 10 and the OnePlus 7, which are expected to be launched sometime in the second half of 2019.
Ultrasonic Fingerprint Readers, Under-Display Camera Are The Future For Completely Bezel-less Screen Phones
To achieve completely bezel-less screen phones, manufacturers have already moved to in-display fingerprint readers and punch-hole selfie cameras. However, ultrasonic fingerprint readers will definitely end up replacing optical fingerprint readers, at least in mid-range and high-end price segments due to higher reliability and faster speeds.
The only thing left for manufacturers to figure out to move towards completely bezel-less screen phones is the selfie camera. Apparently, Essential Inc. has received a patent which puts the selfie camera under the smartphone's display. If this becomes a reality in the future, many other phone manufacturers will move towards a similar solution as it is a much better and intuitive way compared to having a second screen at the rear or a pop-up selfie camera at the top.