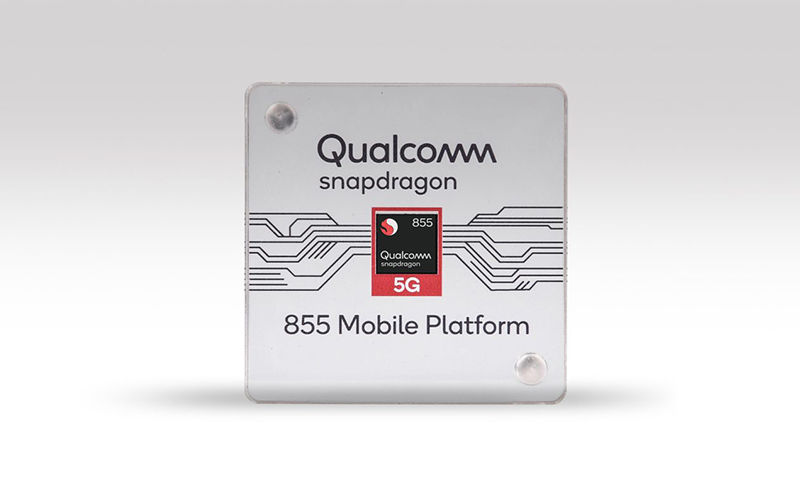 Qualcomm announced its flagship mobile platform for 2019, the Snapdragon 855, yesterday and then fully detailed it earlier today. With this announcement, the only smartphone chipset that is yet to be revealed is the MediaTek's Helio P90, and it will reportedly be announced on December 13. Apple's latest chipset, the A12 Bionic, is already being used in the iPhone XS (Review), iPhone XS Max and the iPhone XR (Review). The Huawei Kirin 980 is being used in the Mate 20, Mate 20 Pro, and the Mate 20 X. The Samsung Exynos 9820 processor will be used in all the Galaxy S10 series phones.
Now that most high-end chipsets have been unveiled and they will be used in most flagship smartphones of next year, we thought that it would be very interesting to compare features and specifications of all the recently announced high-end chipsets. Let's get to it then.
Qualcomm Snapdragon 855 vs. Apple A12 Bionic vs. Huawei Kirin 980 vs. Samsung Exynos 9820: Fabrication Process
Starting off with the manufacturing process, except Samsung, everyone has moved on from a 10nm FinFET process to a 7nm TSMC process for fabricating their newest chipsets. Samsung is using its own 8nm LPP process for manufacturing the Exynos 9820, but it is more like an enhanced 10nm process rather than what the 8nm number suggests. If you don't know already, Samsung and TSMC are two of the biggest chipset manufacturers in the world, and almost every fabless semiconductor company outsources production of their chips to either Samsung or TSMC. The smaller the fabrication process, higher the number of transistors that you can fit into space. More transistors generally translate into faster performance.
Qualcomm Snapdragon 855 vs. Apple A12 Bionic vs. Huawei Kirin 980 vs. Samsung Exynos 9820: CPU
While Qualcomm has decided to with a 1+3+4 tri-cluster octa-core CPU for the Snapdragon 855, Apple is using a 2+4 dual-cluster CPU in the A12 Bionic. Huawei and Samsung are using a 2+2+4 tri-cluster octa-core CPUs in the Kirin 980 and the Exynos 9820, respectively. However, the Kirin 980 has stock Cortex-A76 CPU cores performing high-end tasks, while the Exynos 9820 uses Samsung's homegrown Exynos M4 'Mongoose' CPU cores. Samsung had a pretty bad 2018, no thanks to its ill-optimized Exynos 9810 chipset and its four Mongoose M3 CPU cores. Qualcomm on the other hand, uses Cortex-A76-derivative Kryo 485 Gold CPU cores, out of which one can achieve a maximum clock speed of 2.84GHz and rest of them can achieve a maximum clock speed of 2.42GHz. To me, Qualcomm's solution appears most useful; as the one higher clocked Kryo 485 CPU core can achieve the maximum speed where single-threaded/single-core performance is necessary.
Qualcomm Snapdragon 855 vs. Apple A12 Bionic vs. Huawei Kirin 980 vs. Samsung Exynos 9820: GPU & Storage
In terms of graphics performance, Apple has been the best in 2018, with its quad-core homegrown GPU. However, Qualcomm could come close to Apple with its Adreno 640 GPU this year. Huawei is the weakest here, while Samsung comes in third. The only chipset to support up to two 4K HDR displays and HDR gaming is the Adreno 640. Qualcomm appears to have made some strides here as the combination of features that it is offering is unmatched by its competitors. However, games on the Android platform are still not as mature or as high-end as games on iOS, so how useful these powerful GPUs will be in gaming remains to be seen. Apple seems to be fastest in terms of storage read and write speeds, all thanks to an integrated NVMe memory controller. UFS 2.1 storage speed is lower than NVMe storage, and no one has used UFS 3.0 storage in phones yet, so it will be interesting to see how fast phones with UFS 3.0 storage can go. I expect Samsung to use UFS 3.0 storage in the Galaxy S10 series of phones.
Qualcomm Snapdragon 855 vs. Apple A12 Bionic vs. Huawei Kirin 980 vs. Samsung Exynos 9820: Camera
In terms of ISP, Qualcomm seems to be the strongest, with an ability to record 4K 60fps videos in HDR10+ format. Heck, it can even record real-time portrait 4K videos. Yes, you read that correctly. It can record 4K videos with real-time portrait effect with background blur. Now that's quite something even Apple couldn't achieve. Now, it's up to smartphone brands to make use of this feature in their phones. In spite of its focus on camera quality, Huawei seems to be the weakest here; it is still stuck at 4K 30fps video recording.
Qualcomm Snapdragon 855 vs. Apple A12 Bionic vs. Huawei Kirin 980 vs. Samsung Exynos 9820: Connectivity Features
Qualcomm and Samsung have the fastest 4G LTE integrated modems, with up to 2Gbps download speeds and 316Mbps upload speeds. They're even compatible with 5G modems that are compatible with multi-gigabit download speeds. All chipsets have more than one dedicated core for AI (artificial intelligence) and ML (machine learning) tasks. All chipsets support NFC reading and writing, but Apple has blocked NFC writing capability in iOS. Although all chipsets support Bluetooth 5.0 standard, the A12 Bionic is the weakest with support for just AAC codec, while other chipsets support AAC, aptX, aptX HD and LDAC through Android. The Snapdragon 855 wins in Wi-Fi connectivity, with support for next-generation Wi-Fi ad and ay standards, while others are stuck at Wi-Fi ac.
Qualcomm Snapdragon 855 vs. Apple A12 Bionic vs. Huawei Kirin 980 vs. Samsung Exynos 9820: Battery Charging Speed
In terms of battery rapid charging technology, the Kirin 980 appears to be the most equipped (with 40W charging support through Huawei's own SuperCharge technology). However, it is only compatible with SuperCharge and lacks support for USB-PD and Qualcomm's QuickCharge. Apple's A12 Bionic supports USB-PD with 15W+ compatibility. The Snapdragon 855 chipset supports 18W Quick Charge 4+ as well as 27W USB-PD. Samsung is still stuck at 18W Adaptive Fast Charge and Quick Charge 2.0.
Qualcomm Snapdragon 855 vs. Apple A12 Bionic vs. Huawei Kirin 980 vs. Samsung Exynos 9820: Features, Specifications Compared
| | | | | |
| --- | --- | --- | --- | --- |
| | Qualcomm Snapdragon 855 | Apple A12 Bionic | Huawei Kirin 980 | Samsung Exynos 9820 |
| Manufacturing Process | 7nm TSMC | 7nm TSMC | 7nm TSMC, 6.9 Billion Transistors | 8nm LPP Samsung |
| CPU | 1x Kryo 485 Gold @ 2.84GHz + 3x Kryo 485 Gold @ 2.42GHz + 4x Kryo 485 Silver @ 1.8GHz | 2x Vortex @ 2.5GHz + 4x Tempest @ 1.6GHz | 2x Cortex-A76 @ 2.6GHz + 2x Cortex-A76 @ 1.92GHz + 4x Cortex-A55 @ 1.8GHz | 2x Exynos M4 Mongoose @ ?GHz + 2x Exynos M4 Mongoose @ ?GHz + 4x Cortex-A55 ?GHz |
| GPU | Adreno 640 | Apple Quad-Core GPU with lossless memory compression | Mali-G76 MP10 @ 750MHz | Mali-G76 MP12 |
| Display Support | Up to 4K HDR 60fps On-Device, Up to two 4K HDR 60fps External Display; Rec2020 Color Gamut, 10-Bit Color Depth; HDR10, HDR10+, HLG | Up to 4K HDR 60fps On-Device, 10-Bit Color Depth, Wide Color Gamut; HDR10, Dolby Vision | Up to 4K HDR 60fps On-Device; 10-Bit Color Depth, DCI-P3 Color Space; HDR10 | Up to 4K HDR 60fps On-Device (3840×2400 or 4096×2160 pixels); 10-Bit Color Depth, DCI-P3 Color Space; HDR10 |
| RAM | 4x 16-Bit LPDDR4X @ 1866MHz (34.1Gbps) | Single-Channel 64-Bit LPDDR4X @ 2133MHz (34.1Gbps) | 4x 16-Bit LPDDR4X @ 2133MHz (31.78Gbps) | Single-Channel 64-Bit LPDDR4X |
| Storage | UFS 3.0, UFS 2.1, eMMC 5.1 | NVMe | UFS 2.1 | UFS 3.0, UFS 2.1 |
| ISP/Camera | Computer Vision Dual-14-Bit Spectra 380 ISP; dual-20MP Camera or Single 32MP Camera; 4K 60fps Video Recording, 4K HDR10+ Video Recording, 4K HDR10 Portrait Video Recording, 720p 480fps Slow-Motion Video Recording | New-Generation ISP, 12MP+12MP Dual-Camera Support; 4K 60fps Video Recording, 1080p 240fps Slow-Motion Video Recording; Depth Engine, Portrait Mode, Smart HDR Multi-Frame Image Stacking | ISP 4.0 with Triple-Camera Support, 4K 30fps Video Recording; Multi-Frame Image Stacking, Portrait Mode | 16+16MP Dual-Camera, 22MP Single Front Camera, 22MP Single Rear Camera; 8K 30fps Video Recording or 4K 150fps Video Recording with 10-Bit HEVC, H.264, VP9 |
| DSP/NPU | Hexagon 690 | Second-Generation Octa-Core Neural Engine, 5 Trillion OPS, | Dedicated Dual-Core HiAI NPU | Integrated NPU |
| Location | GPS, A-GPS, GLONASS, BeiDou, Galileo, QZSS, Dual Frequency GNSS | GPS, A-GPS, GLONASS, BeiDou, Galileo, QZSS, iBeacon Microlocator | GPS, A-GPS, GLONASS, BeiDou, Galileo, Dual-Frequency GNSS | GPS, A-GPS, GLONASS, BeiDou, Galileo, GNSS |
| Modem | Integrated X24 LTE (2Gbps DL, 316Mbps UL), Optional 5G Modem | Intel 7560 4G LTE Modem, 4×4 MIMO | Integrated Hi1103 4G LTE Modem (1.4Gbps DL, 200Mbps UL) | Integrated Shannon Cat. 20 4G LTE Modem (2Gbps, 316Mbps UL), Option 5G Modem |
| Wi-Fi | Wi-Fi b/g/n/ac/ad/ay, Wi-Fi ax-Ready, Peak Speed: 10Gbps (at 60GHz Wi-Fi ad) | Wi-Fi b/g/n/ac | Wi-Fi b/g/n/ac | Wi-Fi b/g/n/ac |
| Bluetooth | Bluetooth 5.0, aptX, aptX HD, Qualcomm TrueWireless, Qualcomm Aqstic | Bluetooth 5.0, AAC | Bluetooth 5.0, AAC, aptX, aptX HD, LDAC | Bluetooth 5.0, AAC, aptX, aptX HD, LDAC |
| NFC | Supported | Supported | Supported | Supported |
| Battery Charging Technology | Quick Charge 4+ (18W) or USB-PD (27W) | USB-PD (15W+) | Huawei SuperCharge (40W) | Adaptive Fast Charge (18W) or Quick Charge 2.0 (18W) |