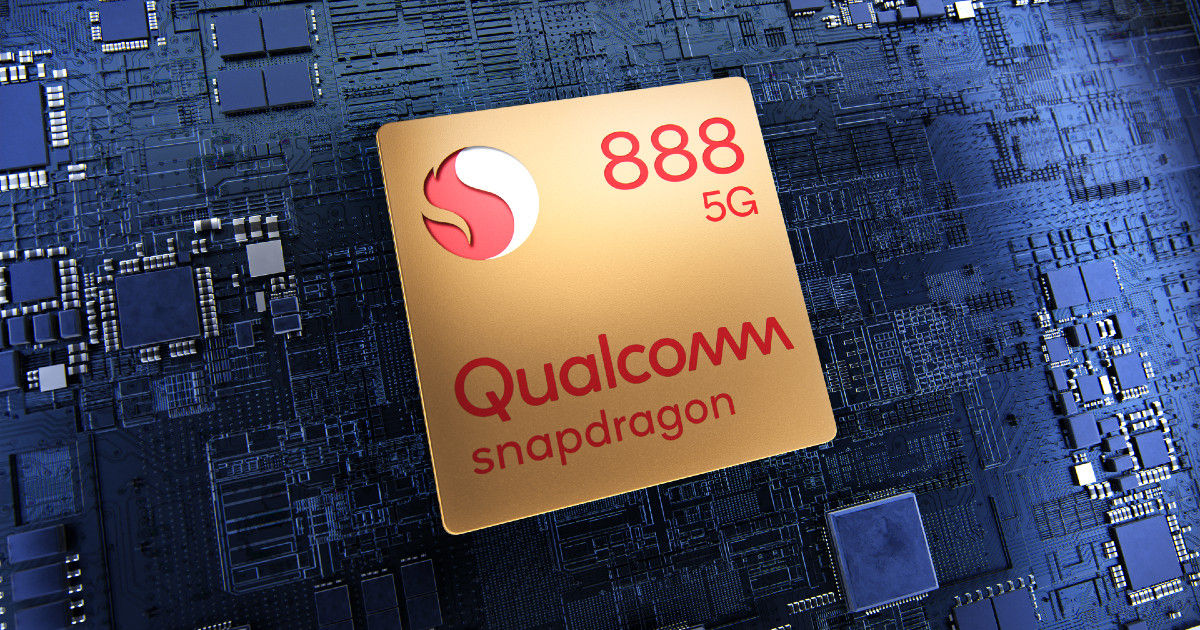 After taking the wraps off the flagship Qualcomm Snapdragon 888 SoC earlier yesterday, Qualcomm has furbished more technical details about its upcoming flagship processor. The SoC, which will power 2021's flagship smartphones, gets a holistic set of upgrades to all elements about it, including a new DSP and AI co-processor, new 5G LTE connectivity modem, new ISP for better camera performance, a new GPU for better gaming performance, faster refresh rate display support, as well as higher graphics and faster charging standard support. The list of upgrades rolled out to the Snapdragon 888 hence include the Snapdragon X60 5G modem, the Adreno 660 GPU, Hexagon 780 co-processor, Spectra 580 ISP and more.
Core, process and RAM
The Snapdragon 888 uses custom cores based on the Arm Cortex-X1 processing core design, and has a peak core running at 2.84GHz. This makes for the Kryo 680 core that sits inside the Snapdragon 888. It is built on the 5nm chipset fabrication process, and is the second 5nm processor for phones after the Apple A14 Bionic SoC. As revealed by Qualcomm, the Snapdragon 888 will support up to 16GB RAM in phones, and support both LPDDR4x RAM modules running at 2,133MHz, and new generation LPDDR5 RAM running at 3,200MHz.
Also Read: Snapdragon 888 5G SoC List of Smartphones Confirmed to Launch: Realme Race, Xiaomi Mi 11, and More
Hexagon 780 and 2nd gen Sensing Hub
All of this is paired with the Hexagon 780 processor that includes a fused AI accelerator and the 6th generation AI engine, which Qualcomm says will combine to offer 26 TOPS AI performance. This scales up from 7 TOPS AI performance in the Snapdragon 855, and 15 TOPS in Snapdragon 865. Qualcomm says that this represents 3x improvement in performance per watt, hence also being more efficient. Its 2nd generation Sensing Hub is key to always-on AI performance in the background, which will reportedly help take on lightweight automated tasks in the background.
X60 5G, Wi-Fi 6 and Bluetooth 5.2
The 3rd generation X60 5G modem offers practically all forms of 5G wavelength, including mmWave and Sub-6GHz 5G networks, both SA (standalone) and NSA (non-standalone) 5G networks, and FDD and TDD networks. It also has Dynamic Spectrum Sharing, and offers next generation gigabit connectivity including 7.5Gbps downlink and 3Gbps uplink. It also has Wi-Fi 6 and supports Bluetooth 5.2, with support for Bluetooth LE for high res wireless audio streaming.
Spectra 580 ISP
The Spectra 580 ISP is 35 percent faster than older generation, offering wider buffer bandwidth of 2.7 gigapixels per second, which enables 12-megapixel burst photos at 120fps. The new ISP supports up to 200-megapixel sensors, including support for 28-megapixel triple cameras at 30fps, 64-megapixel + 25-megapixel dual cameras at 30fps and 84-megapixel single camera at 30fps, all with zero shutter lag. Qualcomm also states 10-bit photos and videos, including 10-bit HDR HEIF. It also supports 8K video support at 30fps, and 4K video at 120fps.
Adreno 660, display and audio
The Adreno 660 GPU will reportedly offer 35 percent faster graphics, along with 20 percent faster touch responses with Qualcomm Game Quick Touch. All of this enables 10-bit HDR gaming, support for Vulkan 1.1, OpenGL ES 3.2 and OpenCL 2.0 FP APIs. In terms of displays, the Snapdragon 888 will support 4K 60fps displays, and QHD displays at up to 144Hz. It also supports sub pixel rendering for OLED displays. In terms of audio features, the Snapdragon 888 supports Qualcomm Aqstic, a new smart speaker amplifier and native DSD support.