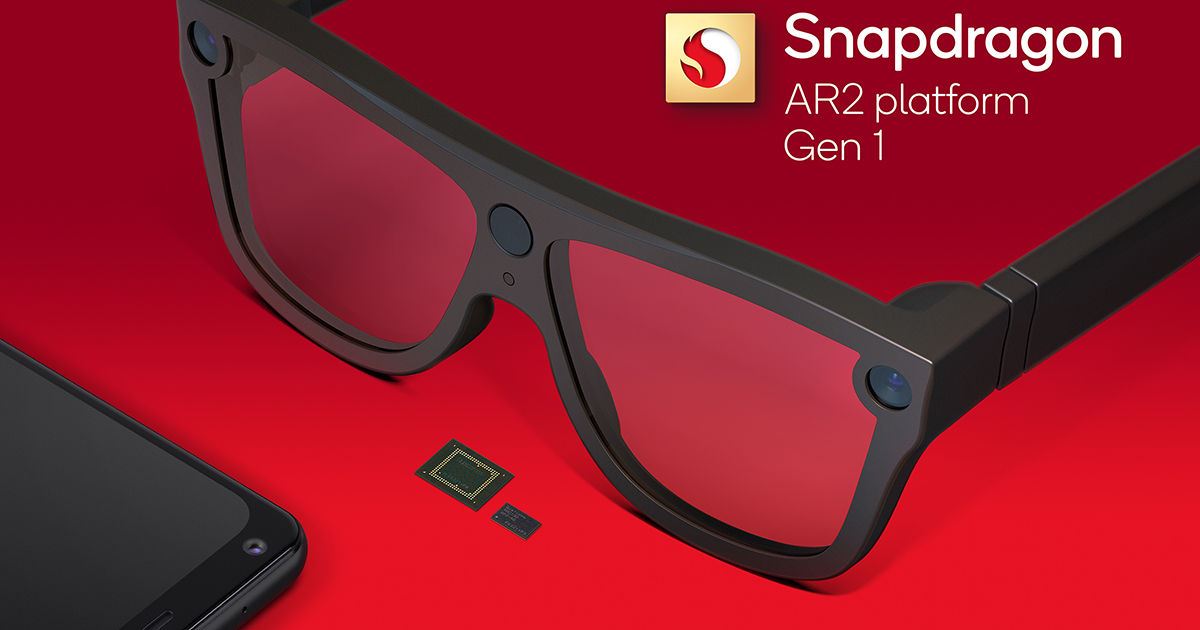 During Snapdragon Summit 2022, Qualcomm introduced the new Snapdragon 8 Gen 2 mobile platform and now it has introduced the Snapdragon AR2 Gen 1 Platform, which delivers groundbreaking AR technology for a new generation of sleeker and better capable glasses for the real-world/metaverse mix.
Besides this Qualcomm has also announced a collaboration with Microsoft for advancing AI capabilities and transforming modern laptops. Last but not least, it has also introduced new Bluetooth audio platforms the Qualcomm S5 Gen 2 Sound Platform and Qualcomm S3 Gen 2 Sound Platform.
Snapdragon AR2 Gen 1 Platform: Details
Qualcomm created the Snapdragon AR2 Gen 1 Platform to help create the thinnest possible, high-performance AR glass. It features a multi-chip distributed processing architecture combined with customized IP blocks. The main processor occupies a 40% smaller2 PCB area on glass and the overall platform delivers 2.5x better AI performance while consuming 50% less power to help achieve AR glasses that consume <1W power.
To better balance the weight and decrease the arm width on either side of the glasses, Snapdragon AR2 uses a multi-chip architecture that includes an AR processor, AR co-processor and connectivity platform.
Its enhanced perception capabilities include a dedicated hardware acceleration engine that improves user motion tracking and localization, an AI accelerator to reduce latency for sensitive input interactions such as hand tracking or 6DoF, and a reprojection engine for a smoother experience. The AR co-processor aggregates camera and sensor data and enables eye tracking and iris authentication. This also optimizes power consumption.
The connectivity platform utilizes Qualcomm FastConnect 7800 connectivity system to unlock the world's fastest Wi-Fi 7 technology available and reaches <2ms latency between the AR glasses and the smartphone or host device. To allow developers to build incredible headworn AR applications, Snapdragon AR2 and the Snapdragon 8 Gen 2 Platform are optimized to be Snapdragon Spaces Ready.
Qualcomm collaboration and AI for Laptops
Qualcomm Technologies and Microsoft are partnering up to advance AI capabilities and transforming modern laptops with the powerful performance, neural processing, and industry-leading efficiency of Snapdragon compute platforms. This collaboration on Snapdragon has enabled new AI- accelerated experiences for Windows 11 users, including through Windows Studio Effects Voice Focus, Background Blur. Automatic Framing and Eye Contact which were highlighted at the launch of the Surface Pro 9 5G, featuring the Microsoft SQ3 powered by Snapdragon.
ISV resources like the Windows Developer Kit 2023 powered by Snapdragon 8cx Gen 3 make it even easier for developers to utilize the dedicated AI Engine to enhance their experiences, whether that's a productivity tool, game, or creative app. To simplify workflows and push the boundaries of creativity, Adobe used the Snapdragon 8cx Gen 3-powered developer kit to ensure its Creative Suite utilizes dedicated AI-processing capabilities for more personalized and intuitive experiences that pair with Adobe Sensei.
Qualcomm S5 Gen 2 and S3 Gen 2 Sound Platforms
Qualcomm also announced the company's most advanced Bluetooth audio platforms to date – the Qualcomm S5 Gen 2 Sound Platform and Qualcomm S3 Gen 2 Sound Platform with support for Snapdragon Sound technology. These are optimized to work with the latest Snapdragon 8 Gen 2 Mobile Platform, and are feature-rich, ultra-lower power platforms that add new features to Snapdragon Sound including spatial audio with dynamic head-tracking, improved lossless music streaming, and 48ms latency between phone and earbud for lag-free gaming.
The platforms also support third generation Qualcomm Adaptive Active Noise Cancellation, which improves the listener experience by adapting to both in-ear fit and the user's external environment. This Qualcomm Adaptive ANC also includes the Adaptive Transparency mode with automatic speech detection, to support smooth transitions between immersive noise cancelling and natural sounding leak-through when a listener needs to hear the world around them. For audio device developers, enhanced ANC technology helps solve commonly faced issues such as wind noise, howling and adverse events. The Qualcomm S5 and S3 Gen 2 Sound Platforms are now sampling to customers with commercial products expected in 2nd half of 2023.