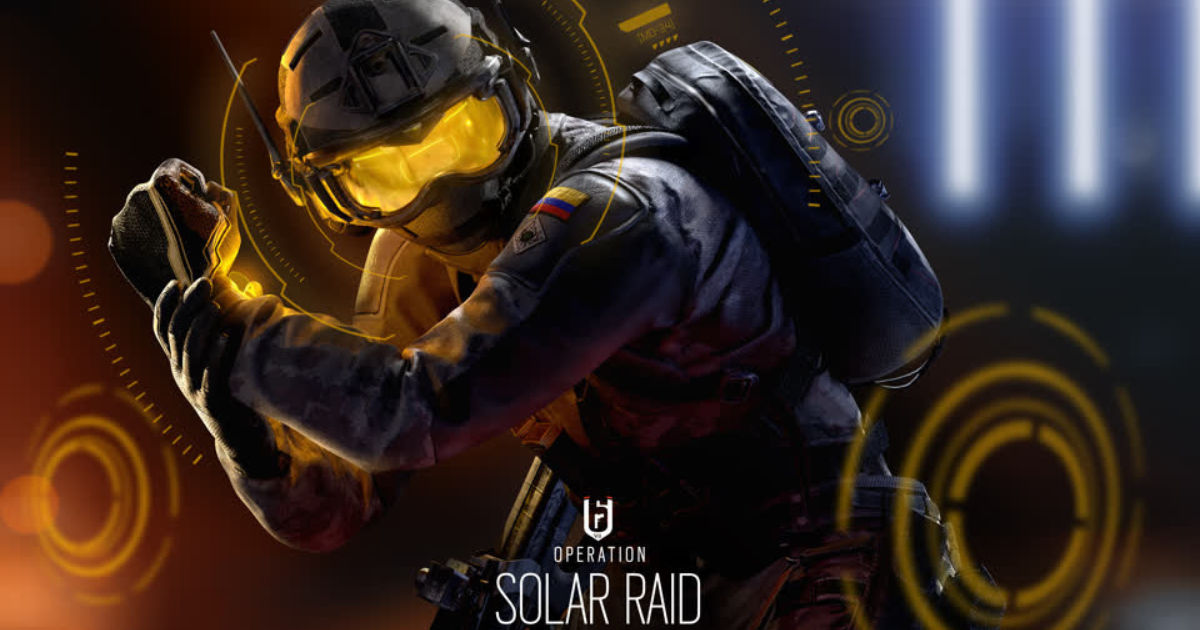 Ubisoft has confirmed the newest Operator joining the Rainbow Six Siege lineup next season on December 6, Solis. The new Operator joins the Defenders roster and comes armed with an electronics-detecting gadget. Solis will be available at launch as part of the Operation Solar Raid Battle Pass, and unlockable two weeks later with Renown or R6 Credits.
The game's newest defending Operator comes from Colombia and is part of Ghosteyes, an in-game faction of covert operators led by Caveira. Her weapon kit includes the P90 SMG or an ITA 12L Shotgun in the Primary slot as well as the SMG-11 as her secondary. Bulletproof cameras or impact grenades will be available to Solis as a generic gadget.
However, the crown jewel of her kit is her unique gadget, the SPEC-IO Electric Sensor, an augmented reality headset that enables her to spot and identify the Attackers' electronic gadgets. The gadget has a cooldown in the form of a charge that will slowly drain when Solis is using it and refill when she's not. Players can use the charge to cluster scan all gadgets and tag them for the rest of the team to see.
Also Read: Rainbow Six Siege Year 7 Season 4 First Teaser Reveals Look of New Map Based on a Laboratory
Rainbow Six Siege Year 7 Season 4 Introduces New Map, QoL Changes Including No More Friendly Fire in Prep Phase
Among all the new updates to the game is the introduction of the Nightaven Labs map, which was first seen in the trailer for Operation Brutal Swarm. The map houses a ton of exterior spaces, allowing Attackers a lot of room to maneuver. Complicating things a touch for Defenders is a bevy of breakable exterior walls which pose a unique challenge for the defending squad. The map will be present in the rotation and will not be bannable at the start of the season.
Updates:
Crossplay: Players on Xbox and PlayStation platforms will now matchmake together, join team chats together, and group up together. Players on PC and streaming platforms will remain in their own crossplay pool, separate from console players.
Cross-progression: This will unify your inventory of cosmetic items, in-game currency, and other items across all platforms.
Anti-cheat and anti-toxicity: New anti-cheat measures are being progressively rolled out on PC, and the Reputation System that has been running behind the scenes will now allow you to see your rating (as well as other players').
Ranked 2.0: The way that skill ratings and ranking are correlated is changing in order to improve the competitive experience and make it easier for players to group with friends of different ranks.
New Battle Pass Progression System: No longer a linear track, the Battle Pass will now feature branching paths that allow players to plan their routes to target the rewards that they want the most.
ADS Movement Update: All players will now move at the same speed when aiming down sights, regardless of their selected Operator's speed rating.
Team Colors on Gadgets: In order to improve clarity, certain gadgets will display team colors in order to more clearly communicate which team controls them (here's looking at you, Mozzie).
Friendly Fire Now Deactivated During Prep Phase