Ubisoft's leading esports title Rainbow Six Siege is entering its eighth year and the first season with Operation Commanding Force was just announced. The new season brings a new Brazilian operator named Brava who is a new attacker joining the roster. Besides the new operator the new season also brings important updates including a rework for how gun reloads work ingame, the Mousetrap feature to address players using mouse and keyboard on consoles, and new anti-toxicity measures.
Besides this the Year 8 Roadmap for Siege has also been announced which details the changes that the developers are working on for the upcoming year and the seasons.
Year 8 Season 1 Operation Commanding Force
Commanding Force brings Brava a new Attacker equipped with the Kludge Drone gadget. This drone besides surveillance can hack defender gadgets and brings them under the attacking team's control. Brava is a three speed, one health Operator, and her loadout features a PARA-308 or a CAMRS as a primary weapon and a USP40 or a Super Shorty as a secondary weapon.
Besides the new operator important gameplay updates coming with the new season include Mousetrap which ensures players who use mouse and keyboard on consoles will activate a penalty that adds lag to their inputs.
Further anti-toxicity measures include a new Reputation Penalty for abusive voice chat. In Commanding Force brings a balancing update to Zero, improvements to the Play Section UI, balancing change on weapon attachments, and a new immersive reload system: interrupting the animation will leave the player without a magazine, but closed bolt weapons will have a single round for the player to use at any point during the reload.
Also, new onboarding features arrive this season to assist new players in learning Rainbow Six Siege: Beginner Challenges and Specialty Challenges. Beginner Challenges identify an Operator's playstyle in-game. From February 20 until March 20, players can purchase the limited-time Year 8 Pass for $30 to unlock the four seasonal Battle Passes, a 14-day early access to new Operators when they launch, exclusive Exotic weapon skins, a 10% VIP discount on the shop, and more. For $60, the Premium Year Pass offers all the before mentioned perks plus 20 extra Battle tokens that players can use to unlock rewards faster.
Season 1's Battle Pass introduces the Bravo Pack Ticket, a rare item that lets players pick an exclusive reward from the latest Bravo Collection. This ticket will be awarded to Premium players who reach level 100 in this season's Battle Pass as a reward for their dedication.
Rainbow Six Siege Year 8 Roadmap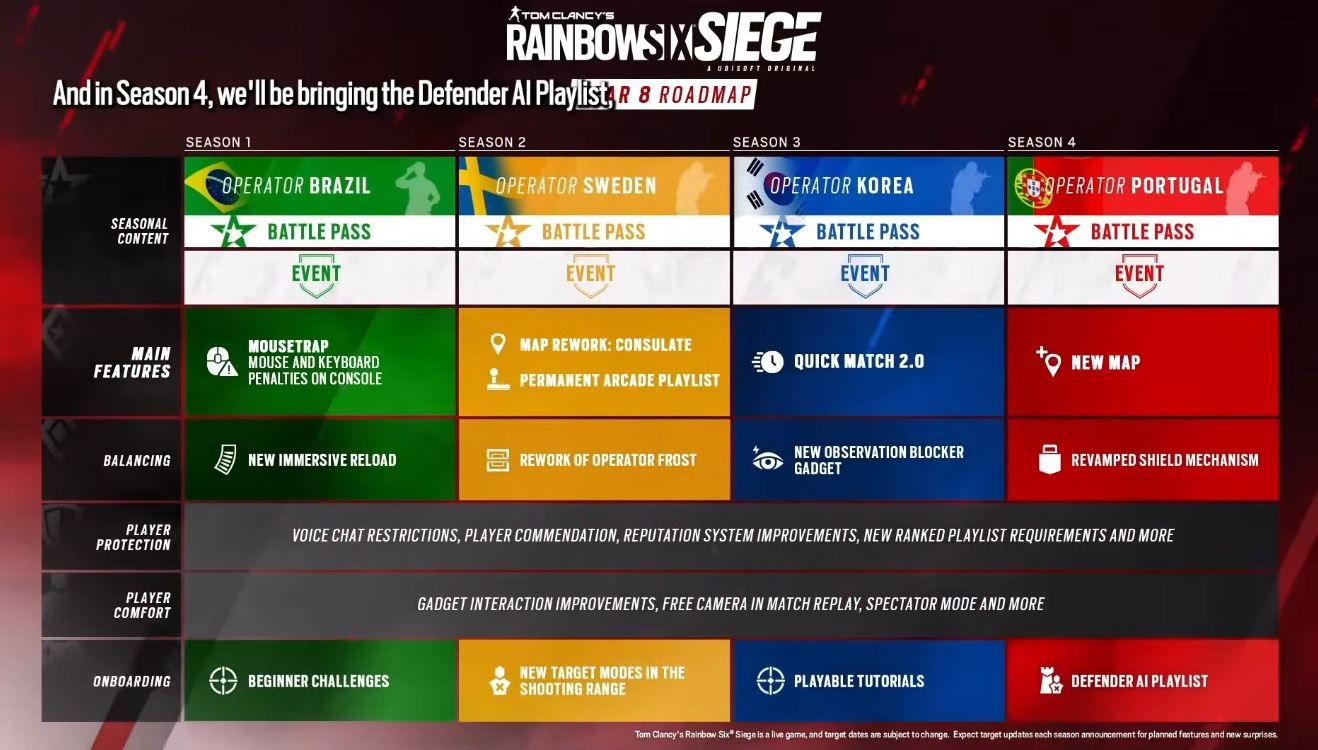 The four season in Year 8 of Rainbow Six Siege will bring one new operator each season with the first one being Brava from Brazil. The three upcoming operators will be from Sweden, South Kora and Portugal. The existing map Consulate will be reworked and a new map will be introduced this year as well. The defenders will get a new gadget this year as well which will help block vision and work as a veil. Frost will be getting a rework where operators caught in her mats will be able to free themselves without a teammate. Shield operators are being reworked this year as well with the ability to look around keeping the shield fixed and even reload from behind the shield. But hip fire for shield operators is being removed. Besides this controller layout customization, playable tutorials, beginner challenges, permanent arcade and event modes, Aim-Lab warmup tool are among the other things coming.