Highlights
Raspberry Pi 5 is the successor to the four-year-old Pi 4
Raspberry Pi 5 is said to offer 2-3 times the performance
It is priced starting at $60 (Rs 5,000 approx) for 4GB RAM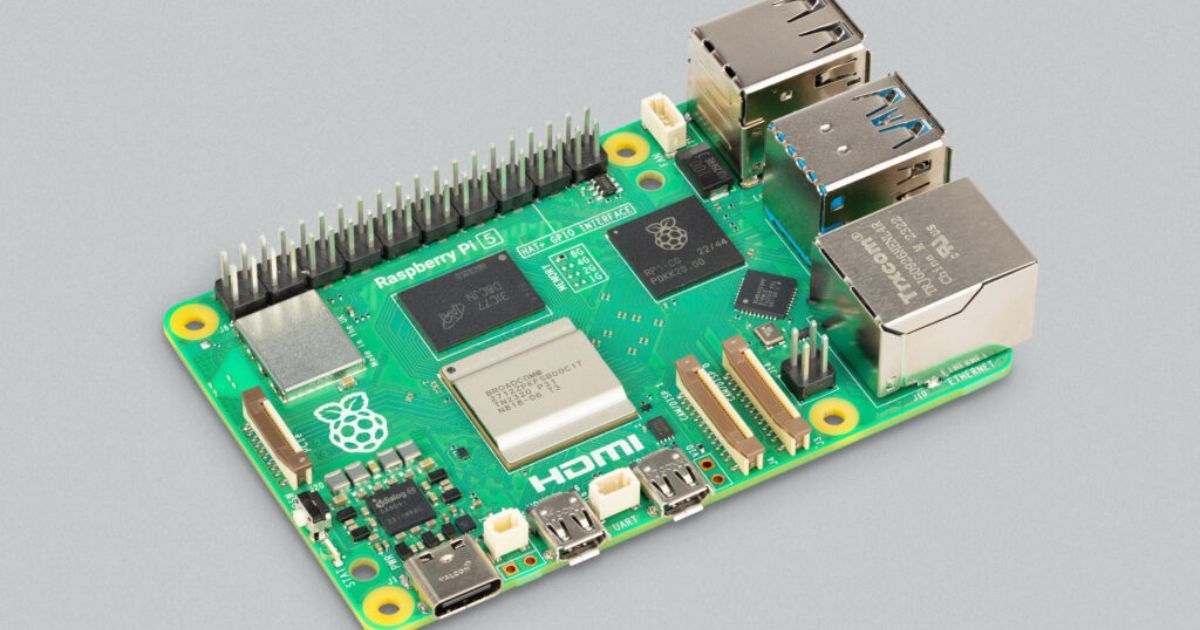 Raspberry Pi 5, which is the successor to the four-year-old Raspberry Pi 4, has been officially unveiled. The latest version of the microcomputer is priced starting at $60 (Rs 5,000 approx) and brings new features along with a faster performance when compared to its predecessor. This is also the company's first computer to feature in-house designed silicon.
"Today, that effort bears fruit, with the launch of Raspberry Pi 5: compared to Raspberry Pi 4, we have between two and three times the CPU and GPU performance; roughly twice the memory and I/O bandwidth; and for the first time we have Raspberry Pi silicon on a flagship Raspberry Pi device," said Eben Upton, the Welsh CEO of Raspberry Pi in a company blog post.
Raspberry Pi 5: Price And Sale Details
Raspberry Pi 5 is priced starting at $60 (Rs 5,000 approx) for the variant with 4GB RAM. The 8GB RAM option will sell at $80, which is around Rs 6,645 on conversion. The Raspberry Pi 5 units will start shipping by the end of October.
Raspberry Pi 5: Features And Specifications
Raspberry Pi 5 is powered by a 64-bit quad-core Arm Cortex-A76 processor that runs at 2.4GHz. The CPU performance is said to increase by two to three times when compared to Raspberry Pi 4, which is backed by a quad-core Arm Cortex-A72 processor clocked at 1.5GHz. Raspberry Pi 4 was launched in 2019. Upton said in the post that the Raspberry Pi 4 was roughly forty times faster than the original Raspberry Pi model from 2012.
Raspberry Pi 5 coupled with 800MHz VideoCore VII GPU, which the company says will offer a "substantial uplift" in graphics performance. It also supports a dual 4Kp60 HDMI display output, as well as camera support from a rearchitected Raspberry Pi Image Signal Processor. It is said to offer a smoother desktop experience for users.
Additionally, the "southbridge" component made by the Raspberry Pi Foundation, has been included for the first time in Raspberry Pi. It essentially helps the device with its I/O capabilities, improving its peripheral performance and functionality.
The company has more than doubled the aggregate USB bandwidth in Raspberry Pi 5, making it faster to transfer data to external UAS drives as well as other high-speed peripherals. It features a dedicated two-lane 1Gbps MIPI camera. Instead of display interfaces on the previous models, the Raspberry Pi 5 has a pair of four-lane 1.5Gbps MIPI transceivers, which is aimed at increasing the bandwidth speeds.
Raspberry Pi 5 supports a combination of up to two cameras or displays, SDR104 high-speed mode; and a single-lane PCI Express 2.0 interface. Ports supported are 4Kp60 HDMI display outputs, two USB 2.0 ports, two USB 3.0 ports, a gigabit ethernet, and a microSD card slot.
Raspberry Pi 5 also supports a 4Kp60 HEVC decoder, dual-band 802.11ac Wi-Fi, and Bluetooth 5.0 / Bluetooth Low Energy (BLE).