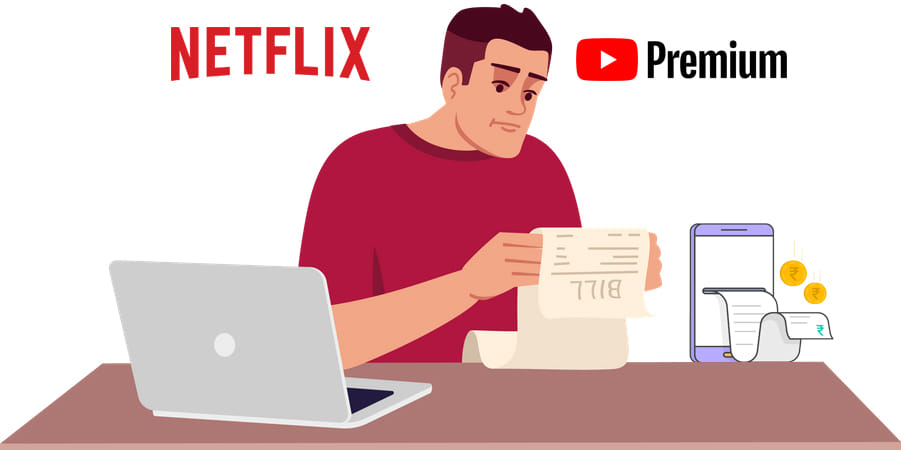 Back in 2019, the RBI (Reserve Bank of India) had laid guidelines for recurring online transactions where there is a provision of auto debit. These guidelines, however, are effective starting from today, i.e. October 1, 2021. These new guidelines will affect millions of people in India who opted for auto debit in recurring online transactions.
Many people have subscriptions to streaming services like Netflix and YouTube Premium, for which they now can not be charged automatically. Many people prefer auto-debit for utility bill payments like phone, power and broadband, not just streaming services. Now, they will have to do that manually. However, this new change will apply to transactions made using credit cards, debit cards, and prepaid cards.
These guidelines have almost killed the auto debit. If you have forgotten to renew subscriptions or pay your bills, do it right now and then continue reading this article, where the process to register for recurring transactions is also described.
Also Read: Xiaomi 11 Lite NE 5G Will Sport Netflix Dolby Vision Certification Out of the Box
However, these new guidelines have brought some new rules for customers. They are to be notified of recurring payments by their respective banks. As per sources in the industry, Axis Bank, Citibank, HDFC Bank, Kotak Mahindra Bank, Standard Chartered, Bank of Baroda, IDFC Bank are compliant with new rules alongside SBI Cards. However, the State Bank of India's debit card division and some other commercial banks are still making the necessary changes. Now you must be wondering how to manage all these billers that were deducting charges automatically each month. Here's how you can make things easier.
How to register for recurring transactions under new RBI guidelines?
Under the new auto-debit rules, you will first have to re-register your card with merchants like YouTube, Netflix and others in case of recurring payments. To register the card, you will go through two-factor authentication to complete the registration. Once you have registered for recurring payments, you will receive an SMS from your bank indicating the status.
After you have registered successfully for recurring transactions, for every transaction above Rs 5,000, you will receive an SMS message from your bank 24 hours before it's processed, asking you to approve the transaction by tapping the link in the SMS. Only after your approval, the transaction will be processed.
However, you will not be required to approve a recurring transaction below Rs 5,000 after you freshly register your card with a merchant. However, you will still receive an SMS with a link to cancel the transaction. However, for any such transactions up to Rs 5000 or more, the bank will redirect you to a webpage. You can cancel or pause the transaction there, and the page will also show upcoming recurring transactions.
Is there a way to set up auto debit?
As mentioned earlier, these new RBI guidelines will be applicable for transactions made using credit cards, debit cards, and prepaid cards. For merchants that charge customers via cards, setting up auto-debit is no longer possible. Even if you register your card again and do as mentioned above, you will have to approve transactions. However, if any biller accepts payments via net banking or UPI, you could set up auto debit using those payment methods instead of a credit or debit card. In that case, these new RBI rules won't be applicable.
Also Read: How to Reset or Change UPI PIN in Google Play, Paytm, PhonePe, Amazon Pay Payment Apps
Streaming services like Netflix and YouTube Premium supports UPI as well. Payment solutions providers like BillDesk can also help merchants in case of recurring payments, so maybe we all have to wait a bit to automatically make periodic payments via UPI. UPI is now probably the most popular payment method in India which we all use in everyday life and by looking at the growing popularity of it, recently Apple allowed Indian users to use the Camera App in iOS to make UPI payments.