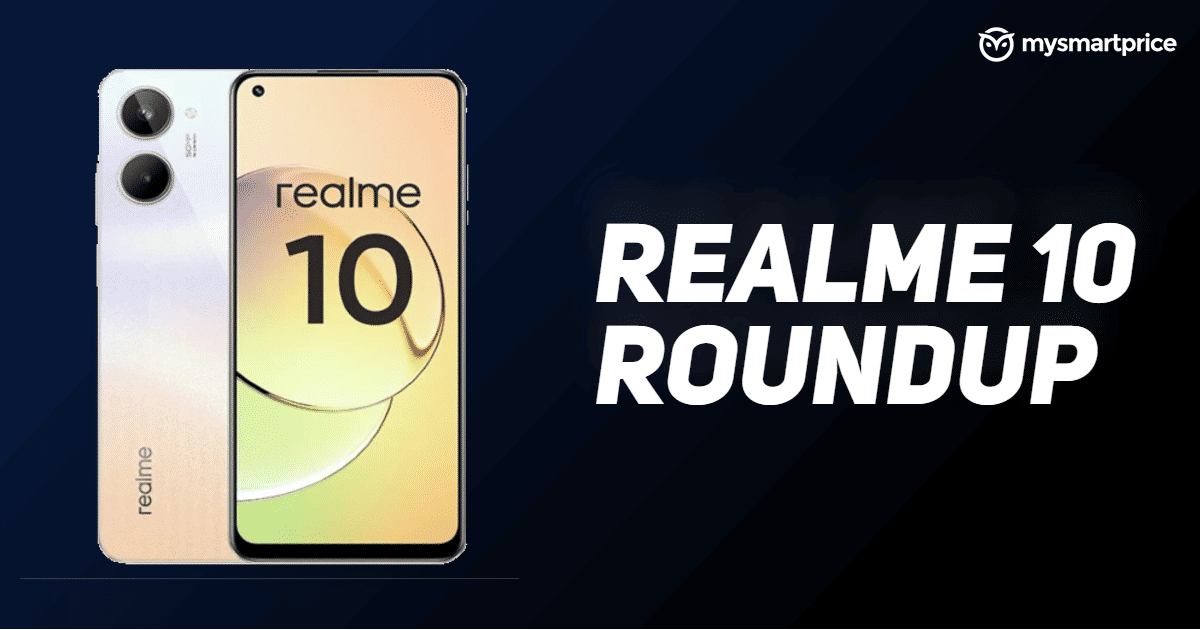 Realme is all set to end the year with a bang, and to make that happen; the company will be launching its new Reame 10 smartphone next week. Realme 10 will be the successor to the Realme 9, and from the reports we have seen, there is likely to be a 4G and a 5G device in the market. The Realme 10 launch event will be live-streamed online, and the company has already confirmed some of the upcoming Realme phone specifications. The device will be powered by a MediaTek chipset, focusing on the mid-range segment with its pricing and overall features.
Realme 10 Launch Date, Event Time, Where To Watch It Live
Realme 10 launch date is on Wednesday, November 9, when the lineup is expected to be unveiled globally. Realme 10 launch event will be live streamed on the company's official website and YouTube page at 7:30 PM.
Realme 10 Expected Price In India
Realme 10 price is likely to start from Rs 15,000 as per multiple reports, while the 5G variant could have a price tag of around Rs 17,000 in the market. Realme 10 is having a global launch for now, and we still don't have details about its launch in India. Realme 10 is expected to come in 4GB, 6GB and 8GB storage variants, with up to 128GB onboard storage, or even more.
Realme 10 Expected Sale Date In India
Realme 10 is having its global launch next week, and since we don't have an India launch timeline, it would be hard to give you a sale date for the new Realme 10 smartphone.
Realme 10 Specifications and Features
Realme has confirmed quite a few aspects about the Realme 10 smartphone, which is shaping up to be a competitive 4G and 5G device for buyers when it launches in the market next week. Here are some of the eye-catching details about Realme 10 that we know:
MediaTek Powering the Phones
Realme 10 4G is confirmed to be using the MediaTek Helio G99 chip, while the Realme 10 5G could have the MediaTek Dimensity chip for consumers. MediaTek has become a reliable choice for heavy users, and its 5G-enabled Dimensity chips have become a common sight in this segment. The 5G version of the Realme 10 is expected to come with the Dimensity 1080 SoC, which is the latest in the market from the chip maker.
AMOLED Display With High Touch Sampling Rate
Realme 10 is likely to sport an AMOLED display with support for a 90Hz refresh rate screen. The screen will offer Full HD+ resolution, which is the norm in this price range, but you will also get it with a 360Hz touch sampling rate, which makes everything a lot smoother, especially for gaming. The screen is going to feature a punch-hole cutout which is now becoming the standard choice for smartphone brands in this range.
Extendable RAM Boost
Gradually we see more brands bring expandable RAM support to their mid-range phones, and Realme 10 is going to join the ranks. This feature allows the phone to use its internal storage to expand the RAM, and by the looks of it, Realme 10 will allow you to stretch the phone's memory from 4GB and increase it to 8GB using this technology.
Other specifications
Realme 10 is expected to come with a dual rear camera setup with a 50MP primary shooter and a 2MP macro sensor. The front of the phone is likely to get a 16MP camera for selfies and video calls. Realme 10 could sport a 6.5-inch AMOLED panel and come with a side-mounted fingerprint sensor. Realme 10 will be using the Android 12-based Realme UI 3.1 version, and it will come packed with a 5000mAh battery that will let you charge at 33W speed.