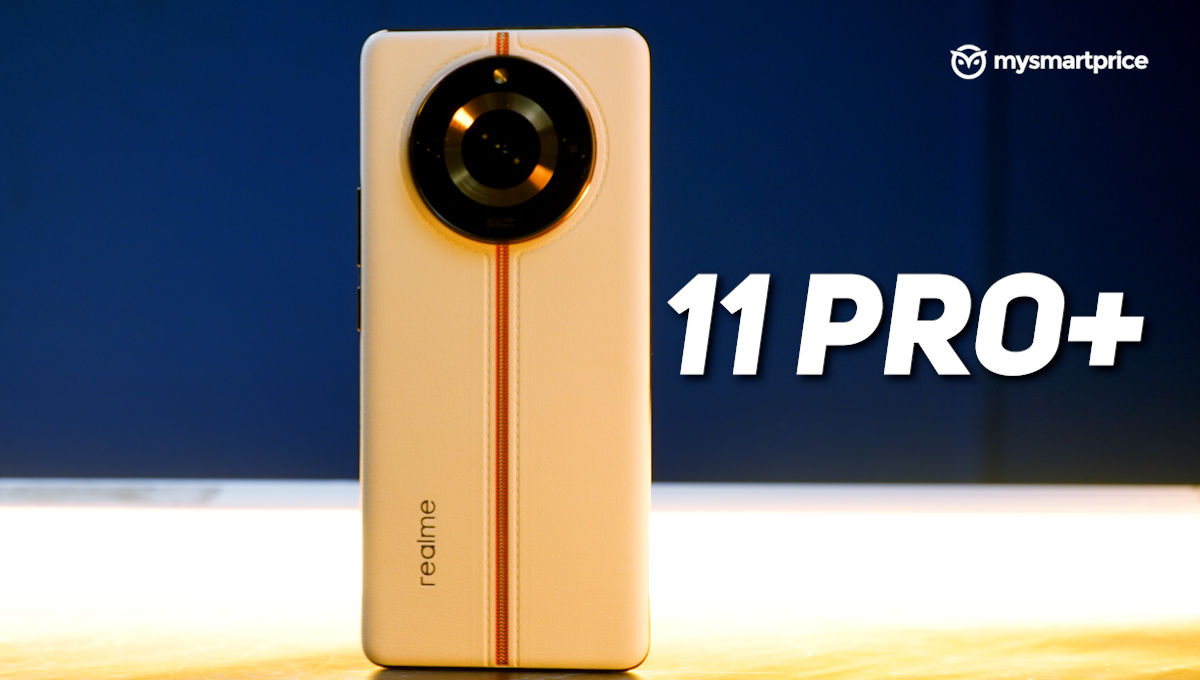 We have reviewed about four camera smartphones this year from the stables of OPPO, Vivo and Xiaomi, and all of them had a few things in common – a giant circular camera module, insanely powerful camera sensors, a stitched leather back and an eye-watering price tag. The Realme 11 Pro+ aims to give you access to all of these without making you shed a tear.
What Is Good?
Premium, unique & lightweight design
Great display
Good daylight camera performance
Fast charging
Long battery life
Starts with 256GB of storage
What Is Bad?
Struggles with indoor lighting
Tons of bloatware
Slightly underpowered SoC
Going by the hype generated in the last few weeks, the Realme 11 Pro+ seems like an exciting new package with its cameras, display, design and battery capacity. But having used it for over a couple of weeks, it feels eerily familiar to its predecessor, the Realme 10 Pro+. So, is it time to buy one? Read on to know in our review of the Realme 11 Pro+.
Realme 11 Pro+ Review: Pricing and specifications
The Realme 11 Pro+ is available in two RAM and storage variants, as listed below:
8GB/256GB is priced at Rs 27,999
12GB/256GB is priced at Rs 29,999
It comes in three colourways: Sunrise Beige, Oasis Green and Astral Black. We received the former of the three.
Realme 11 Pro+ Review: Design and display
The phone has a faux stitched-leather rear panel
It weighs 183 grams, which is lighter than most curved-display smartphones on the market
The faux stitched-leather rear panel of the Realme 11 Pro+ has a glossy orange spine in the centre to add some contrast in terms of texture and colour, which got polarising opinions from our friends. Some absolutely loved it, whereas others found it tacky. But it never went unnoticed. While paying at a department store, the cashier was curious about the name of the 'sofa-wala phone' in our hands.
The giant circular camera 'continent' bears three sensors and takes up about a third of the real estate on the rear. The front and back of the phone are both curved, and the frame protrudes just a tiny bit to give you some extra leverage while holding the phone. It's fun to carry around in your hand, as it's not slippery. It did get slightly discoloured sometimes, but it was nothing a damp cloth couldn't wipe out.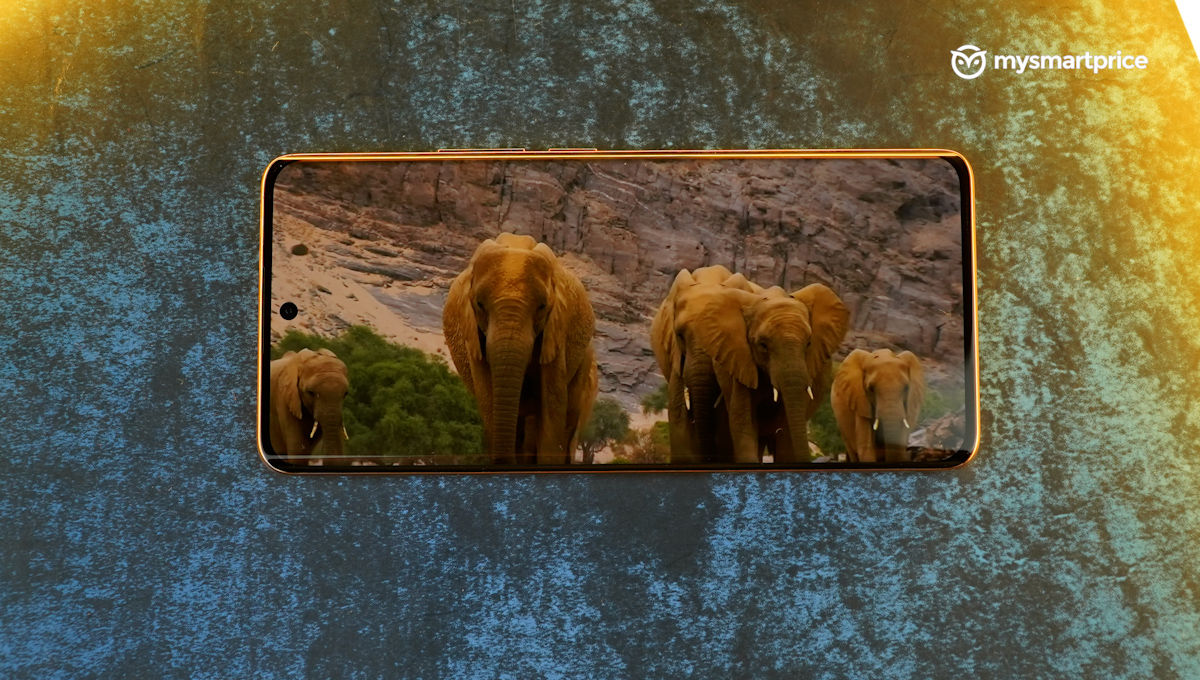 At the front of the Realme 11 Pro+ is a sprawling 6.7-inch OLED display with a Full HD+ resolution. It doesn't feel too big because of how slim its bezels are. It refreshes at 120Hz, and for an extra layer of butteriness, it offers a 1260Hz touch sampling rate. In typical Realme style, it's tuned to be a bit cooler, and for some reason, it appears less vibrant than Lava Agni 2's display. You can adjust the colour temperature in the display settings. It's a great display to watch content, with Widevine L1 certification for full HD playback on Netflix and Prime Video, but we didn't see any HDR playback.
Realme claims to have included an endless barrage of display features here. For instance, there's a 20,000-level automatic brightness adjustment here, which seamlessly matches the phone's brightness level to its surroundings. It also comes with TUV Rheinland certification for blue-light emission that protects your eyes in the long run and X-touch anti-mistouch algorithm 2.0 to eliminate oopsie-daisie moments.
Accompanying the visuals are dual stereo speakers with Dolby Atmos compliance. They sound loud and clear but lack the punchy low-end thump.
Realme 11 Pro+ Review: Camera
A 200MP Samsung ISOCELL HP3 sensor powers the primary camera.
It makes way for 4x lossless zoom, 2x portraits and quad-phase detection autofocus tech, usually reserved for high-end smartphones.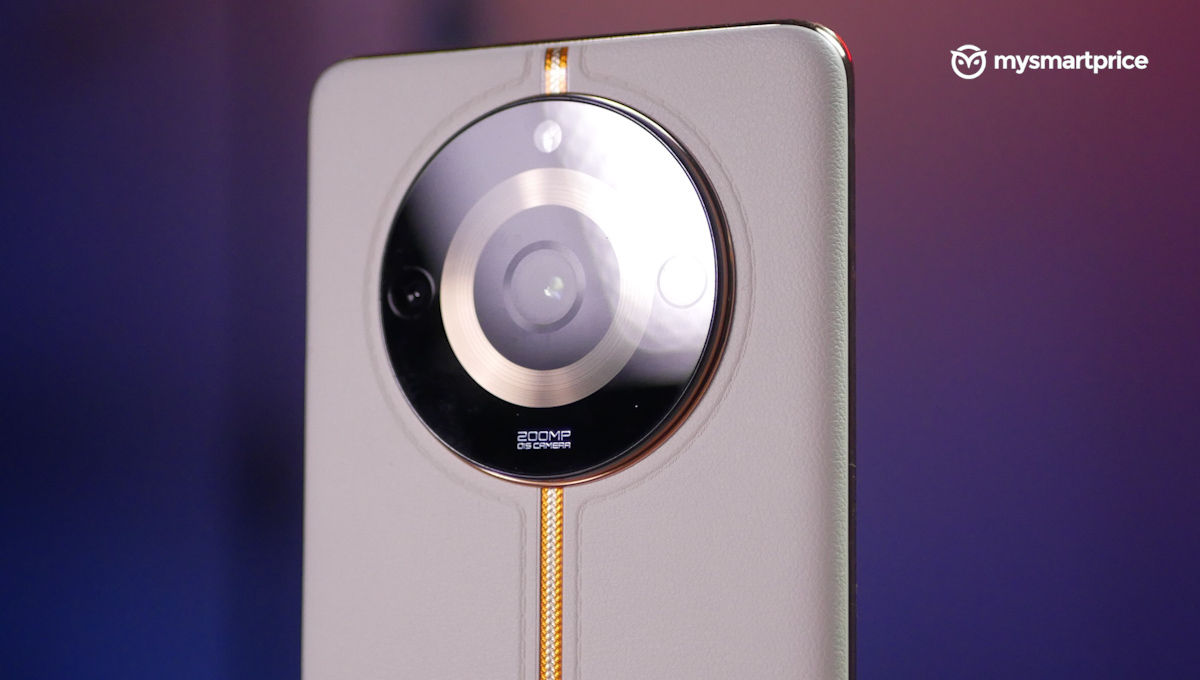 As we have listed the main highlights of the camera system above, we believe we should first touch up on what to expect from Realme in the coming years. Realme has invested about 350 crore rupees into the research and development of camera hardware and algorithms. Basically, they aim to do the same thing they have been doing with charging technology and performance so far.
The optically stabilised 200-megapixel Samsung ISOCELL HP3 is the headliner here, accompanied by 8-megapixel ultrawide and 2-megapixel macro shooters. The HP3 is closely related to the HPX sensor found in the Galaxy S23 Ultra. It has the same 1/1.4" sensor size and offers similar features such as 'super QPD' and 'Tetra2pixel'.
If you had to go by Realme's claims, you should toss out your year-old phone for this. Let's dig into the photos first and then break down the jargon so that you can revisit the photos and gauge whether this is your cup of tea or not.
Outdoors, during the day, the primary clicked some well-detailed, contrasty images. Sometimes it would accentuate the greens a bit too much, but overall, we liked the photos clicked by the phone. It clicks 12.5-megapixel pictures by default, but that's okay because the 'Hi-res' mode is just a tap away in the camera interface. Photos clicked in this mode take less than a second to process, which is vastly better than other phones with similar sensors. 200-megapixel images also have many details, which isn't too surprising.
What we liked about the primary camera is its ability to automatically zoom on a subject in Street mode while maintaining optimum composition and high resolution using 'in-sensor zoom' tech (explained later).
Indoors, even in great lighting, the primary shooter had the tendency to resort to a lower shutter speed, resulting in a blur and some noise. We aren't quite sure what's causing this, but we believe Realme needs to work on its algorithm in this scenario.
At night, without human subjects, the Realme 11 Pro+'s camera is a ton of fun. It processes images quickly and clicks photos with tolerable noise. It also latches focus in a jiffy. But, the moment it stumbles upon a human subject, the 200-megapixel camera resorts to a lower shutter speed, which makes clicking photos unpredictable. Five out of seven low-light shots either had the subject's eyes shut or the entire subject in motion. This was despite our best efforts to stay still.
The garden variety 8-megapixel ultrawide camera is just average. We spotted a very evident 'watercolour' artefact around the corners, which is expected at this price. The macro camera, too, is just there to justify the triple camera credentials, clicking barely acceptable photos during the day.
Here's a glossary of jargon about the new camera sensor that we have simplified just for you:
Super Quad-phase detection (Super QPD) Focus – Gives each pixel of the primary sensor the ability to focus. This makes focusing on a subject faster, especially at night.
Tetra2pixel – Another name for pixel binning. The sensor can combine four pixels together to give an effective pixel size of 1.12μm and a resolution of 50 megapixels or 16 pixels together for 12.5-megapixel images with a 2.24μm pixel size. Low resolution results in better light capture, especially during the night.
In-sensor zoom – Instead of using digital zoom, which crops the final image, the 11 Pro+ allocates an area of a 200-megapixel sensor to be viewed on the viewfinder and shot. This yields better details on a far-away subject without using a telephoto lens.
Hypershot Imaging Architecture 2.0: An algorithm which helps in clicking high-resolution images much faster.
Auto-Zoom: A feature in Street mode that's been trained using machine learning to zoom in on a subject and compose an image by itself.
Realme 11 Pro+ Review: Battery life
It offers a screen-on time of about 7 and a half hours
It charges up from 0-100% within 40 minutes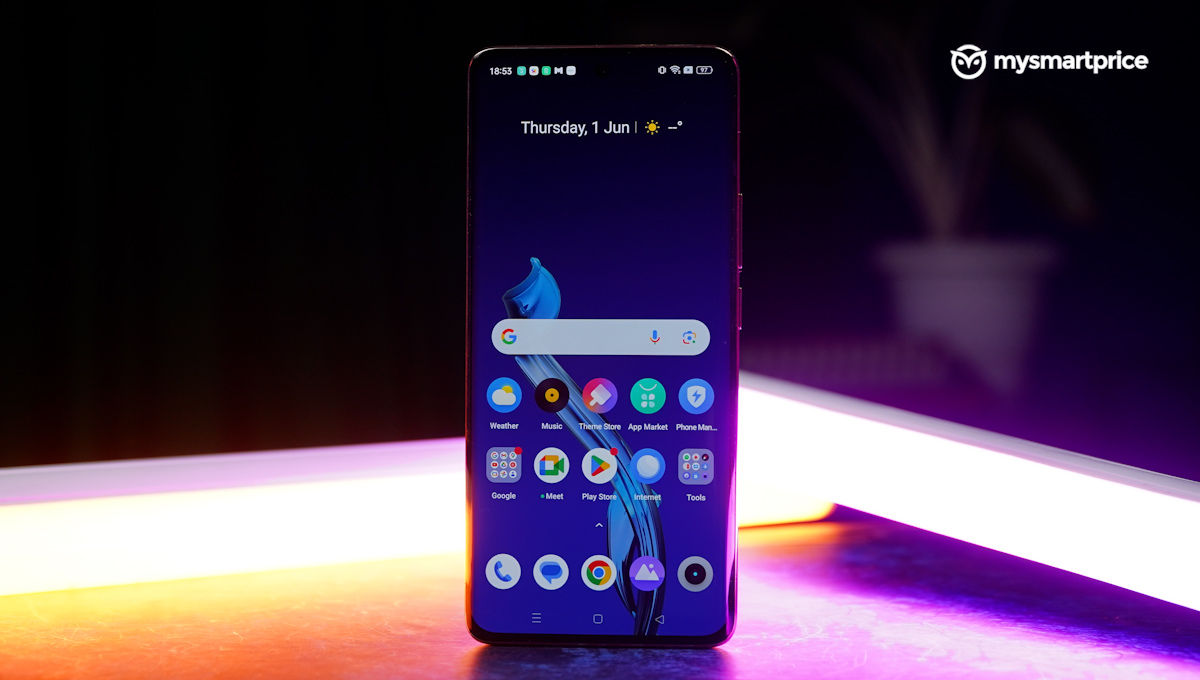 Battery efficiency and fast charging have always been a key forte of Realme smartphones, so to maintain that legacy, the 11 Pro+ comes with a 5,000mAh battery which can be charged using the bundled 100W charger. This is simply astonishing, given the phone's slim dimensions. The Vivo V27 Pro, with a similar footprint, comes with a comparatively anaemic 4,600mAh battery and just 66W charging.
In real-world usage, the Realme 11 Pro+ gave us a screen-on time of about seven and a half hours. Lasting an entire day is a cakewalk for it; heck, it can even mosey its way into a second afternoon easily. Charging the Realme 11 Pro+ is also a breeze, as it takes only about 40 minutes for a full charge from a dead battery.
Realme 11 Pro+ Review: Performance
MediaTek Dimensity 7050 powers the phone
It secured a score of 534867 in the AnTuTu v10 benchmark
The MediaTek Dimensity 7050 recently debuted in India with the Lava Agni 2, but in essence, it's just a rebadged Dimensity 1080 SoC. This can sting some performance-obsessed folks, as they can argue to find a Snapdragon 7+ Gen 2-powered phone at this price. The harsh reality is that the Realme 11 Pro+ is just not catered to that crowd. It's a camera-focused phone that aims to bring a luxurious vibe to the masses, so to expect earth-shattering performance is unreasonable.
In synthetic benchmarks, the Realme 11 Pro+ managed 534867 on AnTuTu v10. In GeekBench 6, it managed 927 and 2243 single and multi-core scores, respectively. These are near identical scores to the Realme 10 Pro+, which was launched earlier this year. The Lava Agni 2, the only other phone with Dimensity 7050 so far, secured marginally lower scores and had drastically lower stability in the CPU throttling test.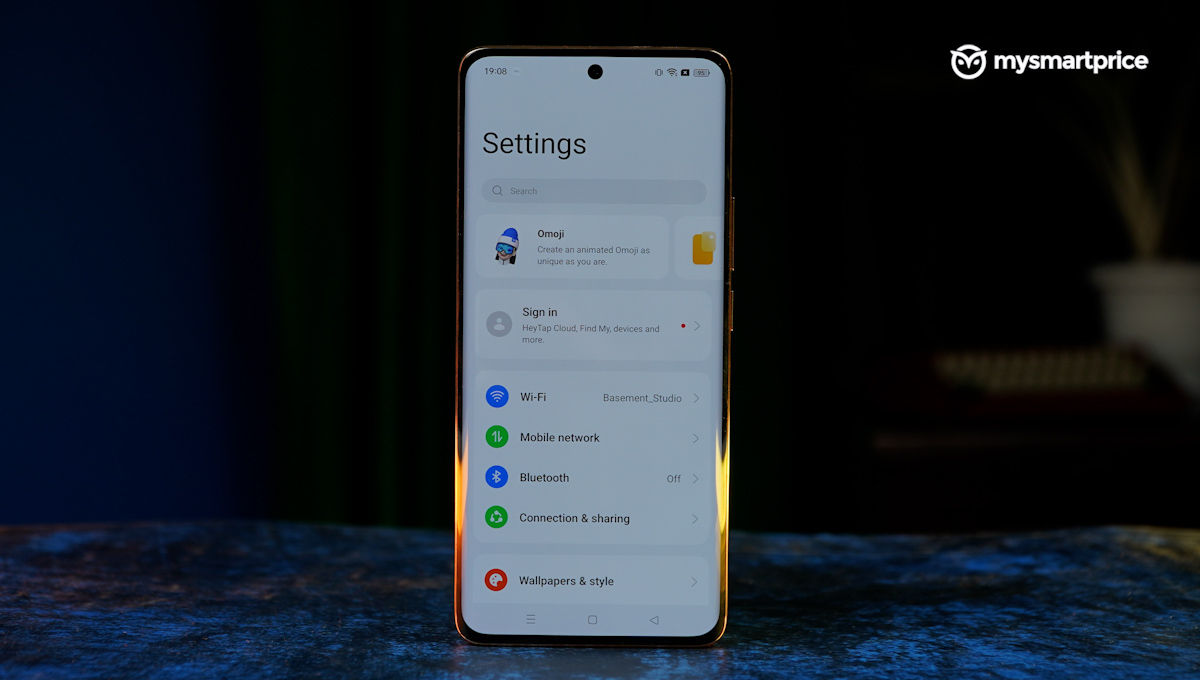 In day-to-day scenarios, the Realme 11 Pro+ worked without any major hitches. Of course, it's Realme UI 4.0 based on Android 13, so it's got tons of ads and bloat pre-installed, but it was still snappy. They also removed explicit app suggestions in the HotApps folder, a considerable relief.
There are some new features in this version of the UI, especially on the always-on display (AOD). You can now interact with playlists from the AOD itself, eliminating the hassle of repeatedly unlocking the phone. You can also track cab and food delivery apps from the AOD.
RAM management is also excellent here, wherein the phone retains apps in the background. We never felt the need to enable the virtual RAM feature. But for some reason, if you want to feel cool among your friends, you can always allocate some disk space to boast 16GB of RAM.
Realme 11 Pro+ Review: Verdict
The Realme 11 Pro+ is a unique smartphone with its faux leather back, 200-megapixel camera, curved OLED panel, adequately powerful processor and insanely fast charging speeds. Its predecessor offered a similar package, but the new design is far more appealing than the prior one, and the marketing pitch for the new camera sensor is also convincing in real life.
The bloatware may leave a sour taste for purists, and the lack of some severe horsepower will tick off gaming enthusiasts, but at this price point, it's challenging to offer everything in a single package.