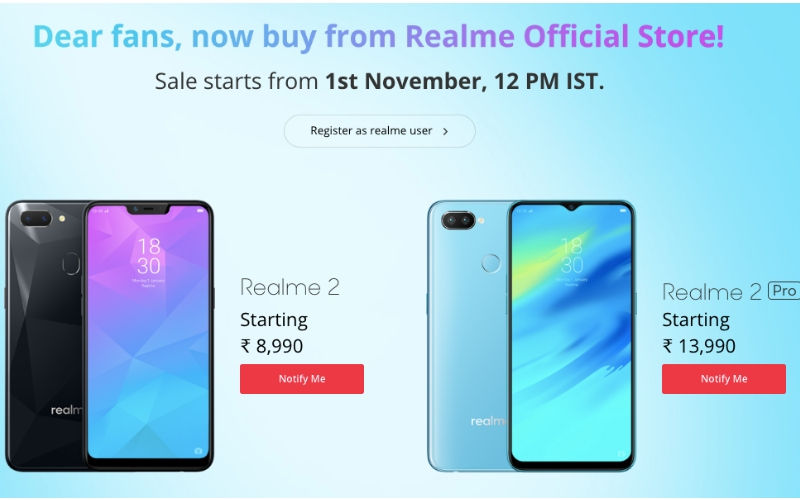 The Oppo sub-brand Realme has finally launched its very own online store where you can buy its products. Realme is a fairly new brand, but is already very popular among the people in India. The company sells its smartphones at very competitive pricing without neglecting the build quality and hardware specifications. It currently competes with brands such as Xiaomi, Motorola, Nokia, and Vivo. The Realme 1 was exclusive to Amazon India, whereas the Realme 2 and others have been only available on Flipkart so far. However, the company is now launching its official website where customers can buy all its phones, including the Realme 1.
Realme Now Available On Official Online Store
Realme will start selling its smartphones on the official store starting November 1, 2018. The website is already live, and you can purchase the mobiles right away. According to Realme, even the Realme 1 is available for purchase from the website. The Realme 1 is available on Amazon India right now, if you want to get one. There aren't any offers as of now on the website, but we can expect some after the first sale.
Your favourite Realme smartphones will be available for you at our first official online store from 1st November. https://t.co/oLq3ohmOgY

— Madhav Sheth (@MadhavSheth1) October 30, 2018
The Realme 2 is available for a starting price of INR 8,990, whereas the Realme 2 Pro starts at INR 13,990. Since this is a sale, expect the stocks to run out soon. If you want to purchase either of these phones, you will have to be very quick. The sale starts at 12PM tomorrow, which means you will have to be on the site and logged in at around 11:58 PM. To be quick, make sure you sign up on the site as a Realme user and keep all your details ready. These phones are currently not available on Flipkart either, but will go online during the Big Diwali sale. You can buy the phone from the online retailer as well, in case you weren't able to purchase from the Realme website.
Realme vs Competition
There is a lot of competition in the budget and mid-range smartphone segment in India. These markets are mainly ruled by Xiaomi, but ever since the launch of Realme phones in May this year, things are a little different. Realme has shot to popularity and is giving brands like Xiaomi, a tough competition. The Realme 2, for example, is better equipped and priced than the new Xiaomi Redmi 6. It has a bigger display with a notch, a larger battery, and a better chipset. All this for the same price as the Redmi device.
The Realme 2 Pro is the mid-range smartphone that starts at INR 13,999. For this price, the phone is equipped with a Snapdragon 660 processor, 4GB of RAM, 64GB storage, a 6.2-inch Full HD+ display with a waterdrop notch, dual-rear camera, and a 3500mAh battery. This phone competes with the likes of the Xiaomi Redmi 6 Pro, Motorola One Power, Nokia 6.1 Plus, and many others. Despite the similar price as the rest, it provides better specifications.
The Realme C1 is also a great product, which competes with several budget phones. For just INR 6,999, you get a large 6.2-inch display with a notch, a 4230mAh battery, Snapdragon 450 processor, dual-rear camera, and more. This phone is basically the segment leader, as there are no other devices that come even close to its specifications and value. Even Xiaomi's Redmi 6A, which costs INR 1,000 lesser, is no match to the Realme C1.