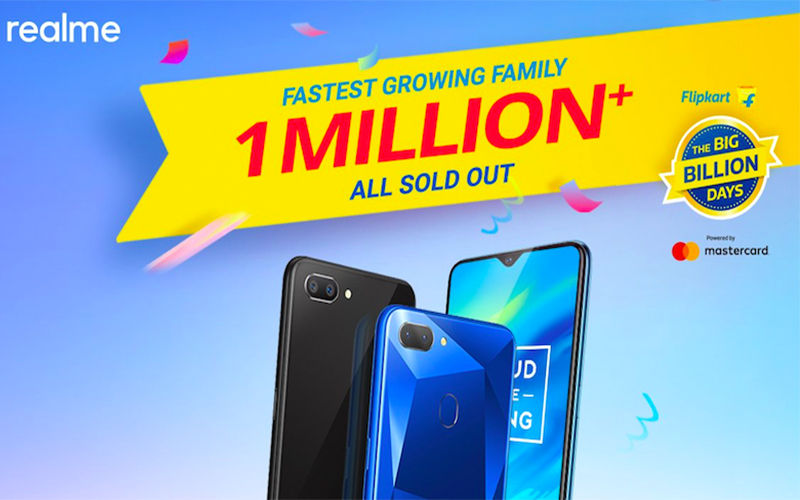 During the Flipkart Big Billion Day Sale, lots of manufacturers had put their smartphones up for a discount and if that discount was not enough, there were several offers accompanied by those price cuts. The Realme 2, Realme 2 Pro and the Realme C1 were also a part of this sale, and it is no surprise that all three models have managed to accumulate a total of 1 million sales during this massive shopping festival. You cannot deny that their affordability and the hardware specifications according to the price is extremely competitive, leading to so many sales in just a short span of time.
Realme 2, Realme 2 Pro, Realme C1 Million Sales
The Flipkart Big Billion Day Sale started on the 11th of October and ended on the 14th of the same month, and during this time, there were a lot of sales, discounts and offers surrounding various smartphones. Three of those devices belonged to the sub-brand of OPPO and as stated above, their price/performance ratio was the sole reason why they were able to generate so many sales during a short period.
After the Realme 2 was officially launched in India, the Realme 1 stopped getting produced, but there was still a reasonable amount of stock that was being sold through lots of online and offline channels in order to get rid of that excessive inventory. During the Flipkart Big Billion Days Sale, neither the online retailer nor Realme provided exact information as to which model was the most popular.
However, the company did announce that after the inception of the Realme 1, the Realme 2 sold in a greater number, selling over 500,000 units in just one month. With the latest announcement, the sub-brand has stated that devices featuring this name has now sold over 2 million units, making it one of the fastest growing handset families in India, and we are confident that it will give Xiaomi a tough competition in the near future.
Realme 2, Realme 2 Pro, Realme C1 Specifications, Features
All smartphones feature big batteries to provide a higher level of endurance for users. The Realme C1 is the most affordable one out there, featuring a price of Rs. 6,990 and sporting a Snapdragon 450, 2GB RAM, 16GB storage, a 13MP+2MP dual-camera, and a 4230mAh battery. The price in India for Realme 2 starts from Rs. 8,990 and sports the same battery size and chipset as the Realme C1.
However, it gets 3GB RAM, 32GB of onboard storage and a 13MP+2MP dual-camera. The most powerful unit is the Realme 2 Pro, which sports 4GB of RAM for the base version and is capable of providing up to 8GB RAM for the top-tier model. It is armed with a Snapdragon 660, a 3500mAh battery, 64GB storage and a 16MP+2MP dual-camera at the back. The price of the base model is Rs. 13,990 right now.
After you're done reading about this, you can check out our first impressions video of the Realme 2 Pro as well as the Realme C1.