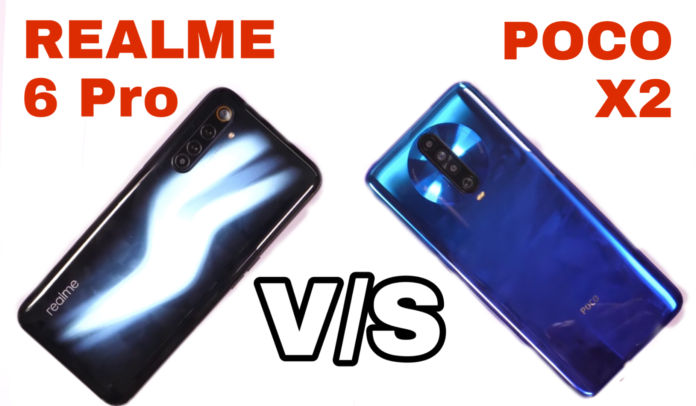 Up until a couple of years ago, buying a smartphone under 20K meant you could either get Samsung's offerings which were the bare minimum in terms of features and specs, or you could go for the 'new Chinese brand' Xiaomi, who honestly, didn't have to do much to edge out the competition. All of that changed in 2018, when Oppo's subsidiary Realme became an independent brand and entered India with the Realme 1. Cut to 2020, and we have phones in the 10-20K price range, that might give even some 'premium' phones a run for their money. Realme's latest offering, the Realme 6 Pro is one such phone. But so is the Poco X2. Two phones, very evenly matched when it comes to the pricing and the feature set, but which one is a better phone overall and which one of these should you buy if you're confused between these options? Let's try to answer that question together in this all-out comparison.
Realme 6 Pro vs Poco X2: Design and Build Quality
'Evenly matched' is actually the best way to describe these two phones' design and build. Both of these come with glossy glass backs and splash-resistant bodies. The lightning pattern on the Realme 6 Pro definitely looks more snazzy, but the Poco X2 too doesn't look bland by any means. In terms of overall dimensions and weight, they are quite similar again, with the Poco X2 being slightly heavier (208g vs 202g) and bigger in dimensions. Both of them have a side-mounted fingerprint scanner embedded into the power buttons and the placement/unlocking speeds here are quite comparable.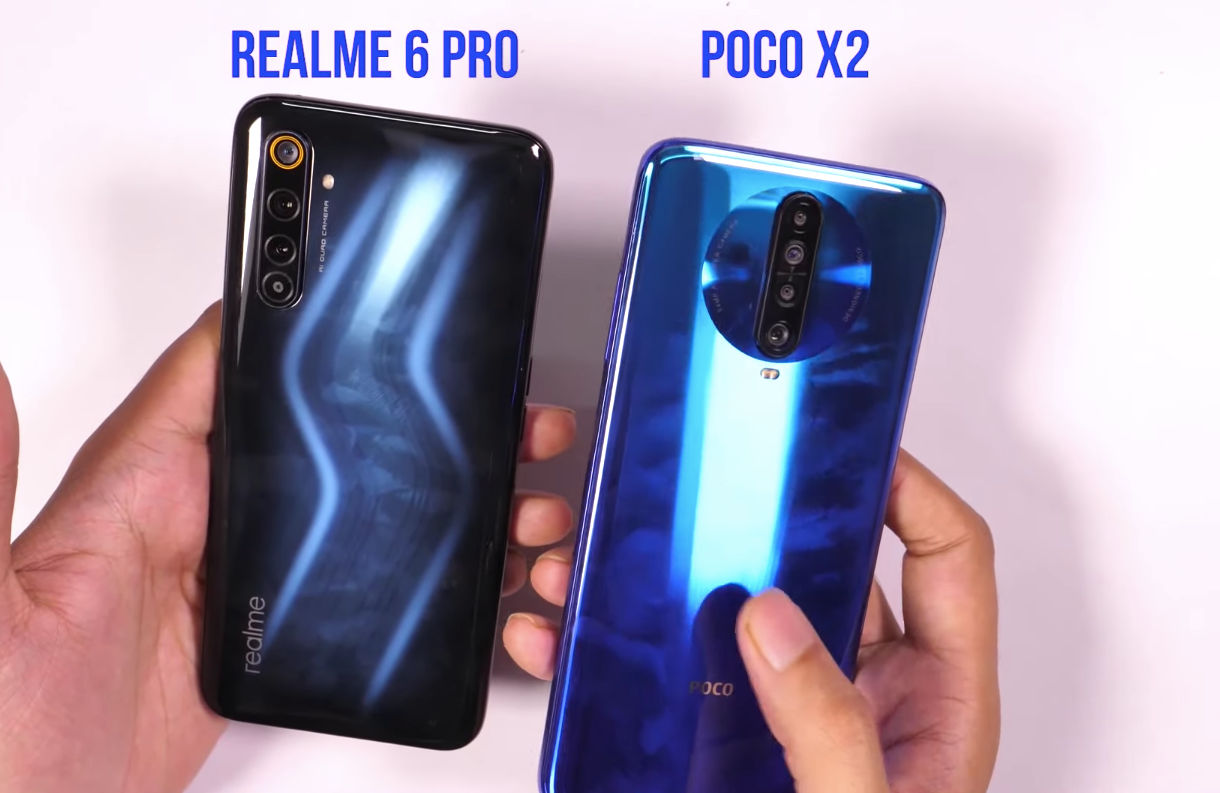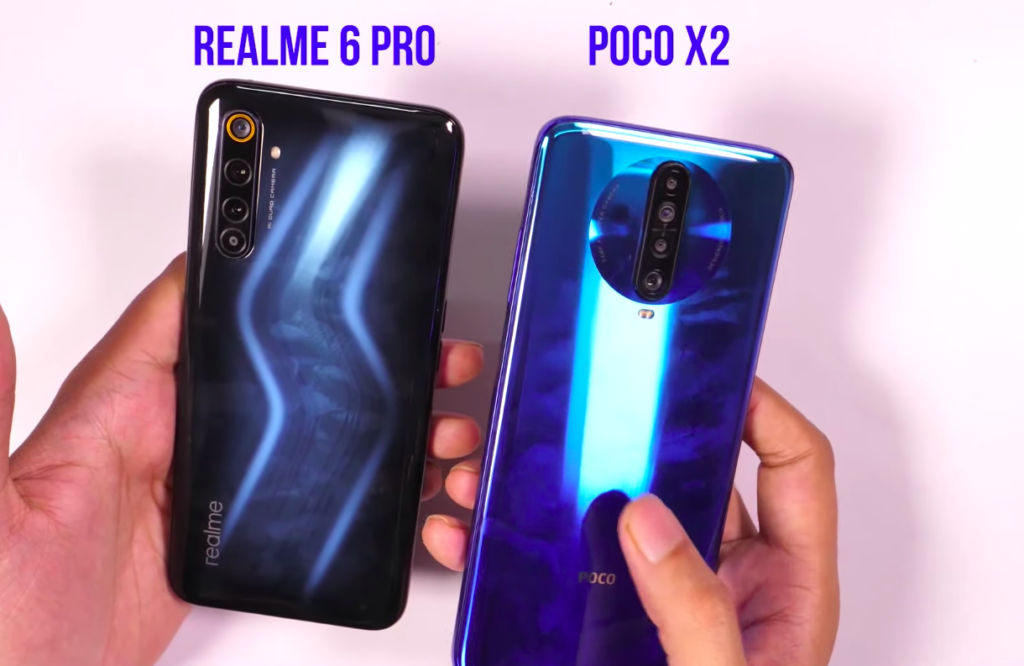 Instead of harping on about the similarities, I'll just point out the few differences that we find here. The Realme 6 Pro has the advantage of a Triple Slot so you can pop in 2 SIM (4G) cards and a microSD card. The Poco X2 has expandable storage too but it's via a hybrid slot so you'll have to give up your second SIM for extra storage. The Poco however, packs in an IR blaster so you can use it as a remote for your TV/home appliances, while Realme 6 Pro has no such option. The only gripes I have with both of these phones is that they get smudged very easily and their size makes them really uncomfortable to use for longer periods.
Realme 6 Pro vs Poco X2: Display and Multimedia
Coming to the front of the devices, both the phones here feature IPS LCD displays, dual punch-holes for selfie cameras, Gorilla Glass 5 protection and the bezels around the displays are almost identical too. The 6 Pro has a marginally smaller screen at 6.6", while the Poco's measures 6.67"; both of them touting the exact same resolution (2400×1080)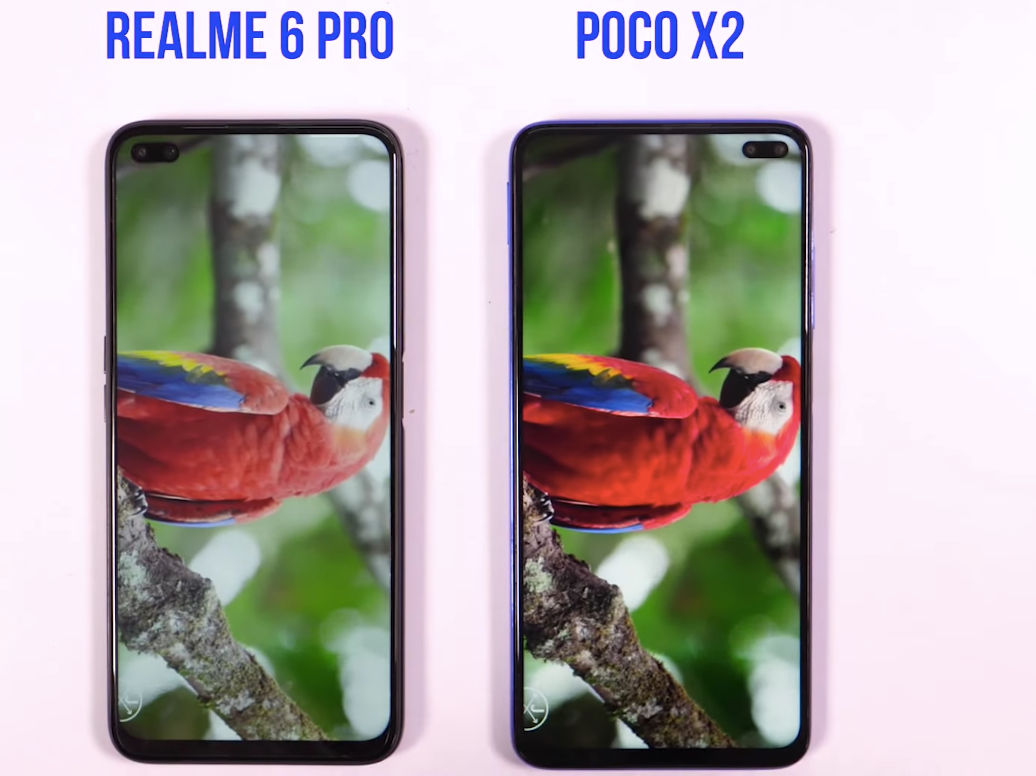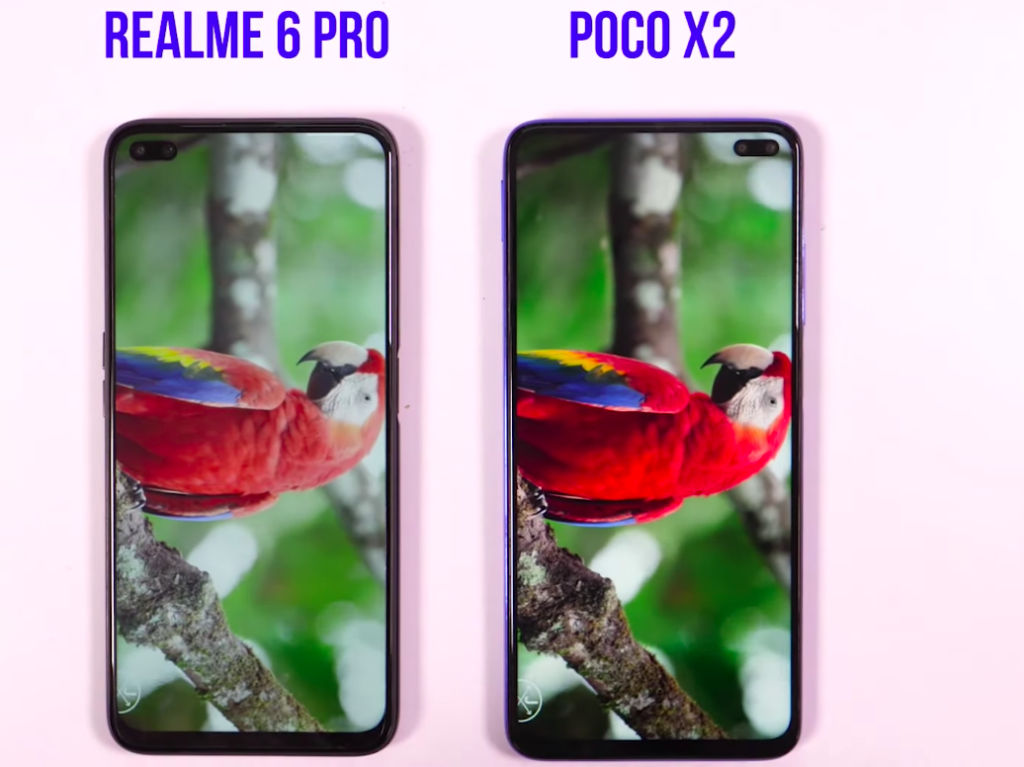 In terms of actual screen quality though, the Poco X2 edges out the Realme 6 Pro as it has a brighter (500nits vs 480nits) screen and it also comes with HDR10 support The Realme 6 Pro's screen isn't bad per-se, but keeping them side-by-side, you'll find the Poco X2's screen to be more vibrant with a bit more punch in the colors. As far as multimedia performance goes, Poco X2's speaker also sounds better than the 6 Pro, with noticeably better thump, although the loudness is more or less the same. Realme 6 Pro has the advantage of packing in Dolby Atmos tuning, but you can achieve virtually the same sound by tweaking Poco's built in equalizer. So this round goes to the Poco.
Realme 6 Pro vs Poco X2: Performance and Software
Both of these phones come with a minimum of 6GB RAM and 64 gigs of UFS 2.1 storage. The Poco X2 offers you a 8/256GB variant while the 6 Pro maxes out at 8/128GB. For processing power, the Poco relies on the Snapdragon 730G while the 6 Pro comes with a brand new Snapdragon 720G chipset. Both of these are 8nm process based and come with the same core configuration; 2 high-power Cortex A76 cores and 6 lower-powered A55 cores. They even come with the same GPU, the Adreno 618. So what's the difference? Firstly, the 730G comes with slightly better quality Kryo 470 cores vs the Kryo 465 in the 720G; and secondly, the GPU on the 730G is slightly overclocked.
Enough with the spec talk though. When it comes to real world usage, there's hardly any difference that you can tell between these two. Whether it's app opening times, game loading times, or the actual gaming performance in heavy games like PUBG and Asphalt, both of these phones are neck-to-neck in everything. What helps these phones feel extra smooth are the high refresh rate screens on both. Poco again has an edge here with a 120Hz refresh rate compared to 90Hz on the 6 Pro. But again, while using these phones, it's almost impossible to spot the difference; although both of these phones will look much smoother than any other 60Hz screen phone. There are not a lot of games that support 90/120fps gameplay right now, but that's probably the only area where the Poco's higher refresh rate will come in handy. I have already done an extensive gaming test on these phones and the only difference I could find was that Poco tends to heat up considerably more than the 6 Pro, which hardly feels hot even after 2-3 hours of continuous gaming. Although, I'm not sure if this has to do with the different processors being used here or just how these phones dissipate CPU heat.
Coming to software, both these phones come with Android 10 OTB with heavily customised skins on top. Realme UI on the 6 Pro is much more closer to stock Android's look-and feel, than Poco's MIUI 11 with POCO launcher. However, in terms of features both these skins are evenly matched. There's a good amount of bloatware installed on both these phones, and you'll be spammed by a lot of notifications from in-built apps unless you turn them off manually. Nevertheless, the performance and gaming round is a tie between these phones but Poco does have an edge with the specs, at least on paper.
Realme 6 Pro vs Poco X2: Camera Comparison
Both these phones sport a total of 6 cameras but on the Poco, only 4 out of those 6 are actually useful. The primary camera on both these phones is a 64MP shooter. While the Realme 6 Pro's is a Samsung GW1 sensor, Poco uses Sony's IMX686. Apart from this, you get 8MP ultrawide and 2MP macro sensors on both. Poco completes the quad setup with a 2MP depth sensor, while the 6 Pro packs in a 12MP telephoto lens. Coming to the selfie side, Realme 6 Pro shines again with a 16MP primary (IMX471) and an 8MP ultrawide selfie camera. Poco has a 20MP primary paired with an almost pointless 2MP depth sensor. I've done an extensive camera comparison on these phones and you can check out the shot-by-shot comparison in the video here:
To sum up the camera performances though, these are the few trends that I observed:
The 6 Pro has a better selfie camera, both for pics and videos, and its ultrawide selfie camera is great for taking group selfies or making selfie vlogs.

The Poco X2's pictures generally look more appealing as they have a lot more contrast in comparison to the 6 Pro's flat looking shots. However, on closer inspection, the Poco X2 does a lot of over-sharpening in the pictures, and also tends to completely crush the shadows. The 6 Pro has better dynamic range and manages to keep both the highlights and shadows intact.

Videos taken from the Poco X2 look a tad more crisper than the 6 Pro, especially in tough lighting conditions and the sound recording is better on the Poco too.

Wide-angle camera performance is almost identical, the Poco does have a better macro camera though as it can focus from much closer range and also produce sharper images.

The 6 Pro's dedicated telephoto lens does perform slightly better than Poco's digital 2x zoom, however the difference is a lot more visible when you zoom in 10x or higher.
Overall, both of these are excellent camera phones for their price and for 9/10 scenarios, you'd be happier with either of them. I'd pick the Realme for selfies, and Poco for the rear camera, mainly because of the Sony sensor. Poco X2 also tends to have a bit more consistency in the camera performance and the image tuning is more social media ready, but that's something Realme can easily match up with software updates.
Realme 6 Pro vs Poco X2: Battery and Charging
Poco comes with a slightly bigger (4500mAh) battery compared to the 6 Pro's 4300mAh cell. Both of these phones can easily last you through a day though with 6+ hours of SOT. However, in the real world battery test, the 6 Pro seems to do comparatively better with about 30minutes of extra SOT. Obviously the high refresh rate screens do take their toll on the battery and you can get another hour or so of usage with the screens set to 60Hz refresh rates. Coming to the charging speeds, this one's really a no contest with the Realme 6 Pro's 30 Watt Flash Charge charging up the 6 Pro from 0-100 in under an hour! That's an impressive charging speed even for a top-tier flagship. The X2's 27 Watt Quick Charge takes about 1hour and 10minutes for a 0-100 charge, which isn't bad by any means but Realme's flash charge is more useful when you need a quick 10min top-up right before stepping out or before catching a flight. So, the battery round goes to the 6 Pro, although the Poco isn't too far behind.
Realme 6 Pro vs Poco X2: Pricing and Verdict
With phones that are so evenly matched (can't believe I'm using this term for the 10th time in the same post), it all practically boils down to the pricing. Poco X2's base variant (6/64) starts at Rs 15,999 and the 6/128GB model costs you Rs 16,999. The 6 Pro for these same variants, costs a thousand bucks more at Rs 16,999 (6/64) and Rs 17,999 (6/128). The Poco X2 offers an IR blaster, HDR10 display and slightly more consistent rear camera performance. The 6 Pro offers a dedicated card slot, better selfie performance, a wide-angle selfie camera and a dedicated telephoto lens at the back. None of the pros mentioned here are big enough to make or break your purchase decision (unless you realllly want an IR blaster or a triple slot in your phone, in which case you wouldn't be reading this comparison anyway).
I love the back design and charging speeds on the 6 Pro and if you're one of those people for whom the selfie camera matters more than the rear camera, then the 6 Pro should definitely be your pick. For everyone else, both of these phones are great packages overall and you won't be disappointed by either of them, whether you're looking for good performance, cameras or just a general all-rounder. However, Poco manages to do all of this at a slightly cheaper price, and for that reason, the winner of this comparison and still the under 20K champion is the Poco X2!
What do you think about these two phones? Do let me know your opinion in the comments below. Meanwhile, here's another comparison which you might like:
Thanks for reading till the end of this article. For more such informative and exclusive tech content, like our Facebook page