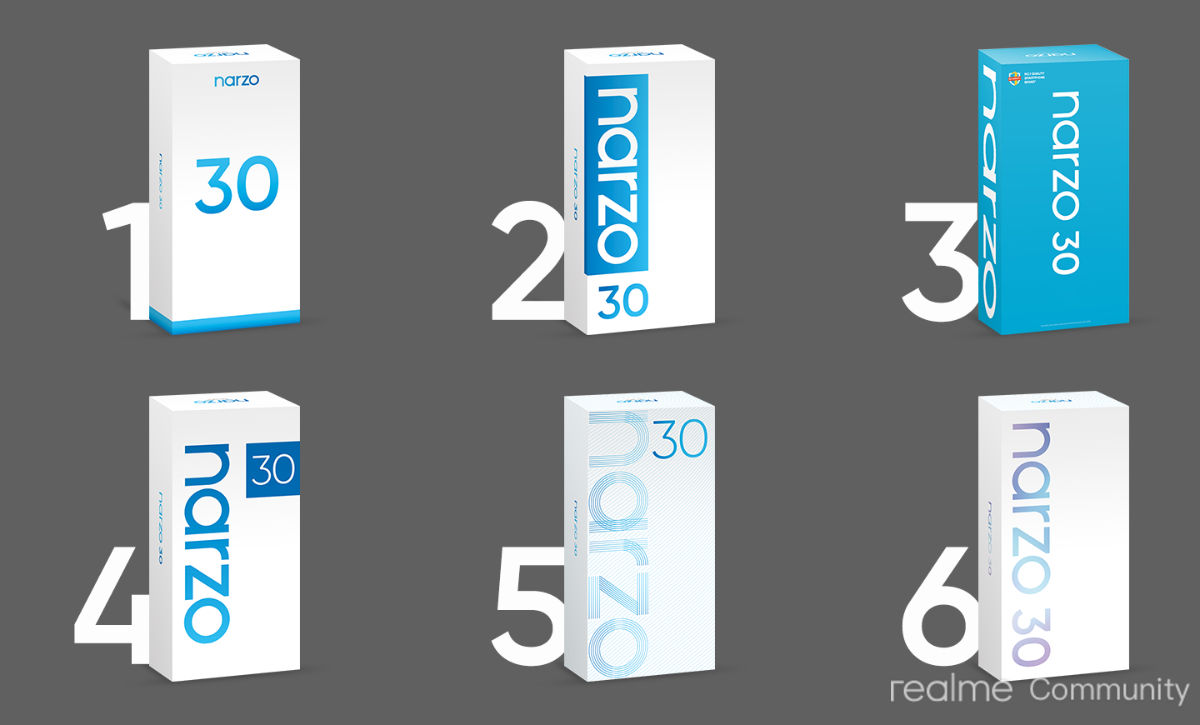 Update: Realme India head Madhav Sheth has confirmed the same on Twitter. He also mentions that 1 lucky winner will win a new Narzo phone
3 Million young players have chosen the performance-oriented #Narzobyrealme series so far. Now calling all gaming enthusiasts to choose your favourite Narzo smartphone box.
1 lucky fan will win a new narzo phone!

Head here to #realmeCommunity for voting: https://t.co/sRIK7rZNw4 pic.twitter.com/uUeaRJTjGs

— Madhav FutureX (@MadhavSheth1) February 8, 2021
The Realme Narzo 30 Series launch is around the corner and could be announced this month in India. Realme has asked fans on its community website to choose a retail box for Realme Narzo 30. The company has given six boxes to choose from. It looks like the colour blue is going to be the theme for the Realme Narzo 30 series. The survey reveals that Realme is adding finishing touches before the launch.
#realmeCommunity Survey ✅
Which Box You want for #realmeNarzo30series

Vote here 👇https://t.co/6fJiw6yQR2#realme #Narzo30 #Narzo30Pro #Narzo30A #Narzo pic.twitter.com/Sgcn8THUc4

— Ishan Wankhade (@IshanWankhade) February 8, 2021
Realme today posted a survey on the Realme Community website, "The young Narzo bleeds blue, a series for young players out there to showcase their talent in style. All our decisions are made by fans and we are doing the same for Narzo. We have got a couple of boxes made for the next Narzo device and we want you guys to help select the best."
Realme Narzo 30 Series Expected Launch Date
[Exclusive] Provided there's no last moment change, Realme will launch its Narzo 30 and Narzo 30 Pro smartphones in January.
Just like last time, there could be a third device as well.
Feel free to retweet.#Realme #Nazro30 #Narzo30Pro #stufflistingsarmy

— Mukul Sharma (@stufflistings) December 10, 2020
Back in December, Leakster Mukul Sharma tweeted that Realme Narzo 30 series would be launching in January but for whatever reasons, that didn't happen. There's also no formal teaser about the series out in the wild yet. The only thing we know is Realme Narzo 30 series will feature three phones in India.
The Narzo series was introduced back in March 2020 when the company launched Realme Narzo 10 and Realme Narzo 20 series. The Narzo series is focused on the young generation and is all about power, speed, and performance. Realme also announced that they are now a family of 3 million Narzo users.
Realme also launched its most awaited Realme X7 series in India with Mediatek chipset. The Realme X7 series features two phones, Realme X7 and Realme X7 Pro. These phones are priced at Rs 19,999 and Rs 29,999 respectively. We expect Realme Narzo 30 series to be a mid-budget smartphone.