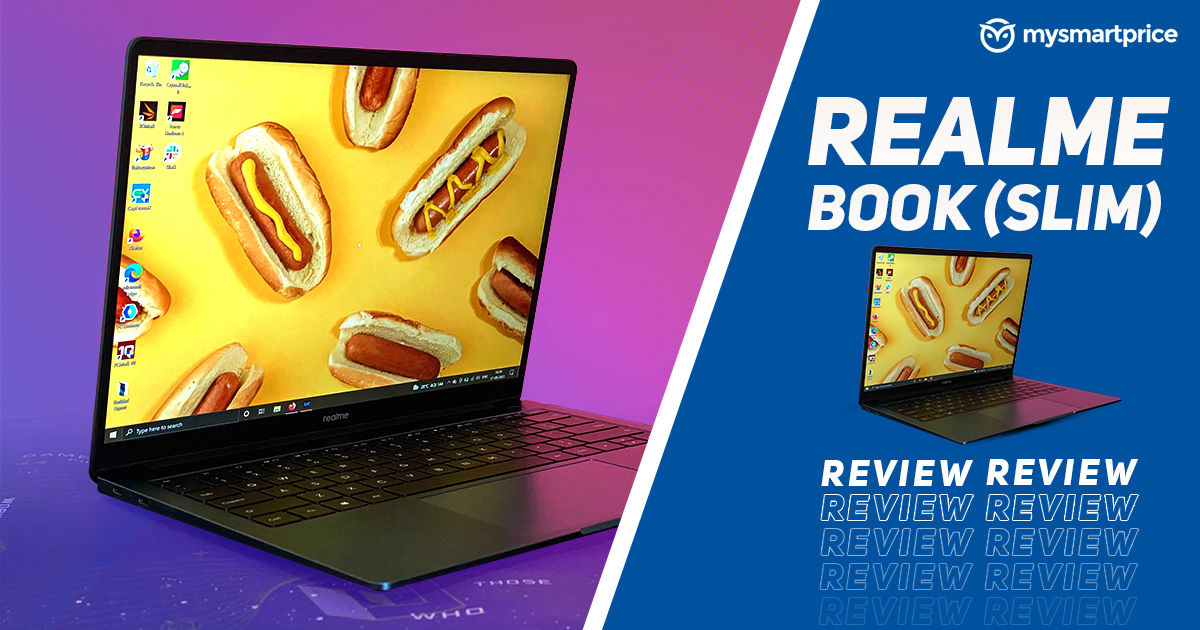 The Realme Book Slim really came out of nowhere, and it's easily one of the best products to come out of the young brand's stables and performs just as well as it looks. It does look a lot like Apple's MacBooks, as Realme left no doubt about where they took inspiration from, but this one's a well-done MacBook clone that rocks a 2K display and a slim metal finish, and at Rs 46,999, it doesn't get better than this. I've been using the Realme Book Slim for a few weeks and here's my review —
Keyboard and Trackpad
6.0/10
What Is Good?
Premium, metal design
3:2, QHD display
Good price to performance ratio
What Is Bad?
Lacks adequate I/O ports
Display tuning is off
Major keys missing from the keyboard
Realme Book Slim: Specs and Variants
There are three variants of the Realme Book Slim in India. The base model, which we are reviewing here, sports the Intel Core i3 1115G4 along with 8GB RAM and 256GB PCIe SSD storage, and it tops out with the Intel Core i5 1135G7, with 8GB RAM and 512GB SSD. There's also a 16GB RAM variant with the Intel Core i5, but that hasn't launched in India yet. All variants of the Realme Book Slim sport the same 14-inch 2K display with a taller 3:2 aspect ratio along with Wi-Fi 6 and 65W fast charging. Also, the Core i5 variant comes with a USB 4.0/Thunderbolt 4 Type-C port.
The Core i3 variant with 256GB storage is priced at Rs 46,999 while the Core i5 variant is priced 15k higher at Rs 59,999. However, for the first couple of sales, Realme is offering Rs 2,000 discount on both variants, further sweetening the deal. But is this deal worth availing? Let's find out.
Realme Book Slim: Design and Build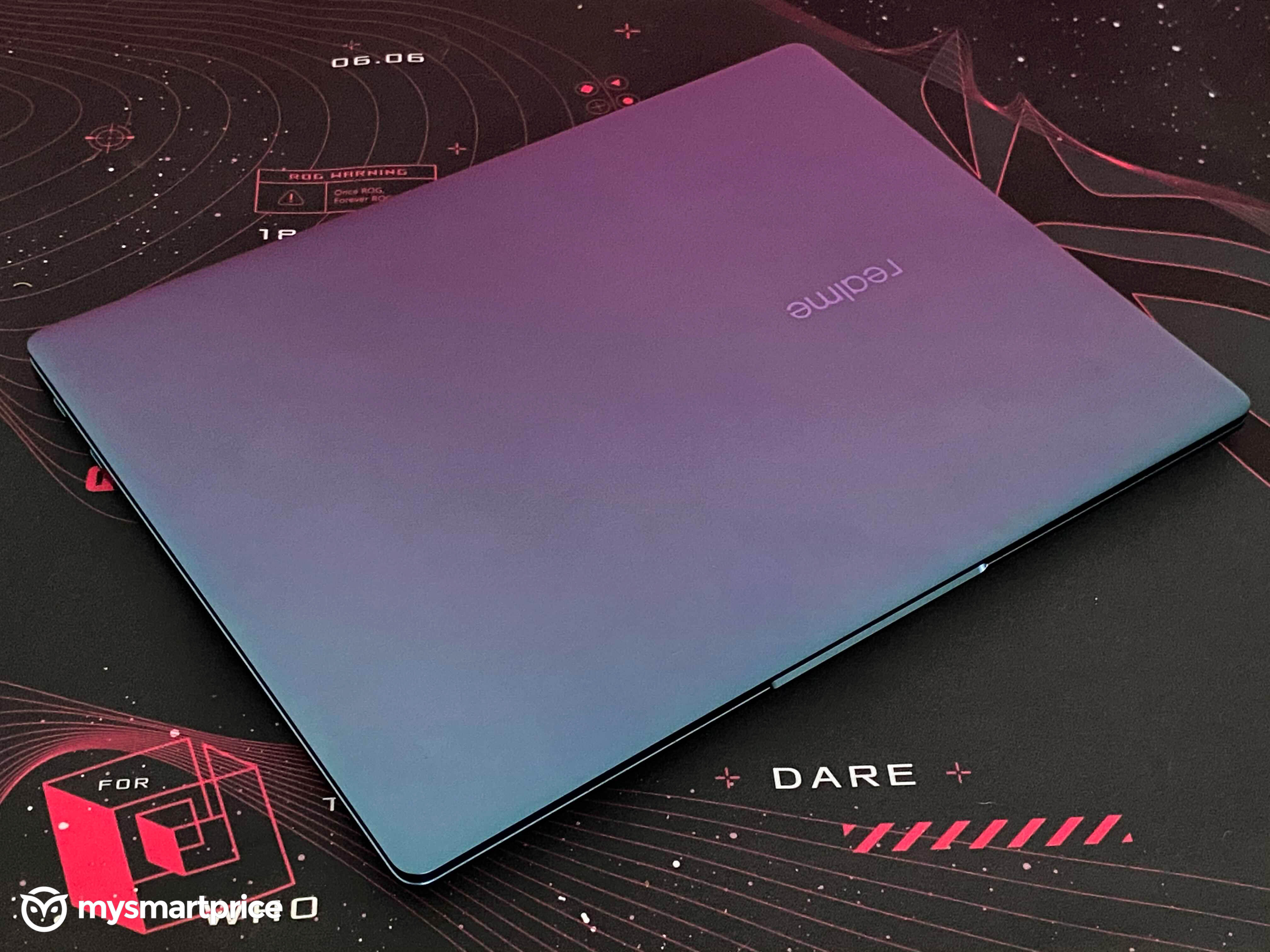 Alright, let's start with the build here. This is Realme's first laptop, but looking at it, there's no way to guess. It's like they've been making laptops for years. The Realme Book is made out of CNC-milled aluminum, and it feels super premium. Unlike anything you get under 50k right now. Most exquisite.
It's uniformly machined with no rough edges, has that smooth anodized finish, and it tapers off to the edges in a wedge shape, with a 14.9mm trim at its thinnest. The bezels are razor sharp with a 90 percent screen to body ratio, and it weighs just 1.3kgs. For a laptop priced 47 grand in India, that's jaw dropping good.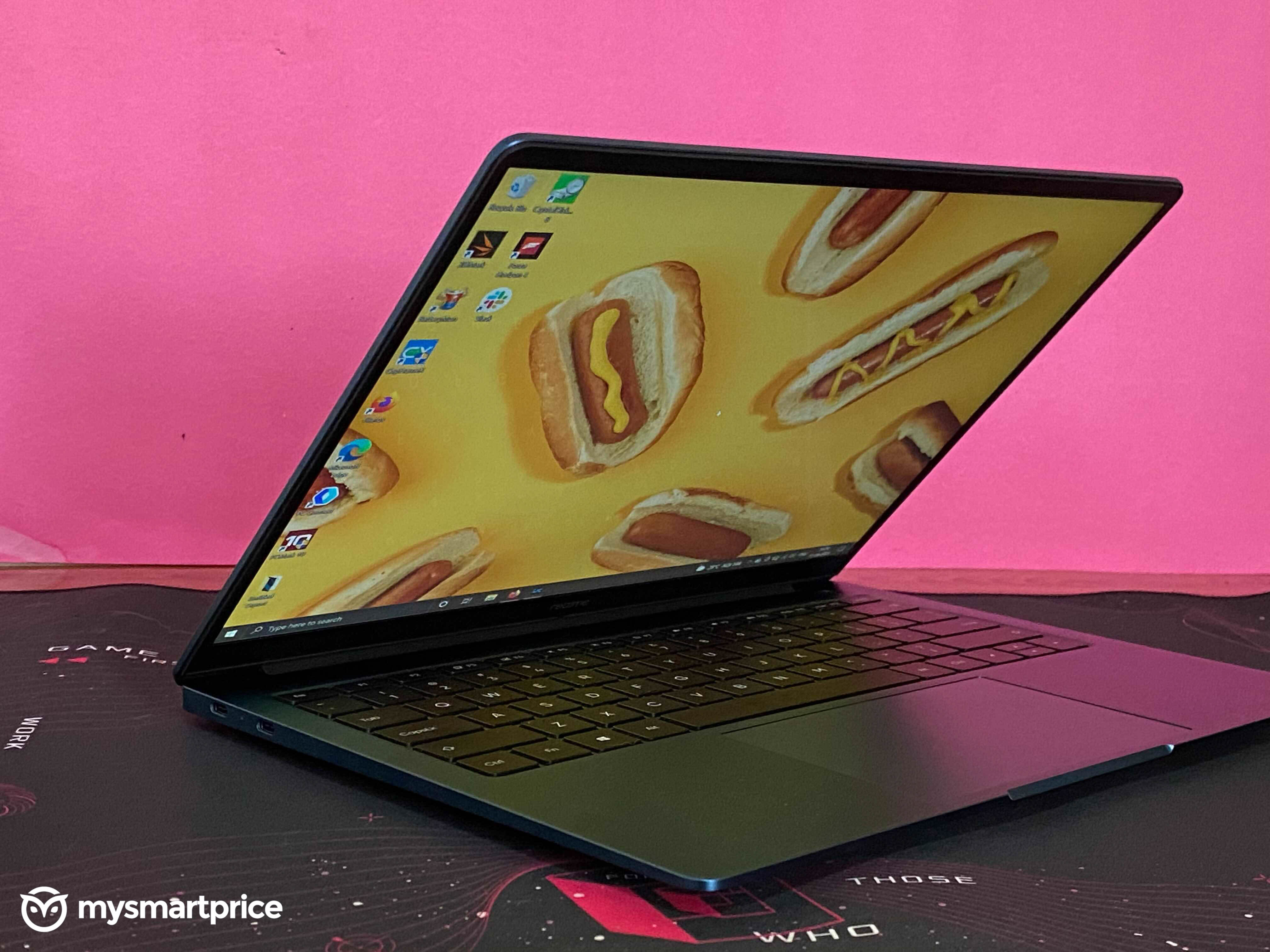 But….for all intents and purposes, this looks nearly identical to a MacBook. It also feels like one. The palm rest, the large trackpad and especially the keyboard, they're all 'inspired' from Apple. And it does look bad for a brand that ties up with notable designers on one product, and copies blindly on another.
Oh and it's not alone in doing so. The Mi NoteBook Ultra that launched right around the same time, is equally guilty of being a MacBook clone. In fact, these two are more alike than they'd like to admit.
But for you, the buyer though, a MacBook clone at half the price is the best thing that could have happened after India winning an Olympic Gold in Athletics. Okay, maybe that's too much.
But point being, this is a premium offering anyway you look at it, and it has no business being this cheap. But like all first attempts, it's not perfect. The hinge is a bit too tight and you can't open the laptop with one finger, which as Dave2D noted in his video, requires a lot of effort in product design to nail it. Not surprisingly, Xiaomi, who has been making laptops for a while now, gets this spot on with the Mi Notebook Ultra.
But literally the worst thing about the Realme Book Slim is the number of ports you get. The Realme Book Slim gets just two USB-C ports, one of them with USB PD support and another USB-A port on the other side along with a 3.5mm audio jack. There's no HDMI slot, or an ethernet port, and neither does any of the Type-C port double up as DisplayPort, so there's no really no way to patch this to a projector during your meetings, unless you're carrying a dock. I missed this bit in my video review, but was quickly pointed out by one of our viewers in the comments.
Realme Book Slim: Display and Audio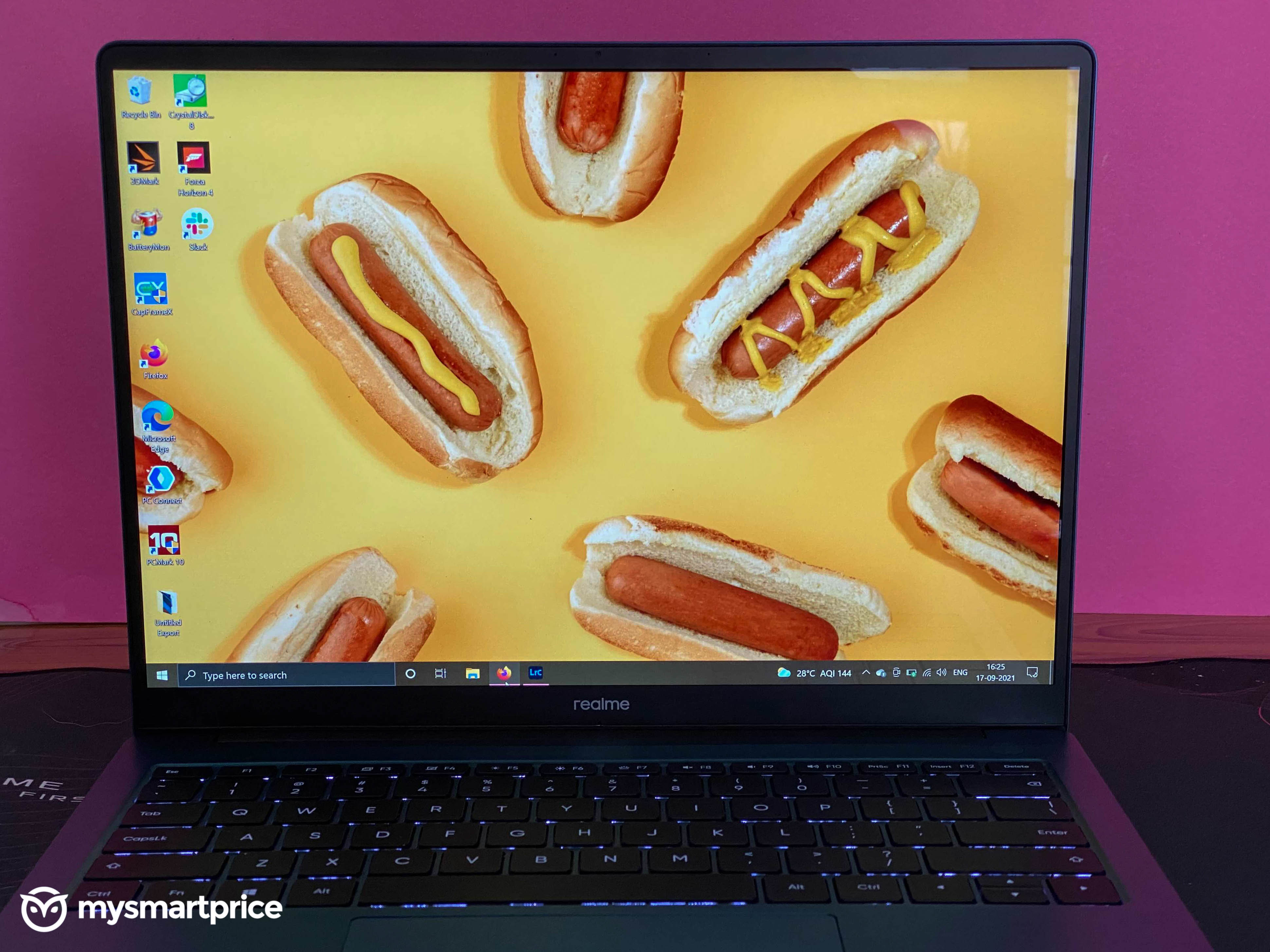 The cherry on top is this gorgeous 14-inch 2K screen that goes almost 180 degrees. This is what got the hype started. It's a 3:2 display which means you have more real estate to work with, and there's twice as many pixels as you'd normally get at this price. It's a win-win any way you look at it.
Typically, OEMs compromise hard on the display quality to crank up the performance in the budget segment, but Realme had to make a statement here. And a high-res display is the best way to do it. The screen is what you'll look at the most when using the laptop, and this one's pretty good.
High Definition wallpapers just pop out on this panel, and the thin bezels make them look extremely immersive. When placed side by side with a 1080p screen, it looks miles better. Watching movies, reading articles, this one's made for it.
The taller aspect ratio means you can see more of a spreadsheet on the screen, or cram a few more lines of text of that article you're reading. And the Harman Kardon speakers on this make it perfect for watching movies and shows. It's loud enough to be audible with the ceiling fan on, and it sounds clean with excellent stereo separation and zero distortion. You won't need headphones to listen to music or watch movies on this one.
But the problem starts when you're post processing your photos, editing videos or doing anything creative. Because the calibration is way off. I could tell by keeping the MacBook Pro and the Asus ExpertBook B9 on the side and playing a few videos.I noticed the panel's output is totally different from what I could see on the others. The Realme Book displays videos with a warmer tinge than usual.
Truth be told, this is something you'll really only notice if you have a trained eye, or you have another colour calibrated display near you playing the same content. For your everyday needs, it's a gorgeous display any way you look at it, perfect for regular office work and multimedia consumption.
Realme Book Slim: Keyboard and Trackpad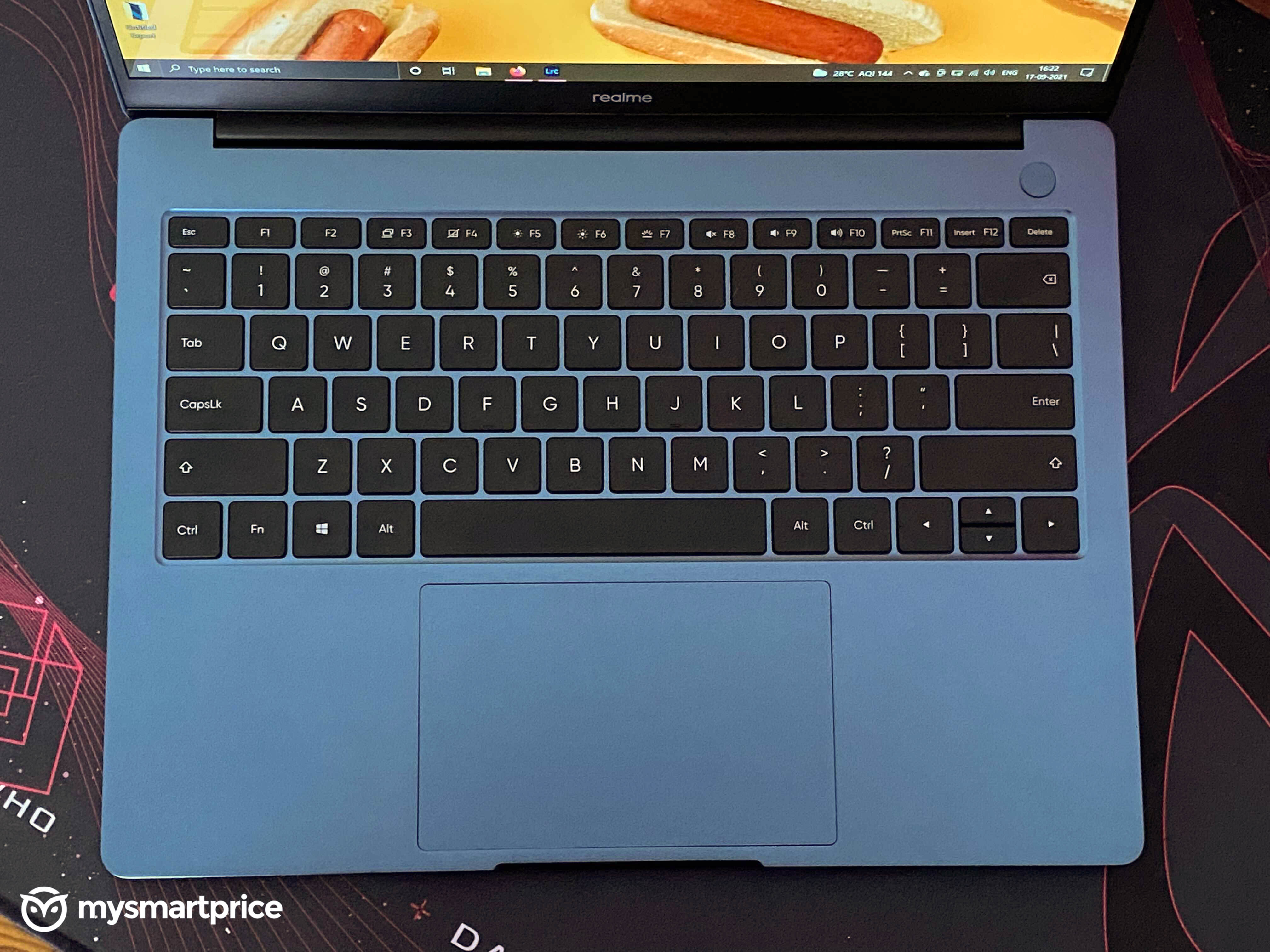 Next up, the keyboard. Well, no points for guessing where this one's copied from. But it works. The flat keycaps won't guarantee the highest accuracy, but it's easy to get used to. These are plastic keys that are almost flushed to the chassis, and there's not as much travel and feedback as you'd want.
Funnily enough, while trying to copy the MacBook aesthetics, Realme also copied the MacBook keyboard, which as many suffering users will vouch, isn't the best.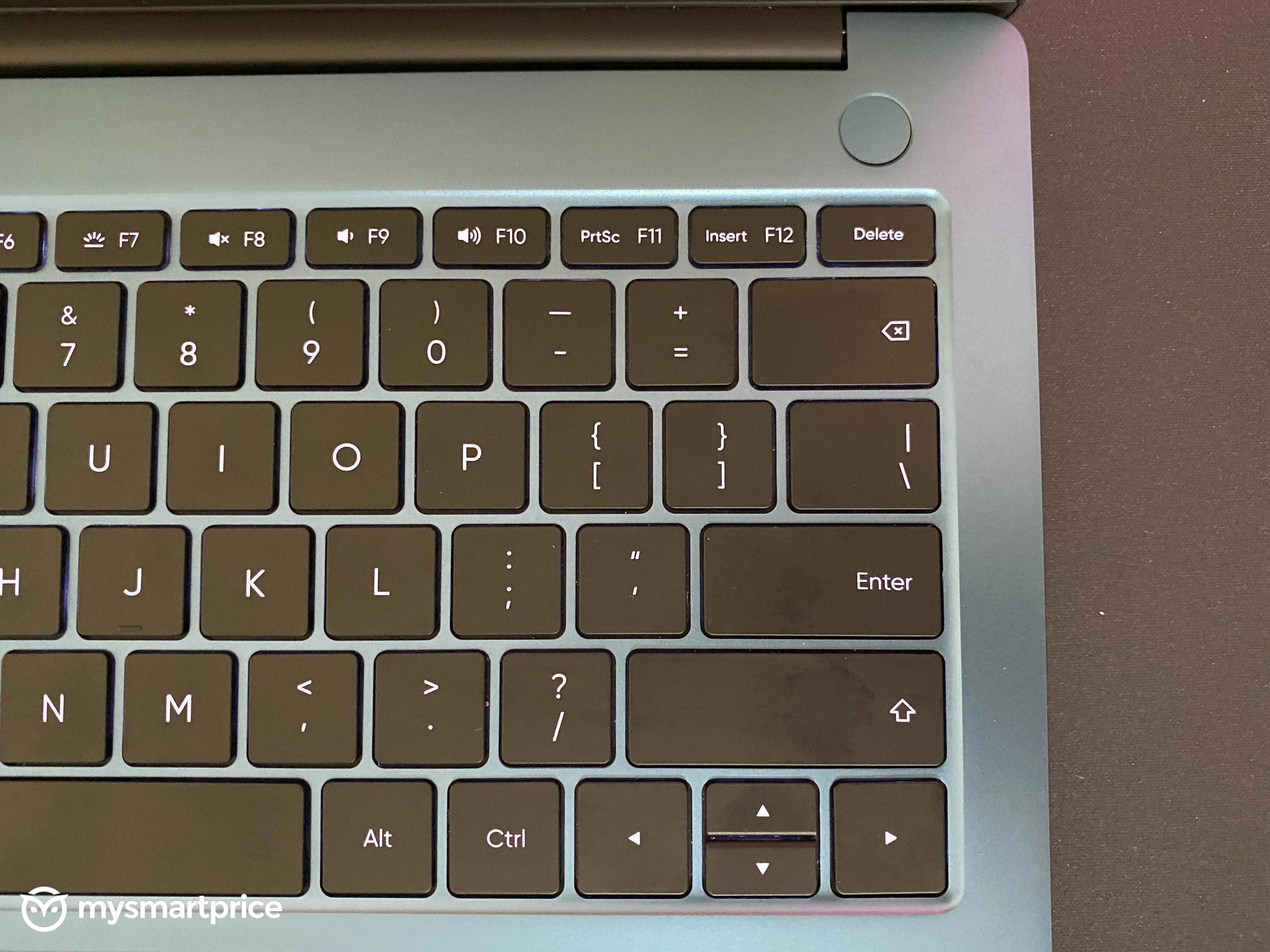 Things to note is that the arrow keys are fused together, and Home, End, Page Up, Page Down keys are MIA. For someone who edits text for a living, I sorely missed them. But you do get a fingerprint sensor-embedded power button that's isolated from the main keyboard, so no accidental shut downs on this one.
There are two levels of White backlight on this, so you can type on the laptop in a flight, or while your roommate is sleeping. Again, these are things that you don't usually see in laptops under 50k.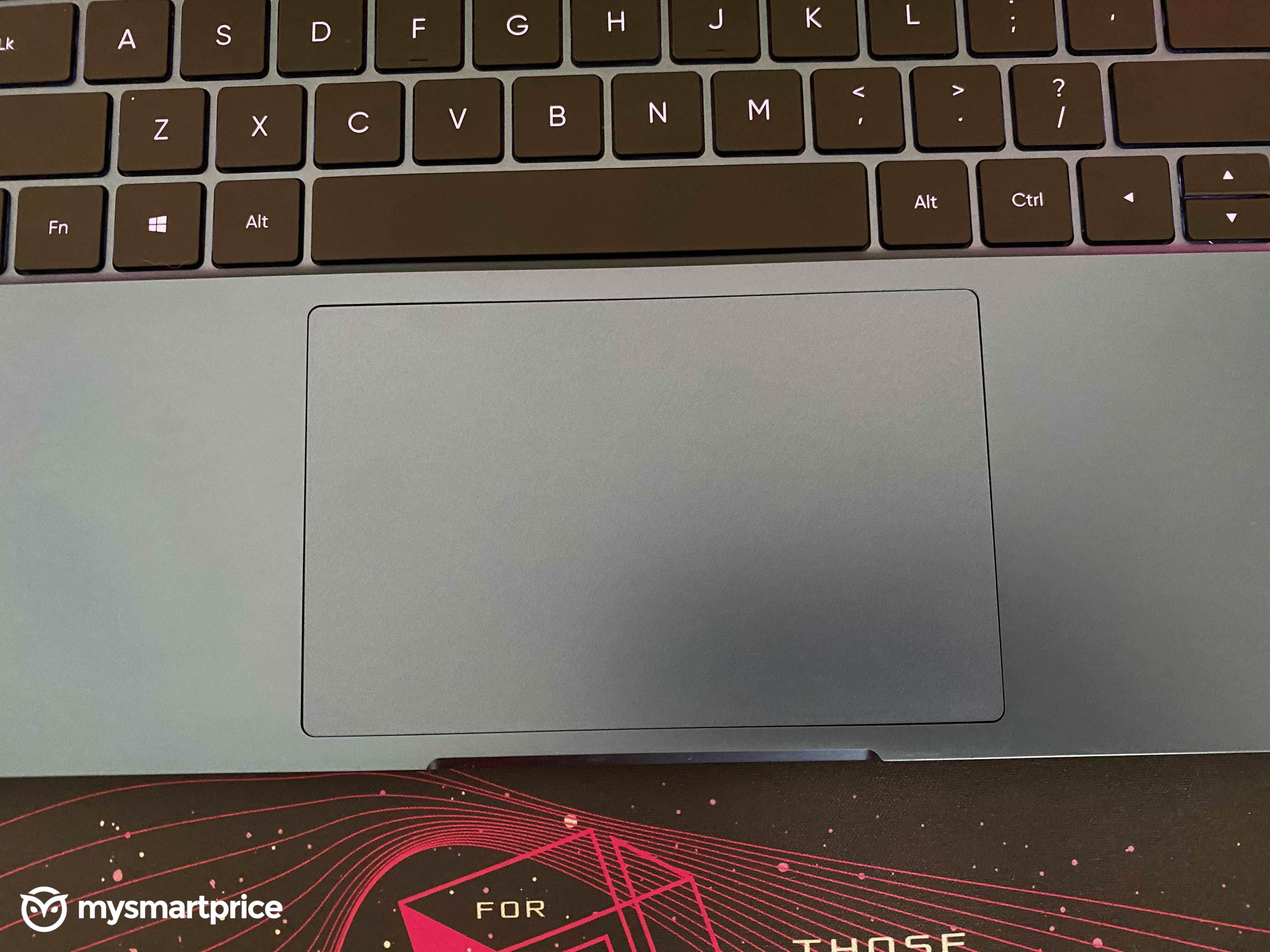 The trackpad on this one is huge. And it's intelligently built so it doesn't come in the way of typing, and you do get a lot more coverage area for pointing and tracking. And even though the entire area is clickable, it didn't rattle at all during my time of usage, which bodes well for long term use.
Realme Book Slim: Performance and Battery Life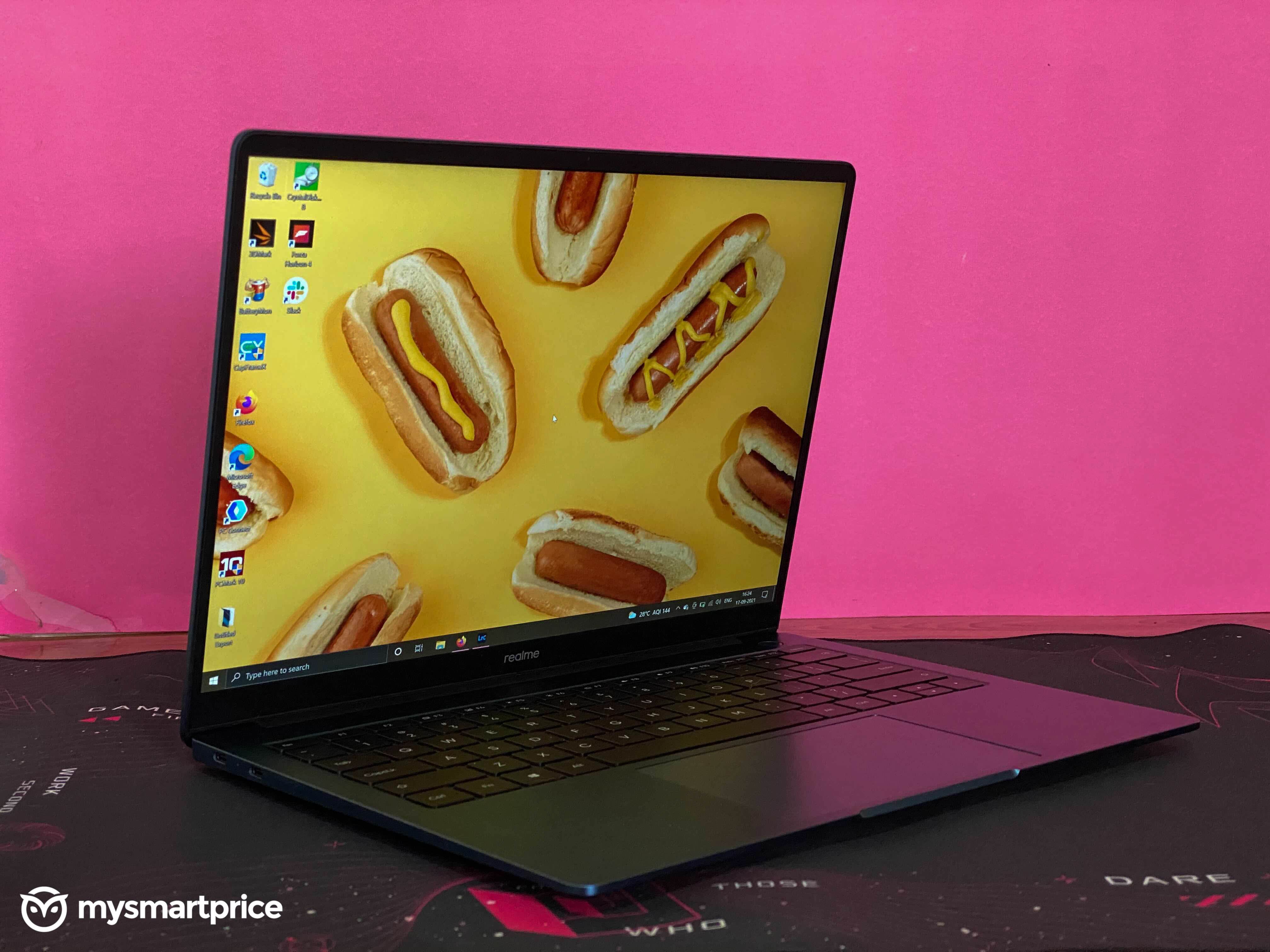 The Realme Book Slim is built like an ultrabook with its slim build and sharp display, but it stops just short of being a true ultrabook due to the performance and battery life. To Realme's credit, it's great to see a Core i3 laptop treated with the same vigour as a higher-end model, studding it with a high-res display and that premium build, but you should tame your expectations about the performance from this one. The Core i5 variant is undoubtedly going to be more powerful than this, but there too Realme accepts the status quo sticking to the U-series Intel Core i5 1135G7 unlike the Mi Notebook Pro that features the Intel Core i5 11300H with higher TDP and clock speed, at the same price as the Realme Book Pro.
Both the Core i3 and the Core i5 on the Realme Book Slim are configured with 28W TDP while the Mi Notebook Pro/RedmiBook 15's Intel Core i5 11300H peaks at 35W TDP. The performance headroom, therefore, is much smaller on this one, and hence, I wouldn't call it the performance beast. You won't be able to run compute-intensive software like Adobe Premier Pro, but can work with lighter apps like Photoshop and Lightroom.
And as far as the real world experience goes, the laptop wakes up in less than a second from sleep and browsers and file explorers launch in an instant. It didn't ever freeze or lag during my time of usage, and I used it primarily for work and binge watching.
That's because the single-core performance is pretty good. The Core i3 on the Realme Book performs better than the Ryzen 5 5500U on single-core tests, but gets beaten by the Redmi Book 15 Pro's Core i5 on all tests.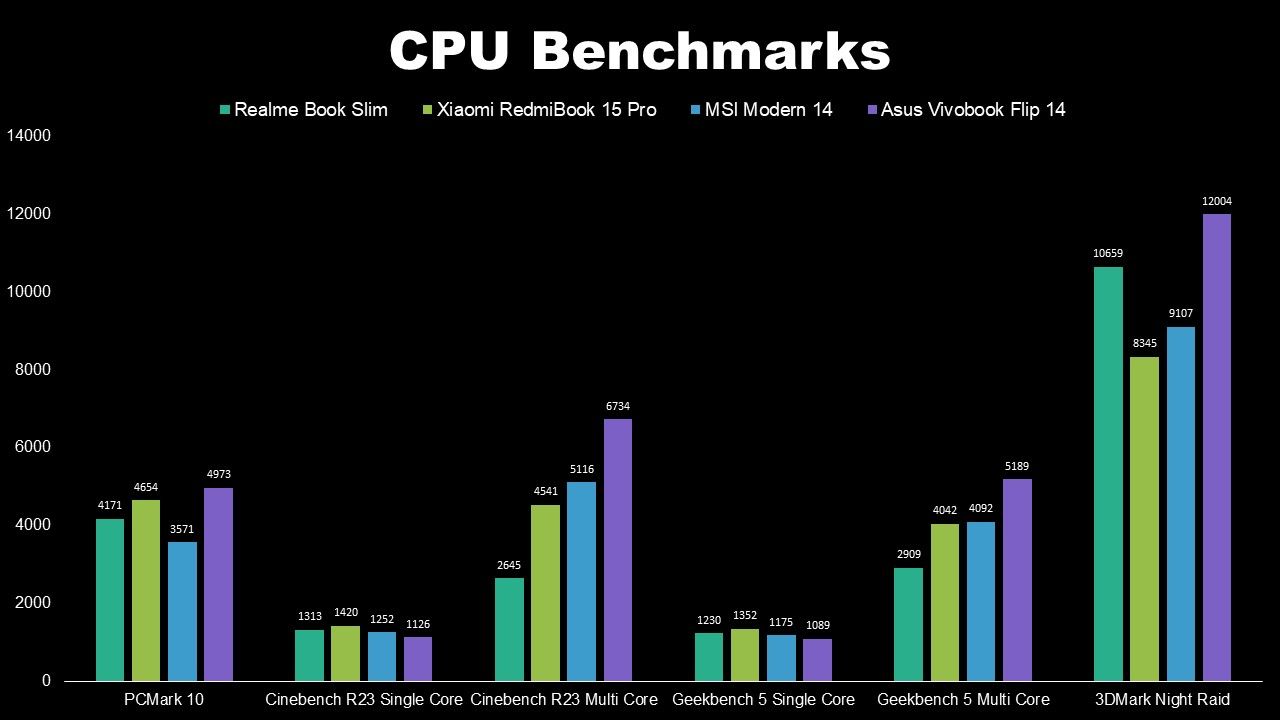 The software experience on the Realme Book Slim is plain vanilla. Unlike its phones, there's no third-party app, no anti-virus software, that comes preinstalled on this one. Not even an app for fan control.
Speaking of which, the Realme Book Slim stays surprisingly cool. It's perfectly fine to use it on your lap, and at no point did the keyboard become too hot to handle.
Opening it up, you can see two fans on either side fed by a single heat pipe, and they operate in near silence. You can expand the storage by swapping out the SSD with higher capacity, or even upgrade the WiFi chip, but the RAM is soldered to the board, and there's no way to touch it.
Lastly, the battery life. Realme promises 11 hours of local video playback from the 56Whr battery, but that's not much of a realistic metric. Realistically, you're looking at a 5, maximum 6 hours of active usage on a single charge, which is still super impressive. But that's not all. The bundled 65W charger is almost as compact as the company's Dart Chargers for smartphones, making it all the more portable. And the newly introduced 30W power bank can be used to charge the laptop on the go.
Should You Buy the Realme Book Slim?
The Realme Book Slim is a fantastic first attempt at making a laptop. Realme brought its expertise in designing attractive smartphones to making a laptop that looks way premium than its peers in this segment. But design apart, it's a laptop that performs decently well and sports a bright, vibrant display and excellent audio, that's good for both working and consuming content. But don't expect the Core i3 variant to perform any more than that. You won't be able to run games or intensive software. The battery life too takes a hit while running the display at its highest resolution and brightness, and as such it stops just short of being a true ultrabook.