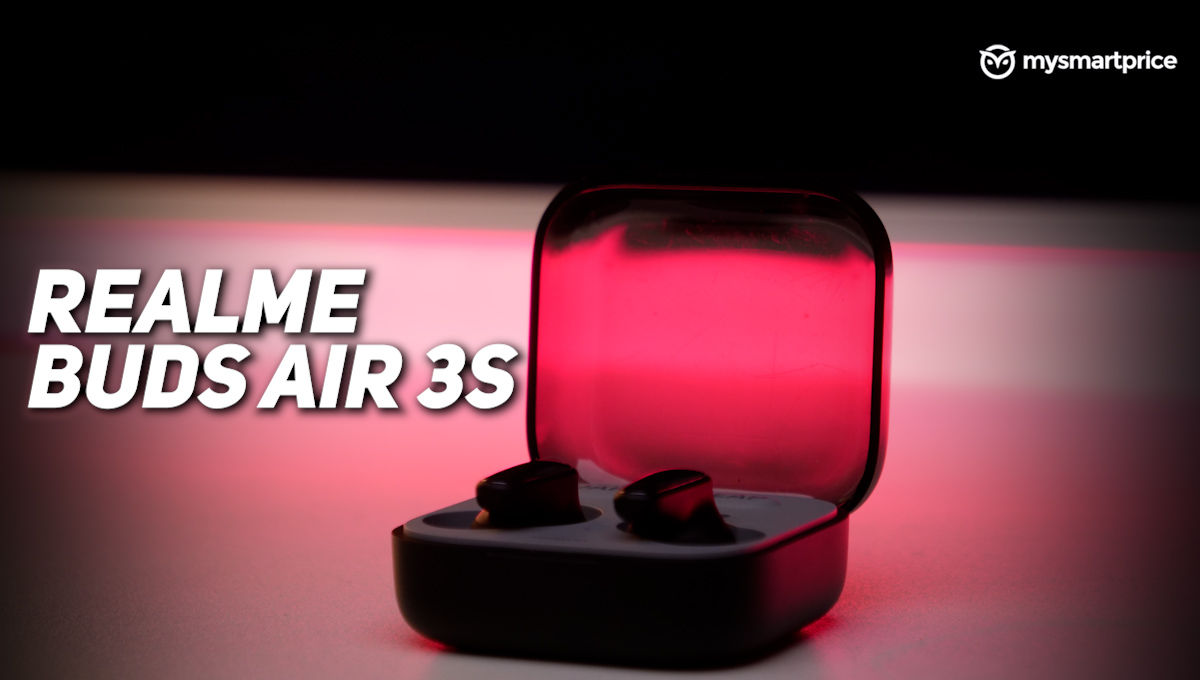 Realme's stance on the affordable ecosystem becomes clear with the recent non-smartphone launches we have seen recently. It is going big with smartwatches, TVs and even laptops that are easy on pockets and have trendy designs. But given how nearly all smartphones have started skipping wired earphones these days, getting the lion's share of the TWS market is mandatory. Affordable items often sell in large volumes, and the Realme Buds Air 3S seems to follow that mantra.
They are unassuming at first glance – they have a nice, elegant design and even have a bunch of smart features, like support for Google Assistant, fully customisable touch controls, quick link connectivity and respectable battery life. It seems like a perfect pair of first-time buds, but what about the sound? Find out in our review.
Realme Buds Air 3S TWS Review: Design & build
The Realme Buds Air 3S features a minimalist design for the most part. The buds rest within a squared-off case, which comes in two colours – white and black. We received the latter.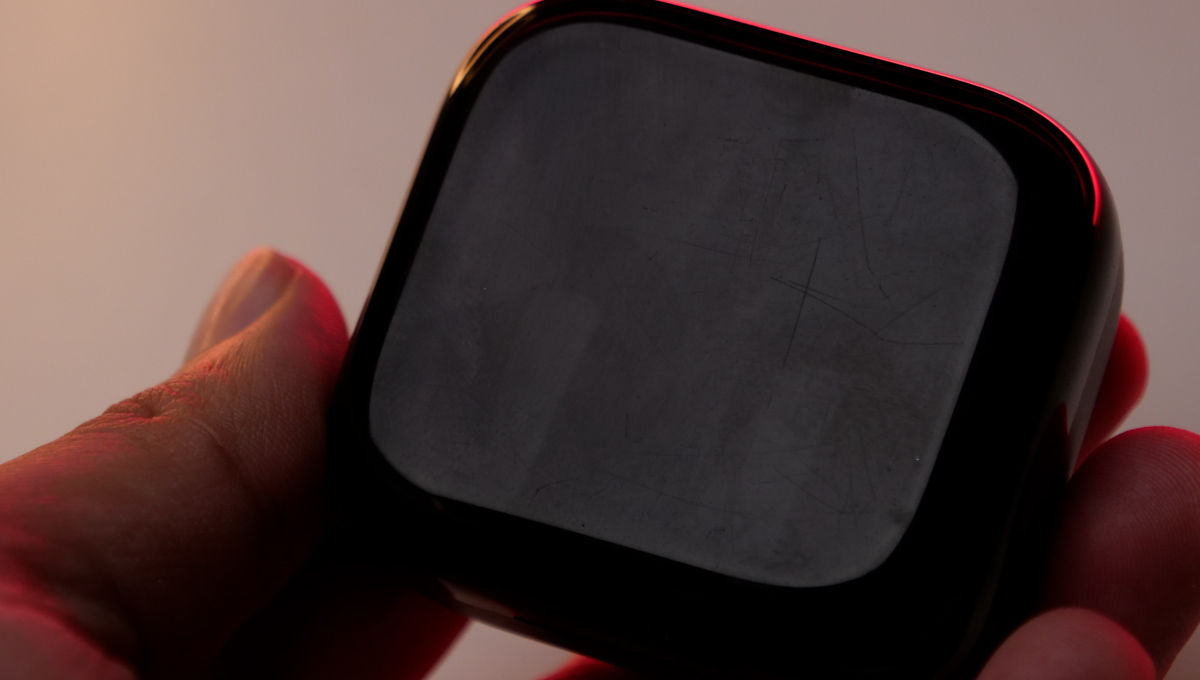 The lid of the case is made of glossy plastic, whereas the base of it has a matte texture. It is extremely susceptible to gathering scratches, but that's the trade-off for giving you a rather satisfying sound while closing the case shut.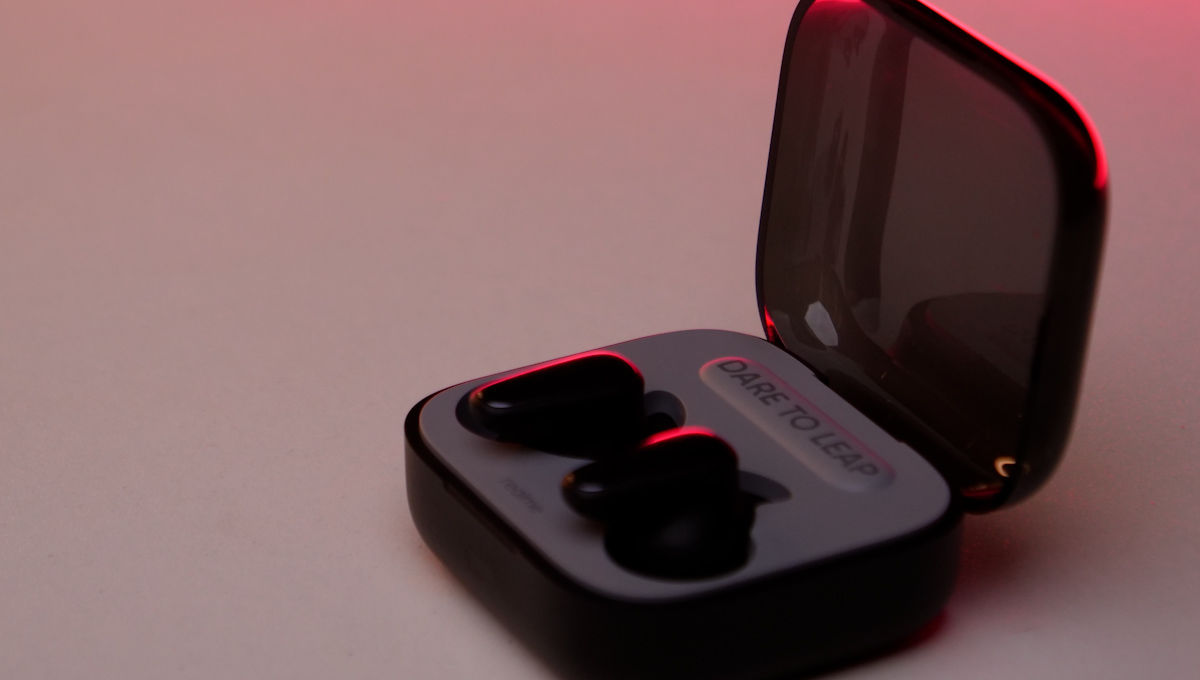 Except for the tacky DARE TO LEAP branding in bold letters and the scratch-filled lid, we didn't find much to complain about the case's design. Despite packing in a large-ish battery, the case remains pocketable. The placement of the USB Type-C port at the back and the pairing button right under the lid is also very well thought out.
Coming down to the buds themselves, they have a stem-type design which is common at this price point. The stems shift the centre of weight downwards, outside the ear. So, these can get a little uncomfortable when using these for longer spells. But, on the plus side, the buds are actually very light.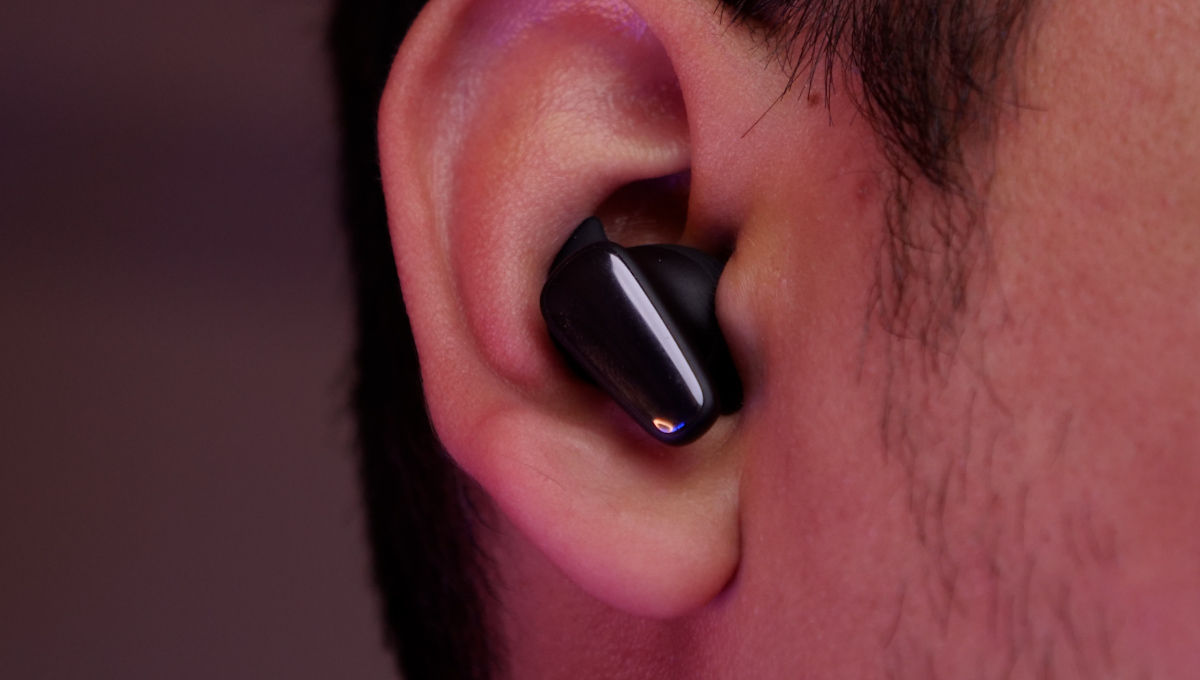 We don't quite understand why the winged ear tips are used here – they are extremely tiny and don't really do much to keep the buds within our ears. The box doesn't come with any larger sizes of the tips either, you just get three silicon ear tips, and that's that.
In fact, even without the winged tips, the buds remained intact in our ear canal even as we munched on some crispy chips. So, you can totally take these off because, in TWS, small reductions in weight reap large rewards in comfort in the long run.
The Buds Air 3S are IPX5 rated for water resistance, so these can sustain mild splashes but not a dunk in a pool of water. We wore these in the shower, and they seemed to be working fine after coming out.
Realme Buds Air 3S TWS Review: Sound quality
The sound quality is the most important attribute of any audio product. Powering the Buds Air 3S are 11mm triple titanium dynamic drivers. These drive the sound via a liquid silicone rubber diaphragm, which helps reduce weight and deliver better sensitivity. This powerful hardware can be found in slightly more expensive buds. Complimenting the hardware is the software support for Dolby Atmos, although only supported smartphones can take advantage of this. In terms of codec, you have SBC and AAC – expecting anything more isn't realistic at this price. Also, there's only ENC or electronic noise cancellation here, and that too for calls.
Despite the hardware credentials, the buds are tuned to sound warm, as the low-end frequencies are more pronounced out of the box. This may be because the target audience of the buds, mainly youngsters, prefers bassier sound profiles.
Given the price, the sound of these buds is respectable. They can get loud without too much distortion, and the bass is punchy. You can feel the air vibrate within your ears, something affordable earbuds don't quite get right.
Because of the bass-friendly nature of the buds, we played Kx5's new progressive house single, Escape, on the Buds Air 3S. While there was ample thump in the mix, Hayla's vocals sounded tinny. This was mainly because of how the buds treat mid-frequencies in the default equaliser profile. Amping up the mids and high-frequencies made the experience much better. The tweaked profile also did wonders for Shubh's Punjabi cult hit, Baller.
Listening to live instrumental jazz music on these buds is an average experience, turning on Dolby Atmos opened up the soundstage a bit, though. We also watched some videos and movies with the buds, and they sounded fine for the most part, with the low frequencies turned down.
The mic quality is at par with the competition, and it's nothing to write home about. It's best for taking some emergency calls, but if you're planning to hold Zoom or Meet conferences with this thing, you may want to think again. The recorded output sounds crunched, thanks to the aggressive noise cancelling, and it seems to come from afar.
Realme Buds Air 3S TWS Review: Smart features
Moving on to the smarts, the Realme Buds Air 3S offer quick connect functionality, so most new smartphones will be eager to connect to these the moment you open the lid. If you want to fiddle with the settings, you'll have to install the Realme Link app on non-Realme smartphones.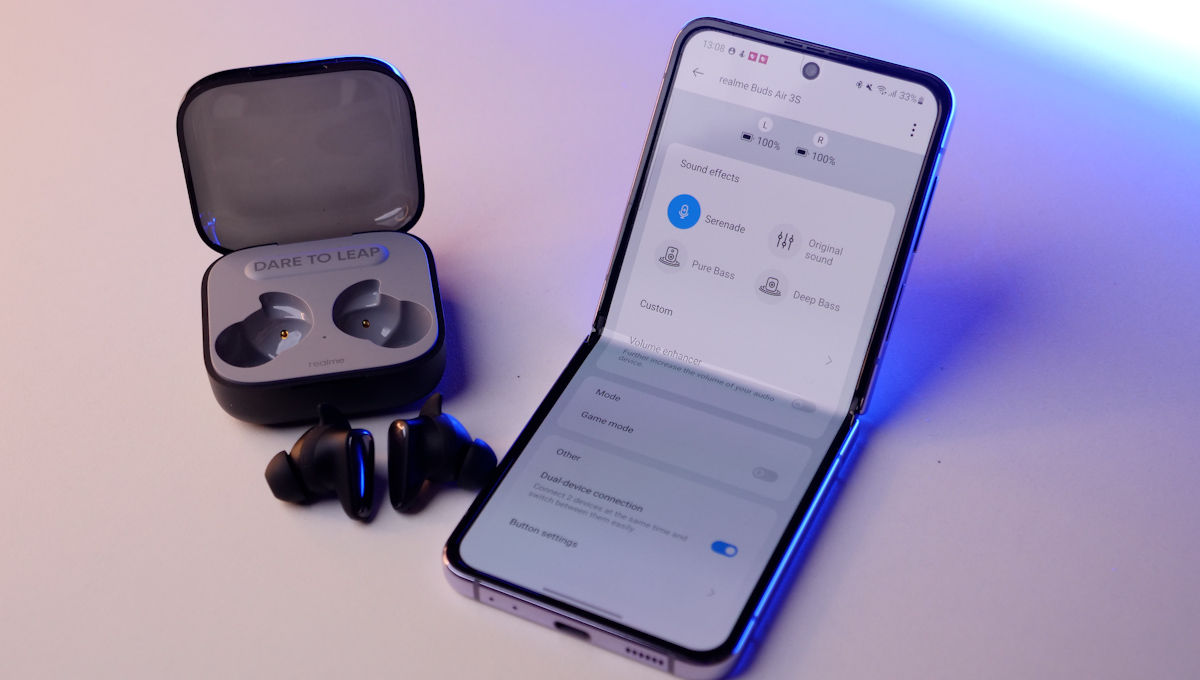 We feel it's unnecessarily invasive to ask for users' phone numbers to grant them access to the app. Even Sony and Sennheiser apps don't go the route of asking for your credentials. Nevertheless, getting stuff done within the app is straightforward. You can change default touch gesture mappings and equaliser settings. An interesting thing about the touch controls – there's no single tap gesture here, so don't be flustered if you can't get media playing or paused the first time you use these. This makes sense, as the touch surface is fairly large, making way for a ton of accidental touches. Successfully activating a touch gesture also registers a double-click sound within the buds. So far, the controls have been accurate, and this is a huge pro for a pair of buds at this price.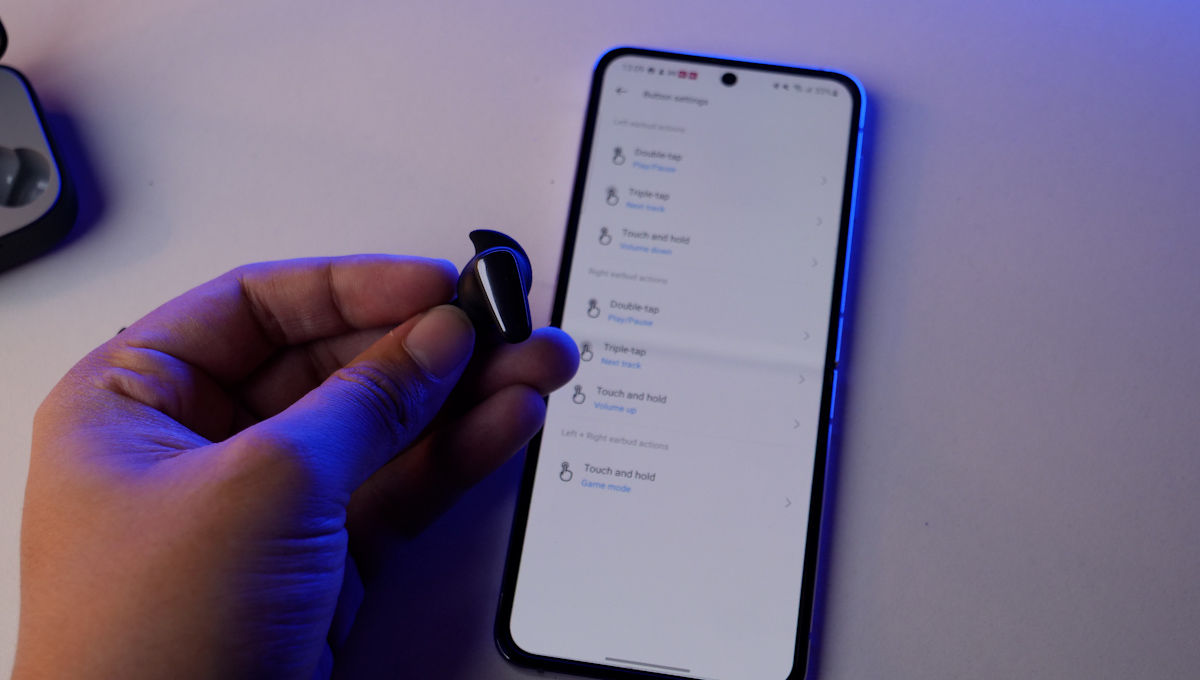 There's also a game mode here which reduces latency while gaming, and a toggle switch for dual-device connection, just in case you want to be connected to multiple devices. We tried this with our MacBook and Flip 4, and it worked flawlessly.
Realme Buds Air 3S TWS Review: Battery life
Realme's claims of a 7-hour battery life have been pretty much spot on with these buds. Do bear in mind that we mostly listened to them at 80% volume. The charging case adds another 25 hours of backup, about three and a half days' worth of charge. There's also fast charging available here – you can get the buds up and running for five hours with 10 minutes of charge. Charging the case up entirely from zilch takes about an hour, which isn't bad. Your battery life may vary depending on your usage, however.
Realme Buds Air 3S TWS Review: Verdict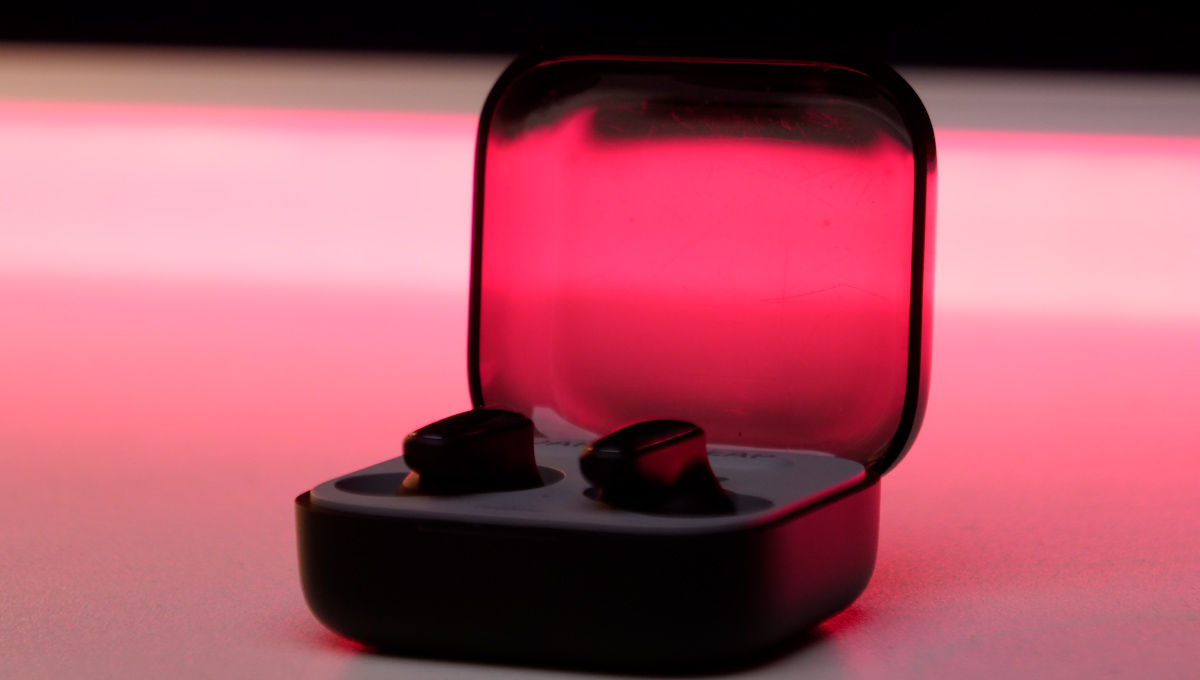 With an alluring price tag of Rs 2,499, the Realme Buds Air 3S makes for a solid package. It sounds good for a pair of starter buds and packs in enough smarts to keep an average customer satisfied. We are also happy with its battery backup, which can last a week if used for a couple of hours during commute every day.
There are a few oddities here, like the winged ear tips, the tacky DARE TO LEAP branding and the unnecessarily complicated sign-in process to access the Realme Link app. But the Buds Air 3S offers a great listening experience once you get past these teething issues.
Realme Buds Air 3S
₹2,499
What Is Good?
Lightweight
Minimalist design
Decent sound for the price
Quick connect functionality
Dual device connectivity
Good battery backup
Google Assistant support
Affordable
What Is Bad?
Case is prone to scratches
Invasive Realme Link app
Focuses too much on bass
Dismal mic quality