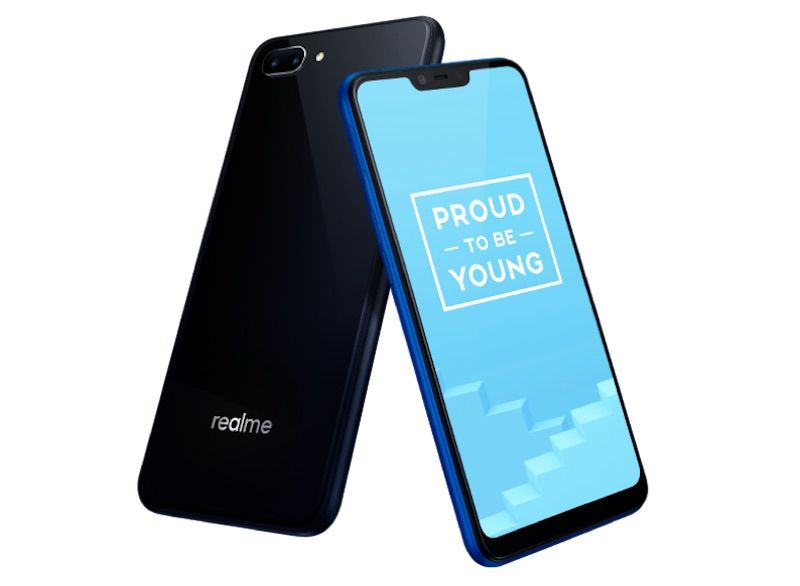 The surprise entrant Realme C1 is the new entry-level offering by the Oppo sub-brand Realme, replacing the Realme 1 as the lowest priced Realme smartphone. It was launched alongside the Realme 2 Pro recently and was launched quite suddenly without any prior hints to its existence, and the surprise was welcomed by enthusiasts as the phone is based on the new Realme 2, which came in August, just a month before its Pro version was launched. Furthermore, the Realme C1 (for Champion in 1 more segment) offers at least three features that you do not get in any other entry-level device.
Tall and Notched Display
The Realme C1 will go on sale today exclusively via Flipkart and it comes at a launch price in India of Rs. 6,999. While you have quite a few options in this price range of Rs. 6,000 to Rs. 8,000, none will match the tall and notched display of the Realme C1. This handset comes with a 6.2-inch IPS LCD display that has a small notch and an aspect ratio of 19:9, with HD+ resolution of 1520×720 pixels. While the screen resolution bit is common, you do not get a display so tall and with a notch in the entry-level segment even if you look hard. Also, the phone is made out of a fibreglass body that makes it look expensive, even though it is anything but.
Snapdragon 450 Chipset
The second and even more important thing about the Realme C1 is its powerful processor. It is the first time in the entry-level segment that any brand has introduced the Qualcomm Snapdragon 450 chipset, an octa-core processor that is rated very well and is found on mid-range smartphones. You will find either the smaller quad-core Snapdragon 425 or other Mediatek chipsets in entry-level phones, which makes the Realme C1 stand out from the growing crowd of budget handsets.
Realme 2 Pro With Dewdrop Display Notch, Snapdragon 660 AIE Launched in India: Price, Specifications
In fact, during the launch, Realme executives took great pride in flaunting the fact that the Realme C1 is the first entry-level smartphone to house the octa-core Snapdragon 450 chipset. Experts believe the Snapdragon 450 will give the Realme C1 some excellent performance power, and even as it comes paired to a 2GB RAM only, it should be more than enough to keep you going through videos and games without any speed issues.
Dual Rear Camera
How many dual rear camera phones can you buy in the budget entry-level segment? Only one. The Realme C1 is the first smartphone that costs Rs 6,999 and still offers a dual rear camera, a technology which was first the prerogative of flagship phones, then came to mid-range handsets and has, with the Realme C1, trickled down to even the entry-level segment. There are other handsets that will give you a 13MP rear camera in this budget, but the Realme C1 is the first and for now, the only handset at this price point to come with a 13MP+2MP dual rear camera, as well as a 5MP front shooter. The front camera is assisted by artificial intelligence too.
Samsung Galaxy J6 Receives Permanent Price Cut in India After Galaxy J6 Plus Launch
An honourable mention is also the large battery on the handset, something that Indian consumers value a lot. The battery is 4230mAh, which is quite extraordinary for a budget phone. The device does miss out on the fingerprint sensor but makes up for it with its AI-based Face Unlock feature. You can buy the handset from October 11 at Flipkart for Rs. 6,999 price in India that comes in Black and Blue colour options. As mentioned earlier, the device comes only in a 2GB RAM version, so there are no alternatives when it comes to memory configuration. The internal storage is 16GB but that can be stretched to 256GB via a third and dedicated microSD card slot.