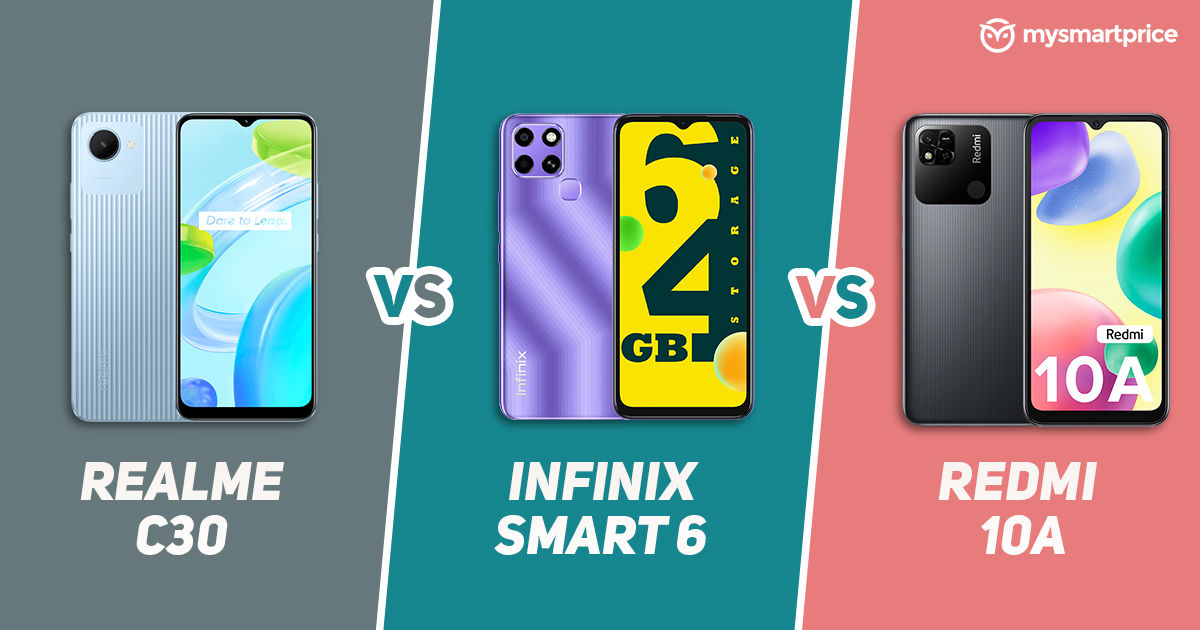 Realme C30 smartphone has launched in India this week, and the company is focusing on the entry-level segment with this new device. Realme C30 looks to differentiate itself from the other models like the Infinix Smart 6 and the Redmi 10A that you can buy around the same price range in the country.
Realme C30 has its strong points such as the lightweight design, unique stripe design and long battery backup. But how does this phone compare with the Infinix Smart 6 and the Redmi 10A smartphones, and which one of these is a better buy in this segment?
Also Read: Realme C30 with Unisoc T612, 5,000mAh Battery Launched in India: Price, Specifications
Realme C30 vs Infinix Smart 6 vs Redmi 10A: Price in India
Realme C30 smartphone price in India starts from Rs 7,499 which gets you the 2GB + 32GB variant. You also have the 3GB + 32GB model available for Rs 8,299. Infinix Smart 6 comes in a single variant of 2GB + 64GB storage that can be bought for Rs 7,299. Redmi 10A is available with 3GB and 4GB RAM that comes with 32GB and 64GB storage, and you can pick these up for Rs 8,499 and Rs 9,499, respectively.
Realme C30 vs Infinix Smart 6 vs Redmi 10A: Design
Realme C30 gets extra points for its focus on design. The striped finish and the slim design profile of the phone make it lighter and easier to use in one hand. The phone weighs 182 grams and comes with a thickness of 8.5mm, compared to this Infinix Smart 6 and the Redmi 10A weighs 195 grams and 194 grams, respectively. And even the thickness is 9mm and 8.5mm for these two smartphones. All three phones use a square module for the rear camera. Redmi 10A strangely includes the fingerprint sensor at the back within the camera module. While Realme C30 comes with a side-mounted fingerprint sensor.
Realme C30 vs Infinix Smart 6 vs Redmi 10A: Display
Realme C30 smartphone carries a 6.5-inch HD+ IPS display that offers 720×1600 pixels resolution and a regular 60Hz refresh rate, which is hardly surprising for this price range. The screen features a notch and comes with an 88.7% screen-to-body ratio.
Infinix Smart 6 has a 6.6-inch HD+ TFT display that supports 720×1600 pixels resolution also. The phone's screen has a notch and a wide chin at the bottom. It offers 500 nits of brightness and has an 88.43% screen-to-body ratio. Redmi 10A comes with a 6.53-inch HD+ IPS LCD screen and compared to the other two, Redmi's screen-to-body ratio is 81% and peak brightness is 400 nits.
Realme C30 vs Infinix Smart 6 vs Redmi 10A: Performance and UI
Realme C30 is powered by an Unisoc T612 chipset that gets paired with 2GB and 3GB RAM, and give you 32GB storage which is further expandable. Infinix Smart 6 gets the MediaTek Helio A22 which is a quad-core processor, and you only get 2GB of RAM and 64GB of storage which is expandable up to 512GB using the microSD card slot. Redmi 10A comes powered by the MediaTek Helio G25 processor and this phone is available in the market with either 3GB or 4GB RAM. The storage options for these models are 32GB and 64GB and you can expand them further.
Realme C30 comes with an Android 11 operating system out of the box, the custom interface gives you a lot of options. Infinix Smart 6 runs on the Android 11 Go version that lets you run lightweight apps without taking a lot of space. Redmi 10A gets the MIUI 12.5 version out of the box that is based on the Android 11 operating system as well.
Realme C30 vs Infinix Smart 6 vs Redmi 10A: Cameras
Realme C30 gets a single 8MP camera at the back along with an LED flash and it supports 1080p video recording. The front of the phone has a 5MP shooter that can also shoot 1080p videos and help you with video calls and selfies. Infinix Smart 6 has a dual rear camera module at the back, which includes an 8MP primary sensor, a depth lens, and a dual-LED flash. The front of the device comes with a 5MP camera for selfies and video calls. Redmi 10A also carries a single 13MP rear camera and a 5MP shooter on the front.
Realme C30 vs Infinix Smart 6 vs Redmi 10A: Battery
Realme C30 smartphone comes loaded with a 5000mAh battery that supports 10W charging speed but uses the microUSB interface. Infinix Smart 6 also has a 5000mAh battery and it gives you regular charging speed using the built-in microUSB port. Redmi 10A gets a 5000mAh battery for long back up and this device also provides 10W charging speed available through the microUSB port.
Realme C30 vs Infinix Smart 6 vs Redmi 10A: Verdict
Realme C30 is a well-rounded smartphone that gives the Redmi 10A a run for its money. It has a refreshing design for a budget phone and is lighter than the other two given here. Redmi 10A has been a successful device in the market, and now buyers can choose between the Realme C30 and the Redmi 10A. As for the Infinix Smart 6, this phone runs on the Android 11 Go version and is powered by a quad-core processor which may not suit your needs these days. It all comes down to which brand you prefer and what your usage requires.