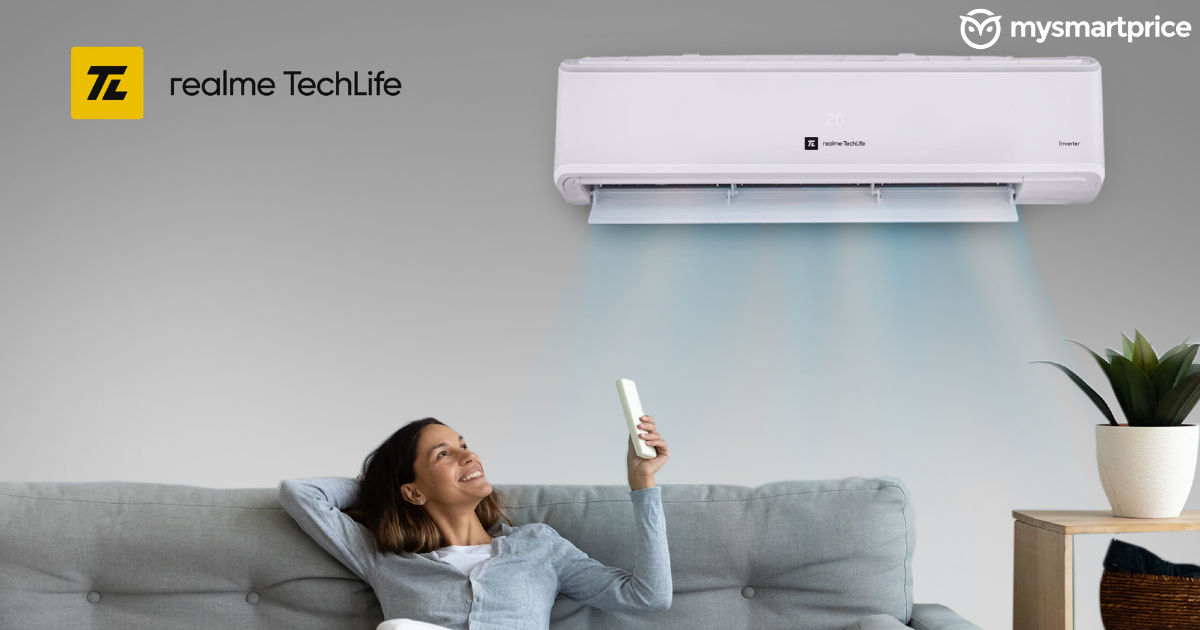 Realme has launched its first Air-conditioner in India. The company says that its new convertible Air-conditioner is designed specifically for the Indian summer season. The Realme Air conditioner features inverter compressor technology to cool efficiently and has an auto cleaning feature. Realme says that its ACs offer flexible cooling capacities while ensuring maximum power saving.
The company has been launching mobiles, laptops, and accessories since 2018 in India and it is now foraying into the AC segment with its air conditioners. Here's everything you need to know about Realme's first air-conditioner in India.
Realme Air Conditioner Price in India and Availability
The Realme Air Conditioner will be available on Flipkart. It will be available in 1ton and 1.5ton capacities at a starting price of Rs 27,790 in India. 
Realme Air Conditioner:
Features
The Realme Air Conditioner changes the cooling temperature based on the number of people in the room. It features convertible adjustable cooling that can be altered between 40%, 60%, 80%, and 110%. The superior cooling mode helps the AC to operate on up to 55 degrees celsius. It has three cooling modes – Dry, Eco, and Sleep mode.
It comes with an auto clean feature that protects the unit from moisture, dust, and mold. Once the AC is switched off this feature will run for 30 seconds and dry the water droplets.
The AC is equipped with Blue Fin technology for protection of coils, along with a 100% copper condenser for heat transfer. It supports stabiliser free operation within a range of 165 to 265V band. It is equipped with an R32 refrigerant. Here's the full list of features.
| | |
| --- | --- |
| Feature | Description |
| Convertible with adjustable cooling | 4-in-1 cooling for higher energy savings. The capacity can be altered between 40%, 60%, 80%, and 110% |
| Superior cooling | Operating threshold limit of up to 55 degrees celsius |
| Inverter Compressor Technology | Faster cooling reduced power consumption and longer compressor durability |
| Adjustable cooling modes | Dry, Eco, and 3 Sleep Modes |
| Blue Fin Technology | Effective protection for coils from water droplets, salt, and acid deposition |
| Auto Cleaning feature | On switching off the AC, Auto Clean feature runs for 30 seconds, drying the water droplets by a strong air throw |
| Silent operations | Super Quiet AC operations enabled through the ODU insulation along with a hidden display unit |
| Environment-friendly | R32 Eco-friendly refrigerant |
| Stabilizer free operations | The range allows for stabilizer free operation within 165~265V band |