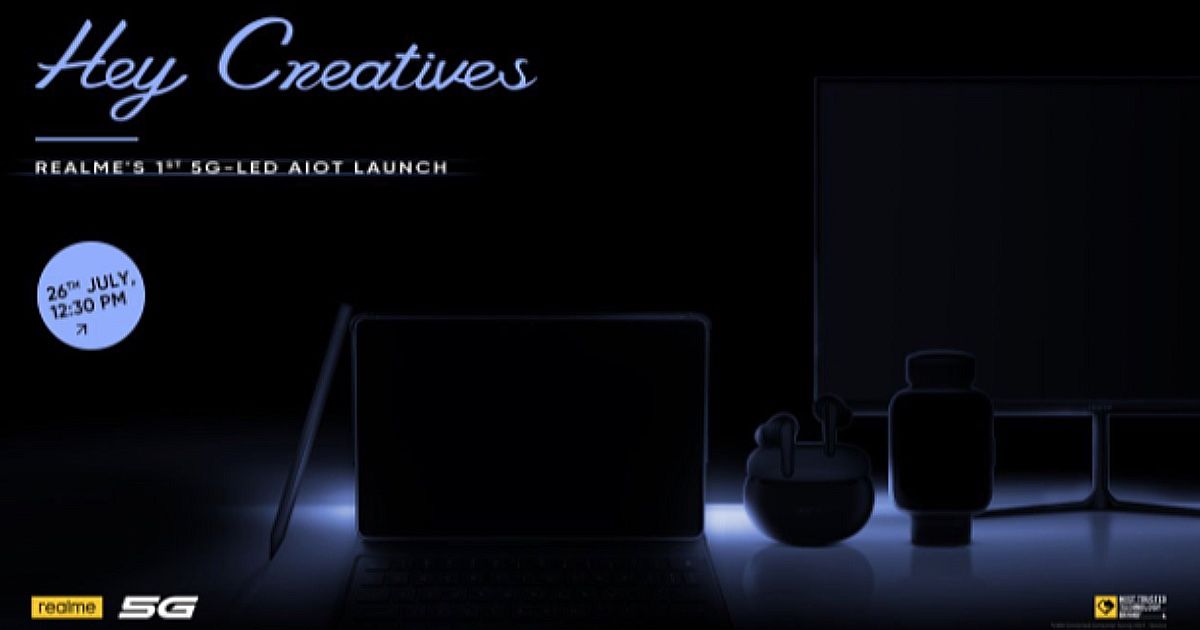 Realme, one of India's top smartphone brands, is all set to launch its first 5G tablet in the country. After confirming the launch of the Realme Pad X in India earlier this week, the company has now sent out invites for what it says will be its first "5G led AIoT launch". The product showcase will be driven by 5G devices, and going by the invitation, a number of products are likely to be showcased during the event. However, the focus could be on 5G connectivity – based on what the Realme Pad X would offer.
What will the Realme 'Hey Creatives' Event Include?
The invite of the Realme 'Hey Creatives' event, which it has also marketed as its first 5G-led connected devices product showcase, includes silhouettes of a pair of true wireless earbuds, a smartwatch, and what appears to be a desktop monitor as well. This suggests that the event could see the company enter an all new product category, which also fits its "creatives" tagline for the event.
This new product category could see Realme expand its presence into desktop accessories, with a presumably colour corrected display for PCs – something that creatives actively use. However, there are no industry rumours about the product, so it remains to be seen what the monitor's features could be.
Other products being showcased include new earbuds and a new smartwatch. Given Realme's previous offerings, the company will likely offer more options in the budget categories for these products – although it's not clear what role could 5G play for earbuds. It could be a surprise if Realme includes 5G cellular connectivity on its smartwatch, though.
As for the Realme Pad X 5G tablet, we already know a fair bit. The device is tipped to run on the Snapdragon 695 5G SoC, along with 6GB RAM and 128GB internal storage. The tablet also has an 11-inch display with an LCD panel that offers 2K screen resolution. However, the refresh rate is likely to be 60Hz only. It could get a 13MP rear camera and an 8MP front camera with 105-degree field of view for video conferencing. The setup could be powered by an 8,340mAh battery with 33W fast charging support.
Once launched, the Realme Pad X could become a 5G tablet that rivals fellow Android offerings such as Lenovo's P11 series, and the Xiaomi Pad 5.