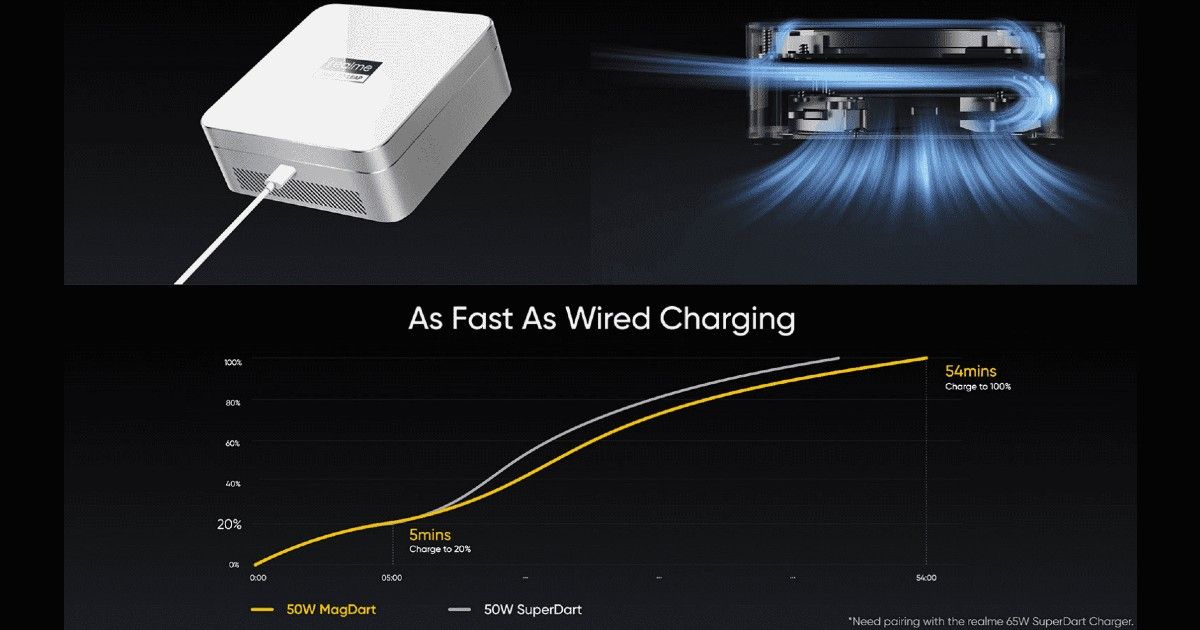 Realme MagDart magnetic wireless charging has clearly taken an inspiration or two from Apple, which introduced magnetic wireless charging with its iPhone 12 lineup with a new generation MagSafe standard. However, a new report by GizChina has claimed that while it might be a copy of Apple's technology, it has seemingly come with key efficiency and performance improvements, of which the key thing to note is that the Realme MagDart standard is 8x faster in charging speed over Apple MagSafe — and it achieves this without any collaterals such as heat dissipation issues that are highly probable in such a technology.
According to the report, the Apple MagSafe magnetic wireless charging standard presently offers 15W fast charging speed, which is further limited to prevent overheating during the charging process. In comparison, Realme has seemingly found a way to increase the wireless charging speed, while also tackling the heating issue. There will seemingly be two variants of the Realme MagDart wireless charger — a circular charging pad design with a magnetic surface that is only 3.9mm in thickness but offers 15W charging, and a larger, chunkier box design that includes a heat dissipation mechanism and offers 50W fast wireless charging.
The latter is the one that the report claims is 8x faster than Apple's MagSafe. According to claimed figures for a 4,500mAh smartphone, the Realme MagDart 50W charging standard will seemingly offer 20 percent power in 5 minutes of charging time, and juice up the battery to full in 54 minutes — under one hour. This charging speed is comparable to wired fast charging standards right now, and it would be interesting to see this in action. If it does manage to pull off the fast wireless charging standard consistently and without any significant heating or battery degradation issues, Realme may have a winner on their hands.
However, it will certainly be a long route ahead for the Chinese Android OEM. For starters, the magnetic wireless charging technology will not have legacy support, so none of Realme's older devices, including the flagship-spec ones, would support it. As a result, it will have to equip all potential new phones with this technology in hope of users adopting it widely. The Realme Flash is expected to be the first device to support this technology in the open.