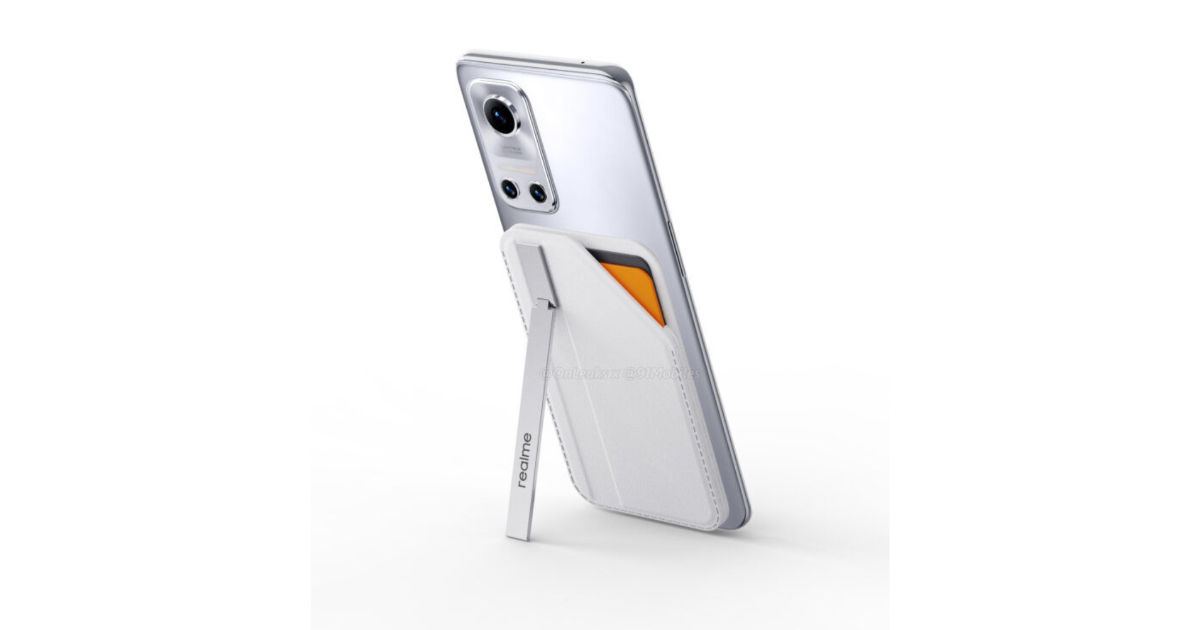 Realme is gearing up for its MagDart event on August 3. The company will unveil its magnetic charging technology and possibly even some accessories making use of the tech. The company has already confirmed that Realme Flash will be the first phone from the Oppo spin-off brand to launch with MagDart charging support. Some key details of both, the phone and the underlying magnetic charging tech have leaked in the past. A new report has now revealed the design of the Realme MagDart Wallet that will launch as an accessory soon. Let's take a look at the MagDart Wallet attached to the Realme Flash's back.
Realme MagDart Wallet renders
Realme will unveil its MagDart charging technology on August 3. Ahead of the launch, details of the upcoming Realme MagDart Wallet have leaked. A 91Mobiles report reveals that the wallet will come in a white colour option. Much like Apple's MagSafe Wallet, the Realme wallet will let users keep up to three credit/ debit cards. It has a leather finish and comes with an aluminium stand as well.
While the wallet's design is slightly different, the implementation is quite similar to Apple's MagSafe. Leaked render images also reveal a puck-shaped charger, which is a copy of the Apple MagSafe charging coil.
Realme is expected to launch two MagDart chargers. The puck-shaped charger is likely to support 15W charging. The bigger charger will have a boxy design and will also include a fan for heat dissipation. Unlike Apple's 15W charging cap, we can expect Realme to introduce faster-charging speeds for its MagDart tech. As per the XDA report, the MagDart charger would take less than an hour to charge the device's battery, which is speculated to be 5,000 mAh (if it is the Realme Flash in the video). Further details about the wireless charger's performance suggests that it delivers real world charging power output of 35W, while the peak power capacity of the charger is 50W.
Details of the Realme Flash have leaked online in the past. The smartphone has a triple-camera setup on the back. It is rumoured to draw power from a Snapdragon 888 SoC. You can click here to know more about the same.