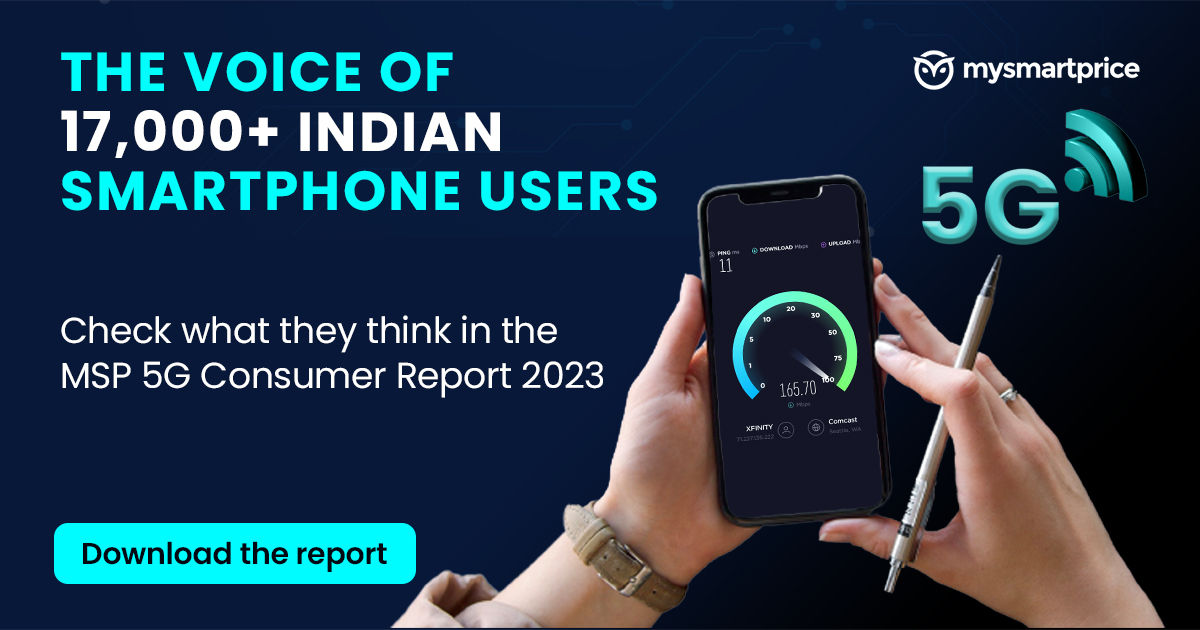 5G rollout in India is in full swing. Telecom operators and smartphone brands are working closely to make each device compatible with multiple operators. Airtel has plans to launch 5G services in all urban circles by September 2023 whereas Jio plans to cover whole India by December 2023.
MySmartPrice asked users how they are adopting 5G connectivity and what they expect more from it. We have compiled all the answers in our 5G Smartphone Consumer Report 2023. Let's dive deep into the report and know how India's 5G demographics is evolving.
5G Enabled Smartphones Have Become Common
`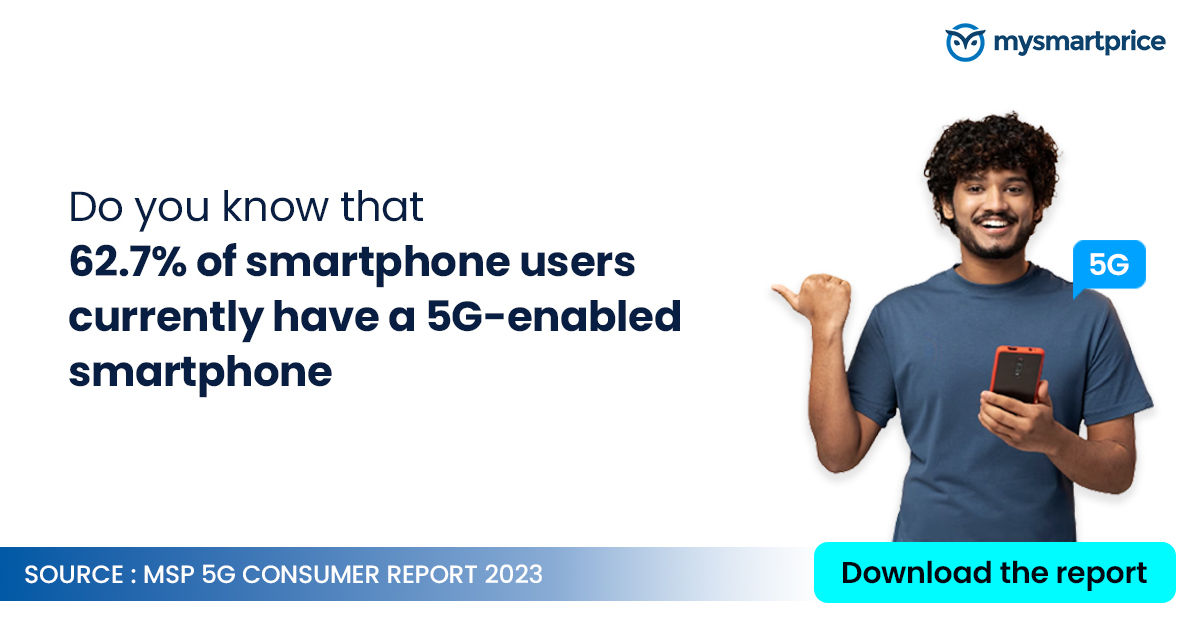 In our survey, more than half of respondents revealed that they own a smartphone that supports 5G connectivity. About 62.7% of respondents owned a 5G-enabled smartphone whereas 29.8% don't have a 5G handset but they are planning to upgrade. Rest, 7.4% respondents revealed that neither their handset supports 5G nor they have any plans to buy a new 5G smartphone.
Within months of 5G launch in India, users have started adopting the 5G technology and are all set to use the services, shows the data in survey.
Most 5G Users Own A Realme Smartphone But…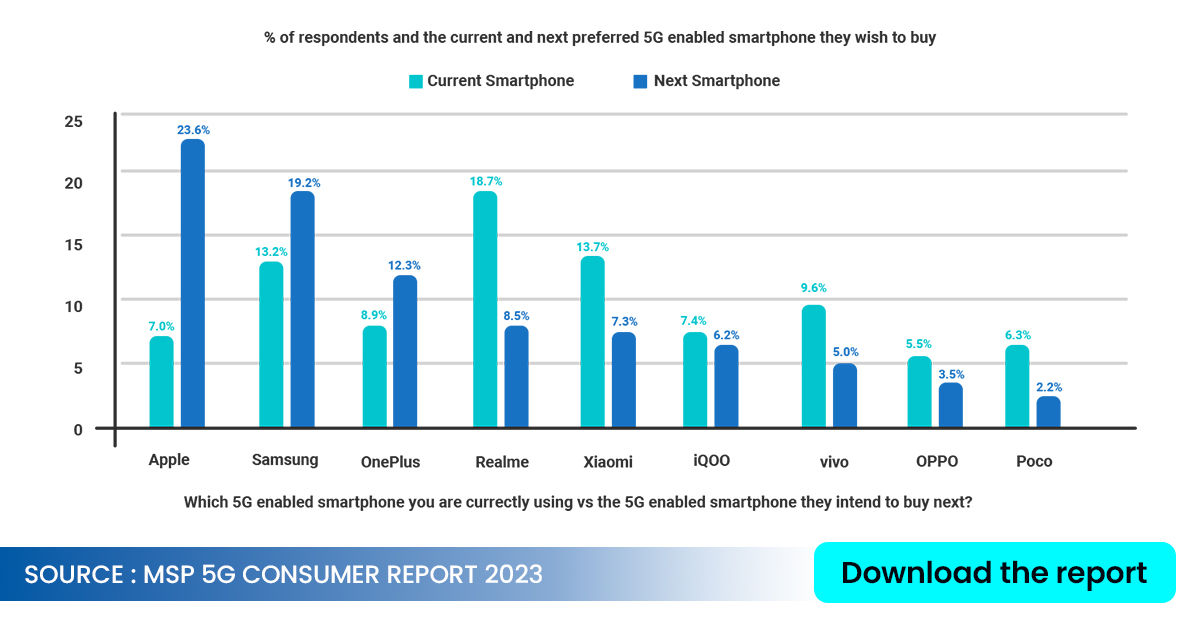 In our survey, it was revealed that most 5G users own a Realme smartphone however there was a huge decrease in interest when asked whether they would like to buy a new smartphone from the same company. Out of 18.7% respondents who own a 5G-enabled Realme phone, only 8.5% said they would upgrade to a Realme device again. Similarly, out of 13.7% Xiaomi users, only 7.3% want to continue with the brand. Apple, Samsung and OnePlus were the most preferred brands when it comes to upgrading to a new 5G device.
Surprisingly, Realme and Xiaomi were the most popular brands among those users who don't own a 5G smartphone currently.
What's the Popular Price Range of a 5G Smartphone in India?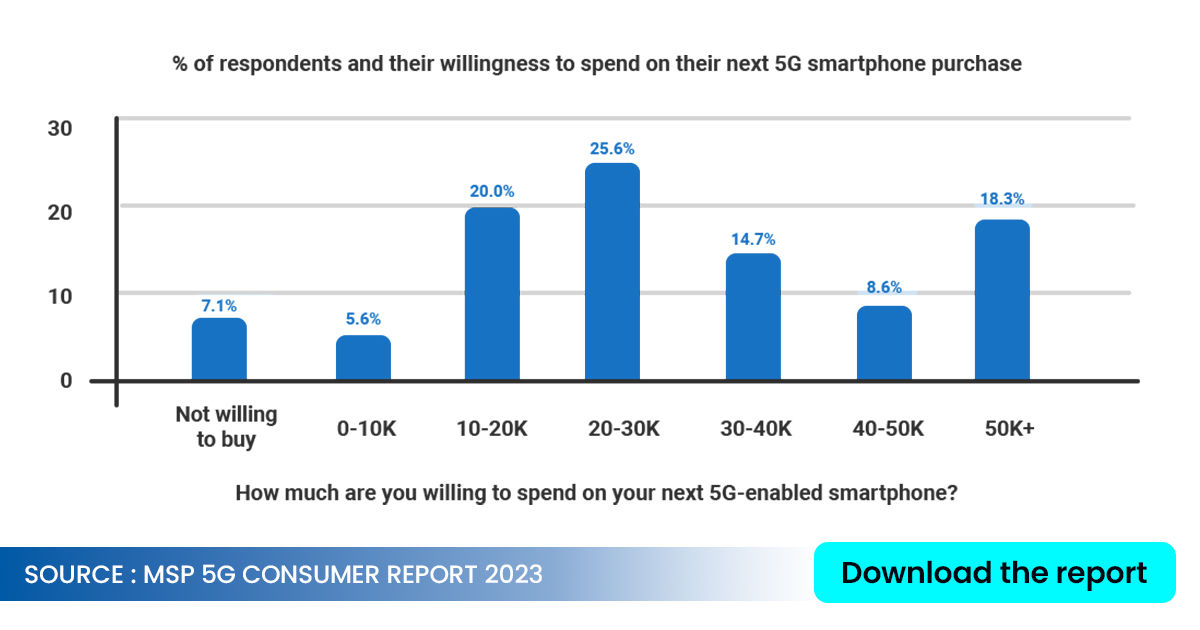 India is a price conscious market which is one of the reasons why 5G smartphones are affordable in the country. While 5G smartphones start from Rs 10,000, users are willing to pay more for it. In our survey, about 25.6% of respondents – which is highest – are willing to pay between Rs 20,000 to Rs 30,000. In second place, about 20% of respondents are willing to pay Rs 10,000 to Rs 20,000 for a new 5G smartphone. About 7.1% of respondents do not want to spend their money on buying a new 5G smartphone.
Is 5G an Important Factor for Smartphone Buyers?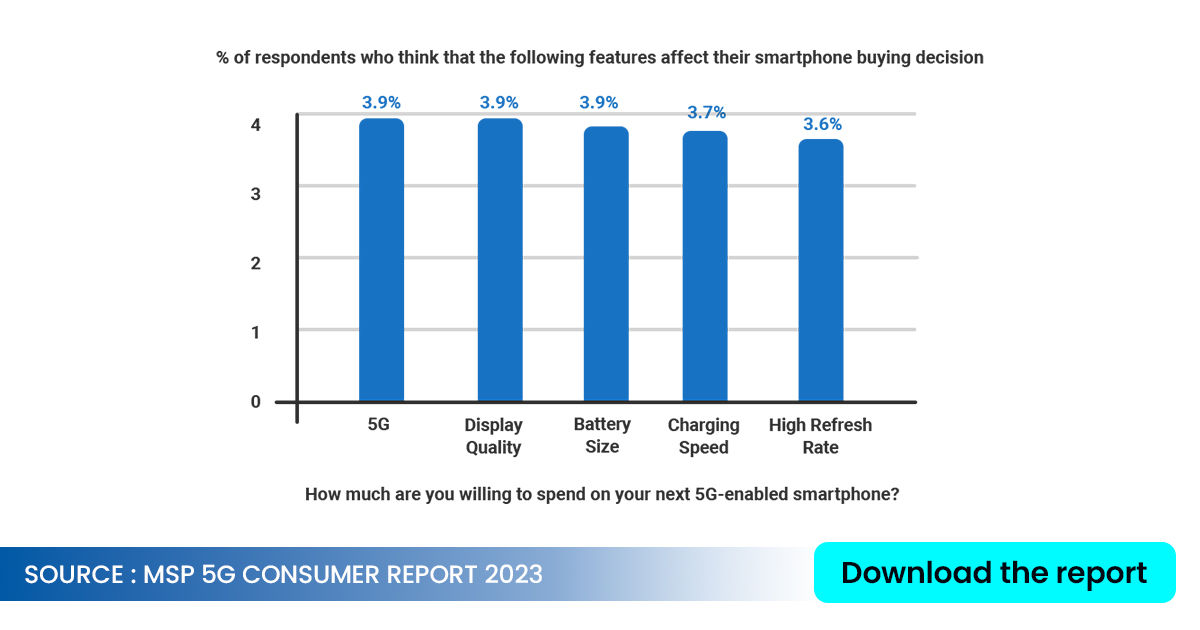 It has been noticed that cost cutting has become a common norm in smartphones that support 5G when compared to a 4G device in the same price bracket. But does 5G connectivity affect the buying decision of a smartphone buyer?
In our survey, 5G was voted as the most preferred feature over any other factor with a rating of 3.99 out of 5. Both display quality and battery life received a similar amount of response and were second and third preferred features of smartphone buyers respectively.
Jio is Most Preferred Operator for 5G Users, Ready to Pay More
Jio, Airtel and Vi (Vodafone-Idea) are the three major operators in India to offer 5G services. As of now, Jio and Airtel are the only operators to roll out their 5G services across India. Vi hasn't revealed any timeline of their 5G services rollout in India.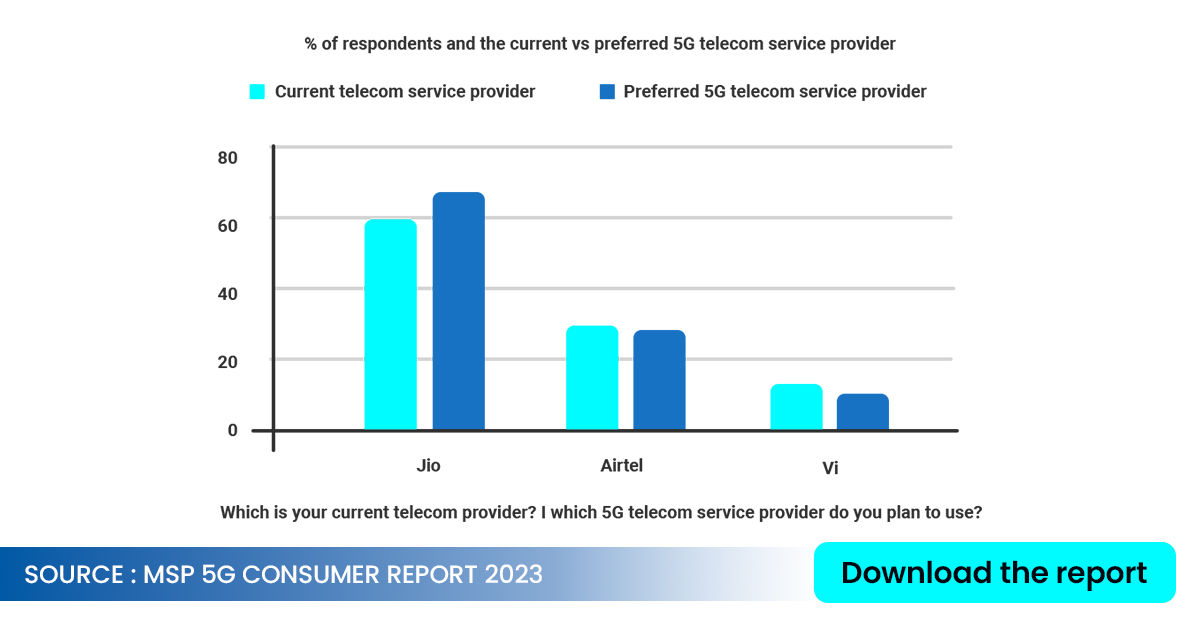 To use 5G services, more than 60% respondents selected Jio assuring their trust on the operator. Around 27.2% of respondents prefer using Airtel as their 5G service provider.
As of now, operators are offering unlimited 5G data to their customers however they may start charging an amount for it in future. When asked whether they would wish to pay more for using 5G services, around 58.2% of users said yes while rest denied.
5G Use Cases and Expectations From It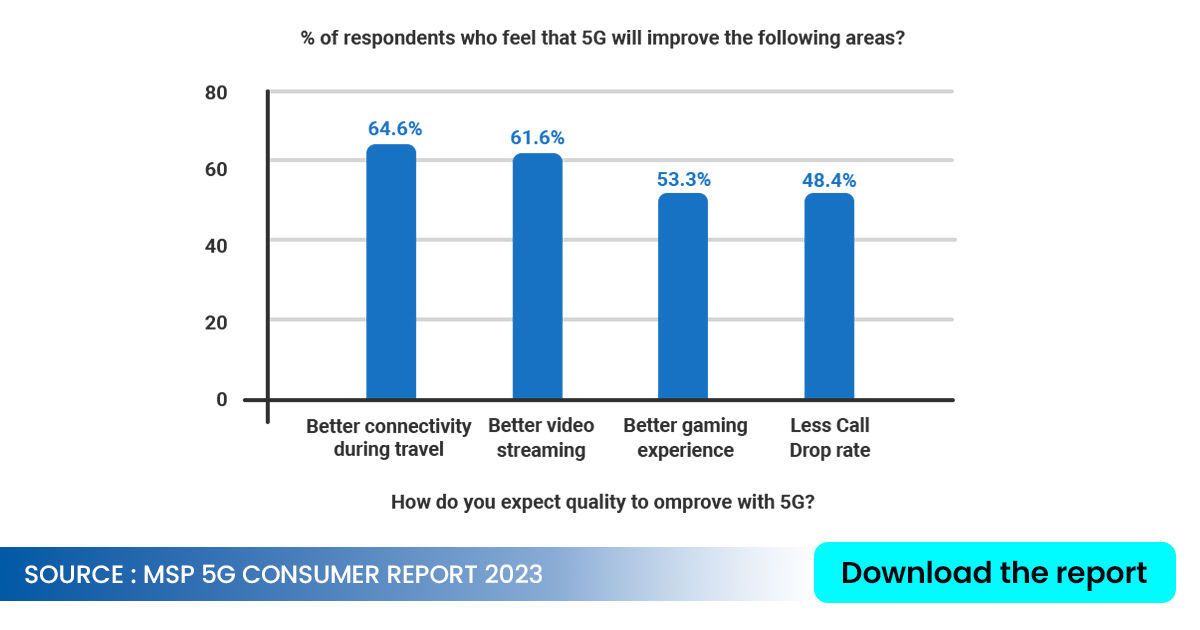 With 5G being commercial now, everyone is curious on how it will change our daily internet usage. But before that, let's check what users do on their smartphones. Around 52.6% of the respondents said in the survey that they spent more than 60 minutes daily on consuming content while 60% of users spent 30 – 120 minutes on social media platforms.
Users expect 5G will improve their experience of gaming, content creation, and social media. Around 64.6% users expect that 5G will improve one of the major issues i.e. to help them with better connectivity during travel. Rest expect 5G to bring better video streaming, gaming experience and less call drops.
You can read the full report here.