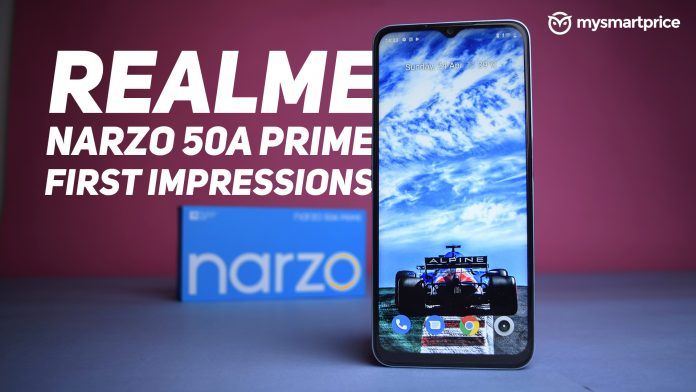 Isn't it intriguing how some of the best attributes of flagship smartphones manage to trickle down to affordable offerings? AMOLED displays, multiple cameras and in-display fingerprint scanners are some of the features that were reserved for ultra-high-end smartphones a few years ago. Still, these are becoming more and more common in budget smartphones these days. But sometimes, it's not downright specs that customers want, and they also care about the in-hand feel and design of a smartphone. Realme seems to have cracked this aspect with its latest offering in the ever-expanding Narzo series, the Narzo 50A Prime.
Available in two variants, with the base starting at ₹11,499 and the top variant priced at ₹12,499, the smartphone has an appealing design that strikes the perfect balance between understated and modern aesthetics and, at least on paper, packs decent specs. Yes, it does share a few similarities with the Narzo 50A launched last year, but if you ask us, it does have an identity of its own. We spent a few days with the Narzo 50A Prime, and these are our first impressions.
Realme Narzo 50A Prime: The Unboxing Experience
Before I could lay my hands on the Narzo 50A Prime, I had to unbox it, of course. The box donned the Narzo series' signature blue colour, and opening it up revealed the smartphone itself along with some paperwork, a SIM ejector tool and only a charging cable. That's right, Realme, too, is going green by not including the charger with the goal of net-zero carbon emissions and near-zero landfill waste. My feelings about this are mixed.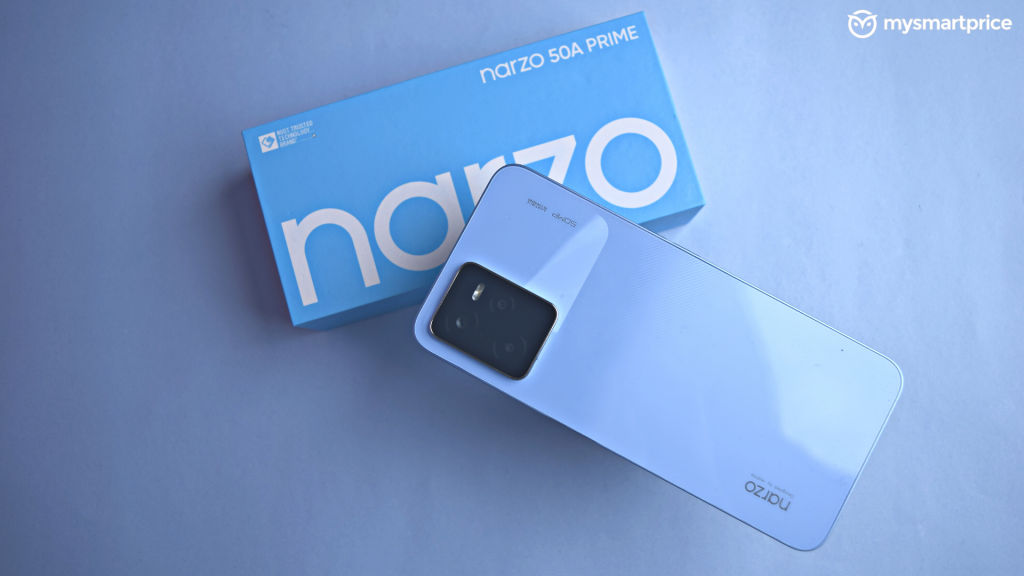 Yes, reducing the weight of paper and, ultimately, e-waste is a great move. Still, because it's a budget device, it may also be the first smartphone for several buyers, so not including it may, in turn, end up in extra emissions as a new charger will come in its box and plastic cover.
Realme Narzo 50A Prime: The hits
Ditching the somewhat awkward semi-dimpled design of the Narzo 50A, Realme has kept this phone pretty clean. I like how the flattened frame, rear panel, and rounded corners make this phone really easy to grip. It seems like there have been some design cues borrowed from the premium smartphones this year, and I have absolutely no complaints about it.
The rear panel has a glossy finish made of plastic. Although it's a little prone to scratches, it will be resistant to cracking if you accidentally drop it. Further, it has a dual-tone finish that makes it even more interesting. So, you have tiny refractive checkers that run diagonally throughout the panel, and then there's a plain finish that is present around the top third of the panel around the camera module.
Speaking of the camera module, it's present as a rectangular protrusion on the top left corner. It comprises three cameras, I'll get to them in just a moment. The bump is significant enough to wobble the phone if you plan on typing, keeping it on the desk. But, it's not all bad because it also offers decent leverage while picking it up from a flat surface. I think the trade-off makes sense, and I'd choose a secure grip over wobble any day. The frame is made of plastic, but it has a faux metal finish, giving it a premium feel.
Unlike its predecessor, the Narzo 50A Prime has buttons on both sides. You have the volume rockers on the left, and on the right, you have the power button. Because of how tall the phone is, this division helps in reachability so that you don't have to do thumb acrobatics every time you want to change the volume or lock the phone. The lock button also hosts the fingerprint scanner and is slightly recessed to aid tactility. So far, I have found it pretty easy to reach.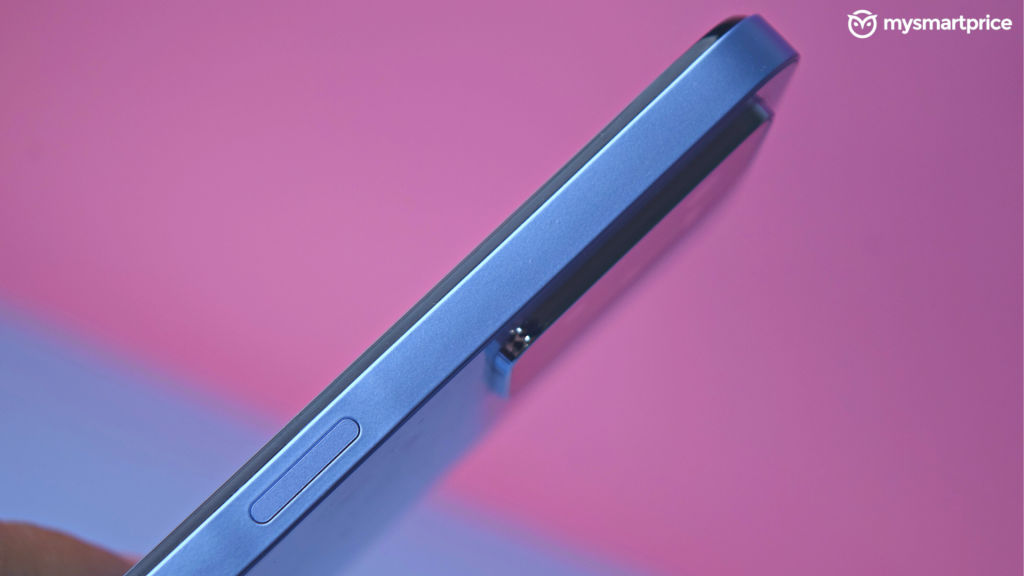 In terms of ports, you're in for a treat as the bottom of the phone hosts a USB Type-C slot as well as a headphone jack on the left, which is by far the best place to keep it. Thank you very much! Don't you think having the 3.5mm jack on the top corner is a practical joke? At least I usually put the phone head down in my pocket, so having the slot on the bottom makes sense because there's a perfect exit for my headphones' connector without looping it inside.
The dual SIM slot is full-sized, with two slots for nano SIMs and one for a microSD card (expandable up to 256GB), so you're essentially spoilt for choices here. It only supports 4G, though, and that's entirely fine for a phone at this price.
Moving on, the display is a step up from the Narzo 50A. It's still an LCD, but it's 0.1-inch bigger diagonally (6.6 inches) and is now Full HD+ (2408×1080). It has a small teardrop notch on the top, and so far, it has been decent enough for media consumption, web browsing and scrolling endlessly (read mindlessly) on Instagram.
The primary camera at the back has a 50-megapixel sensor, and it can click some pretty decent shots for its asking price. Sure, what you see in the viewfinder is vastly different from what you see in the final shots, thanks to all the image processing, but my first impressions have been mostly positive.
Under the hood, you have a Unisoc T612 SoC powering this smartphone paired with either 64GB or 128Gb of internal storage. Just like the Narzo 50A, RAM stays constant at 4GB. I like how 32GB isn't the norm anymore because it's pretty much unusable in 2022.
Just so you know, the Unisoc T612 already made its debut in the Realme C31 a few months ago, so the performance should be familiar.
All this is mated to Realme UI R edition that's based on Android 11. It offers a near-stock experience and is extremely intuitive without any heavy skin spoiling the fun. I've been enjoying it so far, both aesthetically and functionally. I also received a security update, which is a promising sign of what we can expect in the future.
Backing the entire package is a 5,000mAh battery, which is huge if you think about it. So far, I observed minimal battery drain, so I'm pretty excited to see how it performs as my daily driver.
Realme Narzo 50A Prime: The misses
Build quality-wise, there's not much to expect from the Narzo 50A Prime. It's an affordable phone, so there's no IP certification. Not even a rubber gasket around the SIM tray. The company hasn't revealed what kind of reinforced glass is being used at the front. While it's too early to judge anything, I'd say try not to drop it on pavement or in water.
Thanks to the low peak brightness of 600 nits, I found the display uninspiring from the very first glance. Look, it's unfair to expect a high refresh rate or sampling rate at this price point, so the brightness is the only fun we get, and I would have loved a little more. That said, how well it performs under direct sunlight and other scenarios will be revealed in the final review, so do stick around.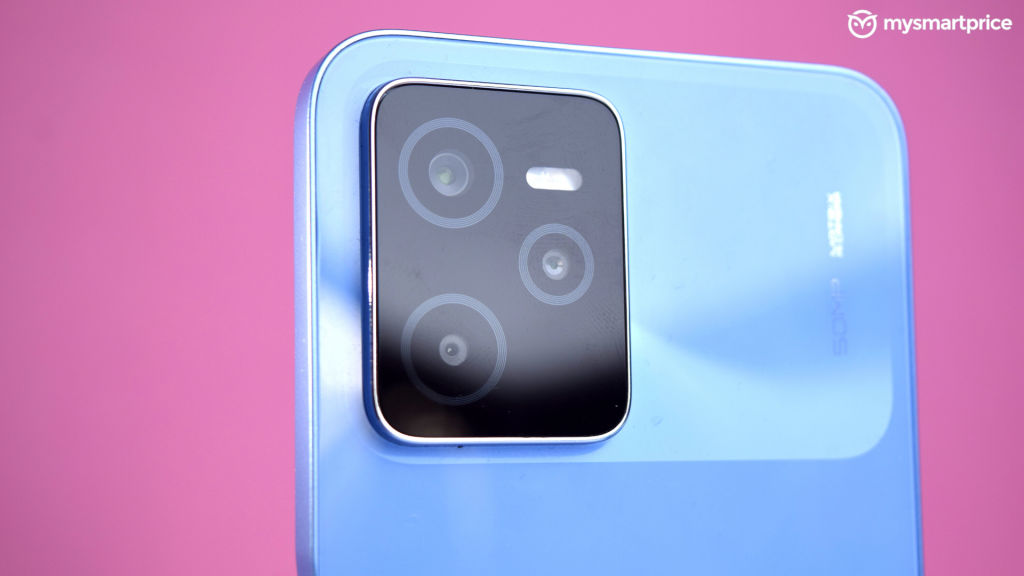 The top variant only comes with 4GB of RAM! Unfortunately, it possesses the 'Prime' badge, and there's not much to distinguish it from the Narzo 50A in this regard. Whether or not it performs well will be unveiled in the final review, but as a customer, I would have loved to have at least a choice of a 6GB variant. Further, the CPU (Cortex A75) powering the Unisoc SoC is about five years old, so it may not provide a significant edge over the Narzo 50A.
Coming to the software side of things, it's still running Android 11 out of the box. Further, a ton of bloat comes preinstalled with this phone. Now, Realme is marketing it as a good thing on the box, stating, 'it offers easy access to the Google apps you use most. Sure, I appreciate the fact I can uninstall most of these and having LinkedIn, Snapchat, PhonePe, and Amazon preinstalled did save me some time, but I don't know how I feel about the rest.
Finally, the other two cameras (2-megapixel macro and 0.3-megapixel depth) could be replaced with something like a run-of-the-mill 8-megapixel ultrawide. It could have helped with the versatility of the entire setup. Yeah, the camera module wouldn't look as cool, but having something practical could have helped this smartphone's case.
Realme Narzo 50A Prime: Initial thoughts
The camera, design and user interface seem to be the forte of the Realme Narzo 50A Prime. That's not to say that we should overlook the rest of the phone, as these are only my first impressions, and they may change by the time I test the Narzo 50A Prime to its limits. However, I'm particularly interested in knowing how it handles light gaming, navigation and the blazing hot sun of Delhi. It should be interesting.
Thanks for reading till the end of this article. For more such informative and exclusive tech content, like our Facebook page