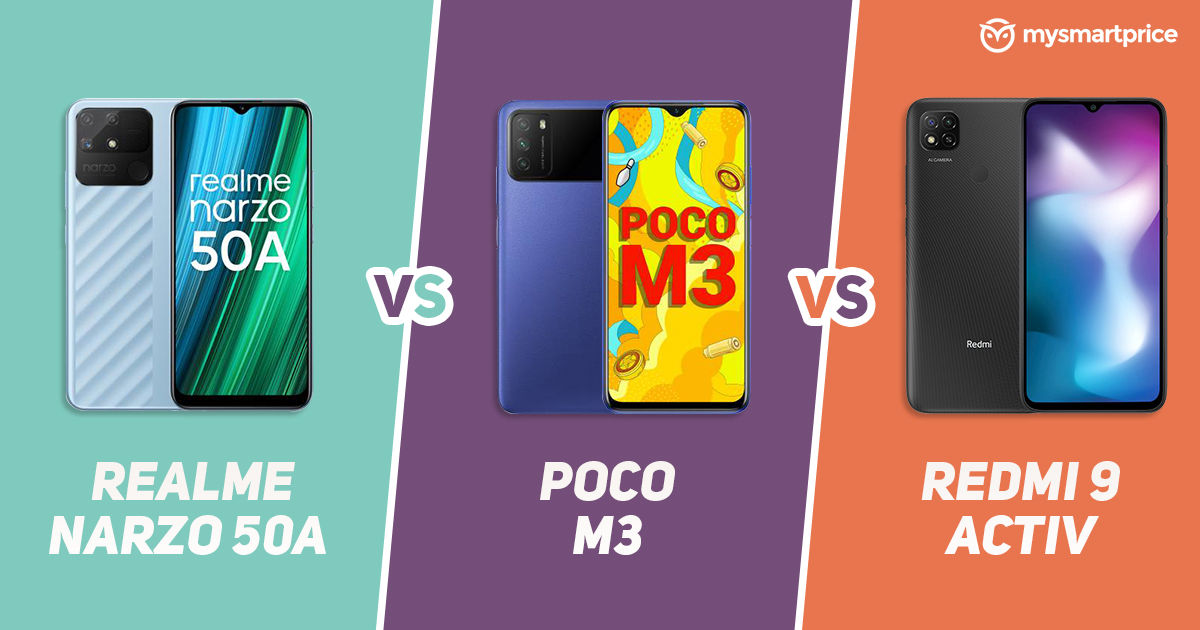 The wait is over as Realme has launched Narzo 50A in India. The budget smartphone comes with a MediaTek chipset and a whooping 6000 mAh battery under the hood. But before you get all excited about the Realme Narzo 50A, you should know about two smartphones that are giving a tough beat to the Narzo 50A. These two budget smartphones are POCO M3 and Redmi 9 Activ.
Xiaomi Redmi 9 Activ was launched a day before Realme Narzo 50A. The smartphone is identical to last year's Redmi 9, except for the new 6GB variant. POCO M3, on the other hand, has been ruling on the lower budget segment since its launch earlier this year. The smartphone's price was recently hiked due to the high demand. So, which one is actually better? To answer this, let's put all the three smartphones against each other to find out which one is the best.
Realme Narzo 50A vs POCO M3 vs Redmi 9 Activ: Price in India
Realme Narzo 50A, POCO M3 and Redmi 9 Activ; all three fall under the same price category of smartphones under Rs. 10000. Depending upon the RAM and storage options you need, here is the pricing for all three smartphones and their multiple variants.
| | | | |
| --- | --- | --- | --- |
| | Realme Narzo 50A | POCO M3 | Redmi 9 Activ |
| 4GB + 64GB | Rs 11,499 | Rs 10,999 | Rs. 9,499 |
| 4GB + 128GB | Rs 12,499 | N.A | N.A |
| 6GB + 128GB | N.A | Rs. 12,999 | Rs. 10,999 |
If we look at the table, the price difference in Realme Narzo 50A, Poco M3 and Redmi 9 Activ in India is minimal. That's why you need to consider all the specifications of all three smartphones before making a decision.

Also Read: POCO M3 128GB vs Samsung Galaxy F12 128GB
One thing to note here is that Realme Narzo 50A only comes with 4GB RAM. If 6GB RAM smartphones are your go-to, then it automatically boils down to choosing between POCO M3 or Redmi 9 Activ.
Realme Narzo 50A vs POCO M3 vs Redmi 9 Activ: Design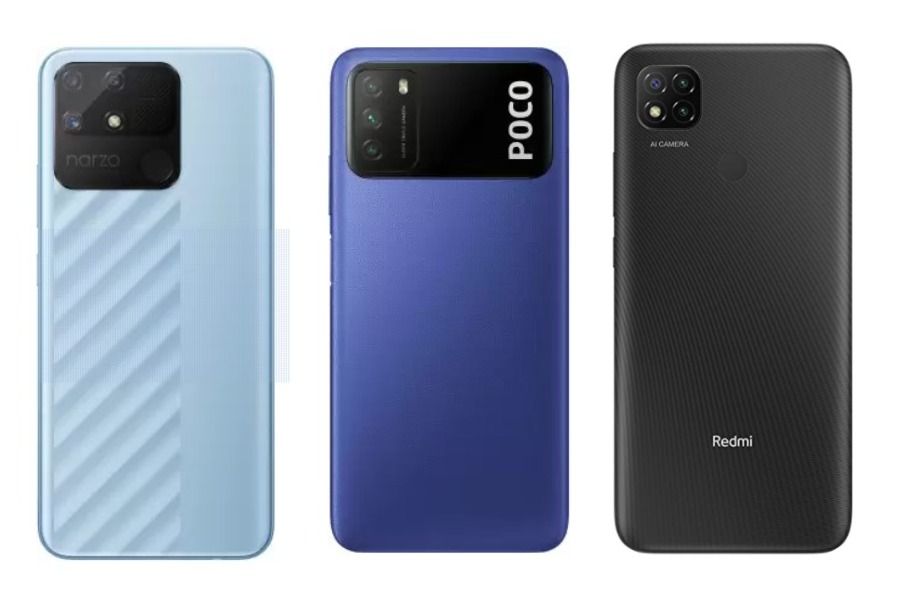 The Realme Narzo 50A comes with a dual-tone back and a textured look on one side that runs vertically down from the square camera bump. Like the textured tone, the camera bump only extends to one half of the back. A unique design feature of the Narzo 50A design is that the fingerprint sensor is placed inside the camera bump.
POCO M3 and Redmi 9 Activ, both have a textured back which gives you a better grip. The M3 has a large square camera module that covers a large chunk of the phone, while the Redmi 9 Activ comes with a small square camera module that subtly sits in a corner.
All three smartphones are roughly 9.6mm thick and weigh close to 200g. On the front, the three smartphones have a punch hole camera and a fairly large bezel at the bottom.
The Poco M3 comes in three different colours namely Yellow, Cool Blue and Black. The Narzo 50A offers an Oxygen Green and an Oxygen Blue colour option. Lastly, the Redmi 9 Activ comes in Carbon Black, Coral Green and Metallic Purple color options.
Also Read: POCO C31 Budget Phone With Drop Notch Display Slated to Launch on Flipkart on September 30
Realme Narzo 50A vs POCO M3 vs Redmi 9 Activ: Display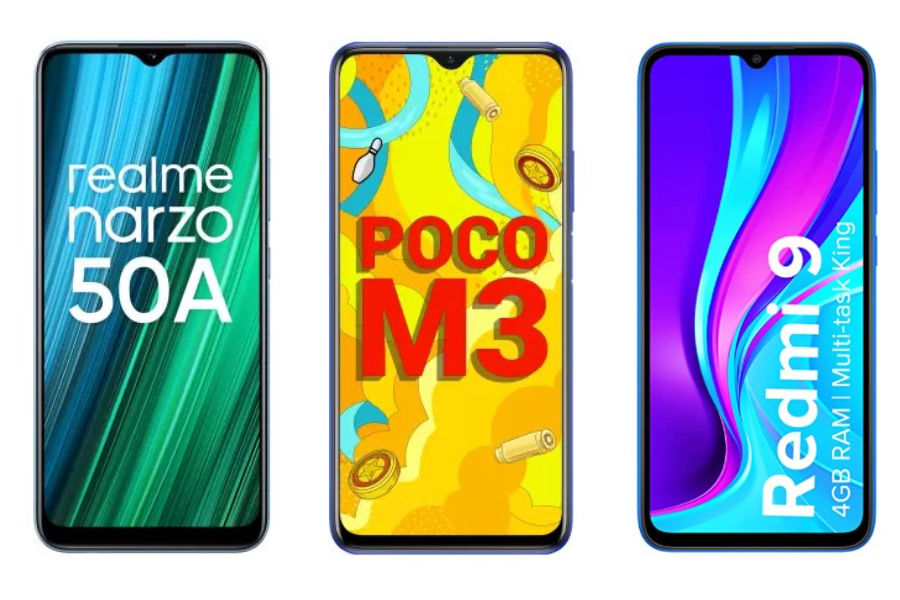 Interestingly, all three smartphones sport the same 6.5-inch IPS LCD display. The difference is that the POCO M3 features a Full HD+ screen offering a resolution of 2340×1080. Meanwhile, the Narzo 50A and Redmi 9 Activ, both have an HD+ screen with a resolution of 720×1600.
Narzo 50A might have an upper hand in screen brightness. The company claims the peak brightness of 570 nits, which is slightly better than the 400 nits maximum brightness present in the POCO M3 and the Redmi 9 Activ.
Realme Narzo 50A vs POCO M3 vs Redmi 9 Activ: Performance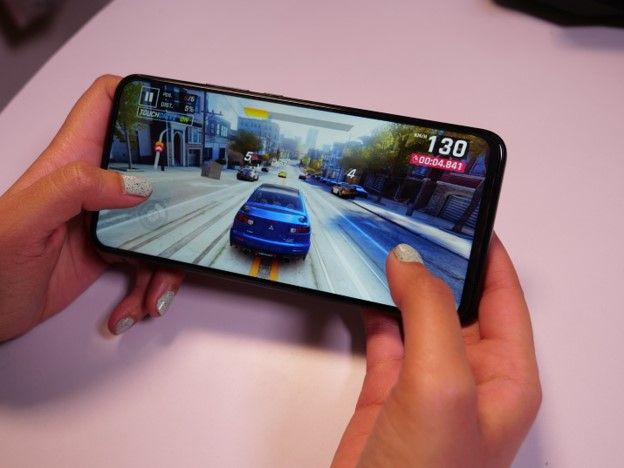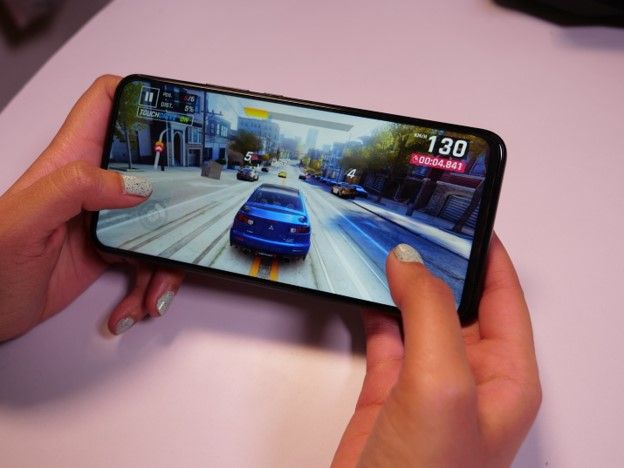 Note: The below performance comparisons are not based on actual usage but on the stand-alone performance of the chipsets.
When it comes to performance, all three budget smartphones come with low-end processors. However, handling casual day-to-day tasks won't be a problem for all of them.
The Narzo 50A and Redmi 9 Activ, both are powered by a MediaTek Helio chip. The former carries the Helio G85 while the latter comes with a Helio G35. Meanwhile, the POCO M3 runs on Qualcomm Snapdragon 662.
If we have to compare, the Helio G85 does come quite close to the Snapdragon 662 based on its performance in other smartphones. Meanwhile, the G35 in the Redmi phone is an older chipset, so it lacks behind the other two. If we factor in the memory options, the POCO M3 will likely come at the top due to its 6GB RAM variant and the fact that Narzo 50A only offers 4GB RAM.
Realme Narzo 50A vs POCO M3 vs Redmi 9 Activ: Cameras
Camera is one of the most important components of a smartphone, a big factor to consider when comparing smartphones.
Let's start with the Narzo 50A – the device comes with a triple camera setup on the back headlined by the 50MP camera with f/1.8 aperture and 10x zoom. The other two include a 2MP macro lens and a portrait lens.
The POCO M3 also houses a triple-cam with a 48MP f/1.8 lens with two 2MP macro and portrait lenses. Lastly, the Redmi Activ 9 has a dual camera with a 13MP f/2.2 primary lens and a 2MP depth sensor.
Clearly, Redmi Activ 9 is not a good choice if you want a camera phone. Other than lacking a macro lens, its primary lens also has a small aperture.
As for the other two, it's difficult to tell their camera's difference from the surface. We would suggest waiting for in-depth camera comparisons between the two phones.
Also Read: iPhone 13 Pro Max vs iPhone 12 Pro Max vs Galaxy S21 Ultra Camera Comparison Test and Review
Realme Narzo 50A vs POCO M3 vs Redmi 9 Activ: Battery
Coming to the battery, the Redmi 9 Activ carries a 5,000 mAh battery with 10W charging. POCO M3 offers a 6,000 mAh battery capacity with support for 18W charging. The Realme Narzo 50A includes a 5,860 mAh battery with 18W quick charge.
Both Realme and POCO support reverse charging and come with a USB-Type C port whereas the Redmi 9 Activ comes with a Micro USB port.
Realme Narzo 50A vs POCO M3 vs Redmi 9 Activ: Verdict
In conclusion, the Realme Narzo 50A and POCO M3 go toe-to-toe on every specification whereas the Redmi 9 Activ lags behind. The POCO M3 is a good choice if you want 6GB RAM, a slightly bigger battery, a full HD+ display and a Snapdragon processor powering it all. Go for the Realme Narzo 50A if you like the unique design of the device and only need 4GB RAM.