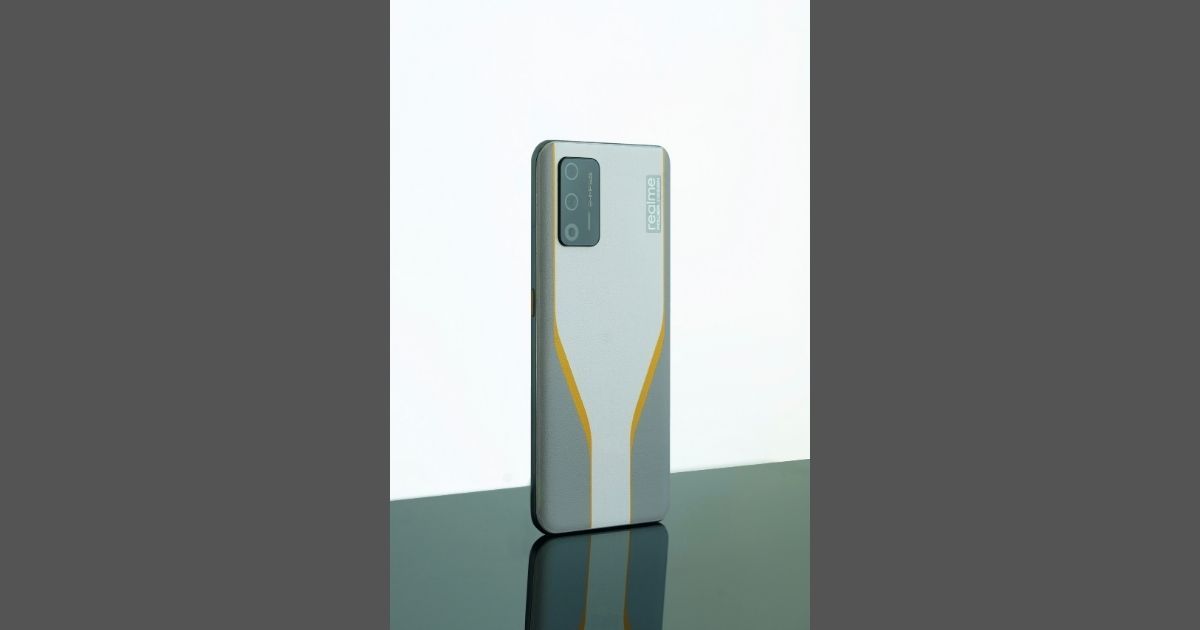 Not too long ago, we came across the news surrounding the launch of Realme's upcoming flagship (series), dubbed Realme Race. The Realme Race moniker popped up on the internet right alongside the launch of Qualcomm's latest flagship, the Snapdragon 888 5G mobile chipset. Today, the company has officially revealed that the Realme Race moniker does not belong to a single smartphone and is rather a codename for its upcoming flagship lineup. Furthermore, a newly leaked image of the upcoming Realme Race series smartphone has also popped up on Weibo. Take a look at the latest developments surrounding the upcoming Realme Race series smartphones and find out what they have in store for us.
Realme's upcoming flagship phone (codename Race) details leaked
The latest leaks surrounding the upcoming Realme flagship phone have come courtesy of Chinese microblogging platform Weibo. Let's start with what's official. Chase, Realme CMO, has today revealed that the Realme Race smartphone, which we had been expecting to launch anytime soon, was not a smartphone and was a codename instead.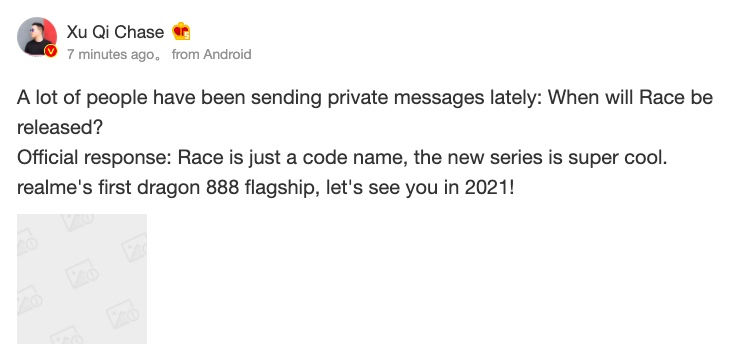 As seen in the image above, Chase has confirmed that the new "series" will come with the codename Race and will be equipped with the Qualcomm Snapdragon 888 processor. The launch date is set for 2021.
In another turn of events, a new image, which is being claimed to belong to this new Realme Race series (we are not certain as to what name the lineup would have), has now surfaced.
As seen in the images above, this is what the upcoming Realme flagship would allegedly look like. The translated text suggests that the device could feature a leather back. Plus, we can see a 64MP quadruple rear camera setup at the back. Sadly, the front of the device is not visible in the leaked image. This variant could likely be a special variant in the upcoming Race lineup, judging by the rear design.
As of now, this is all the information that we have been able to gather surrounding the upcoming Realme flagship phone, but we are sure to receive more about the same in the coming days as the launch date approaches. Whenever we do, we will keep you posted on the same. What are your thoughts on the upcoming Realme Race devices? Do let us know in the comments section below.
Also Read: Realme Becomes First Brand to Announce a Smartphone, Codenamed Race, With Snapdragon 888 5G SoC