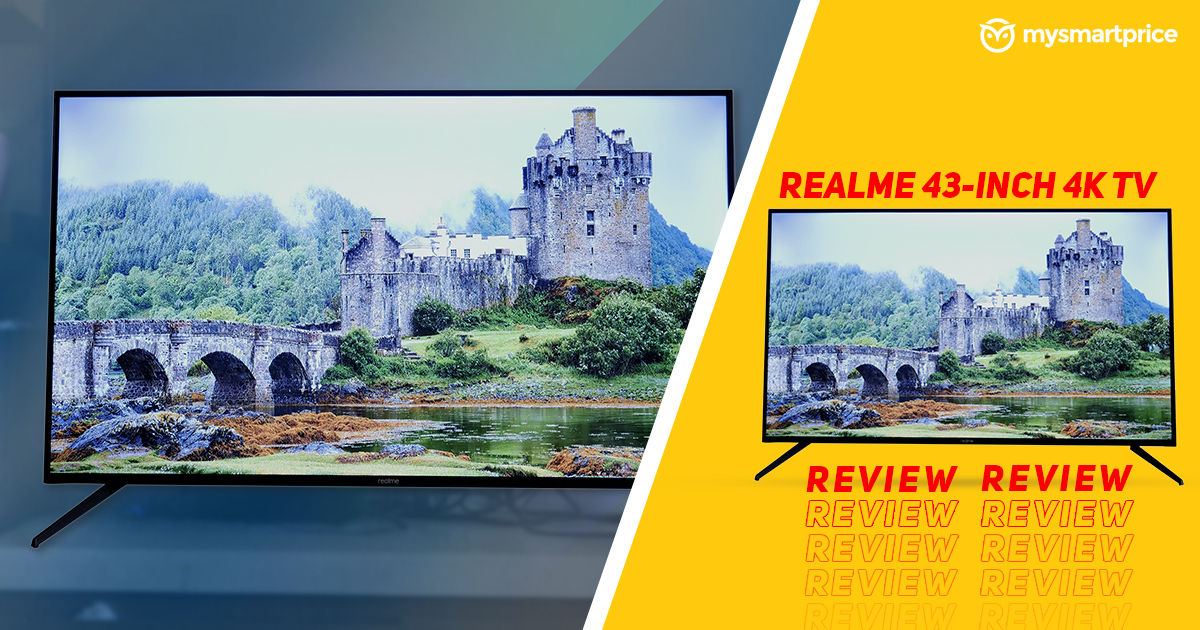 It doesn't feel like it, but it's been just about a year since Realme entered the TV category with its budget Smart TVs last May (Watch Video). With 2021 looking like it's going to be spent mostly in the confines of our homes, Realme has decided to up their game by refreshing their budget TV line-up. The most notable upgrades here are 4K displays and support for Dolby Vision, something which is still not common in the sub-30K segment. The 43-inch model which we reviewed, has been priced at Rs 27,999, while the 50-inch model sells for Rs 39,999. I've used it extensively for the past 10 days or so, and here's what you need to know if you're looking to buy this, or any other TV in this segment.
Realme 4K TV Review: Build & Design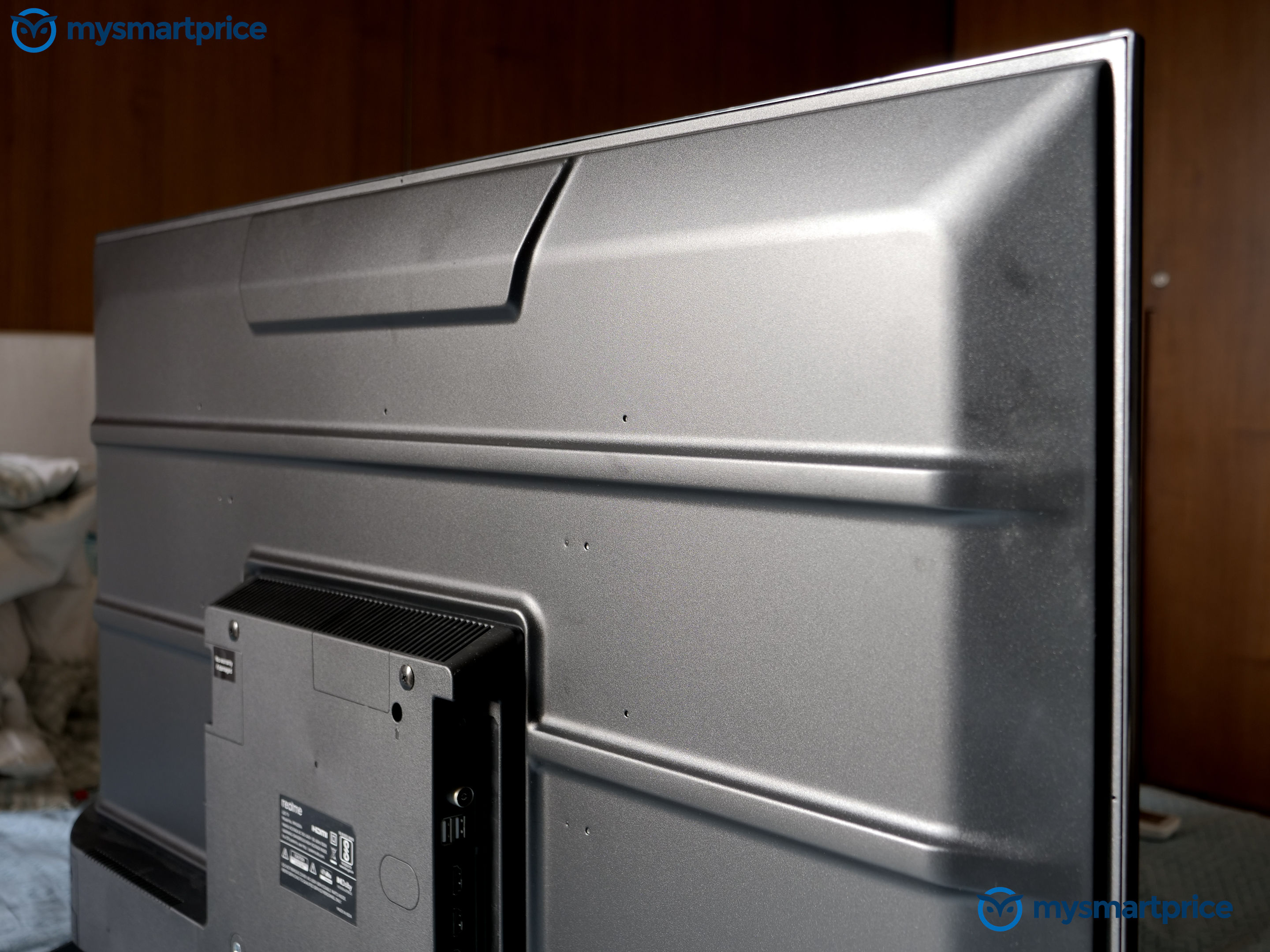 Realme TV 4K looks and feels like any other TV in this category. It's a plastic build that doesn't look premium but nor does it feel cheap by any standards. Thanks to the materials used, the TV is considerably lightweight and I had no trouble setting it up myself. You don't get a wall-mount included in the box, so that might be an additional cost you need to keep in mind. What you do get inside the box are two metal stands to prop the TV up on a table top, which is how I used it. The stands are quite sturdy and the TV doesn't wobble too much.
On the back of the TV, you find the ports all in a vertical alignment. There are 2 HDMI ports, 1 HDMI ARC port, 2 USB ports, which I think have been packed too close to each other and I doubt if you'll be able to use both of them together. There's also an Antenna port, Ethernet Port, Digital Audio OUT and an AV port you can use to connect your TV to the non-HDMI set-top boxes and media players. A thoughtful addition is the 3-cable style converter, which will help you with that.
Realme has done well in trimming down the bezels up front at least on the top and both sides. On the bottom we get a slightly thicker chin, with Realme branding and just below that sits the quad-LED array that acts as a notifier for the Hands-free voice control feature. More on that on the other side of this H2.
Realme 4K TV Review: Remote & Voice Control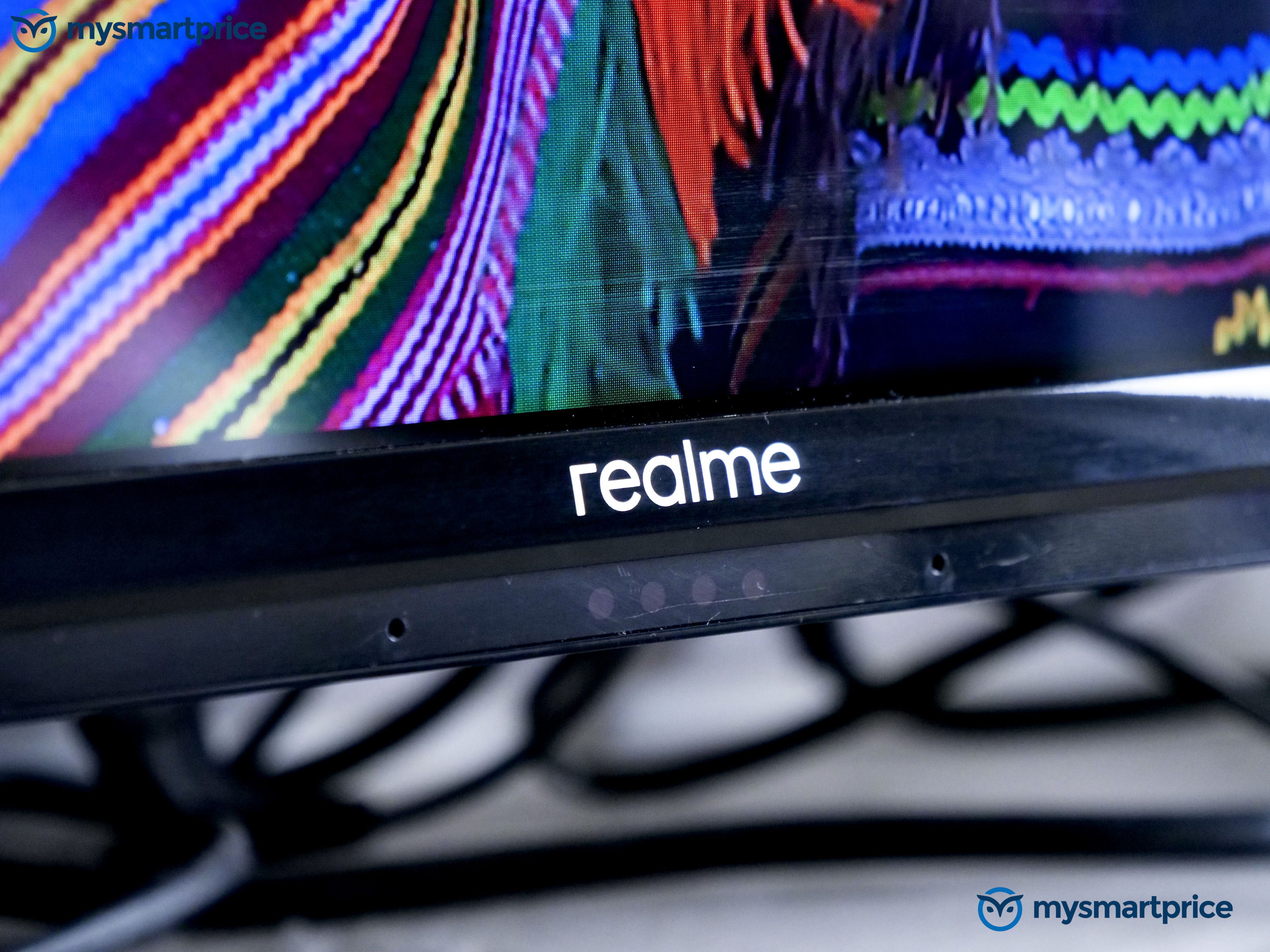 We're all used to Smart TVs and Smart appliances in general being compatible with Google Assistant by now. For TVs, this integration usually works via the mic built into the TV remotes. You get that same here too, but with this new line of TVs, Realme has also added far-field mics on the TV itself. What this means is you don't even need the remote to shout instructions at your TV, and for a lazy bum like me, it was almost like a dream come true. You can control a lot of the aspects of the Realme TV just by using the OK Google commands. The functions can range from opening or switching between apps, playing something specific on YouTube, searching for a movie across platforms, increasing/decreasing volume and even turning the TV on/off. All without having to search for the remote. Noice.
Now this isn't a revolutionary feature introduced by Realme. A lot of high-end TVs come with mics inbuilt, but it's definitely a novelty in the sub-30K segment.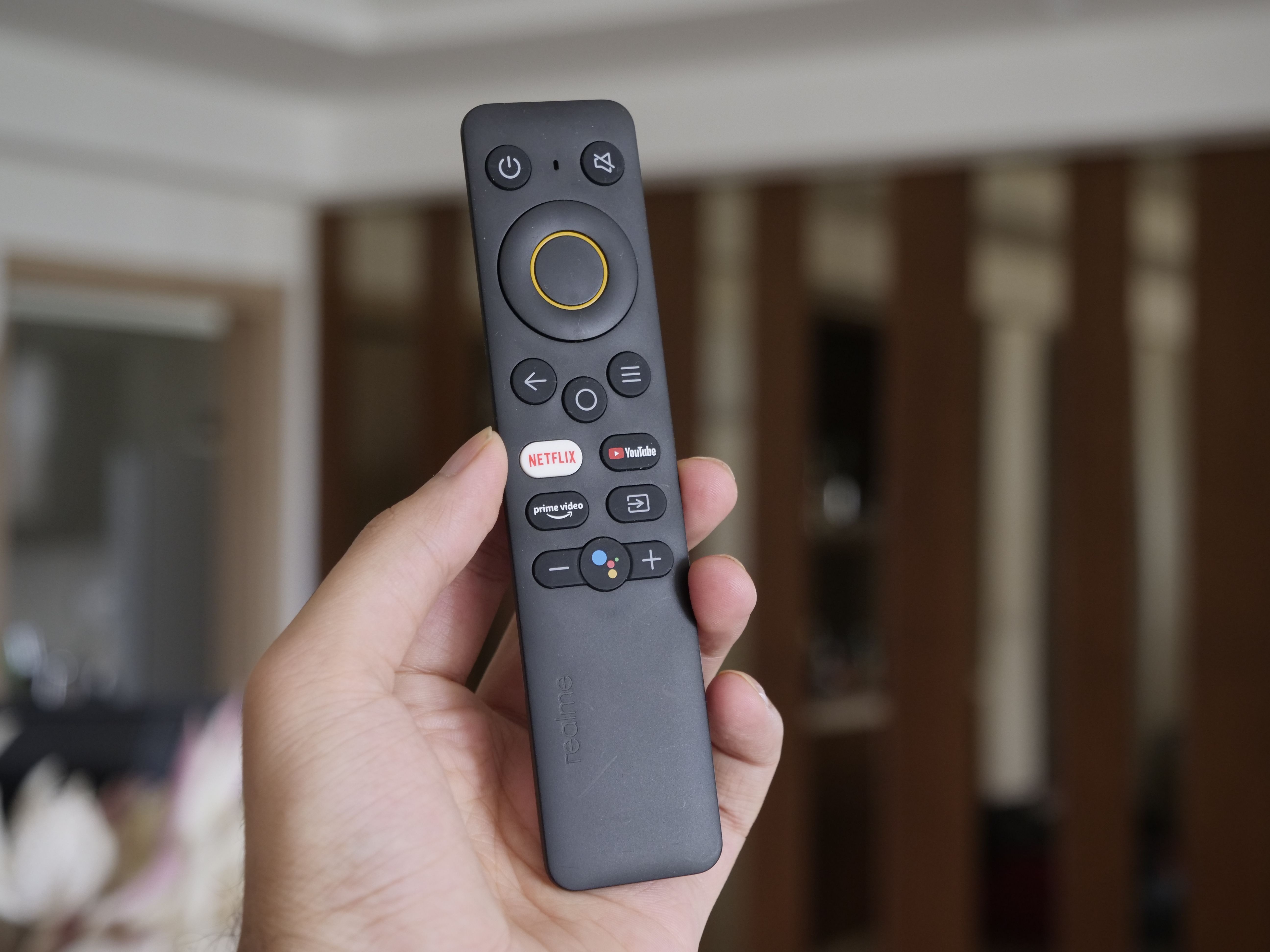 Coming to the actual remote now, it's mostly unchanged from the previous models. It's a slim, lightweight, tapering candybar that runs on 2 AAA batteries. It can connect to the TV via Bluetooth so you don't necessarily have to point it at the TV to work. There are hot keys for Netflix, Prime Video and YouTube, plus the usual D-pad for Navigation. No channel buttons here, but you do get Volume control and a dedicated Mute switch. Its positioning however is such that you won't ever be able to reach it.
Realme 4K TV Review: Picture Quality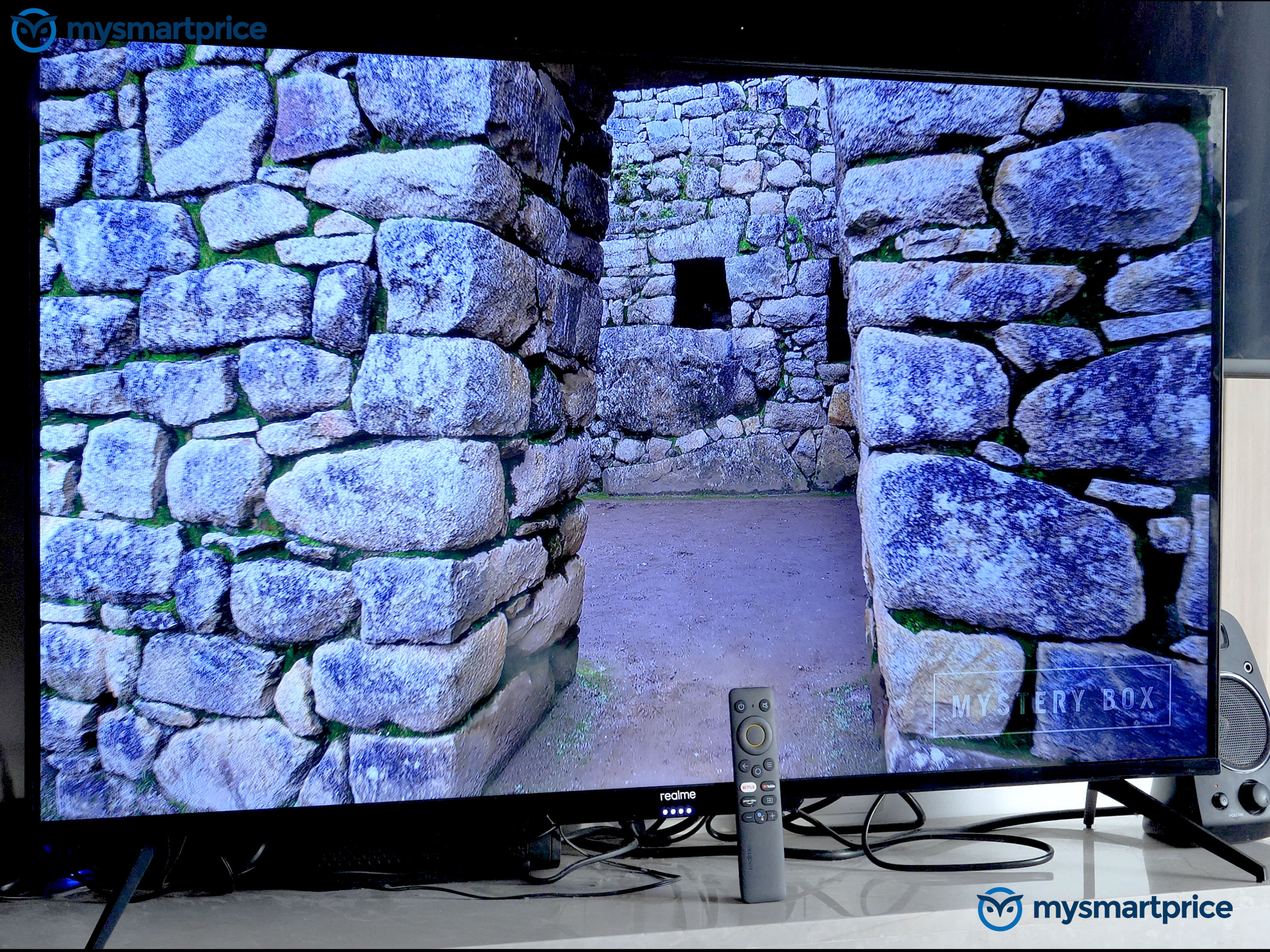 Let's talk about what makes a TV a *good* TV – The picture quality. Firstly, both the 43-inch and 50-inch variants feature 4K (3840×2160) screens. These are Direct-lit LCD panels, with 60Hz refresh rate and a peak brightness of 280 nits. Note that this brightness level is at 100% APL (Average Picture Level) i.e. when the entire screen is lit up. For context, the 1000+ nits of peak brightness claims we see on phones and 400-ish nits claims on TV screens are more often than not made with much smaller APLs. Case in point, the screen here is plenty bright and visible even in daytime with sunlight falling into the room.
Coming to the pièce de résistance now, this TV has support for Dolby Vision formats, along with the usual HDR and HLG formats. First things first, if you think Dolby Vision is some magical thing that'll make you jump with joy or something, no that's not gonna happen. Also, Dolby Vision content is limited only to Netflix as of now, and a few upscaled titles on Hotstar. But that's it. This being out of the way, Dolby Vision does help content look a bit better, with enhanced colors and better control over the highlights and shadows. You get three DV profiles here: Bright, Dark and Vivid; they help further tuning up the picture quality for certain kinds of content.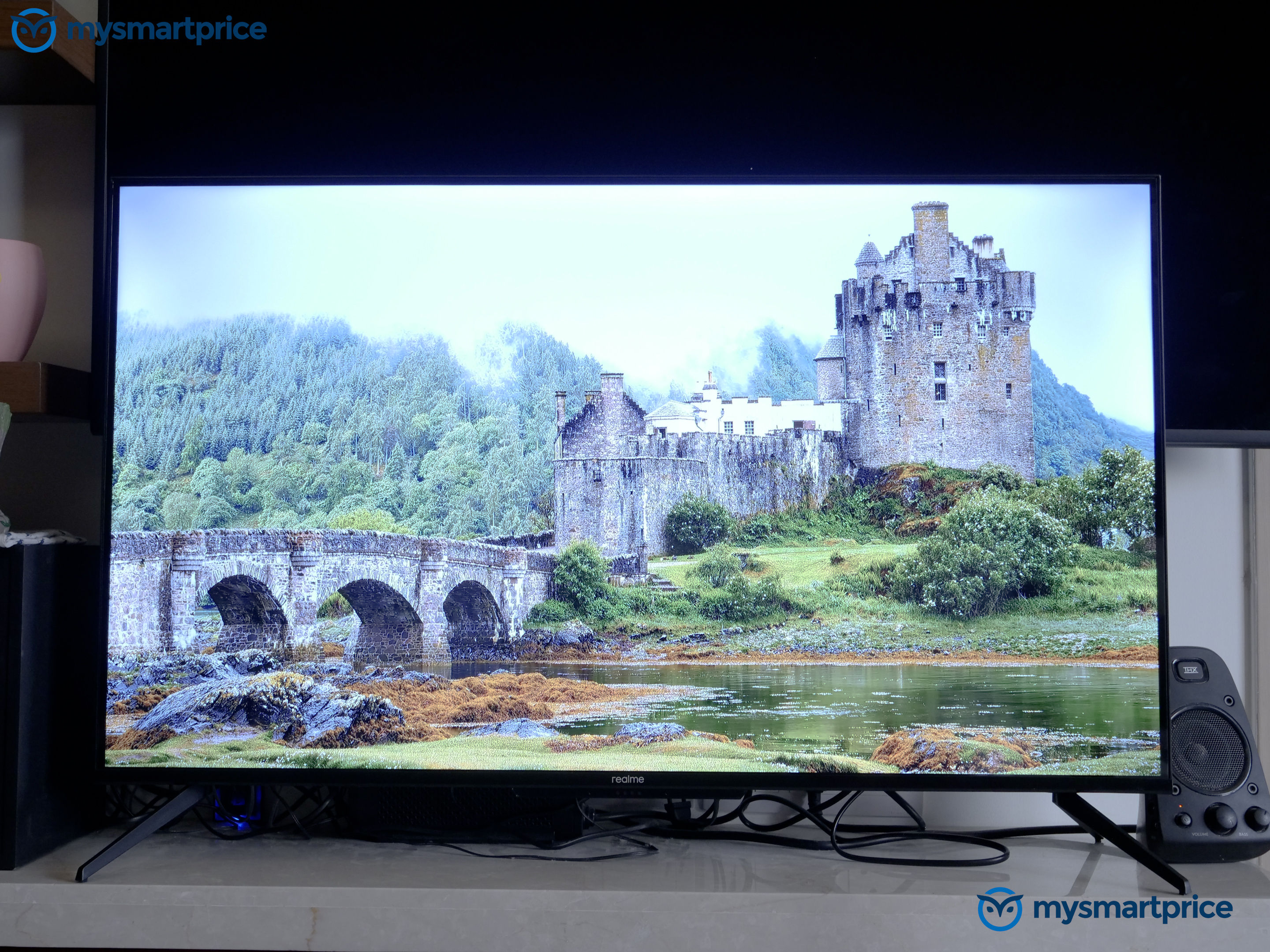 Do note that for a *proper* Dolby Vision experience, you need a minimum peak brightness of 1000 nits, plus a super-high contrast ratio; things that you can't expect any TV maker to provide at this price range. As my colleague Subhrojit explains it, "Most TV brands are ignoring these parameters. And Dolby is more than happy to allow it. DB as a standard relies more on the metadata to function. The file metadata tells the TV which area needs to be brightened, which will be darker, and what shade of colours to use. So as long as a device has the chip to decode the metadata, it can support DB content. But whether that content can be viewed the way it was mastered, is a whole different story". So while you do get slightly better color profile and dynamic range handling, don't expect it to blow your brains out.
Anyway, It's the non-DV picture quality that you'll be spending most of your time looking at. I could play HDR content on Prime Video and YouTube and mostly the content looked great. Realme's built-in Chroma-Boost engine does crank up the saturation and contrast by default, which looks good with landscape and nature scenes. But the downside is that it adds a slightly reddish tint to all skin tones, even more so in the 'Vivid' picture profile. Talking about picture profiles, I found the 'Movie' profile to be the most apt for most content. Realme has provided a plethora of picture tuning options, in case you want to manually find what works best for you.
In dimly-lit scenes, there seems to be some noise present in the darker areas. Also, while watching the TV in a dark room, there's some backlight bleeding visible around the top edge. Plus, there's no support for local dimming, so don't expect deep blacks here. They're more of a dark grey at best. It's not that the other TVs in this segment do a lot better in this aspect though, so can't really fault Realme for that.
Realme TV 4K Review: Speakers & Sound
Realme TV lineup comes with 24W speaker setups, and they get plenty loud. The sound quality is as you would expect out of a TV. There are a lot of tuning options present here too, with DTS Audio profiles etc. Another buzzword you must have seen flying around is support for Dolby Atmos. This one's slightly trickier than Dolby Vision. You do get Dolby Atmos support here, but it's properly used only if you have a Dolby Atmos supporting speaker setup/soundbar at your disposal. Out of the TV's speakers themselves, Dolby Atmos makes the sound feel too thin and suppresses the vocals. So if you're using your TV speakers directly, I'd recommend to keep the Atmos toggle off. Like I mentioned earlier, there's no 3.5mm port on the TV, so you'll have to connect your speakers via Bluetooth, which is how I used the TV during my usage. The Bluetooth connection was solid and I didn't feel any latency or lip sync issues.
Realme 4K TV Review: Performance & UI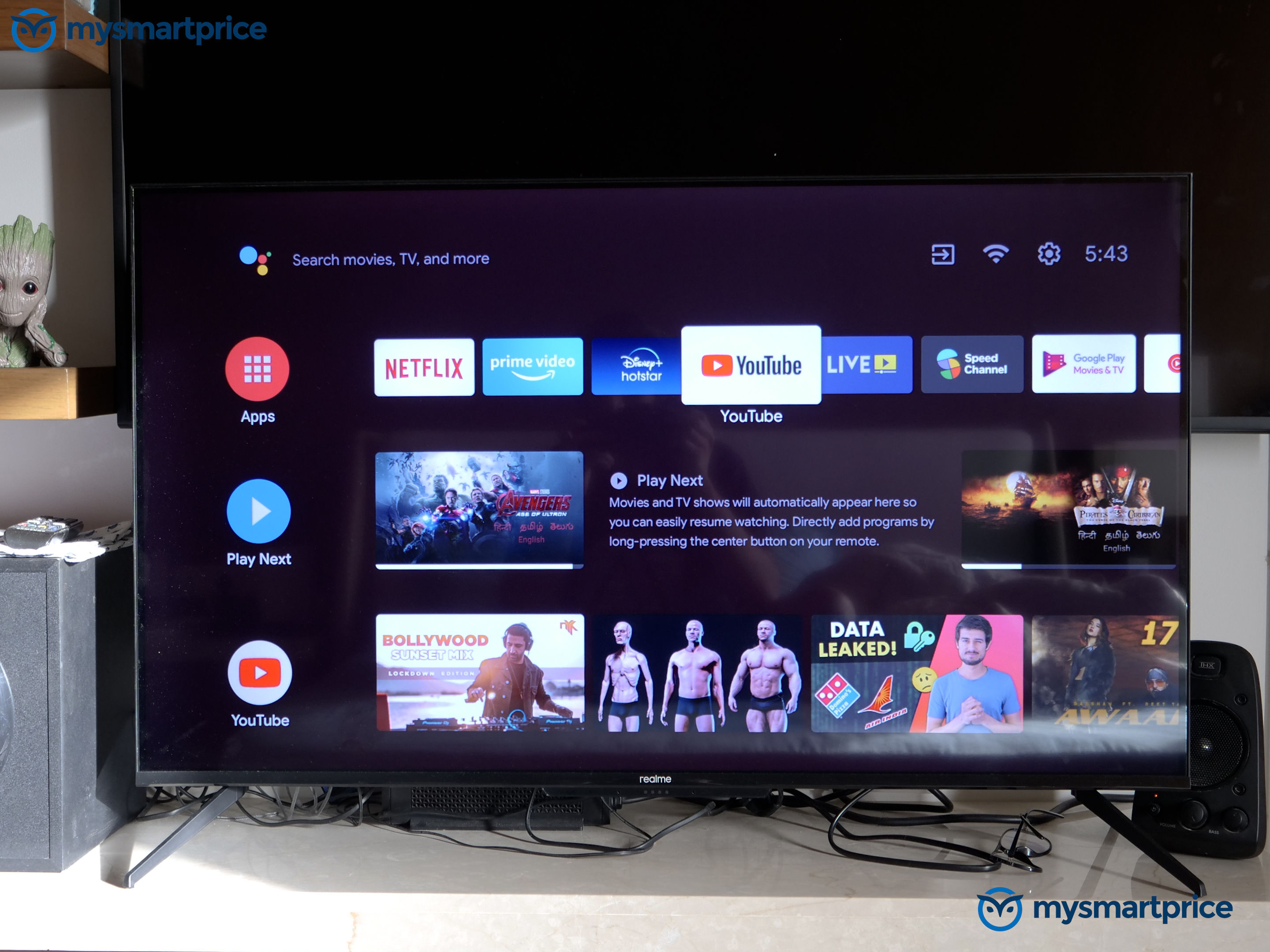 The new Realme TVs come with 2GB of RAM and 16GB of internal storage, though you only get to use around 12GB of it. There's a quad-core Cortex CPU here being accompanied by a Mali G52 GPU as well. Specs aside, here's what you need to know. The performance of my 43-inch review unit was fantastic. UI navigation was smooth, I didn't face any lags or stutters while opening apps or switching between apps. The TV even managed to surprise me quite often by keeping a YouTube video loaded up in the background even after hours of me using some other app. This year, Realme hasn't skimped out on features, as we also get support for Dual Band WiFI, which definitely helps with 4K streaming.
The performance goodness might have to do partially with the Android TV 10 software skin that this TV runs on. It's the usual Android TV UI, and you get access to over 5000 apps and games via the Google Play Store. I do miss the presence of an aggregator home screen though, like what Xiaomi TVs do with PatchWall. Although I'm pretty sure Realme must be cooking something of their own. Let's wait and watch.
Realme 4K TV Review: Verdict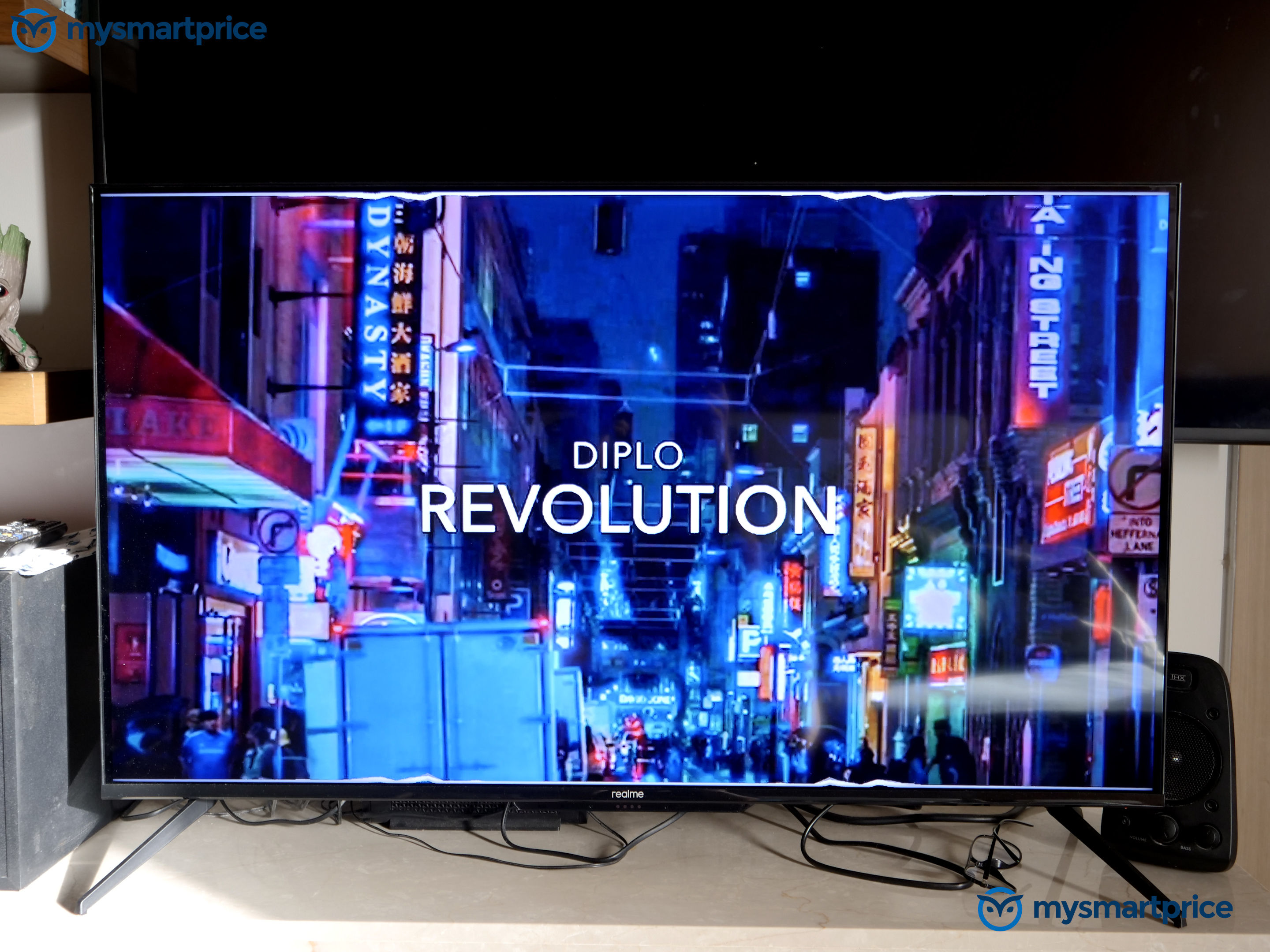 Realme pricing their 43-inch TV at Rs 27,999 makes it the cheapest 43-inch Dolby Vision TV you can buy right now. Other 43-inch options with support for DV are priced around 30-31K currently. Out of all the alternatives, Motorola's 43-inch Revou model might be worth considering. At 30,999, it is a bit more expensive, but it offers all the same features, plus a 24W built-in soundbar. What you also need to keep in mind is that you can get non-Dolby Vision 4K TVs for cheaper prices, or bigger sized TVs for the same price as a smaller TV with Dolby Vision.
All said and done, Dolby Vision is currently available only on Netflix majorly, so if you're someone who's looking for a TV to watch standard DTH content or YouTube etc mostly, paying extra to get a Dolby Vision TV won't make too much sense. But then TVs are a long term purchase, who knows what happens in 2 years time.
As for the 50-in model, at Rs 39,999 it seems like a huge price jump over the 43-incher, and you'll be able to get the Hisense or Motorola 50-inch TVs for around 37K. That being said, the 43-inch Realme 4K TV gets a solid thumbs up from our side, and is an easy recommendation for anyone looking to buy a TV under 30K.
Realme 4K TV 43-inch
27,999