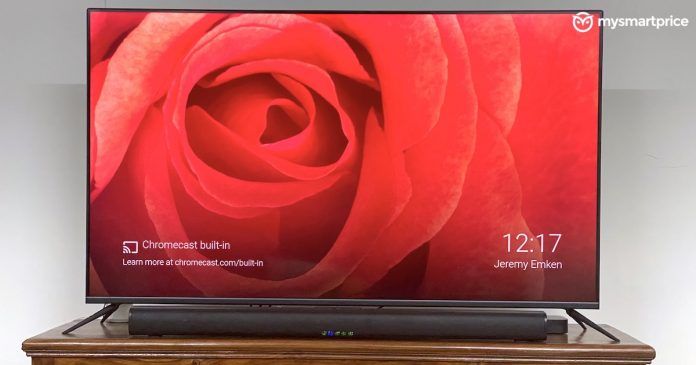 Realme has been belligerent with its launches this year. By the time, tech reviewers are done with the review of a Realme smartphone we are already presented with 2411348135213213 other products. There is definitely a fatigue settling in now. And, looks like the tagline "Never Settle" should actually be extended to Realme instead of OnePlus now. 
Having said that, when Realme sent over their Smart TV SLED for review, I must say I was intrigued. Realme — which is not a TV brand traditionally — is actually introducing a new display tech to the world. Which apparently, as per the brand, is better than QLED tech. Now, that is a big claim. Let's put it to the test. 
[P_REVIEW post_id=189434 visual='full']
Display – what is SLED?
I am jumping directly into the SLED tech, because that's what matters. So, SLED has been jointly created by Realme and John Rooymans, Chief Scientist of SPD Technology (Spectral Power Distribution). Most LED TVs, including QLEDs, at the initial stage, use a Blue backlight which is then turned to white. The only difference in QLEDs is there is an extra layer of Quantum Dots, which helps TVs maintain the range of colours and accuracy even at peak brightness. 

With SLED, Realme cuts out the harmful Blue Light at the initial stage and replaces it with Red, Green, and Blue (RGB). Realme claims it achieves a wider colour gamut and offers better eye protection than QLED. 
Display quality – is it any good?
See, all that is great, but what matters in the end is if the picture quality is any good. So, this 55-inch 4K display is a VA panel but with a viewing angle of 178-degrees, which is great. My one problem with a similarly priced U1 LED was the viewing angle was very bad because of the VA. Somehow, Realme has managed to fix that issue and I noticed that the viewing angles were great during my review period as well. 
Now, as for the colour accuracy on the 108 percent NTSC gamut support, don't expect it to be any good in your Standard, Vivid, Game or Sport modes. However, you can tweak a lot of minute display settings such as Gamma and Colour temperature. Realme also gives you a very comprehensive 11-Point White Balance Correction. Now, if you plan to hook up a PC to the TV, there is a special mode for that too. Essentially, you get all the options you need to get the picture setting just right.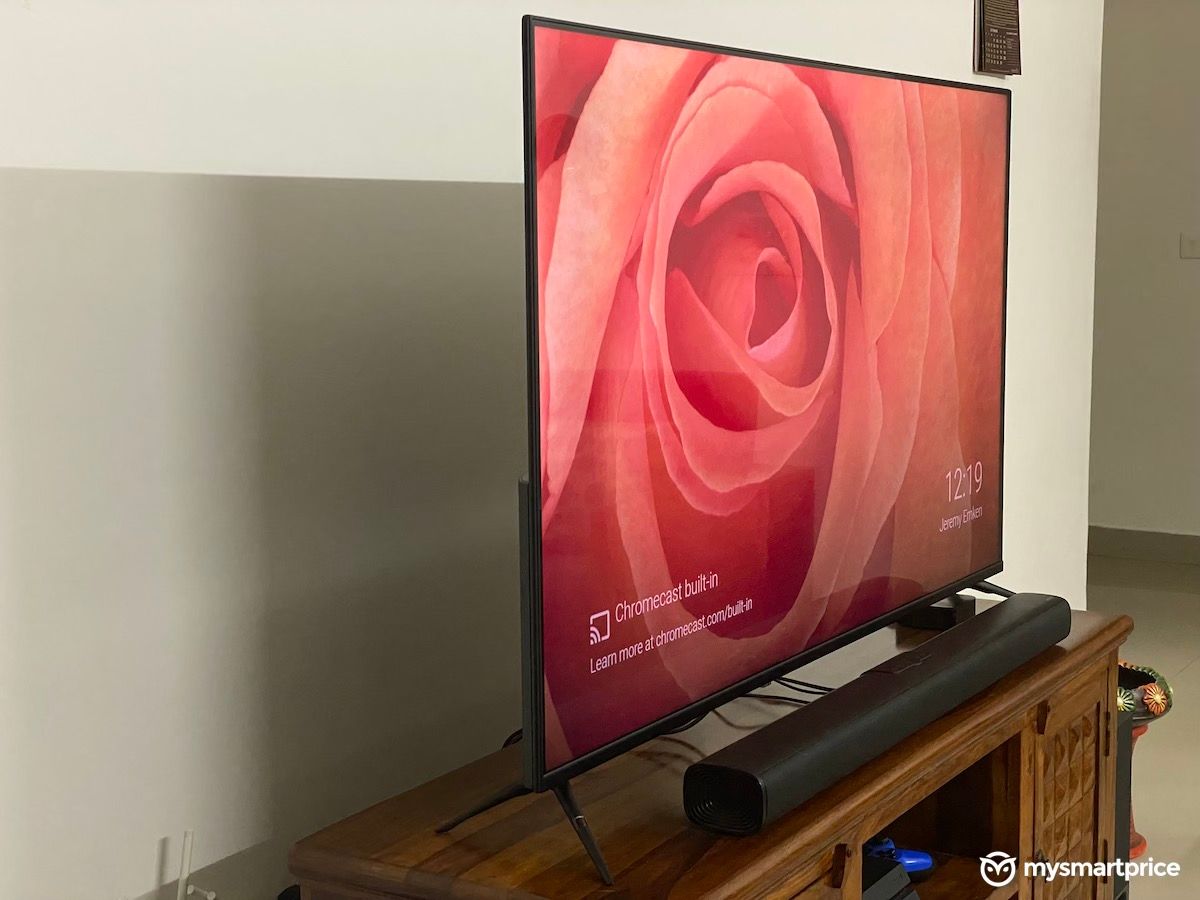 And, you will have to play around with it a lot because in HDR content the bright portions tend to get too bright in the aforementioned modes. Movie mode worked the best for me, though. The panel has potential but the Chroma Boost feature just smudges the reds and other deep colours.
That said, what's particularly appealing is the Black levels are pretty deep and almost as good as QLEDs if not better. This helps the colour in the foreground pop out beautifully. Especially, in a test video like Netflix's Night on Earth, the colourful amphibians look gorgeous. With this kind of colour reproduction, Realme is definitely punching above its weight in picture quality. It is definitely better than competing LEDs in its price class and above it too. However, in comparison to a proper QLED like the OnePlus TV Q1 Pro, there are a couple of issues I noticed:
The picture is not as sharp as the Q1 Pro. And artificially increasing it, only makes it worse.

The brightness level of approximately 350nits on the Realme SLED TV is not good enough. This also ends up reflecting the environment inside a bright hallroom such as mine. It was very distracting. 
The TV comes with support for HDR10+ and HLG but no Dolby Vision. Obviously, this helps keep the cost of the TV in check because Dolby charges a lot for licensing its Dolby Vision and Dolby Atmos tech. Regardless, standard HDR content looks good enough and is supported on apps such as Netflix and Prime. Upscaling of 1080p content using my Apple TV looks good too. However, since I don't have cable television ever since I cut the cord, I couldn't check for the quality of upscaled SD content.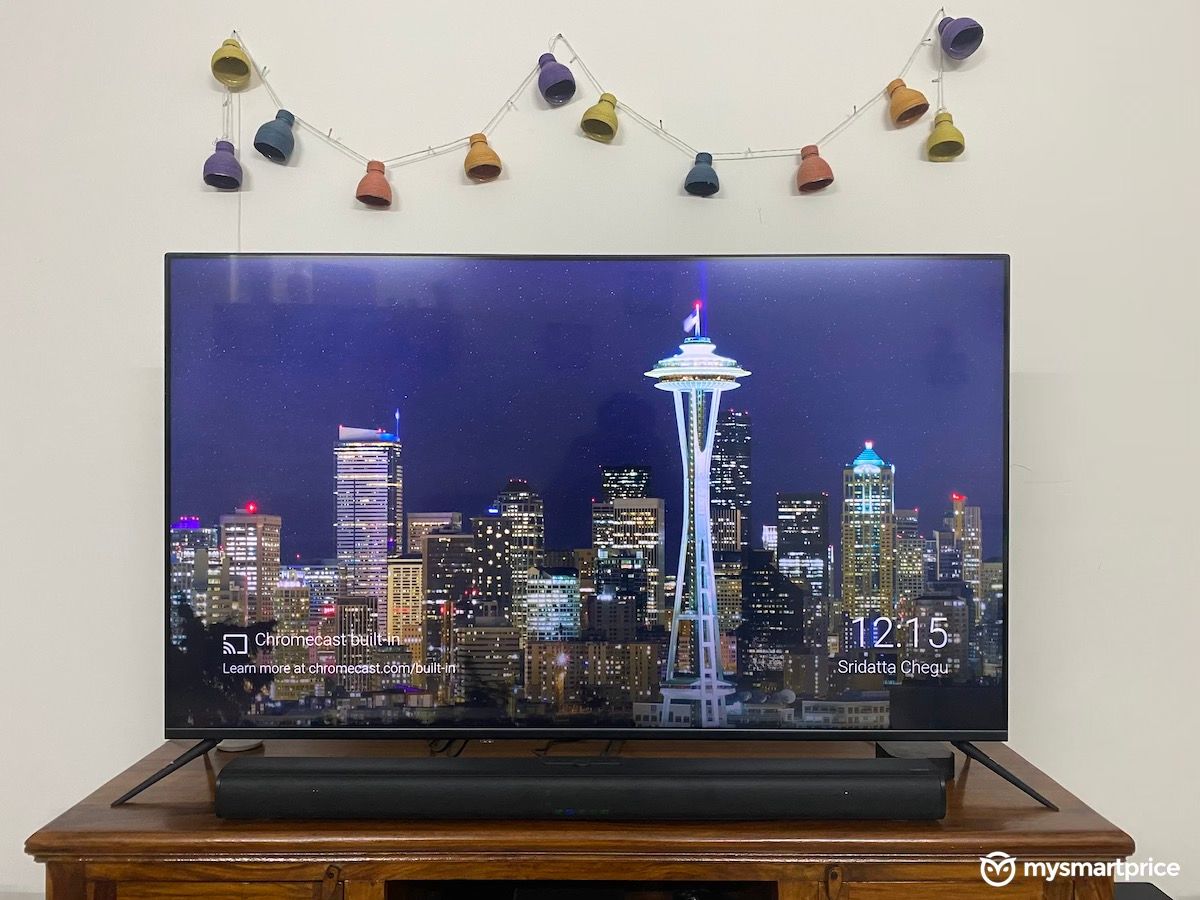 I played a couple of games on a PS4 and the Lenovo Legion 7i using the Game mode picture setting, and it was great with no screen tearing and good HDR reproduction in supported games as well. 
Overall, I just want Realme to fix the brightness levels in its next SLED TV and maybe add support for DCI-P3 colours, and we are good to go. This is good work by the company and SLED TVs from Realme are definitely something to look forward to. 
Design – some thoughtful touches here, some stupid decisions there
The Realme TV looks pretty impressive from the front. I am not kidding, there are no bezels on the top, left, or right. Literally none. It ensures that you get an absolutely immersive experience. There is a thin strip at the bottom, that houses the logo but it is pretty non intrusive as well. There's also a transparent-ish plastic extension that houses an infrared receiver. Now, this sticks out like a sore thumb and takes away from the otherwise premium look.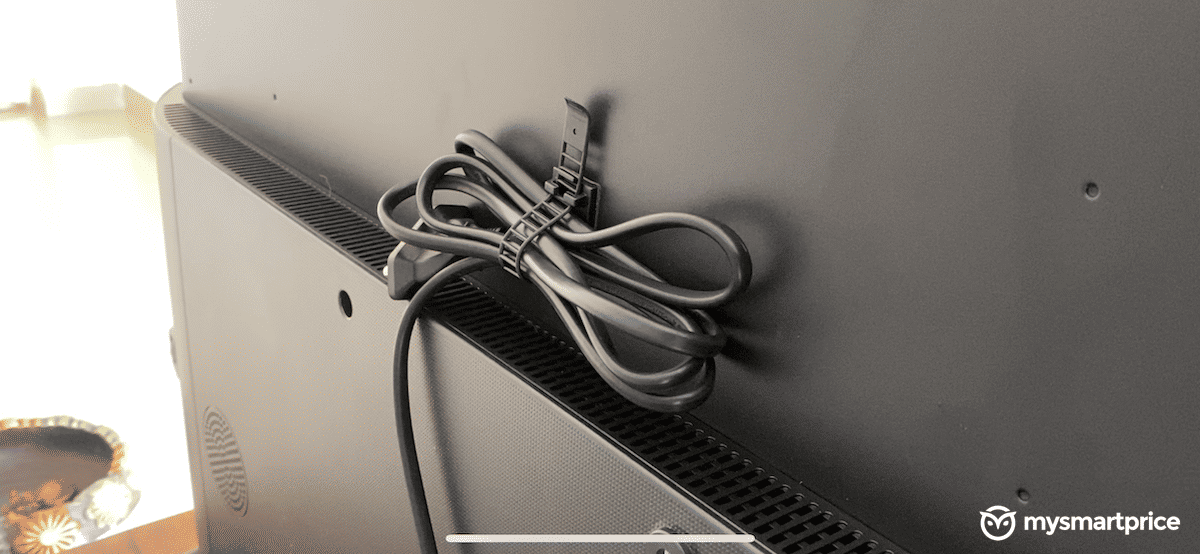 Realme has used metal in the frame and on the stand as well. But, the entire back panel is plastic, which doesn't feel like a huge problem to me. That said, while screwing in the metal table-top stands, I noticed that the coating on the metal scrapes off easily. This is the kind of finishing that Realme needs to fix asap. Most of their products are struggling with quality control issues right now and that is what is keeping them from creating a much stronger impact. 
By the way, the stand feels pretty sturdy and the TV doesn't wobble as such. Coming from a Q1 Pro, that's a relief. Also, do note that the stand sits has a very wide stance and you will need a wide table to prop it up. 
Negatives aside, I absolutely love the fact that Realme has attached a cord loop on the back. It helps stow away a long wire such as the power cord easily. Very neat.
Design – the ports situation
As for the ports, you get three HDMI 2.0 ports, with one that supports ARC or audio return channel. These HDMI ports are at the bottom and reaching it is bound to be a chore if you do decide to wall-mount it. You also get a couple of USB 2.0 ports, which could read and playback supported content from my Sandisk Dual Drive pendrive without any issues. You also get a TV Tuner port, a LAN port, an AV port, an earphone jack, and an audio out COAX port as well. Realme has you covered on the ports front.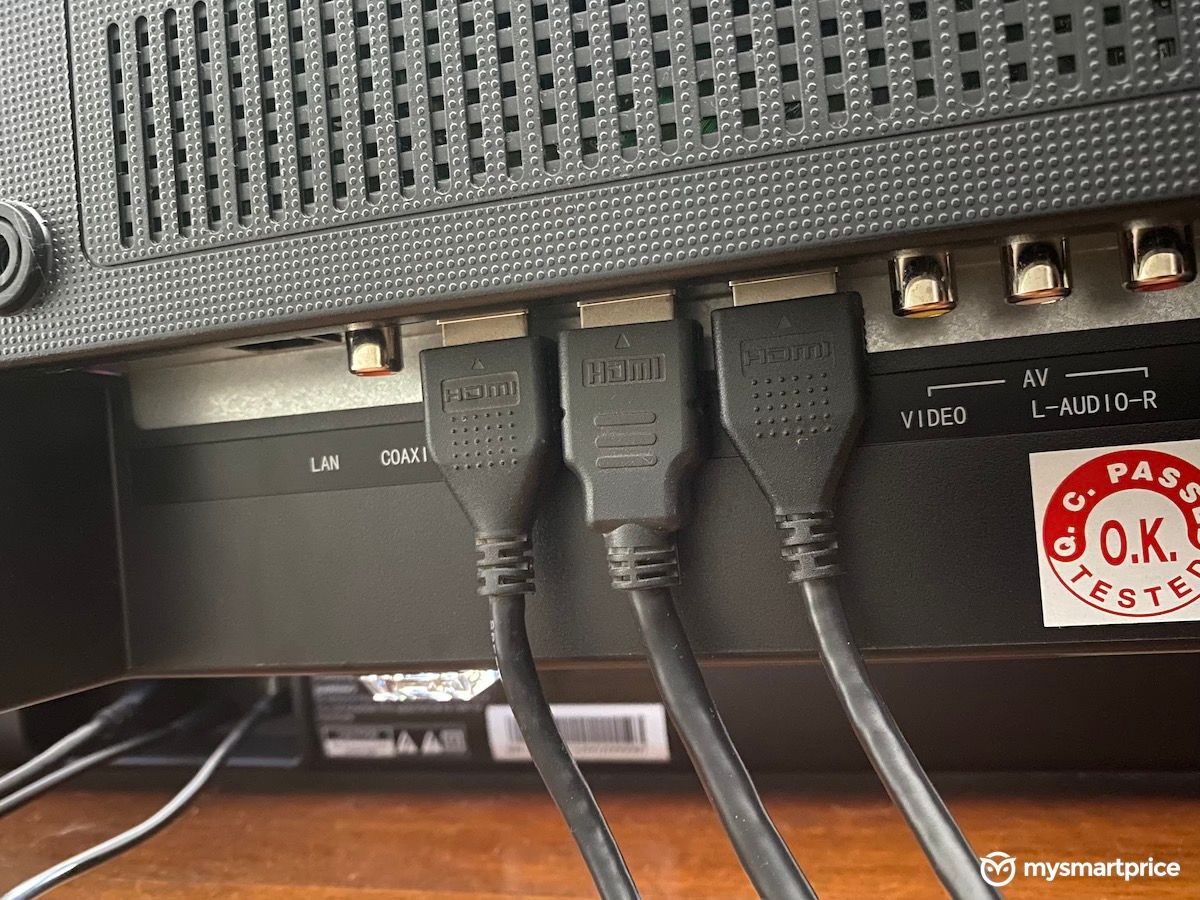 Remote – functional 
As for the remote, it doesn't do anything fancy but I like the tapered out design; fat where you hold it and slim at the pointing area. This offers a better grip ergonomically. The button layout is fairly good too. You get a click wheel, a power button and a mute button as well…praise the lord! Below the clockwheel, there is your usual trifecta of – Home, Settings, and Back buttons. 
My only concern is the pop up Settings menu works only when you go to a different input such as HDMI. It doesn't open the menu inside Android TV's UI. So, if you want to change Picture/Sound settings of the fly, that's a no go.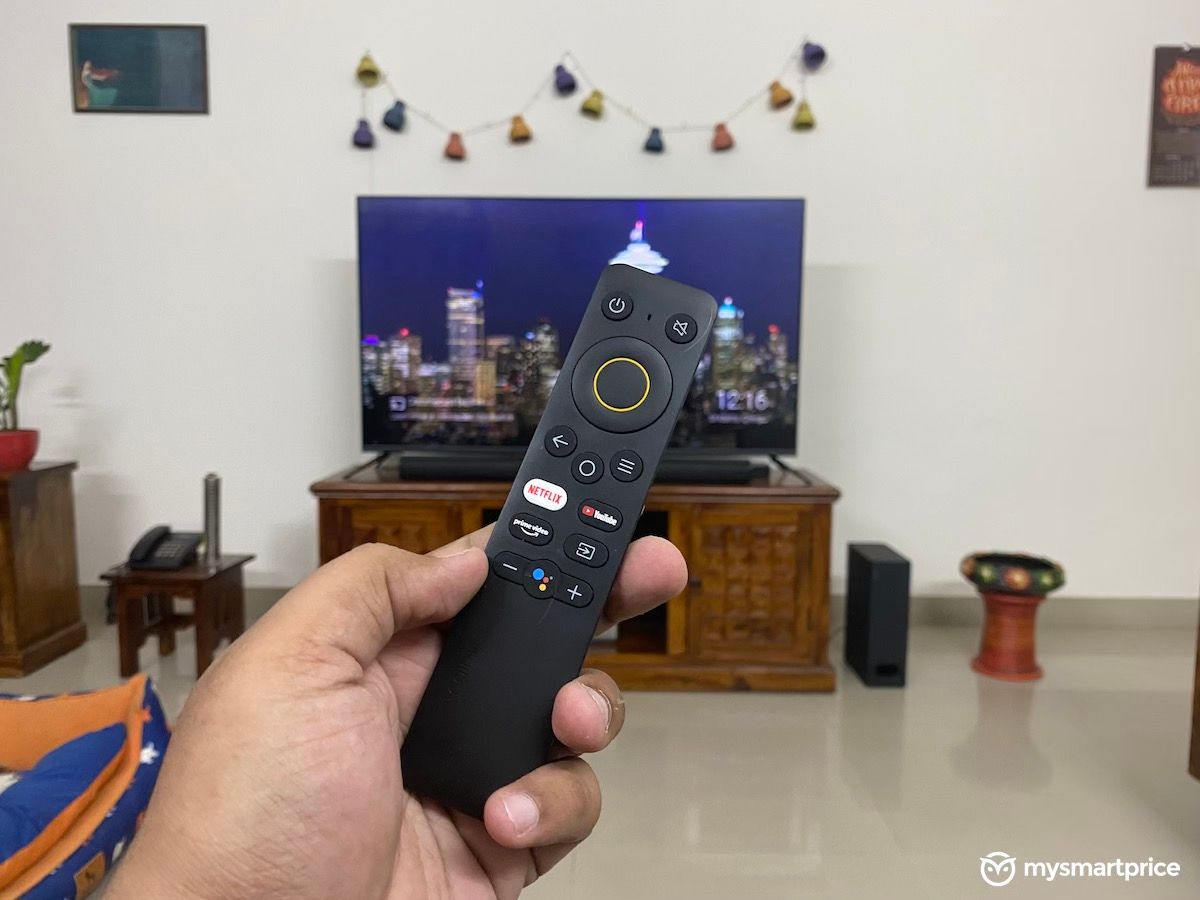 There are dedicated buttons for Netflix, YouTube, and Prime Video. And, a dedicated Google Assistant button sandwiched between the volume up/down rockers. Here's the best part though, you get an Input button that helps you switch between your different HDMI inputs on the fly. And, it remembers the last Input state as well. Pretty handy if you ask me. 
Performance and software – fast and responsive
Realme uses absolutely stock Android on this TV with no bloat whatsoever. You get one lone extra app to view your files. And, the rest are Netflix, Prime, YouTube…the stuff everyone needs in a TV. It is a very clean experience. However, like I mentioned before, you can't change Picture/Sound settings on the fly and that is a major concern for me. No other major complaint as such. 
The performance is fast thanks to the Mediatek chip inside, which is the same one inside the U1 – so top of the line stuff here. 
Sound – slightly improved over the competition
Realme has added a couple of 24W downward firing speakers that is possibly the cleanest sound I have heard from a TV in this price range. Granted, it doesn't sound as good as a soundbar but the dialogues sound crisp for the most part. Plus, if you are watching bombastic action, the bass doesn't sound muddied either. I mean, I have heard some really bad sound from TVs in this price range. So, this is definitely a step up.  
Should you buy the Realme Smart TV SLED 4K 55-inch?
At an introductory price of Rs 39,999 and a final retail price of Rs 42,999, the Realme Smart TV SLED has little to no competition when it comes to picture quality. Especially when you look at other LED-toting TVs in the same price range. But yes, like I mentioned, the brightness levels could've been better. SLED tech does look promising especially if it helps bring better picture quality to more affordable TVs. 
As for the most direct competitor, the HiSense 55A71F is an excellent bargain if you don't care too much for the deep blacks of the Realme Smart LED TV. Plus, it comes with Dolby Vision and Dolby Atmos as well. Plus the tuning for that TV is great out of the box. And, if you want to spend some more money, then the OnePlus TV U1 is a good option too but you will have to contend with worse viewing angles. 
I quite enjoyed using the Realme Smart TV SLED tech. For a first time TV, this is a good attempt. A narrower stand, a slightly better tuned picture out-of-the-box, a higher brightness setting with support for Dolby Vision if possible, and support for DCI-P3 colour space could be great additions in the next Realme SLED TV. 
What do you guys think? Let me know in the comments section below. Would you buy a Realme TV over a Mi TV?
Realme Smart TV SLED 4K 55-inch Review
Rs 39,999
Design and build quality
7.0/10
What Is Good?
Great picture quality
Some thoughtful design touches
Great sound quality
Game mode offers good quality
What Is Bad?
Stand legs are too wide apart
HDMI ports are not easily accessible
Brightness levels are low
Thanks for reading till the end of this article. For more such informative and exclusive tech content, like our Facebook page