Realme is implementing a new feature to its custom Android skin Realme UI that'll make scrolling on the devices more appealing. The vendor is gradually rolling out "Smooth Scrolling" feature to a number of Realme smartphones. What the feature does is makes the scrolling "visually smoother, with faster effect when scrolling content downwards or upwards," claims the company. Here's a demo: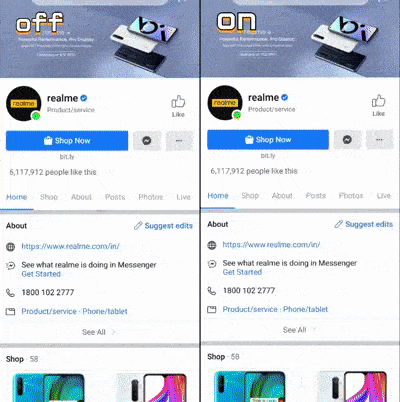 As you can see, the UI on the left with "Smooth Scrolling" feature disabled has a slightly jittery animation, while the one on the right has smooth animation when scrolling through the feed. The feature could be a "software emulated fluid scroll animation which takes effect as soon as you start to scroll within an app. Due to such a design, the accelerated effect is more recognizable when you're going through an infinite scroll feed, like the one on Facebook or Twitter," explains XDA Developers.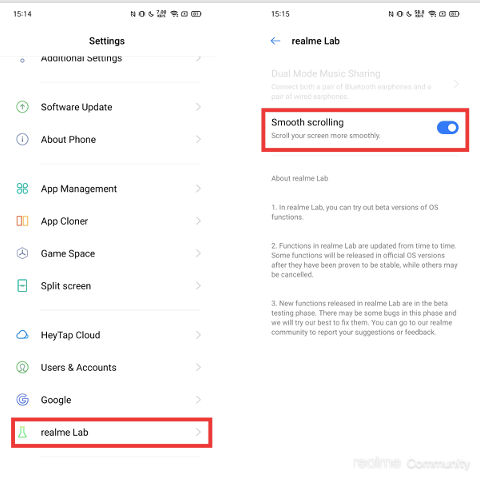 The Smooth Scrolling toggle can be found under Settings – realme Lab option at the moment. This means the OEM has yet to mark it as a stable feature. If the feature gets positive feedback from users, Realme may fuse the feature with the underlying OS permanently. However, there is no timeline for that. In the meantime, here's the list of Realme phones that have received the Smooth Scrolling feature so far:
Realme XT
Realme X
Realme X2
Realme X2 Pro
Realme X3 and Realme X3 SuperZoom
Realme 3 Pro
Realme 5 Pro
"This feature is part of our Realme lab project and will be available to all Realme devices running Realme UI very soon," the company said in its forum. To activate Smooth Scrolling feature head over to Settings → Realme Lab → and turn on "Smooth scrolling" – the feature can be disabled via the same process.
Separately, the vendor is gearing up to launch new Realme 7 and Realme 7 Pro smartphones in India. The handsets are said to be 'India's fastest charging' smartphones with 64MP quad camera setup at the back. The Realme 7 series could break covers in India as early as September 3rd.