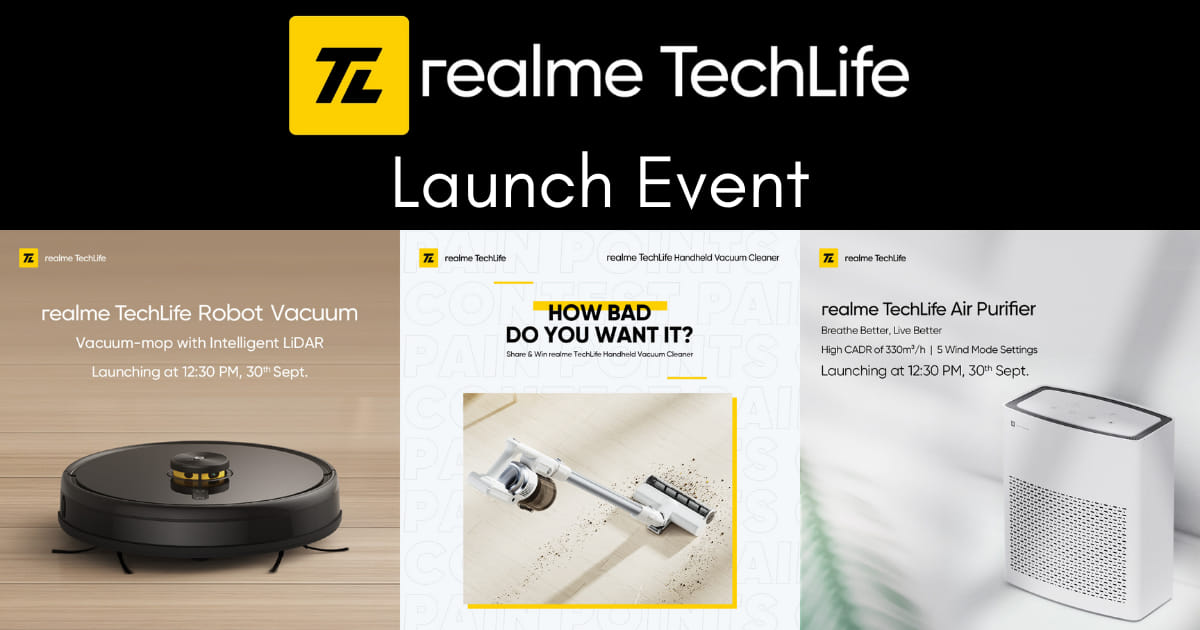 Realme Techlife has confirmed that the company is ready to launch some of its new products including the new Robot Vacuum, Handheld Vacuum Cleaner, Air Purifier and Washing Machine. The new Realme Techlife Washing Machine is set for launch on October 1, while the Robot Vacuum, Handheld Vacuum Cleaner and Air Purifier are launching on September 30. However, the Robot Vacuum is already getting sold in Europe after its launch in June. Realme TechLife Air Purifier is also being sold in some countries already.
Realme TechLife Robot Vacuum Features
The Realme TechLife Robot Vacuum comes with LiDAR Smart Mapping and Navigation System with 360° real-time laser scans. It connects to Realme Link App and supports Google Assistant and Alexa. It has 2-in-1 vacuum & mopping capabilities with a 300ml smart electronic water tank with four water outlets.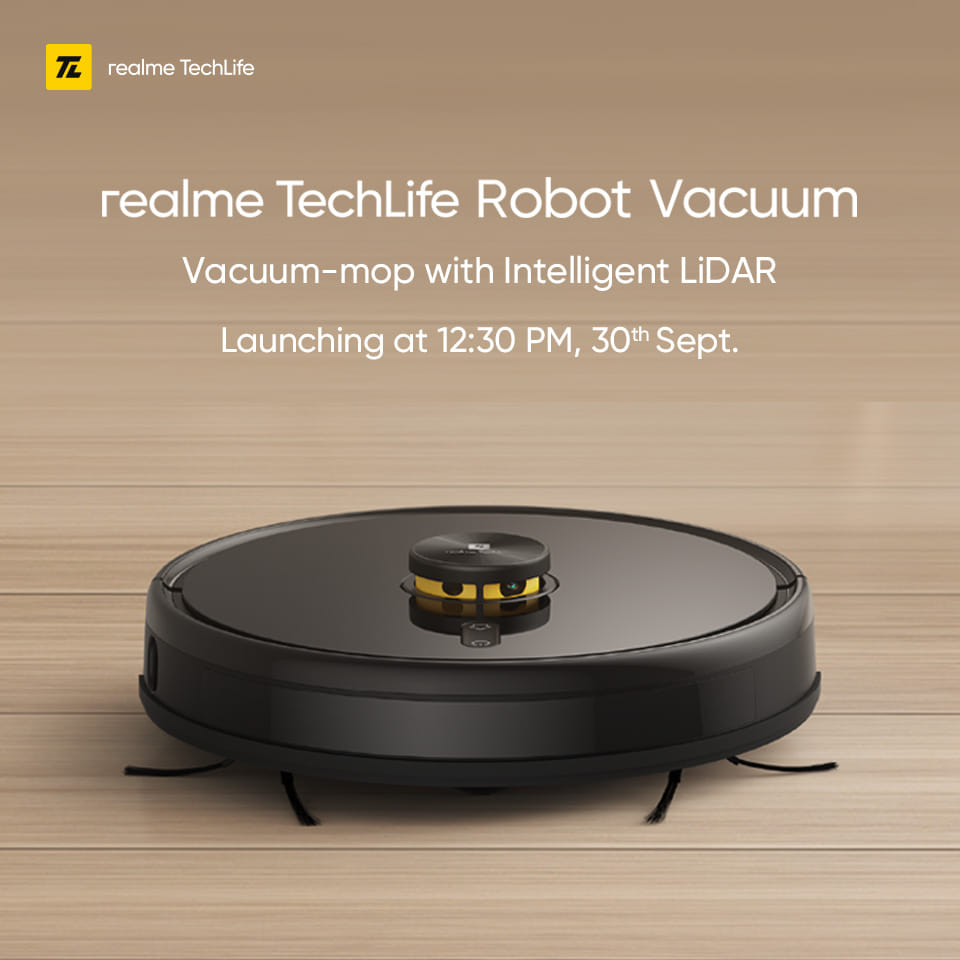 Users can customize the cleaning paths and also name portions of the house to customize cleaning sequence, suction, wash outlet, speed and much more. Users can also schedule cleaning and designate no-mopping zones. The Robot Vacuum has a maximum suction power of up to 3000Pa with four levels of suction strength. It packs a 5200mAh battery inside that is said to offer up to five hours of cleaning at one full charge. The Robot Vacuum will be launched at 12:30 PM on September 30.
Realme Techlife Handheld Vacuum Cleaner Features
Realme Techlife Handheld Vacuum Cleaner has a 140W motor that can deliver up to 10,500RPM for a maximum suction power of 9.5KPa. It has an auto-rotating floor brush with built-in motor that rotates the brush at 2200RPM for efficient dirt collection.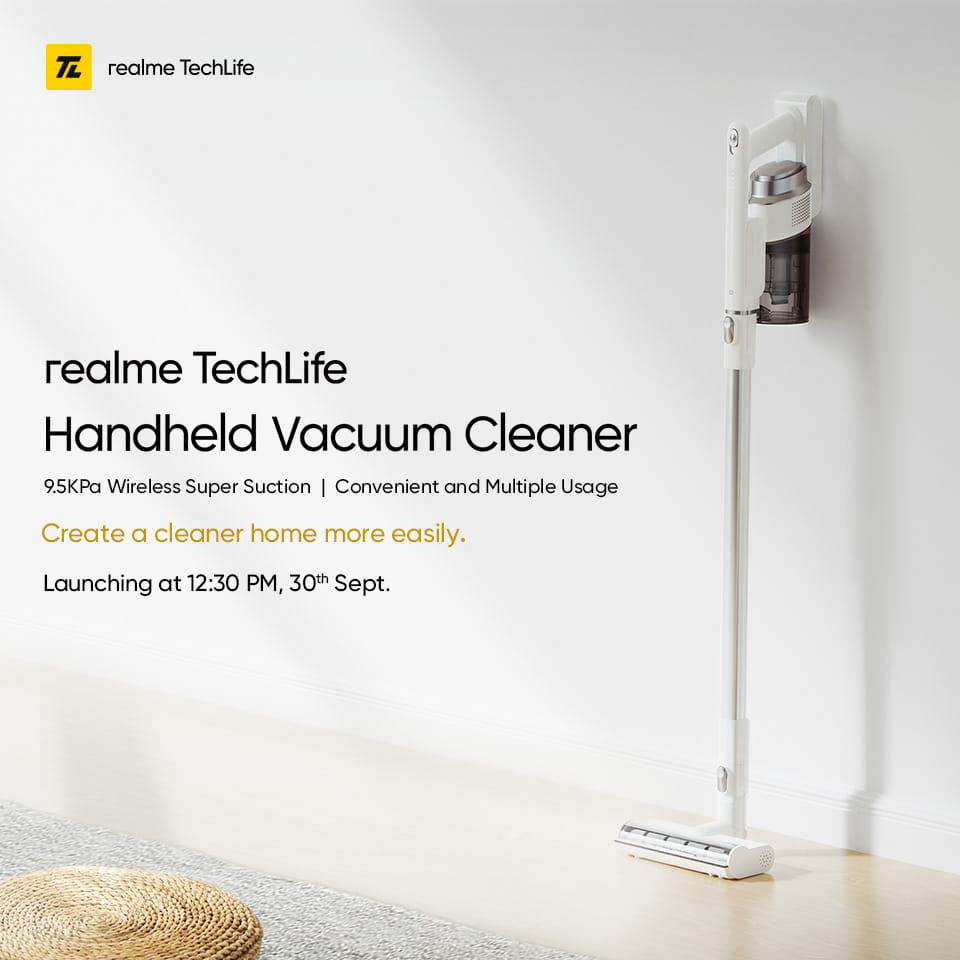 There is a HEPA filter that captures microscopic dust and allergens. The handheld vacuum cleaner comes with a removable dust cup, making it easier for users to dump dirt and dust. The handheld vacuum cleaner packs a 2200mAh battery, offering up to 40 minutes of run time in soft mode and 20 minutes of run time in strong mode.
Realme Techlife Air Purifier Features
Ahead of the season of smog, Realme Techlife Air Purifier is also getting launched on September 30. The new air purifier is said to remove 99.95% of 0.3-micron particles and PM 2.5 pollutants. It can remove dust, pollen, hair, animal dander, and other allergens, thanks to the three-stage H12 HEPA filter it comes with.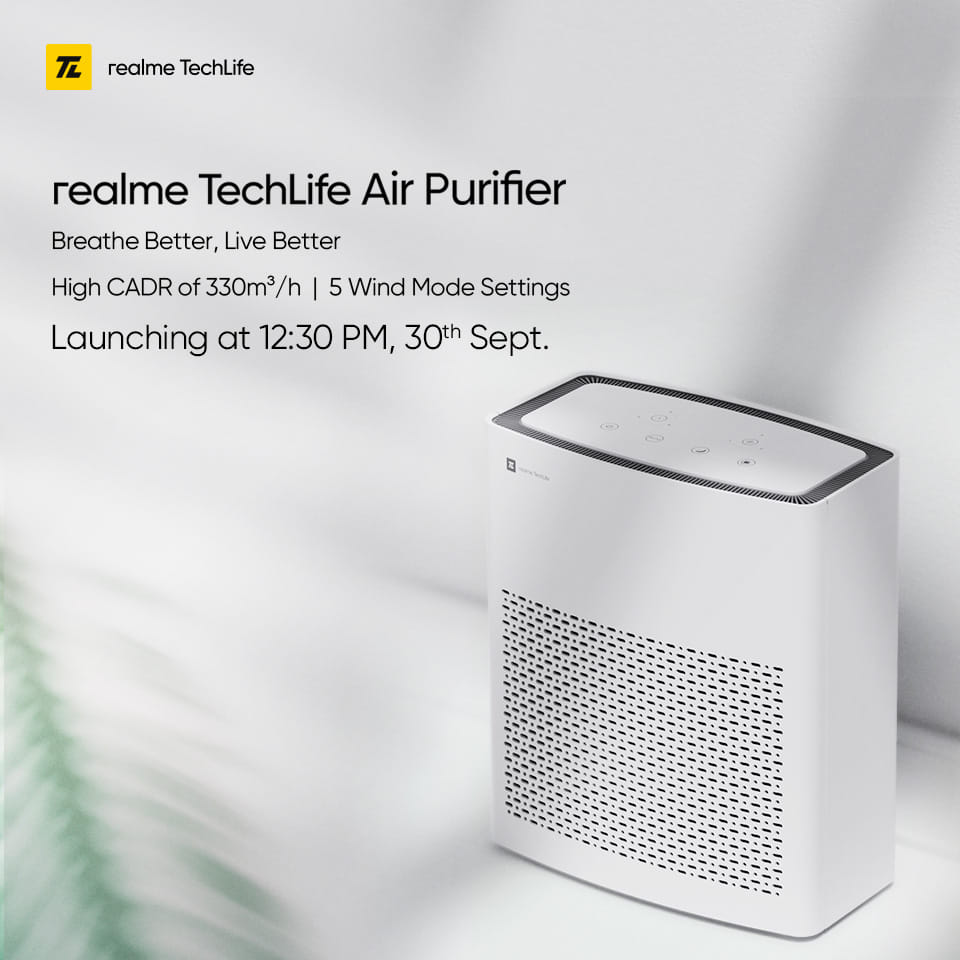 The Realme Techlife Air Purifier comes in various modes like Sleep, Soft, Normal and Strong along with an Auto Mode. The air purifier can cover an area of up to 419 square feet and with a real-time air quality indicator, it can notify users of the air quality around them. As per claims by the brand, the filter can last for up to 2800 hours and there is a reminder function as well to let the user know when it's time to change the filter.
Realme Techlife Washing Machine was scheduled for launch on October 1, but it looks like it is going for sale on Flipkart right now for Rs 19,990. It's a fully automatic washing machine with a capacity of 7.5kgs and a 700 RPM motor.
There is also an 8kg variant for the same, which sells for Rs 26,490. Interestingly, Realme Techlife is offering 2 years comprehensive warranty on the washing machine and a 5-year warranty on the motor.