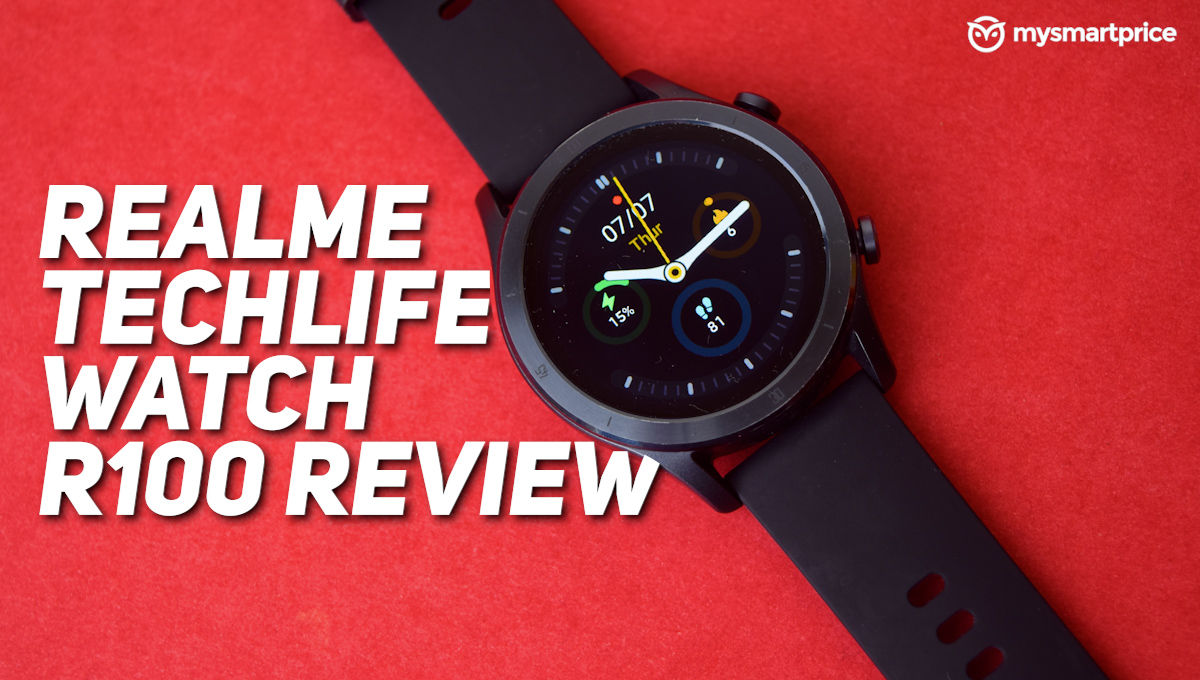 Realme TechLife Watch R100 is the latest entry from the company in India in the budget segment. Because of how wristwatches have looked traditionally, a circular dial has been a key decider in buying a smartwatch. Many buyers prefer the circular look, but then it's not very common to find a good display at an affordable price point. We have seen smartwatches from Samsung, Fossil and Amazfit, but they all breach the sub Rs. 5,000 barriers. Sure, Noise, Fire-Boltt and BoAt have some interesting offerings at this price point, but they lack the trust of a best-selling smartphone brand.
Knowing this, Realme has launched the Realme TechLife Watch R100 – a smartwatch priced at Rs. 3,999 with, you guessed it, a large, 1.32-inch circular dial. It also promises to provide activity tracking and a solid accompanying app, but can it prove to be a mighty contender to the fierce competition? Find out in our review.
Realme TechLife Watch R100 Review: Design & build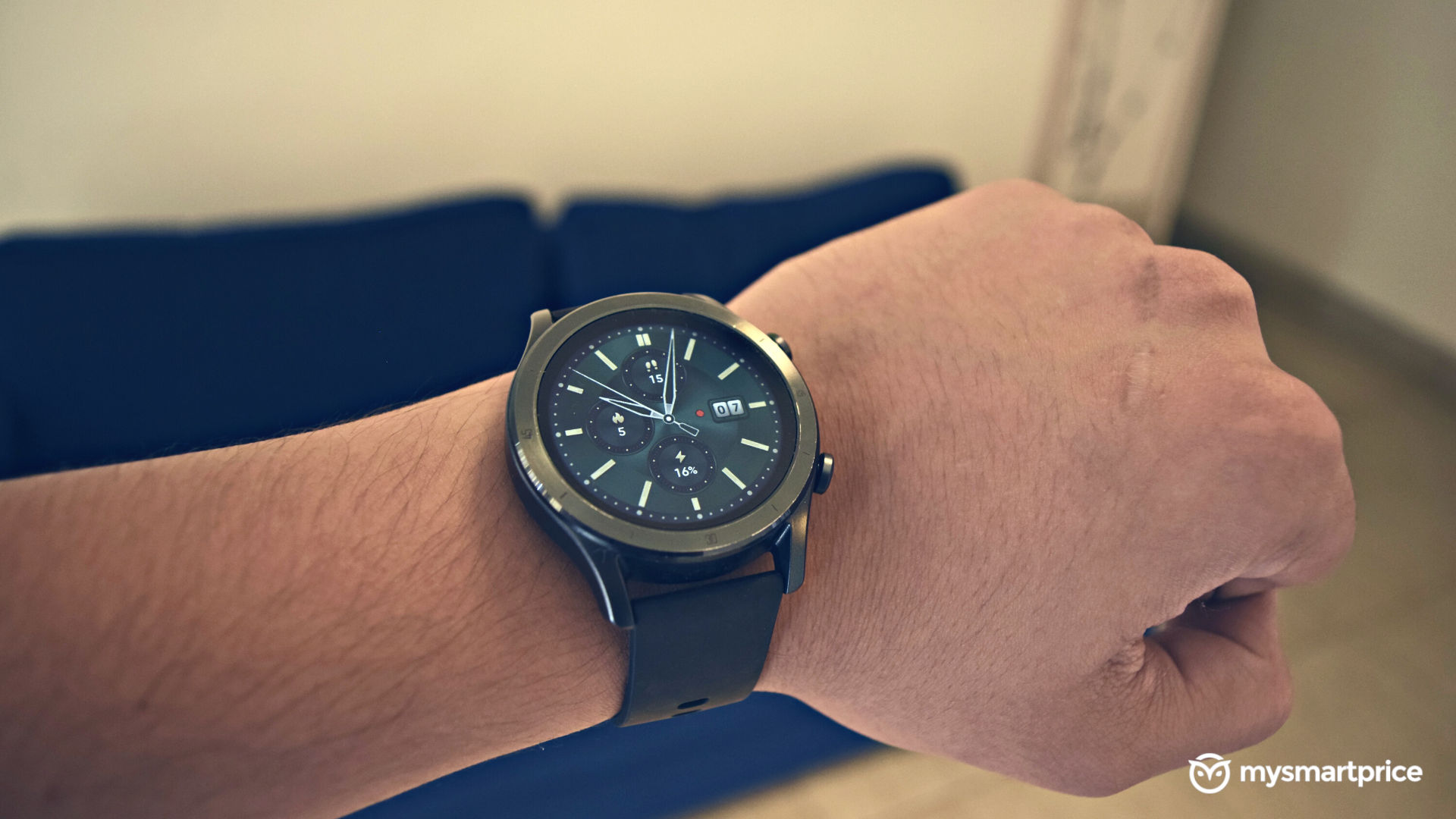 The Watch R100's circular dial is surrounded by a premium-feeling Aluminium bezel, which reminds you of the first Samsung Galaxy Watch, sans the rotating bezel. It stands out easily from the sea of smartwatches in this price range and will surely turn some heads. It comes in two variants of black and grey, and we had the former.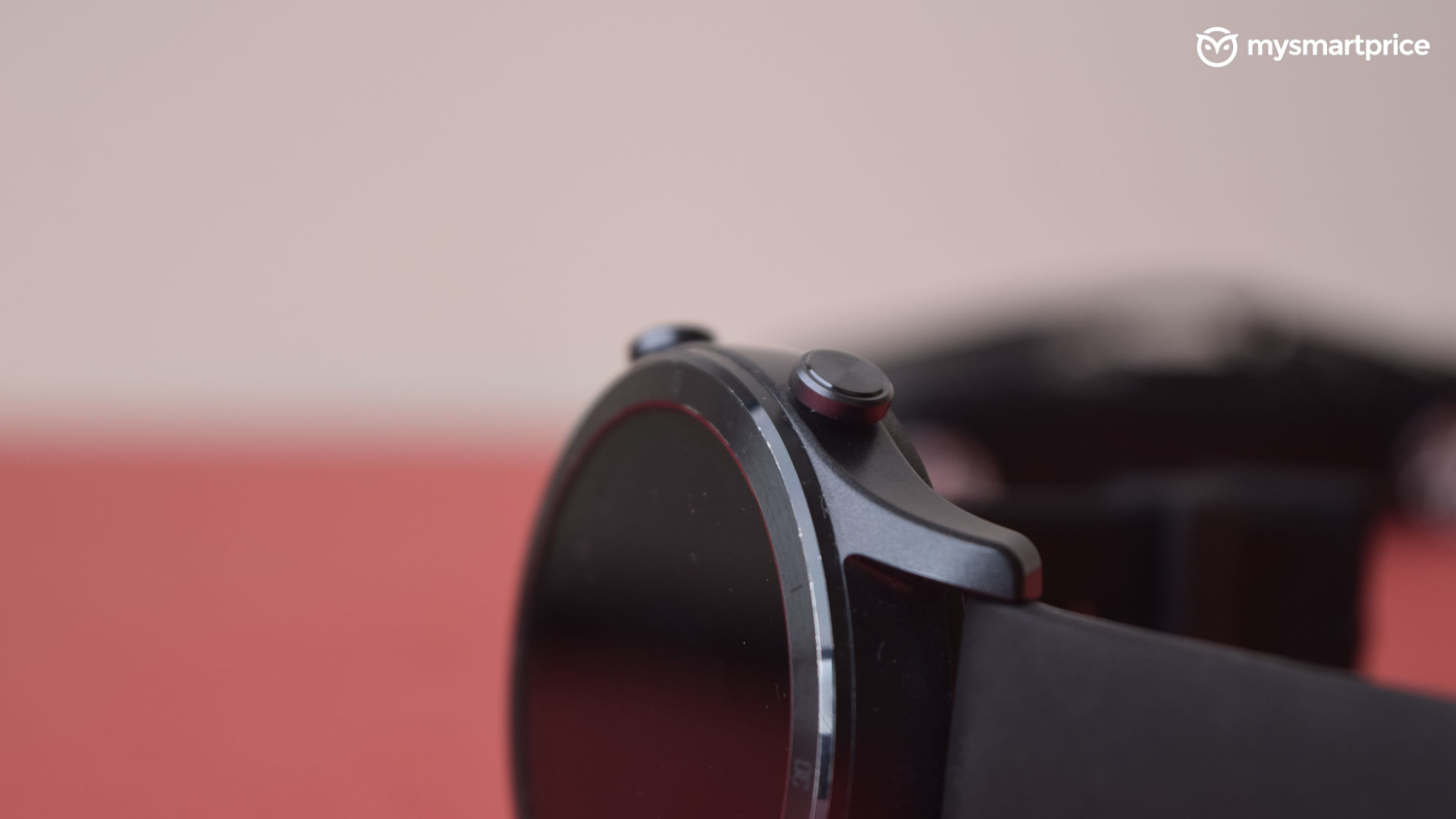 The paint is easy to scratch off, and our unit already had some worn-out corners after just a week of use. The right side of the Watch R100 has two buttons – the one on the top lets you quickly access watch menus from the home screen and also acts as a back button. The one on the button is for accessing activities or making a selection on the screen. Both require a considerable amount of force to activate and have good tactile feedback, so you're always sure when you've pressed them.
The straps can be attached to the watch using spring-loaded pins. Realme's only pairing this with a silicone strap at the moment, but you'd be able to connect any compatible aftermarket 22mm strap. We tried connecting the strap of the original Galaxy Watch, and it did so without any issues.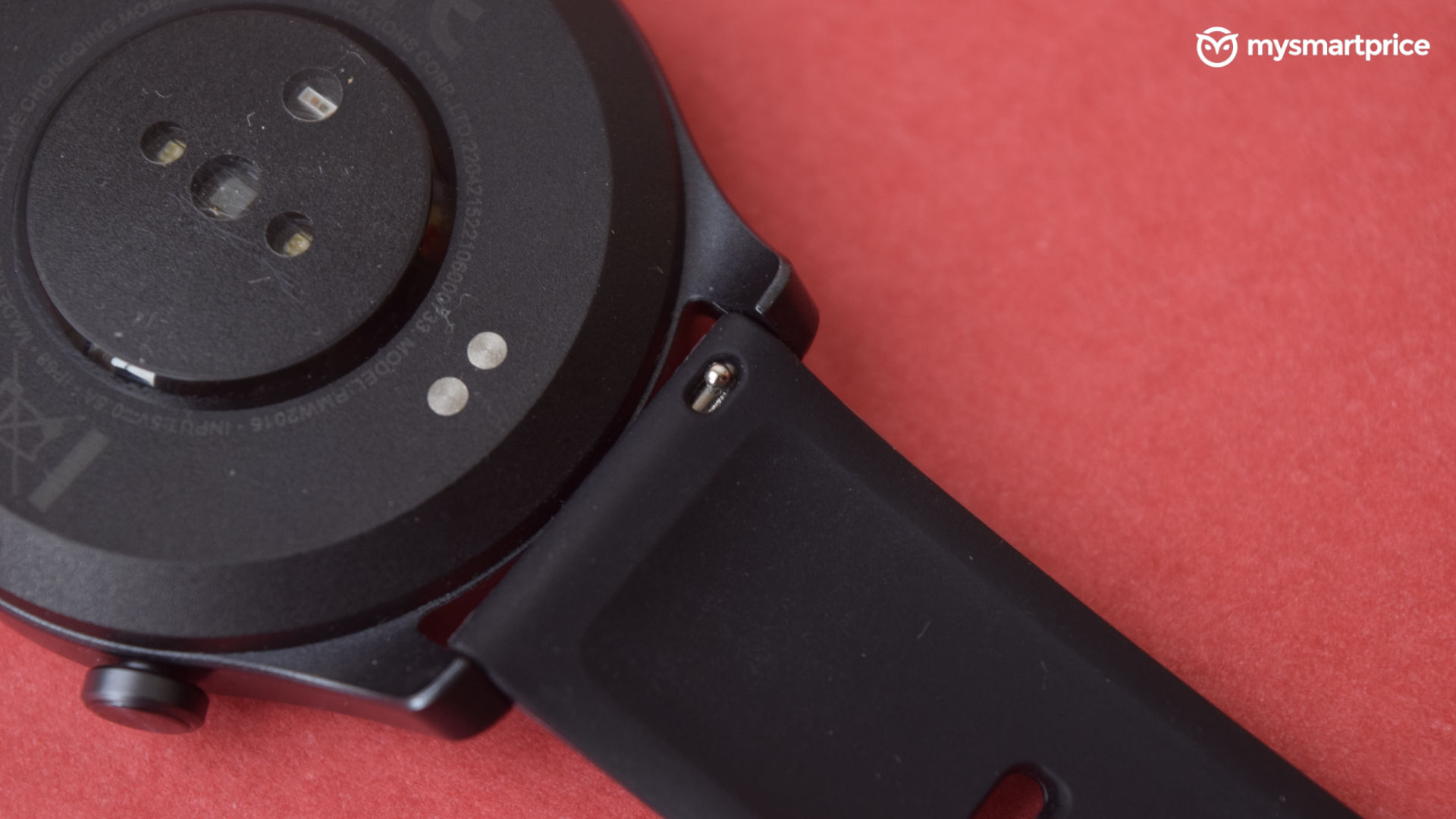 The Watch R100 is IP68-certified for dust and water resistance, which is very impressive given its price. We have taken multiple showers with it, and it's been working absolutely fine.
Realme TechLife Watch R100 Review: Display
The Watch R100 is lit by a 1.32-inch (33.5mm) circular LCD display with a resolution of 360×360. It's good enough not to see the individual pixels and bright enough to be legible under harsh sunlight. But it's not very responsive, in fact, swiping gestures can be irritating because of how many times you've to repeat yourself to go to the next screen, and for some reason, we could perceive a disconnect between our touch inputs and the display.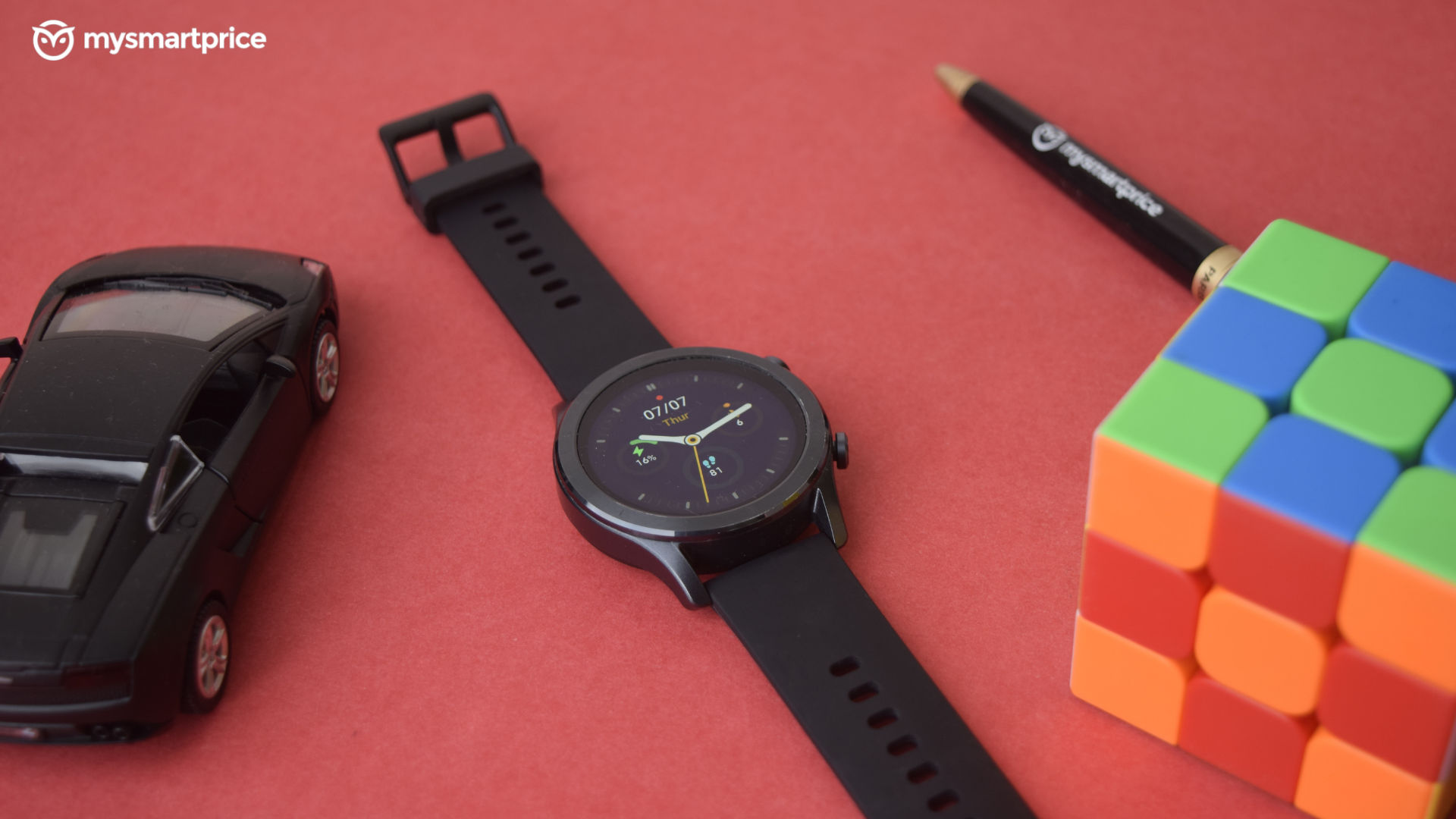 The gap between the display and the glass is also considerably large, so expect a lot of glare coming off the screen on a sunny day. And because it's an LCD display, it's not very vibrant, and you'll not enjoy dark watch faces at night because of the light bleed.
The watch faces themselves are cool; some of them are informative and colourful, others are just decorative. At any point, the watch can store up to eight watch faces, you can change these from the app.
Realme TechLife Watch R100 Review: Features & App
To set up the Watch R100 for the first time, you'll have to pair it up with the Realme Wear app. The process is straightforward, except the update takes a long time to finish. Unfortunately, it also failed once in the midst of it when we tried it, so don't lose hope and stick in there till you succeed.
The app is easy to use – it has four tabs on the bottom, namely 'Home', 'Exercise', 'Device' and 'My'. The first tab is a quick glance at your vitals, stuff like your heart rate, steps, calories burnt and sleep, while the second tab shows a map of places you've walked, ran or hiked. The third tab gives you information about the device and lets you tinker with settings like notifications, incoming calls and watch faces. Finally, the 'My' is the place where you can see your medals, send questions and suggestions and check for updates.
Other features of the watch include Find My Phone, controlling music being played on your phone and event reminders from Google Calendar.
The representation of data within the app is minimalist yet effective and is very similar to what you see on the Mi Fitness app. The watch, on the other hand, has a really big screen, so the workout data appear all nice and well-spaced out. But the way it manages real estate sometimes seems wasteful. For instance, notifications take up the whole screen instead of floating on top of menus. This comes in the way of doing crucial stuff, like tracking a workout and can make you really mad at times.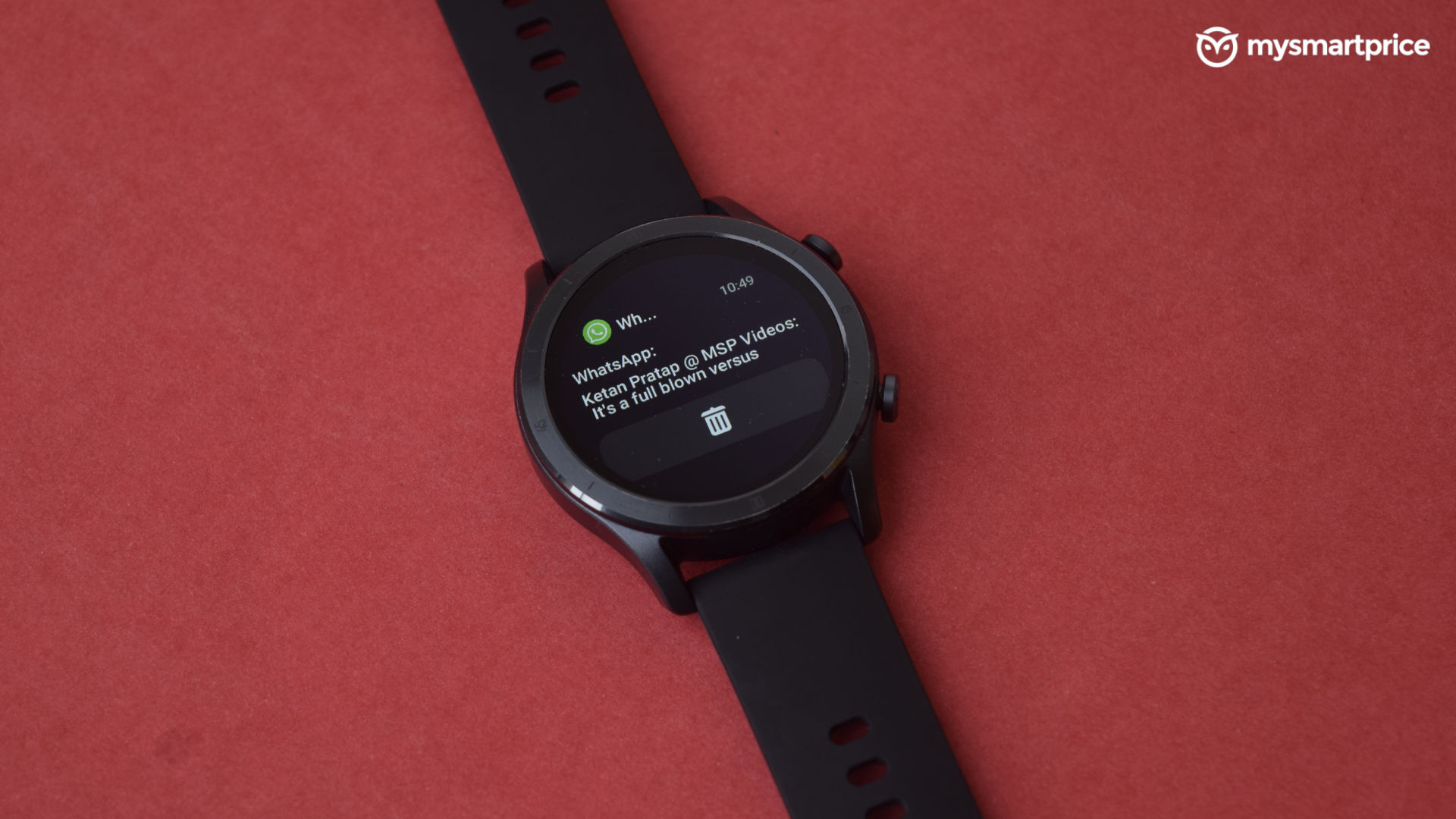 You also get notifications for unnecessary things sometimes, like when YouTube changes songs on autoplay, and the call notifications sometimes ring the entire duration of a call even when you have picked it up (routed via your smartphone or a Bluetooth headset). This is perhaps the most irritating thing about the watch because if you try to dismiss it, the watch cuts the call.
But, despite the low price tag, the fact that this watch can make calls is going to be of interest to buyers. The quality of the speaker and mic is nothing to write home about, but it does get the job done when you can't reach for your phone. We quite liked timely hydration alerts and breathing exercises. But you still can't reply to messages, which is a bummer.
The watch also comes with Alexa integration, which has to be enabled within the app. It allows you to do things like checking the weather, setting an alarm or creating a reminder.
Realme TechLife Watch R100 Review: Fitness features
In terms of health tracking, the Watch R100 can track your heart rate, steps, SpO2 and sleep. Realme claims to provide more than 100 sports modes. In reality, that's kind of true, but then almost all modes only measure the duration of an activity, the calories burnt, heart rate and in some cases, the GPS coordinates of the activity using your smartphone's sensors. All these modes have to be manually activated, and the interface and representation of data of each of these modes is pretty much the same. This is fine when you're walking, running or cycling, but not so much when you're working out in the gym, where the reps of a certain exercise require counting. There's also no real-time tracking of when you transition from a light workout to a heavier, anaerobic workout depending on your heart rate and SpO2.
The step counter is a little sluggish to start but decently accurate. Compared to a Garmin Instinct 2S Solar, the Watch R100 was off by about 4-5 steps, which is fine for a watch this price. The heart rate tracking is also slow but accurate once it detects your presence. The sensor can't be fooled by an inanimate object either. When compared to a pulse oximeter, the SpO2 tracker was off by 5 notches, which is pretty inaccurate, so we wouldn't recommend you to use this in times of emergency.
Realme TechLife Watch R100 Review: Battery life
Seven days is the official battery life claim by the Realme TechLife Watch R100, and given the kind of sensors the Watch R100 packs, it makes sense. However, it was surprisingly higher in real life, and we weren't able to kill it within our nine or so days of use. To charge it, you can use the bundled cable with a magnetic pogo connector at one end and a USB Type-A connector on the other. It takes a little under two hours to get to a full charge.
Realme TechLife Watch R100 Review: Verdict
At Rs. 3,999, the Realme TechLife Watch R100 is a great choice for first-time buyers seeking a stylish yet affordable smartwatch with a circular dial. It offers a nice, bright LCD display, IP68 certification, two-week battery life and, more importantly, the ability to call. The sports modes and activity tracking are a bit basic, but if that's not your primary objective, this can make the cut. Plus, you get the trust of an established smartphone brand, which has a good track record of pushing out timely updates.
Realme TechLife Watch R100
Rs. 3,999
What Is Good?
Big, circular display
Premium design
Easy to use app
Alexa support
Capable of voice calling
Good battery life
IP68 certification
What Is Bad?
Poor notification management
Barebasic health tracking
Can't reply to messages
Slow UI