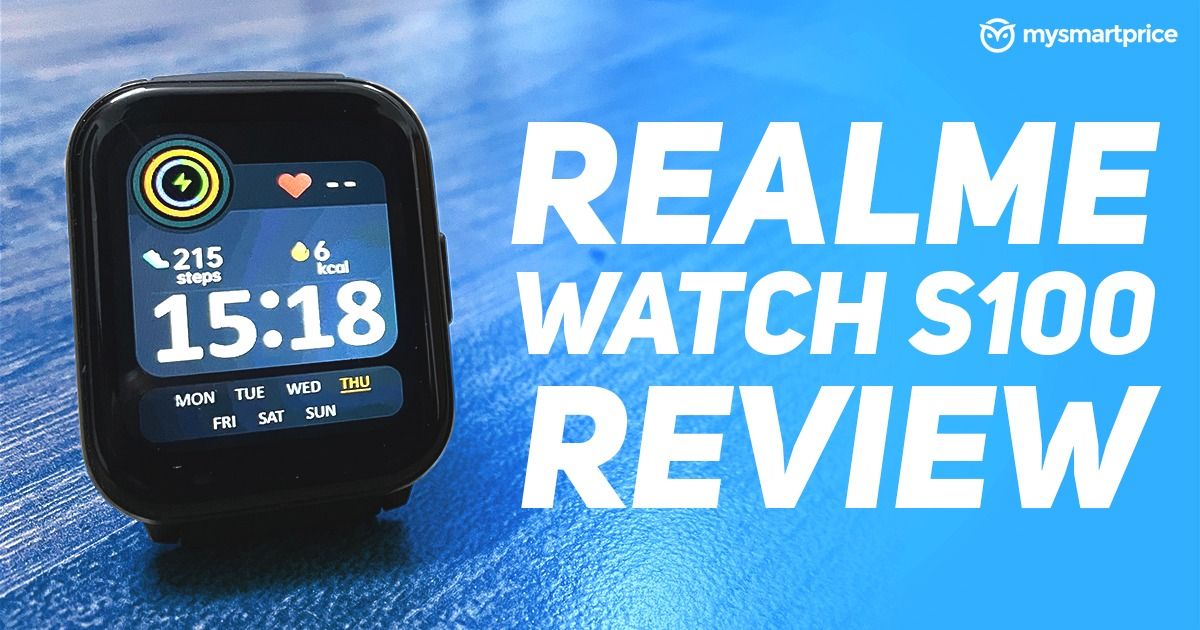 Gone are the days when the budget smartwatches used to come with heart rate and SpO2 sensors only. Over time, brands have started including more features to smartwatches. A regular smartwatch now comes with body temperature sensors that measures your body and skin temperature as well. Realme has added a body temperature sensor on its Realme Watch S100 at a price point of Rs 2,499 in India.
The Realme Watch S100 also features a large 1.69-inch display, heart rate and blood oxygen sensor, up to 12 days battery life, and more. I have been using the watch for almost 2 weeks now and here's my review of it.
Design, Fit and Build Quality
The Realme Watch S100 comes in a rectangular shape with the side module made of plastic. The plastic build doesn't feel cheap thanks to the metallic finish that gives it a premium look. There is a button on the right side that can be used to power on and navigate across the UI in the watch. On the back, Realme has added a new sensor that measures the skin temperature (more on that below), PPG heart rate sensor, oxygen level sensors, and magnetic pins for charging.
The detachable silicone straps are of average quality and can be swapped out with any 20mm straps. The Black colour looks good, but this watch would look more attractive and premium in Grey colour. Anyway, the colour choice is subjective. It has an IP68 water resistance rating but several smartwatches in this price segment come with better 5 ATM rating.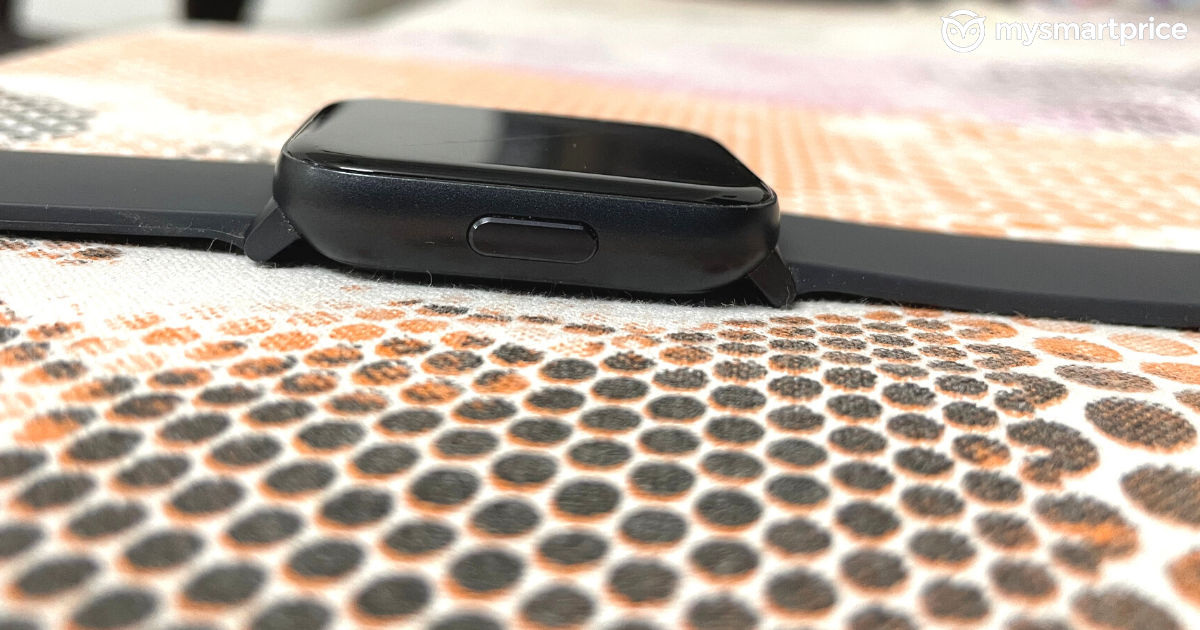 The bezels around the rectangular display are thick around the sides and thicker on the chin. The Realme Watch S100 weighs 34 grams and feels comfortable to wear all day and night.
Display and Watch Faces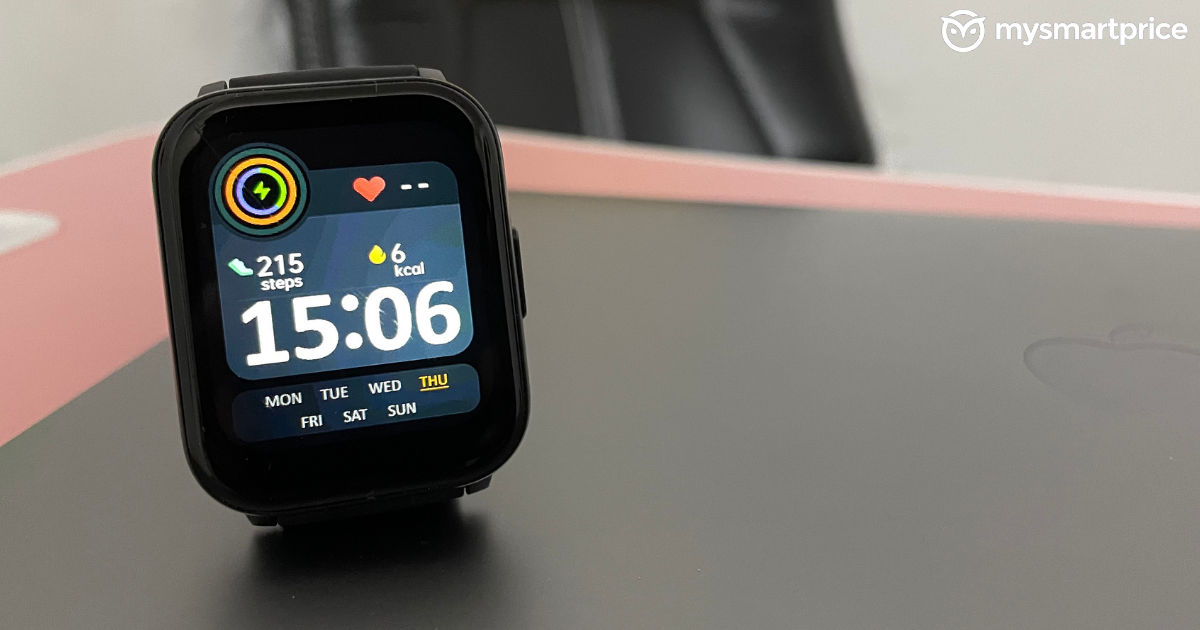 The Realme Watch S100 features a 1.69-inch display with a screen resolution of 240×280 pixels. The LCD screen on the watch makes the colour look faded, especially when you have been using a watch with an AMOLED display. The Realme Watch S100 was visible in Delhi's harsh sunny days, thanks to 530 nits peak brightness. It has four levels of brightness – 25%, 50%, 75% and 100%. As the watch lacks an ambient sensor, I had set the brightness of this watch at 75% during my usage. You can't expect auto brightness mode in this segment.
The Realme Watch S100 display is sharper thanks to its pixel density of 218 ppi. The fonts are accurate in size, neither big nor small. The raise to wake feature works well and can be disabled or enabled from the watch settings. That said, the display of Realme Watch S100 is acceptable at this price, it's neither too impressive nor bad.
Also Read: Redmi Smart Band Pro Review: Bigger, Better and Bang for the Buck
Realme claims that the Watch S100 supports over 100 different watch faces. Out of which four are available within the smartwatch whereas others can be downloaded and set from the app. You can also set up a custom watch face via the Realme Fit app.
Battery and Charging
The Realme Watch S100 packs a 260mAh battery which the company claims can last up to 12 days. I have been using the watch for two weeks and had to charge a watch once during my usage. I had set the heart rate, body temperature, and blood oxygen tracking to automatic, notifications on, and brightness set to 75%. The watch lasted me for 7 days but you can extend its battery life by turning off these extra settings. That's fair battery life.
Realme has bundled a USB charger with the Realme Watch S100 that takes around 1.5 hours to juice up.
UI and App Support
It's my first time using a Realme smartwatch, so the UI is completely new for me. The UI is pretty neat and smooth. Smartwatches in this price segment usually stutter while scrolling but the Realme Watch S100 didn't stutter even once. That's a good thing. It has a lot of icons and the fonts are perfectly sized.
The watch loads pre-installed icons for popular apps such as WhatsApp, Instagram, etc. It shows you the icons along with the message and app name whenever you receive a notification. The messages, however, do not show emojis. You also get incoming call notifications with the caller name and an option to reject it; however, an option to reject the call with an SMS or to mute it would have been better. The notifications can be expanded to view the full message however you might have to go back to your phone if it is a long message, also you cannot reply to it.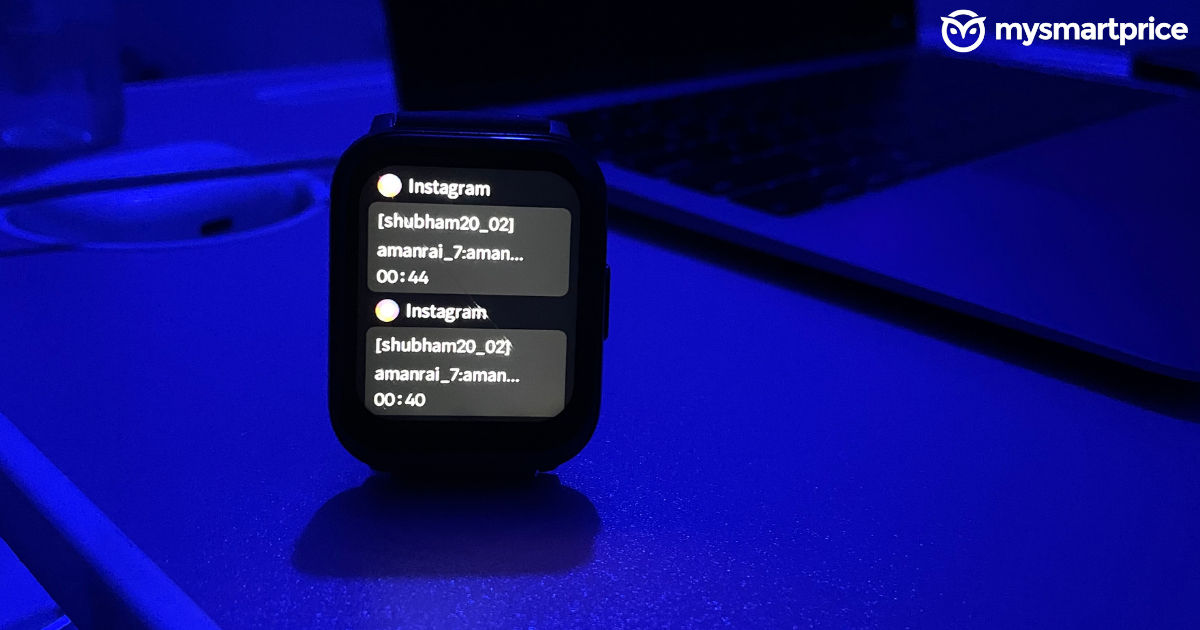 A swipe upwards will take you to the main app drawer where you will find options such as body temperature, workout, activity, heart rate, SpO2, sleep, notifications, sleep, breathing, cycles, weather, music, alarm, stopwatch, timer, camera, find my phone, flashlight, and settings.
Swiping down will show you all the notifications whereas a left swipe will take you to the basic control settings.
A right swipe takes you through all the shortcut apps but to return to the home screen you will have to press the button on the right side or else swipe left again through all the apps to return home.
The Realme Watch S100 connects through the phone via Realme Fit app which is available on Google Play Store and Apple App Store. I used the app and liked its interface but noticed that it takes a while to sync the data from the watch. Also switching across various menus will show you the 'Syncing Data, Please wait' pop-up again and again despite being the data synced accurately. An update was rolled out when I connected the watch to the app for the first time.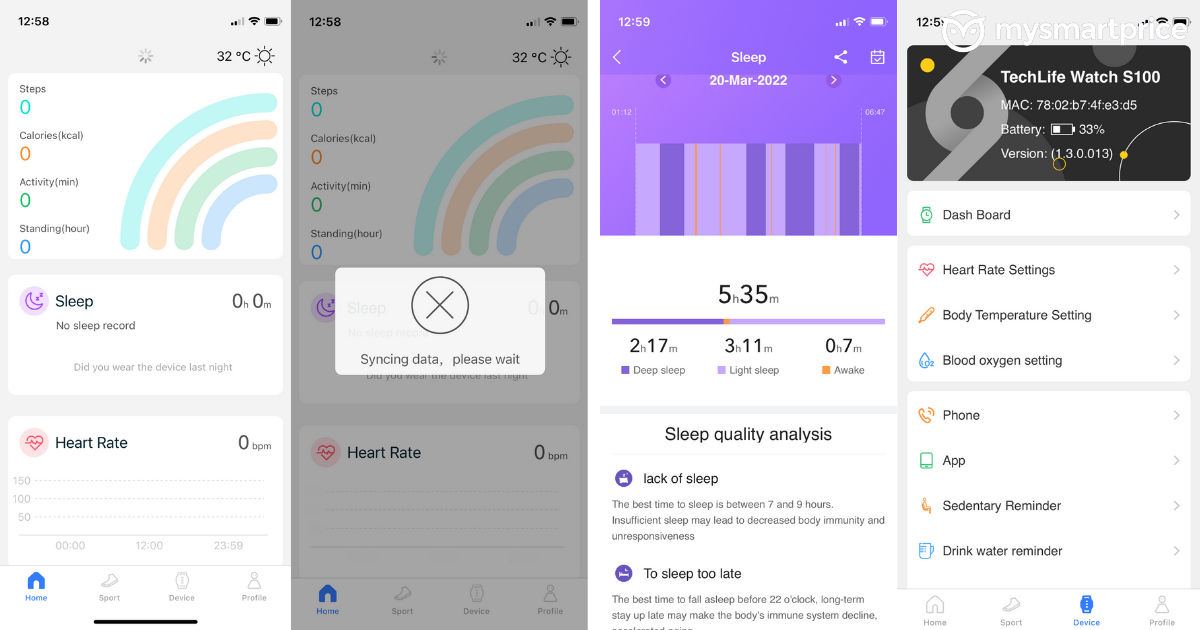 The app shows you all the basic details such as fitness measurements, sleep data, heart rate, body temperature, and blood oxygen on the home screen and you can expand the category to get more details about your activity. There is a dedicated sports mode menu from where you can activate any of the 24 sports modes available within the app.
The device section lets you change the various settings of the smartwatch – notification, calls, heart rate, drink water reminder, reset device, etc. The drink water reminder is a great addition to this budget smartwatch. Last, in the profile section, users can add their details and goals.
The Realme Fit app is a basic app with almost every feature that you need.
Health Based Features and Workout Modes
Realme has added a body temperature sensor to the Watch S100, that's a very good addition in this price segment. It shows a very accurate rating of your body and skin temperature which I had compared with the thermometer. Apart from that, it features a heart rate monitor, blood oxygen (SpO2) monitoring, sleep tracking, steps count, calories burnt, breathing exercise, and more. However, it lacks menstrual cycles for females. Most of the measurements on the Realme Watch S100 seem accurate. Nice job, Realme. Even if you place the Watch S100 under any object, it will not show you any result.
The sleep tracking of the watch is accurate and the app tells your exact sleep hours. It also analyses your sleep and tells if you should improve your sleep or not. However, the app shows you sleep time only, the company could add a few more details about the sleep. Also, it seems that the watch can't recognise naps.
Other features like music playback control, timer, stopwatch, weather, camera control, alarm, find phone, flashlight works fine.
The Realme Watch S100 comes with 24 sports modes – running, cycling, walking, badminton, table tennis, hike, baseball, dancing, and many more. As expected, the watch S100 does not come with an in-built GPS and will connect to your phone to track your activity on map. Both watch and app show you the same details of your sports activity. While everything is fine on the workout part, the step tracking on the Realme Watch S100 is not accurate. It counts 100-150 excess steps. Somedays, my steps count would cross 10,000 steps even when I had just taken a walk.
Also Read: Best Smartwatch Under Rs 5000: Amazfit Bip U Pro, Realme Watch S, Redmi Watch, and More
Is Realme Watch S100 a Good Choice for Rs 2,499?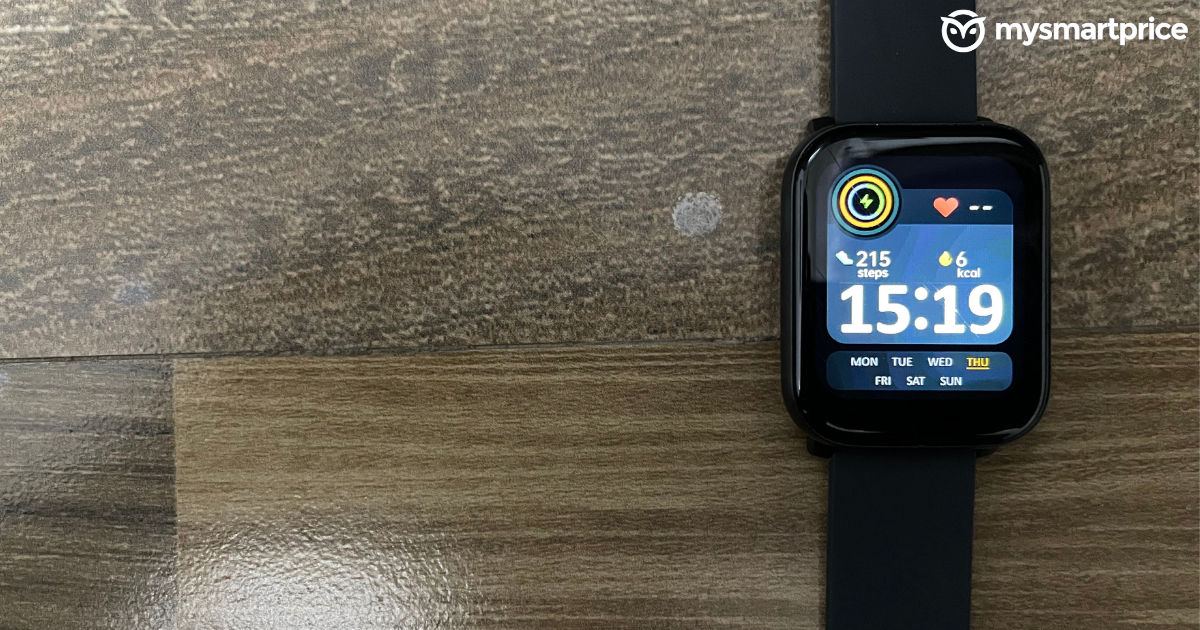 The Realme Watch S100 is a decent entry-level smartwatch for under Rs 2,500. The temperature measurement is very impressive and most of the tracking features are accurate, except steps count. With a big display, every text is easily readable. The Realme Fit is a nice companion app for the Watch S100 but the company could add a few more details in the app about the activities. It has a premium design that looks good on a budget smartwatch.
If you are a fitness enthusiast and want to buy a smartwatch that has more sports modes and better water resistance, then you can go for the Dizo Watch 2 Sports which is available for the same price. That said, the Realme Watch S100 is a decent watch and you can go for it.
What Is Good?
Premium look at a budget
Fair battery life
Smooth UI
Accurate in health tracking
Body temperature sensor
What Is Bad?
Ghost steps tracking
More details can be added to app
Average display