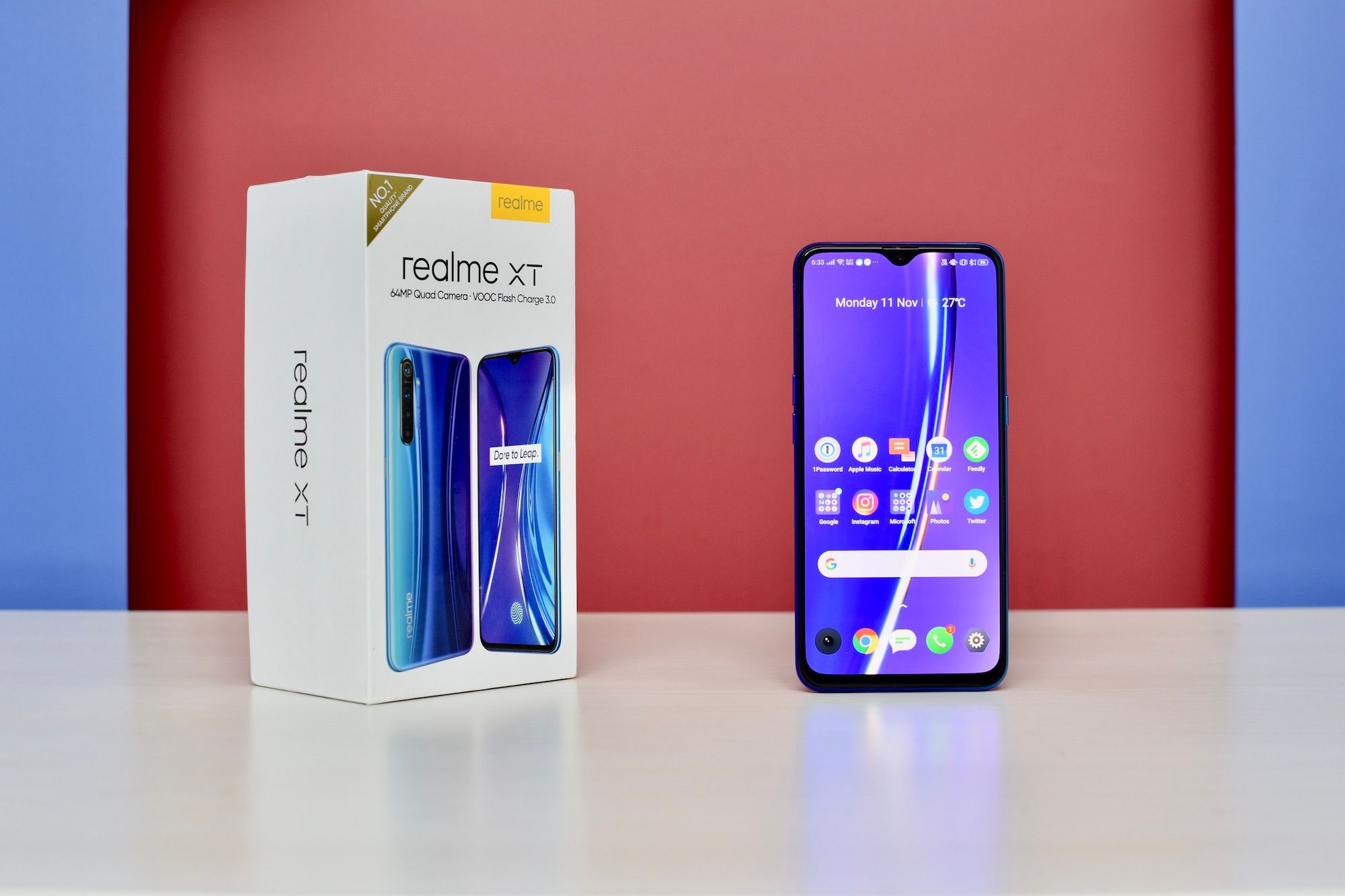 Xiaomi's only credible competitor in India's entry-level and mid-range smartphone segments is Realme, at least right now. Realme has made some excellent phones since it spun off from its parent firm OPPO. We quite liked the Realme X (Review), but its main selling point was its pleasing design, aesthetics, and a completely notch-less screen. The Realme XT has an overlapping price tag, but it targets a different kind of audience: the kind that values pure specs and performance over aesthetics and elegance.
Design and Build Quality
8.0/10
Front-Facing Camera
8.0/10
Rear-Facing Camera
8.5/10
What Is Good?
Good design and build.
AMOLED screen.
Good image and video quality from the primary camera.
Decent selfie camera.
Fast all-round performance.
Excellent battery life.
Fast fingerprint reader.
What Is Bad?
The screen could've been brighter.
UI design needs improvement.
Macro camera and depth sensors are of no practical use.
Rear camera module juts out too much.
The Realme XT is the first smartphone in India with a 64MP camera. There are three additional cameras on the rear and a 16MP selfie camera. It has a 6.4-inch AMOLED screen with a notch, a Snapdragon 712 processor, 4GB RAM, 64GB storage, a dedicated microSD card slot, an in-display fingerprint reader, and a 4000mAh battery with 20W fast charging.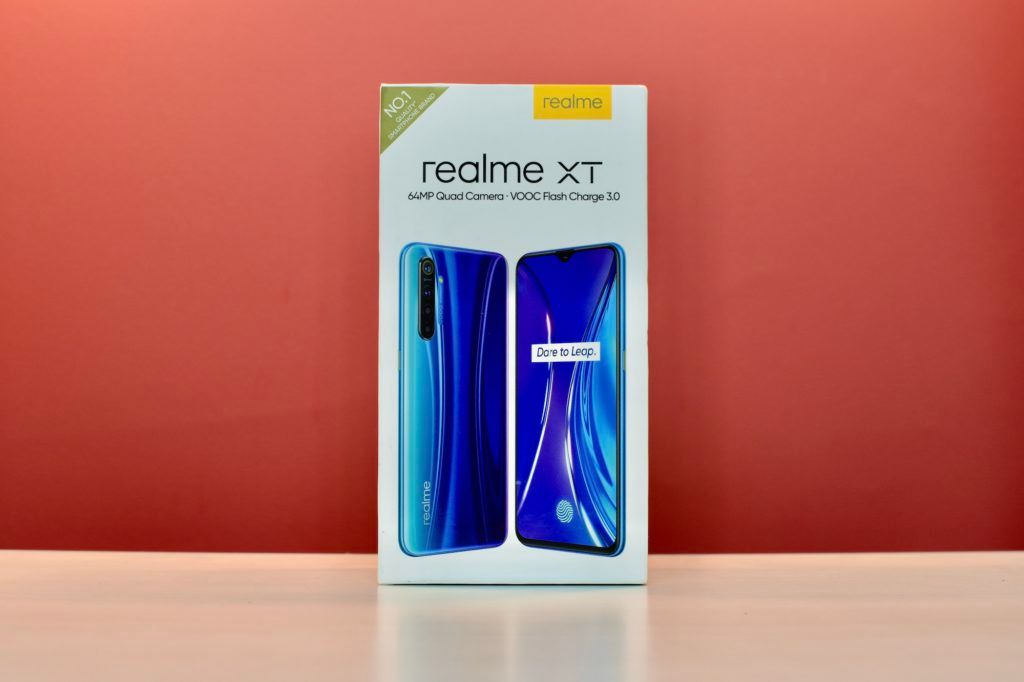 The Realme XT faces competition from the company's own Realme X, as well as, the Redmi Note 8 Pro, Mi A3 (Review), Vivo Z1x, Galaxy M30s (Review), Moto G8 Plus, Galaxy A30s, Nokia 7.2, OPPO A9 2020, and the OPPO K3. The phone is priced slightly higher than the Redmi Note 8 Pro. which is its closest competitor, but it offers an AMOLED screen and an in-display fingerprint reader, features that are missing from the Redmi Note 8 Pro.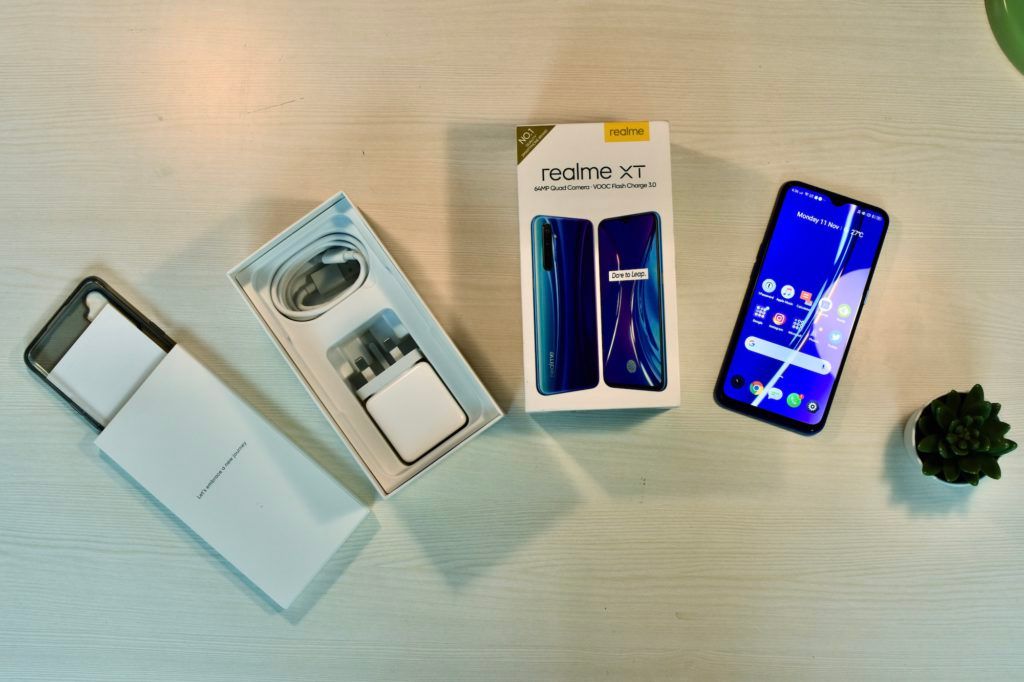 Is it worth spending more to buy the Realme XT over the Redmi Note 8 Pro? Let's find out in our review of the Realme XT.
[P_REVIEW post_id=169597 visual='full']
Realme XT Design
The Realme XT has a 6.4-inch screen at the front with an integrated in-display optical fingerprint reader. The waterdrop-shaped notch is sure not as elegant as Realme X's pop-up selfie camera, but it is quite cheaper, making way for Realme to use those funds to use a better camera and a better processor. The chin below the screen is slightly thicker than the forehead, but that's true for most phones in this price range. The plastic frame is covered by Gorilla Glass 5 at the front and the rear.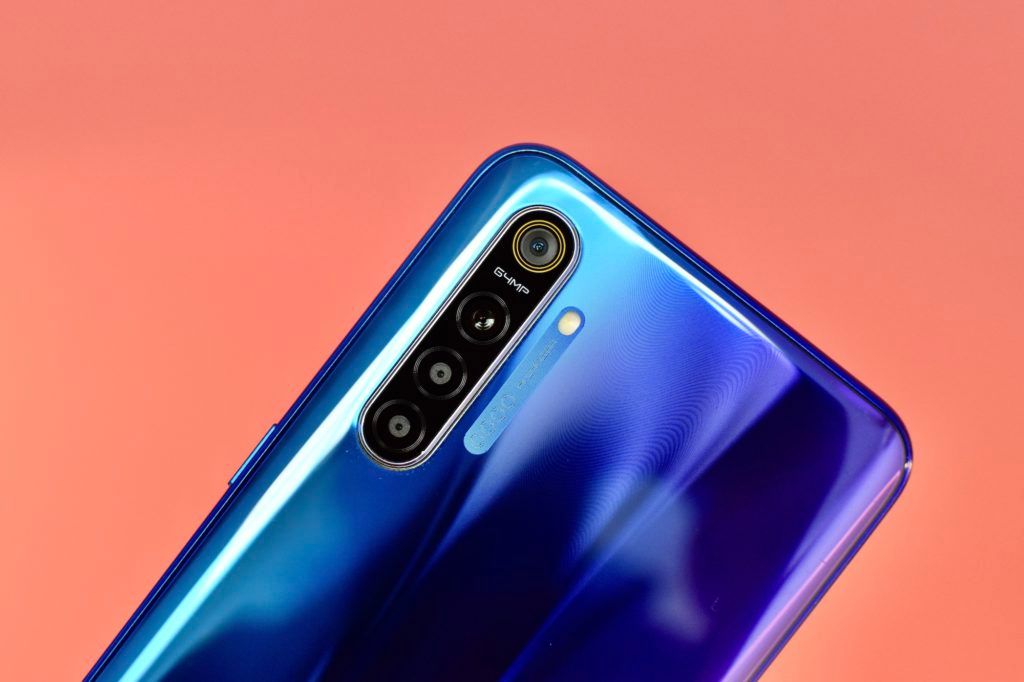 There are four cameras on the rear, and they are all arranged in a vertical assembly that's placed on the top left corner (when facing the rear) of the phone. Due to the 64MP camera sensor's size, the camera assembly juts out from the rest of the rear surface, making the phone wobble when it is placed on a flat surface like a table. Thankfully, it wobbles only when you touch or press the lower right bottom part of the screen.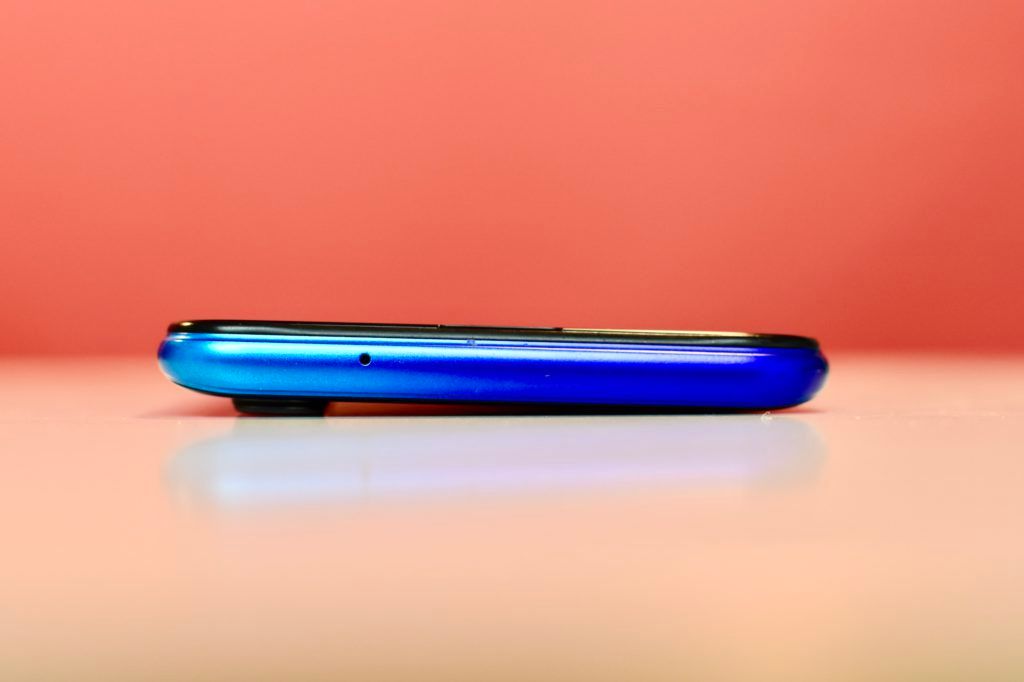 The 3.5mm headphone jack, the USB Type-C port, and the loudspeaker are all at the bottom of the phone. Power and volume buttons are placed at just the right positions, and they feel almost as good as they are on high-end phones. The dual-nano SIM and microSD card triple-slot is at the top left edge of the phone. Overall, the phone feels well-built and premium for its price.
Realme XT Display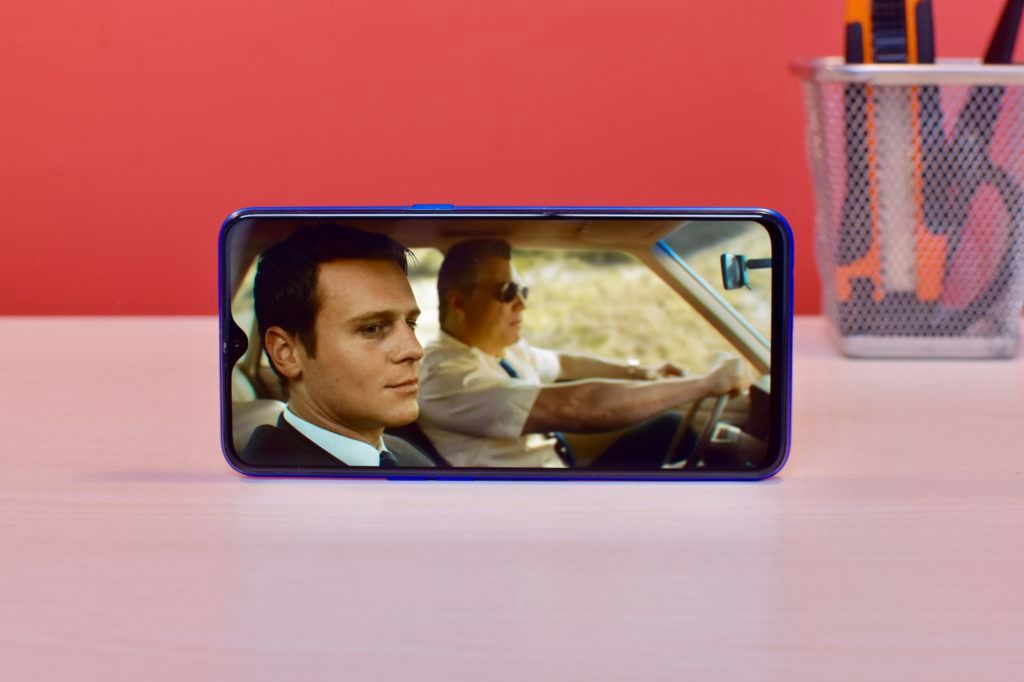 The Super AMOLED screen on the Realme XT is a clear upgrade over LCD screens on other phones in the price segment. It has a much better contrast ratio and has low reflectivity. However, screen calibration is far from perfect and the brightness is slightly lower than it should be. Colors are skewed towards blue (cold) and setting the screen color temperature to warm improve things a bit, but they also affect other colors. It would have been better if the company had offered screen calibration presets as many other brands do.
The waterdrop-shaped notch design is not as elegant as the Realme X's notch-less screen, but I know that it is much more cost-effective to make a notched screen. There's always-on display mode, but it is very simple right now. It just shows the time, the date, the day, and the battery level. Both Samsung and Xiaomi offer a wider range of styles for always-on display clocks and widgets through their app or theme stores. There was a bug in the latest software update that drastically decreased screen brightness when the screen auto-brightness feature was turned on.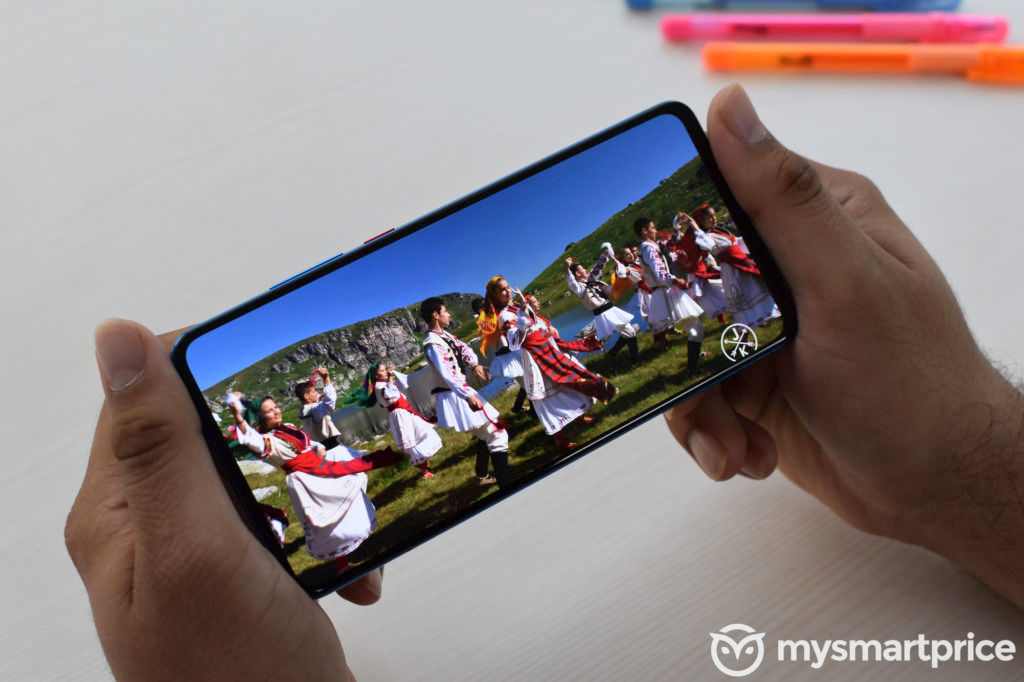 Samsung phones currently offer AMOLED screens in this price range, and their panels are brighter, at least in the Auto Max mode. Other competing phones with an AMOLED screen include the Vivo Z1x, and it uses a panel that is similar to that of the Realme XT. The Mi A3 has an AMOLED screen, too, but its resolution is a meager 720p, leaving it with visible pixelation. The Redmi K20, which costs significantly higher, has a much brighter screen, complete with HDR10 video playback.
Realme XT Camera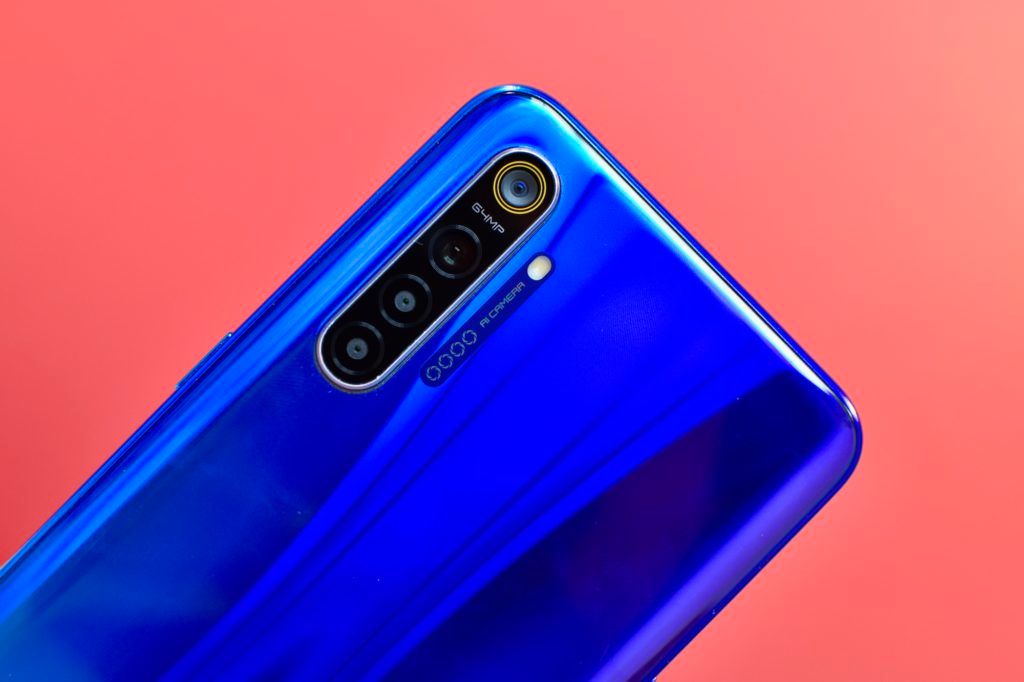 The headline feature of the Realme XT is its 64MP camera, a 1/1.7-inch sensor (F1.8 aperture) from Samsung. It's larger than all 12MP and 48MP cameras found on other phones and similar in size to 40MP cameras found on Huawei phones. It's a quad-bayer sensor, so you get 16MP images in the default mode after 4-in-1 pixel binning. You can also click full-res 64MP images through a special mode. There are three other cameras on the rear: an 8MP camera with an ultra-wide-angle lens, a 2MP depth sensor, and a 2MP camera with a dedicated macro lens. The two 2MP cameras are of no practical use since depth sensing can be achieved with a single camera and software algorithms (and ML), and just 2MP macro images won't be any good for anyone.
Coming to the results of the 64MP camera (in 16MP mode), both daylight and low-light images have slightly more details than 48MP cameras from Realme and other brands. Dynamic range is about similar to that of the Realme X, which was among the best in its price category when we tested the phone. While I didn't get a chance to thoroughly test the Redmi Note 8 Pro's camera, I did notice that the Realme XT's images had relatively more details, less noise, and slightly wider dynamic range. There were slightly more details in the images compared to still images captured using even high-end 48MP camera phones like the OnePlus 7 Pro. You can also capture 64MP images (using the 'Ultra 64MP' mode), but it's only helpful in bright daylight situations. In indoor and low-light conditions, 64MP images have higher noise, lower details, and narrower dynamic range.
Realme XT Low Light Camera Samples
If you want better images in low-light conditions, there's a 'Nightscape' mode that captures multiple frames with slower shutter speeds, then superimposes them for resulting shots that have higher brightness, more details, and wider dynamic range, at least compared to the usual 'Photo' mode. The ultra-wide-angle camera can be used in the Nightscape mode, and it improves image quality in low-light conditions, but they are nowhere close to images captured using the main camera. The Chroma Boost feature is useful for those who like slightly boosted colors, without making images over-the-top. This mode is also beneficial for clicking images of people wherein skin tones look more natural.
Since there's no telephoto camera on the Realme XT, the phone uses a digital 16MP crop from the 64MP camera sensor, and there is a decent amount of detail in such 2x zoom shots. The ultra-wide-angle camera covers a lot in the frame and the colors are similar to the main camera. However, details are much lower, noise is slightly higher (due to a wider aperture), and the dynamic range suffers. It is quite useful in certain situations, though.
Realme XT Macro Camera Samples
The phone captures really good portrait images (images with a background blur effect). The 2MP macro camera has a fixed-focus lens, so you can't capture usual shots or focus from a distance. Plus, the measly 2MP resolution means images won't be of much outside of Instagram and Facebook, both of which still use ultra-low resolutions of images on their apps and websites. The macro camera can't record videos.
4K 30fps videos recorded using the Realme XT's main rear-facing camera were surprisingly good: good brightness, wide dynamic range, slightly oversaturated colors, and very low noise. Even indoors, the phone could record good-quality videos. It is one of the best phones in its price range when it comes to video recording quality. The ultra-wide-camera can go only as high as 1080p 30fps.
Realme XT Selfie Camera Samples (Daylight)
When there is a good amount of ambient light, the Realme XT's 16MP selfie camera captures brilliant selfies, similar to the Realme X. You can find enough details on the skin. Skin tones look lively, but the dynamic range isn't as wide as the rear-facing camera. However, the Realme XT's selfie camera is clearly among the best in its price range.
Realme XT Selfie Camera Samples (Low light)
In spite of the lack of a secondary front-facing camera, the Realme XT can capture portrait selfies (portrait self-portraits?). In comparison, the Redmi K20 captured a similar quality image, while the OnePlus 7 Pro's selfie image had a better dynamic range. The selfie camera can capture 1080p 30fps videos, and I think companies now need to grow up and offer 1080p 60fps and 4K 30fps video recording modes for the front-facing cameras on their phones. Coming back to the video recording quality of the selfie camera, the results were pretty good and the stabilization worked well.
Realme XT Software Features & UI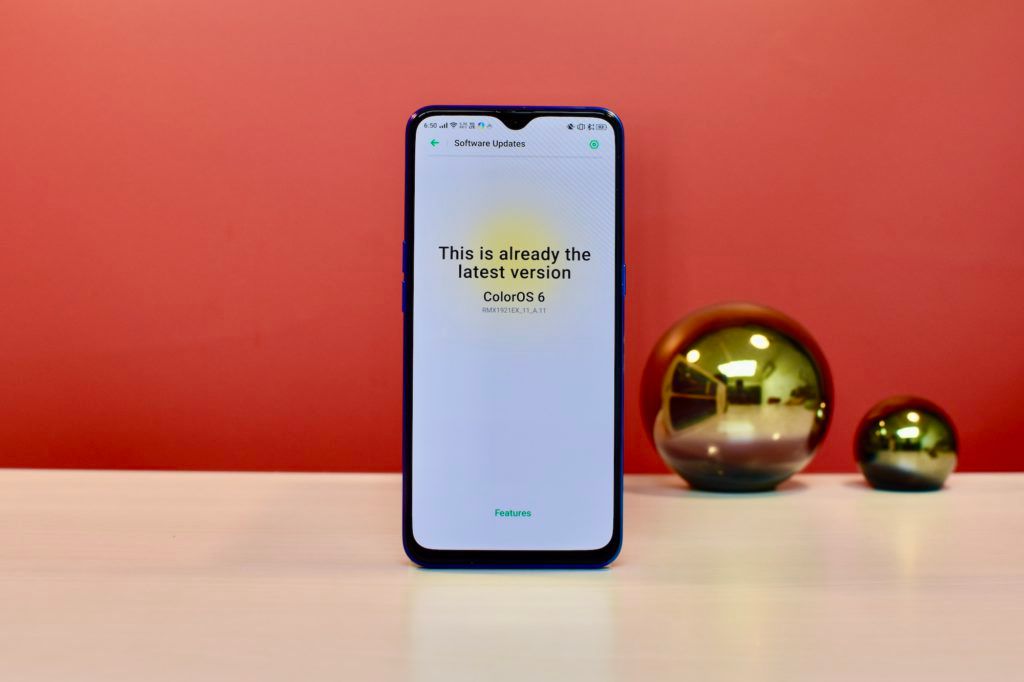 The Realme XT was launched with Android 9 Pie-based ColorOS 6.0.1 out of the box. There are subtle UI improvements and a few feature additions compared to ColorOS 6.0.0 that came pre-installed with the Realme X, Realme 3, and the Realme 3 Pro. The phone received a huge update during the course of my review, and it added a Dark Mode, ultra-wide-angle camera video recording mode, improved quality of camera zoom, improved low-light image quality, optimized white balance and flash performance, and reduced noise in images.
ColorOS 6.0.1 is quite feature-rich and allows customizability, however, not as good as OnePlus' OxygenOS and Samsung's One UI. The UI design doesn't feel as cohesive as One UI and OxygenOS. Icons don't follow any particular theme for colors or shape, display size doesn't appear proper for any selected size, there's no graph for battery consumption/charge, and the notifications panel can't be accessed via the swipe down gesture on the home screen. The phone's setup process pushes a lot of unnecessary apps. Plus, there are shortcuts named Hot Apps and Hot Games in the app drawer that take you to the most popular apps and games section of ColorOS' app store. Thankfully, there's a dedicated app drawer.
Apart from the usual suite of Google apps, the list of pre-installed apps on the Realme XT includes the App Market, Calculator, Calendar, Camera, Clock, Clone Phone, Compass, Contacts, File Manager, FM Radio, Gallery, ORoaming, Voice Recorder, and Weather. There's a Smart Assistant screen on the left side of the left-most home screen, and it's just a series of widgets that show the calendar, weather, some quick functions, steps taken, popular apps from Realme's app store, and a few other things. The app drawer's first row is dedicated to displaying the 5 most opened apps.
Out of most pre-installed apps, the Phone Clone app is quite helpful as it helps you in transferring data from your old phone to a new Realme smartphone. There's Game Space, which optimizes gaming experience and performance by blocking notifications, optimizing network performance, and locks screen brightness. The Phone Manager app cleans junk data, scans the phone for virus and malware, checks the proper functioning of phone components, protects the phone while mobile payments, and shows app permissions. The Messages app started showing clearly readable OTP (one time password) and a one-click option to copy OTP with the recent software update.
ColorOS 6.0.1 adopts an Android 10-like swipe gesture navigation system: swipe up to go to the home screen, swipe up and hold in the middle of the screen to open the multitasking menu, and swipe from the right or left edge of the screen to go back to the previous screen. Thankfully, these gestures work well and I did not go back to on-screen navigation buttons once I started using navigation gestures. There are lots of customization options on the phone, including themes (free and paid), fingerprint reader animations, wallpapers, quick setting toggles editing, and more.
I can't say that ColorOS is bad (at least in its current form) as that prize goes to Vivo's FunTouch OS and Gionee's skin (if the company is still operational). However, there's a lot of room to grow, and Realme is developing a different version of ColorOS that will feature a completely redesigned user interface and resemble the stock version of Android UI. It is being reported that the upcoming version of redesigned software for Realme phones start rolling out sometime in the first quarter of 2020, and I am eagerly waiting for it since that will give a huge boost to otherwise excellent Realme phones.
Realme XT Performance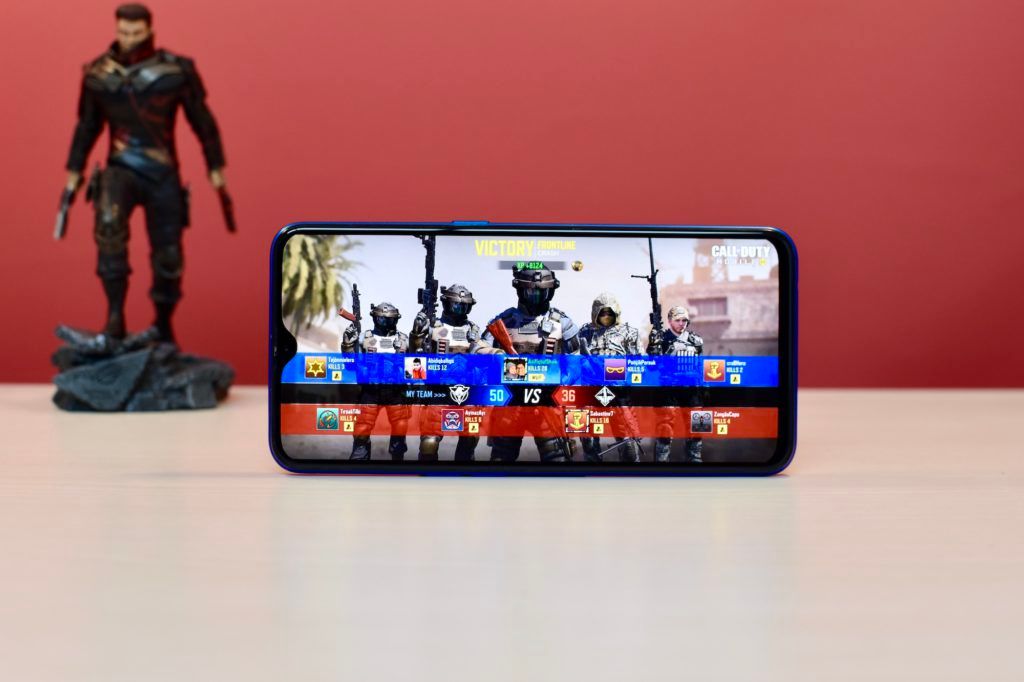 The Snapdragon 712 chipset used inside the Realme XT is a slightly overclocked version of the Snapdragon 710 chipset that was used in the Realme X. The review unit that I used had 8GB LPDDR4X RAM and 128GB UFS 2.1 storage. The Realme XT even features a dedicated microSD card slot (apart from two nano-SIM card slots) to increase storage space even further.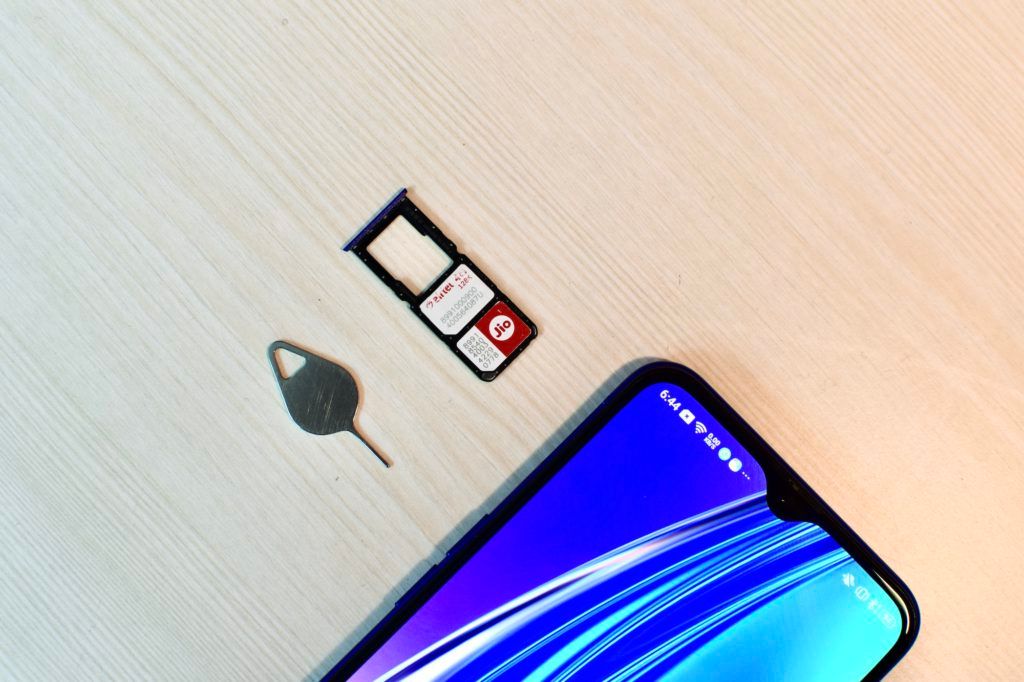 The phone felt quite fast for its price and featured smooth (if not OnePlus-like butter smooth) animations and transitions. Even when I played Call Of Duty Mobile for a hours on a stretch, the Realme XT didn't feel warm. Frame rates were consistent, too, mostly due to minimal performance throttling. The under-display optical fingerprint reader was accurate and fast, but I've used faster fingerprint readers on higher-end phones from OnePlus and OPPO.
The cellular signal reception was great throughout the review period. I also noticed that the loudspeaker had decent volume levels but it wasn't balanced. High-frequency sounds from the Realme XT's loudspeaker sounded harsh. Audio performance when connected to wired earphones was quite average, but being average is enough for mid-range phones.
Realme XT Battery Life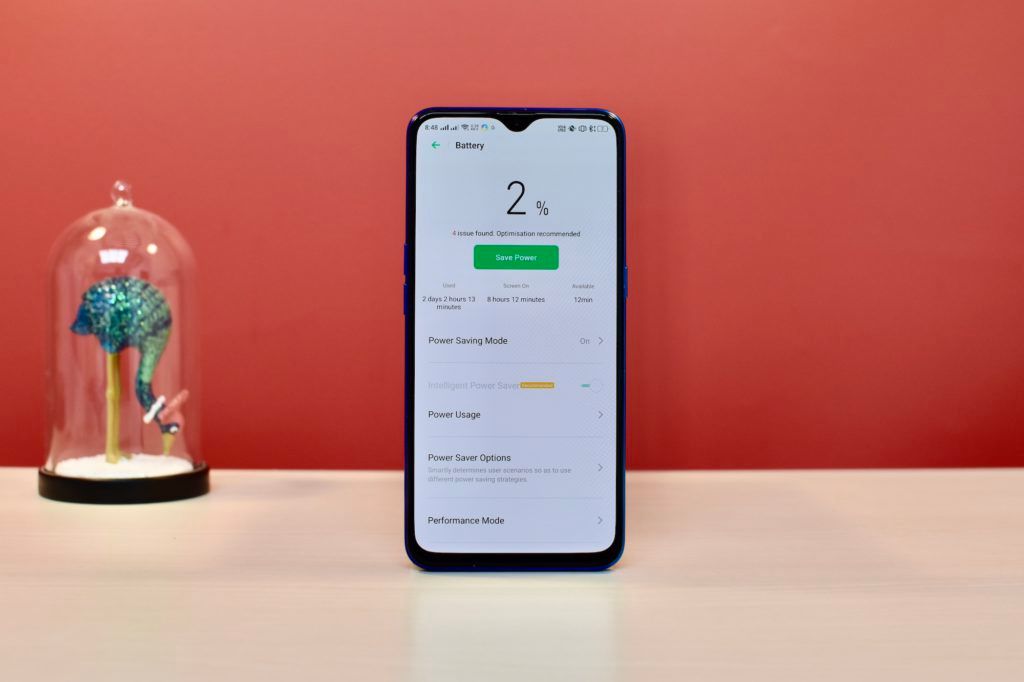 One thing the Realme XT is really good at is its power efficiency. It looks like a mix of a decently-sized battery, the power-efficient-yet-powerful Snapdragon 712 chipset, and well-optimized software. On a single charge, the phone lasted as long as more than two days, achieving a brilliant screen-on time of over 8 hours. That's really impressive! You can expect the phone to last at least one full day even with heavy usage and two active 4G LTE + VoLTE cellular connections. There are two types of power-saving modes—Power Saving Mode and Intelligent Power Saver—which can improve battery life even further. Plus, there's a Sleep Standby Optimisation feature, which turns off unnecessary features when the phone is in sleep mode for a long time.
On the battery charging front, the Realme XT is, once again, one of the best in its price segment. The phone comes bundled with a 20W VOOC 3.0 charger, which can top up the phone's completely depleted battery within 90 minutes, while a 50% charge can be topped-up in just 30 minutes. I tried charging the phone using OnePlus' 20W Fast Charger and 30W Warp Charger, and they filled up the phone's battery similarly fast.
Should You Buy The Realme XT?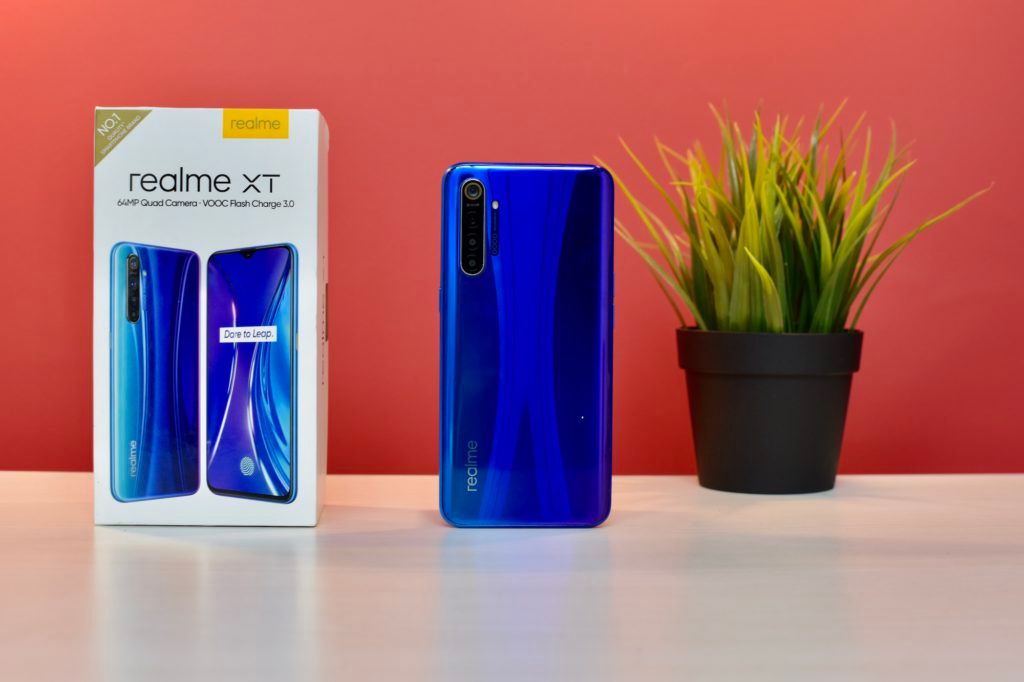 If you are looking out for a smartphone with a budget of anywhere between Rs 15,000 and Rs 20,000, the Realme XT looks like a great choice. It has a good design, an AMOLED screen, an excellent set of front and rear cameras, extremely good performance, a fast fingerprint reader, close to 2-day battery life, and fast battery charging with the bundled charger. The only thing that makes the experience slightly sour is the phone's software and UI. If Realme pushes the upcoming major UI redesign soon, it can find even more takers for the phone.
The Redmi Note 8 Pro, which is the Realme XT's closest competitor in terms of pricing and feature set, has a better software (although filled with ads and adware) but worse thermal performance and screen. The Vivo Z1x has an AMOLED screen but its cameras aren't as good. With the kind of promise Realme has shown recently, I am eagerly waiting to see how the Realme X2 Pro performance against the ASUS Zenfone 6Z, Redmi K20 Pro (Review), the OnePlus 7T (Review).