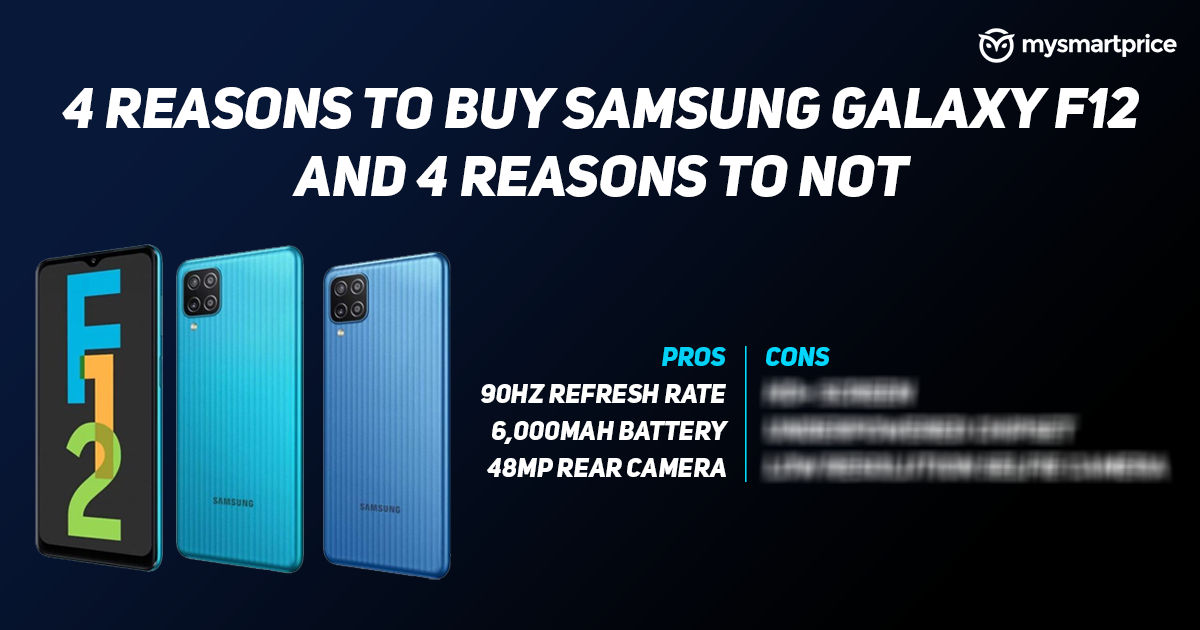 The Samsung Galaxy F12 is officially here in India, and it caters to the juncture between the budget and mid-range categories in the Indian smartphone market. The smartphone, as expected, brings in a set of competitive features that Samsung hopes can ably rival other budget and mid-range smartphone offerings from Chinese OEMs such as Xiaomi, Redmi, Poco, Realme, Oppo and Vivo in the country. Priced onward of Rs 10,999, the Galaxy F12 gets a number of things right, while giving a few notable misses too. Here's looking at four reasons why you would want to buy the Samsung Galaxy F12, and four reasons why you wouldn't.
Reasons to buy the Samsung Galaxy F12
Despite being a price conscious offering, the Galaxy F12 does offer plenty of interesting features to keep it in consideration among smartphones in the Rs 10,000 price point. Here's looking at the four key reasons that may make you want to buy the phone.
90Hz refresh rate
The Galaxy F12 is one of the most affordable smartphones right now that offers a 90Hz fast refresh rate display. While flagship grade smartphones have moved on to 120Hz adaptive refresh rate displays (and even 144Hz ones), a 90Hz refresh rate still does the trick for a smooth scrolling experience, and the Galaxy F12 can achieve exactly that.
6,000mAh battery
Samsung has been ensuring good battery stamina out of its recent smartphones by packing in higher capacity batteries, and the Galaxy F12 is no exception to that rule. The new Samsung Galaxy F12 gets a 6,000mAh battery, and going by Samsung's recent devices, the latter should offer good battery stamina even with medium to intensive usage.
48MP quad rear cameras
Despite falling in the budget price ranges, the Samsung Galaxy F12 has put on offer a 48MP quad rear camera setup – something that would have only been reserved for premium devices until a few years ago. The Galaxy F12 gets a 48MP main camera, a 5MP ultra-wide unit, a 2MP macro unit and a 2MP depth assistance unit, with support for up to full HD video recording.
Android 11
The Galaxy F12 runs Android 11 out of the box. As a result, you will not be needed to keep waiting for the latest version of Android to arrive some time in the future, which is often the case with budget smartphones in the Android ecosystem. Thankfully, Samsung has also become more regular with security updates, which should also hit your device at regular intervals.
Reasons to NOT buy the Galaxy F12
While there are a number of compelling reasons that sees the Galaxy F12 make a case for itself, it unfortunately has a number of major shortcomings in areas where rival smartphone makers simply offer much more. Here are four reasons for you to avoid the Galaxy F12.
HD+ display
All said and done, a sub-Full HD display panel in today's world simply does not cut it, and the Galaxy F12 has attempted to cut corners by offering 90Hz refresh rate, but only in an HD+, 720 x 1600 pixels resolution screen. The 20:9 HD+ display falls short on the pixel density count against pretty much every other rivalling smartphone out there.
Under-powered chipset
The Galaxy F12 is powered by an Exynos 850 SoC, which was announced by Samsung in the end of 2019, and was targeted specifically at entry-level smartphones. This SoC deploys eight Cortex-A55 cores from ARM, which are typically used for low-intensity tasks only. As a result, the chipset onboard the Galaxy F12 may struggle to load games or other intensive apps.
Low resolution front camera
The single drop notch on the Galaxy F12's display includes an 8MP front snapper, with HDR selfies and HD video calling support. While this no-frills approach may take care of basic functionality, it is indeed barebone to say the least. It also offers lesser output resolution, and is far from impressive on any account.
Only 15W fast charging
Finally, the Samsung Galaxy F12 most likely take way too long to charge, since backing up its 6,000mAh battery is a 15W fast charging power setup – which is no longer fast given how fast charging has evolved. Pretty much all competitors today offer much faster fast charging setups, and the Galaxy F12 is well behind the curve on this note.