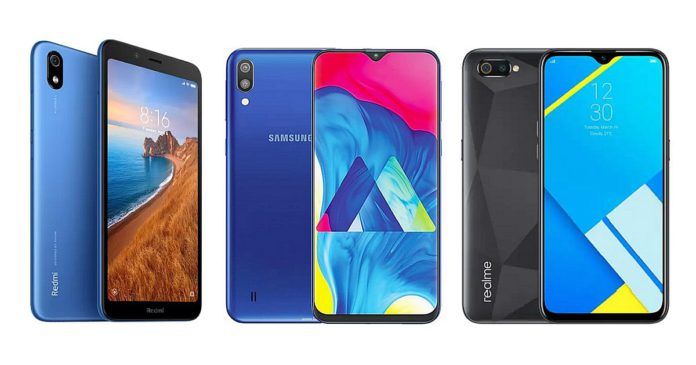 With the launch of the Redmi 7A, we have a new entry-level Android smartphone competing for the attention of prospective buyers. Realme has been going strong in this segment with the Realme C2 (review) being its latest offering. Samsung also recently made a splash in the budget smartphone scene, with the Galaxy M10 (review) being its most affordable offering. Does the Redmi 7A have what it takes to rise to the occasion and dominate this market space? Let's find out.
Redmi 7A vs Realme C2 vs Samsung Galaxy M10: Price in India
Xiaomi has launched the Redmi 7A in India at a starting price of INR 5,999 for its 2GB RAM + 16GB model, while a bump to 32GB of storage will cost INR 6,199. The Realme C2 is also priced at INR 5,999 for its 2GB RAM + 16GB storage model. However, it offers a 3GB RAM + 32GB storage upgrade for INR 7,999. Then there is the Samsung Galaxy M10 that costs INR 6,990 for its base 2GB RAM + 16GB setup, while a 3GB RAM + 32GB Storage upgrade will set you back by INR 7,990.
Redmi 7A vs Realme C2 vs Samsung Galaxy M10: Design, Display
While both the Realme C2 and Galaxy M10 have moved on to offering slim-bezel displays with waterdrop notch designs, the Redmi 7A still offers thick top and bottom bezels. In terms of aesthetics, the Realme C2 looks the most appealing with its 'diamond-cut' design rear panel. All three offer 720p resolution screens with roughly the same pixel density.
Redmi 7A vs Realme C2 vs Samsung Galaxy M10: Performance, Software
the Redmi 7A comes with a Snapdragon 439 chipset, the Realme C2 comes with a Helio P22 chipset, and the Galaxy M10 comes with an Exynos 7870 chipset. All three of these are octa-core CPUs with their differences in performance being too marginal to make a discernible impact in daily use.
With that said, the software on each of these devices will certainly contribute to different user experiences. The Realme C2's Android 9 Pie-based Color OS 6 Lite offers the cleanest and least-intrusive experience. Android Pie-based MIUI 9 on the Redmi 7A is still plagued with annoying ads in system apps. Then there is the Galaxy M10 which ships with Android 8.1 Oreo-based Experience UI but is upgradable to Android Pie-based One UI. Even if this is a lite version of Samsung's OS, we feel it will be too heavy for a phone of this caliber to handle properly.
Redmi 7A vs Realme C2 vs Samsung Galaxy M10: Camera
In our experience, the Realme C2 with its 13MP +2MP rear and 5MP front camera fares slightly better than the 13MP +5MP rear and 5MP front cameras of the Galaxy M10. The Redmi 7A comes with a single 12MP rear shooter and a 5MP selfie camera. We don't expect overall imaging performance to be any better here than what is manageable by other phones at this end of the market.
Redmi 7A vs Realme C2 vs Samsung Galaxy M10: Battery Life
Both the Redmi 7A and Realme C2 come with 4000mAh batteries that support 10W charging. As such, the battery lives of both smartphones should be more or less the same. That said, the Galaxy M10 comes with a rather small 3400mAh battery that can't sustain itself as long as its rivals.
Redmi 7A vs Realme C2 vs Samsung Galaxy M10: Verdict
If we consider only the base variants of these phones, then the Realme C2 is the best option because of its superior looks, wider display, and cleaner software. That said, the Redmi 7A is a decent enough alternative as long as you can deal with its the ad-infested UI. If you were planning on getting the Redmi 7A's higher storage model as it offers 16GB of more storage for just INR 200 more, keep in mind that all the phones in this comparison offer dedicated SD card trays, and a 32GB microSD card isn't all that more expensive. Don't bother going for the 3GB RAM model of the Realme C2, though, as the price bump for that model is absurd. As for the Galaxy M10, both of its storage variants are way too overpriced for what they offer.
Thanks for reading till the end of this article. For more such informative and exclusive tech content, like our Facebook page