Highlights
The base price of ₹29,999 makes the Redmi Note 12 Pro+ the most expensive Redmi Note device ever
Its 200-megapixel Samsung ISOCELL HPX primary sensor is a first for the segment
Along with 120W Hypercharge tech, it also has a MediaTek Dimensity 1080 SoC at its heart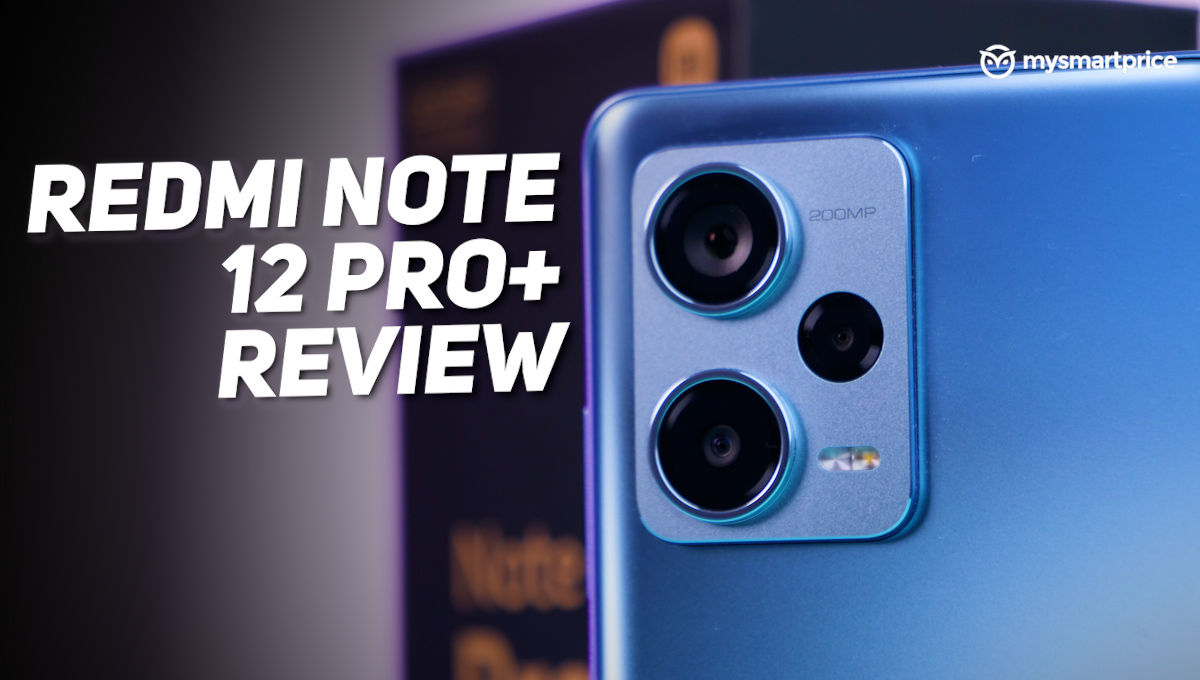 The Redmi Note 12-series is set to be the first launch of the new year. But, Xiaomi surprised us while introducing their first launch of 2023 by pointing out some glaring errors they committed with the outgoing Redmi Note 11-series.
Redmi Note 12 Pro Plus
₹29,999
What Is Good?
Confident primary camera
Fast charging
Long lasting battery life
3.5mm headphone jack
Decent performance
What Is Bad?
Buggy interface
Bloatware
Display could have been brighter
Poor low-light ultrawide performance
Speakerphone volume needs to be fixed
It takes guts to accept your own mistakes, especially when you're one of the biggest smartphone makers in India. So instead of being complacent, Xiaomi dug deeper into what the problems were. First, they realised their buyers felt confused with as many as six Notes to choose from. Also, with the launch of 5G right around the corner, buyers felt even more flabbergasted when looking at the 4G options in the 2022 Redmi Note line-up. Then, in order to undercut their competition by selling their devices at lower than the rising average selling prices of smartphones, they cut a few important corners in the form of features. Finally, the rate at which people change their smartphones every few years is also changing – they want longer-lasting smartphones!
In essence, in an attempt to deliver to every budget-conscious customer out there, Redmi presented a 'paradox of choice' to their buyers.
So, what changes this time around? If you ask us, a lot because the top dog of the line-up, the Redmi Note 12 Pro Plus, is a step in the right direction. It's clearly playing the numbers game right, with stuff like '10-bit display', '120W Hypercharge', '200-megapixel Samsung ISOCELL HPX sensor'… Heck, even the name of its SoC has four numbers.
But does it deliver in the real world? Isn't launching the 'SuperNote' so early in the year a huge risk for Xiaomi? Lots of questions, but we answer them all in our review.
Redmi Note 12 Pro Plus Review: Revisiting the parts bin for design inspiration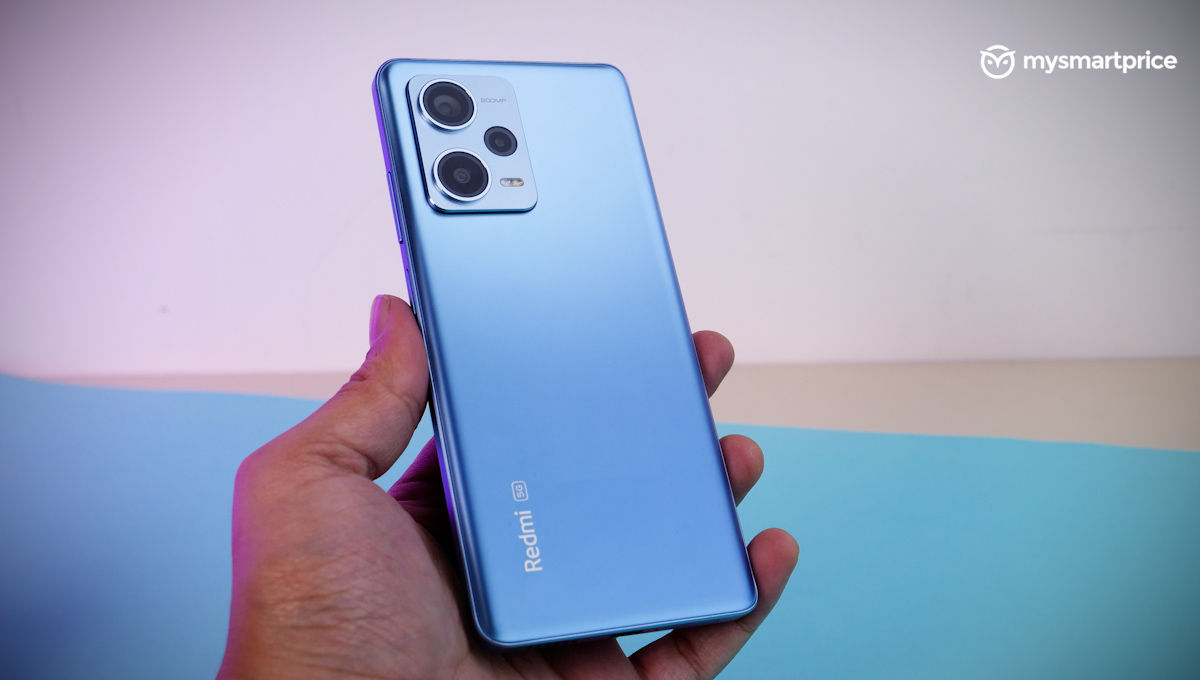 The blue and black variants of the Note 12 Pro+ come in a frosty finish, whereas the white variant has a glossy one. It kind of makes sense, given the winter launch of the phone. We also saw a similar rear finish on the Moto G72, and the two phones feel very similar in hand. It's a little less flashy than last year's Note 11 Pro+, which could blind you with hundreds of tiny little light rays diffracting into your eye from its rear. This year, it's a far more understated phone – almost to the point it's boring. The overall footprint is large, so reaching the corners single-handedly will require courage.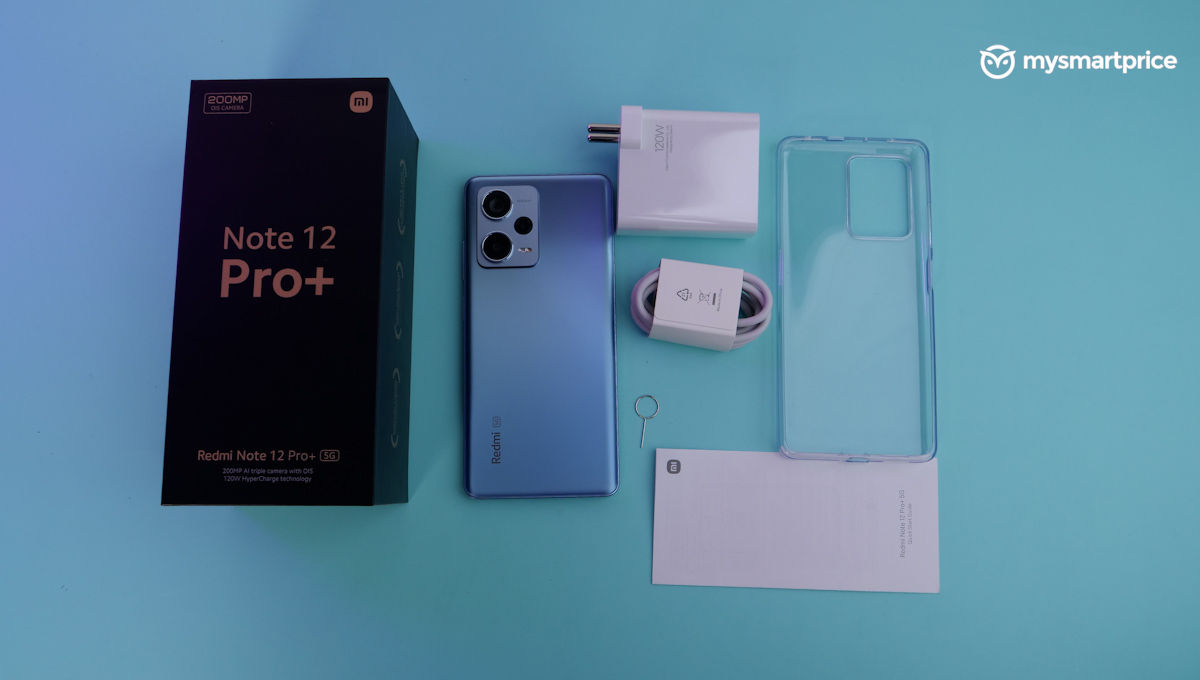 The camera module design is plucked from the Redmi K50i, except they have made the LED flash module horizontal. It still looks like a shocked robot face, which can be difficult to unsee, but it also induces a ton of wobble when kept on a table with its butt down. The railings protrude outwards to provide you with a confident grip and are busy with ports and holes on all sides except the left. The right side of it hosts the volume rocker and the power button, which doubles up as a fingerprint scanner. The bottom has a speaker grille, a USB Type-C port, and a SIM tray, whereas the top can induce a sense of trypophobia with holes for a mic, speaker grille and a 3.5mm headphone jack. Oh, and in typical Xiaomi fashion, there's an IR blaster here too.
In terms of durability, the front of the phone is wrapped in Corning Gorilla Glass 5, but the rear remains unprotected, open to the dangers of the world. We would recommend slapping a case on it. The phone is also IP53 rated for dust and water resistance, so minor splashes and tacking dusty roads while being mounted on a bike are no issues for the Note 12 Pro+.
Redmi Note 12 Pro Plus Review: The camera isn't a gimmick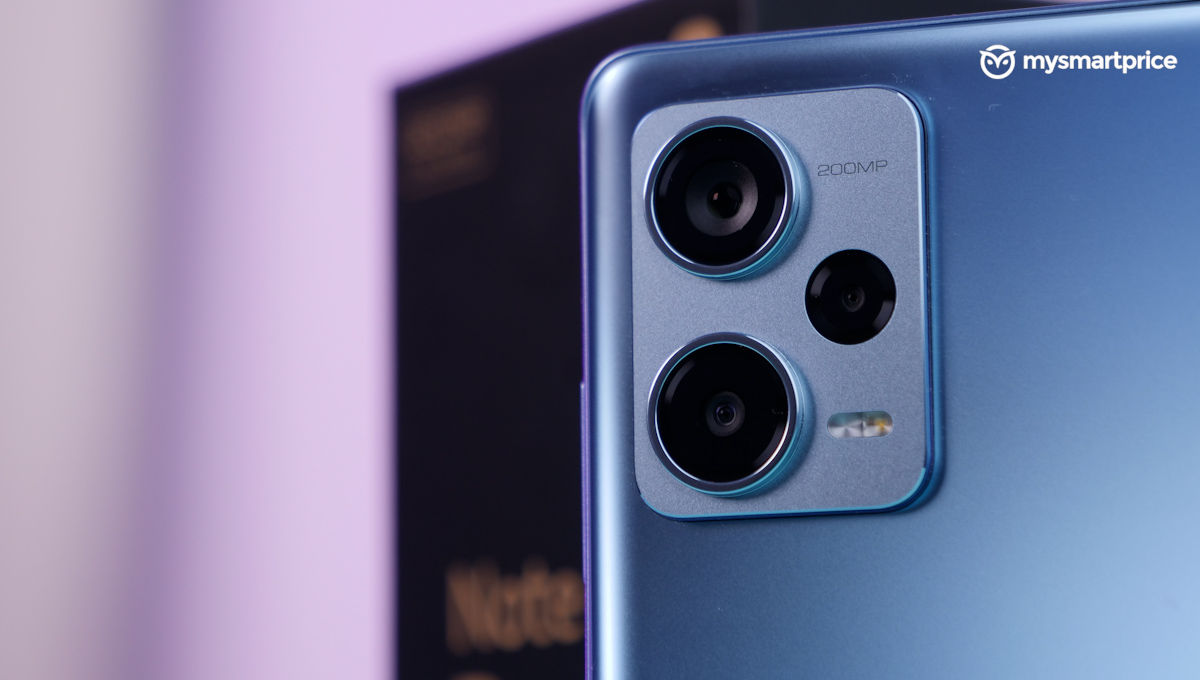 Now that we're familiar with how the Redmi Note 12 Pro looks, let's dive into its most lucrative selling point – its 1/1.4-inch 200-megapixel customised Samsung ISOCELL HPX sensor. It is optically stabilised and has an atomic layer deposition coating for reducing glare. Accompanying it is an 8-megapixel ultrawide and, hold up… a 2-megapixel macro?! We initially snubbed the macro camera, too, because it seemed inappropriate to pair up such a seemingly low-profile sensor with the HPX, but there's a reason why they've done it, which we will reveal soon. At the front is a 16-megapixel sensor for selfie duties.
We put the Note 12 Pro Plus' claims of capturing rich, sharp and dynamic photos to the test, and it delivered. For its price, the Redmi Note 12 Pro Plus' primary shooter is a confident performer, almost to a point when you can close your eyes and expect a decent shot. Admittedly, there are a few places where it falters, especially in terms of HDR, but we have a strong belief in it.
It consistently clicks well-exposed, detailed photos in natural lighting. The processing has some affinity to enhance reds, but otherwise, the colour palette is usually lovely and flat, with tons of scope for editing.
Despite the extra information, the dynamic range can appear to be overdone at times. Check out the reflection of the sunlight coming behind the curtains in the photo with the heater. It seems obvious that the image is processed.
Because of how big the sensor is, it naturally has a very shallow depth of field. It's good if you are taking close-ups, but it can blur scenery with a complex mix of foreground and background. So make sure you focus properly and take a couple of photos to be absolutely sure.
The 200MP mode effectively replaces a tele or periscope lens setup. The photo with the birdies is living proof of it. Even indoors, in really low light, it clicks really detailed shots. But UI-wise, it's a bit of a nightmare at the moment. Zooming with swipe gestures resorts to clicking 12-megapixel binned photos. The 200MP option is dug deep within the settings – tapping the Ultra-HD option in camera modes switches to a 50-megapixel output. It requires a total of four taps to click a 200-megapixel image, by which the moment or the mood is lost.
The ultrawide camera seems archaic compared to the primary, especially on the details front, but it keeps its colour mapping consistent. It struggles in low light because of how much noise it captures. In order to counteract this, the processing smoothens the photo, yielding a muddy look. It clicks photos even redder than what the primary sensor clicks.
Here's why we think they included the macro camera in the mix – the primary sensor struggles to focus with subjects too close to its lens. We tried to recreate the same macro shot with the primary sensor in '200MP Mode' (after cropping it, of course), and the results weren't satisfactory. So the macro is here to stay.
Portrait mode is one of the best at this price, and the extra information really helps in processing. The cutouts are accurate and true to life. All you need to do is tweak the strength of the effect sometimes. Night portraits are also very respectable.
Speaking of night, low-light shots can come out a bit too oversaturated with heightened red tones. The LED strip spiralled behind the curtains was originally set to orange, but the result was a red photograph. The anti-glare coating helps though, as can be seen in the shot with the motorcycle lights turned on.
Another surprise is it can record optically stabilised 4K videos at 30 fps – thank you very much!
So, while the Redmi Note 12 Pro Plus clicks some great photographs, the inability to quickly access the '200MP Mode' is a huge opportunity missed. It is a software thing, so we can expect some reforms if customers and reviewers raise their voices together.
Redmi Note 12 Pro Plus Review: Lasts long, charges faster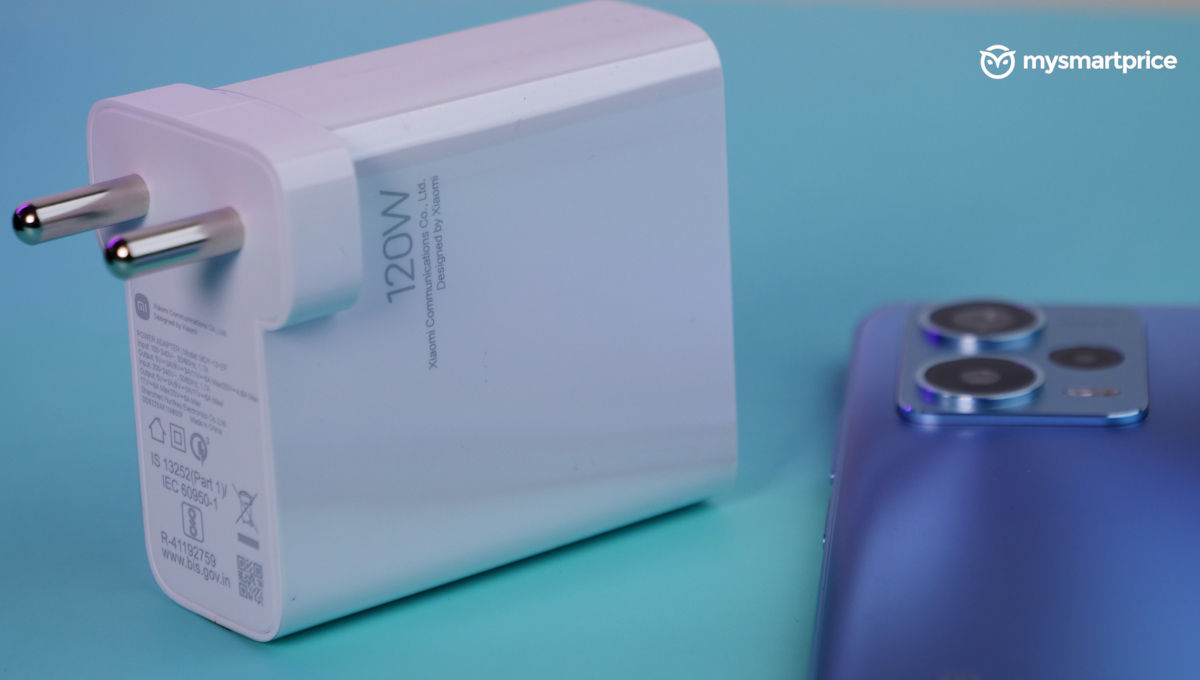 Another marquee feature of the Redmi Note 12 Pro Plus is the charging speed of 120W and a battery that squeezes in roughly 5,000mAh of charge. We love the fact that this deadly combo is coming down to smartphones of this price point. I wish the premium phones could take a page from this book.
Xiaomi's claims are bold – about 19 minutes for a full charge from 1% battery. We can confirm the same, although this will require you to enable the 'Boost charging speed' feature within the battery settings. We do not wish to talk much about the temperature fluctuations while charging because we tried this mostly with an ambient temperature of 18 degrees Celsius, but we didn't observe any throttling in charging speeds or excessive heating in our usage.
The battery can easily last a day with moderate to heavy use, but using it with care and respect will also take you to the second day. We saw a screen-on time of roughly seven and a half hours, which is respectable. The phone can be aggressive when saving battery, though. It stops checking for notifications when it's under 20% of the charge or when it's trying to get through the night untouched. This results in better battery performance but at the expense of losing out on critical notifications.
Redmi Note 12 Pro Plus Review: Improvements in performance trump UI quirks
The new MediaTek Dimensity 1080 sits at the heart of the Redmi Note 12 Pro Plus. It sadly isn't receiving as much attention as it should because the high-resolution camera and fast charging tech have stolen its thunder. However, Redmi says it has gone for this because it's the only SoC, other than Qualcomm's flagship offerings, which supports a sensor with such a high pixel count.
It's still a considerable upgrade over the outgoing Qualcomm Snapdragon 695 in synthetic benchmarks and real-world use. Paired with this is up to 12GB of LPDDR4X RAM and 256GB of UFS 2.2 internal storage. If you're feeling rambunctious, you can allot 3GB of your device's internal storage as extended RAM, although in such high configurations, its benefit will barely be seen. Also, because the base configuration starts with 256GB of storage, there's no microSD card slot here.
Running this mix of silicon is MIUI 13, based on a year-old Android 12. This is outdated in comparison to the Realme 10 Pro-series, which runs the latest version of Android. However, Xiaomi has promised to deliver two years of software updates and four years of security updates, so an Android 13 update may soon be on its way.
Moving on to synthetic benchmarks, in AnTuTu v9, the Note 12 Pro Plus managed a score of 432087, whereas, in Geekbench 5, we saw 761 and 2017 single-core and multi-core scores, respectively. 3DMark refused to run on our particular unit. So, this is about a 16% improvement over its predecessor, although you also have to consider the hike in price.
This bump in performance was evident in day-to-day use too. Because our unit had 12GB of RAM, we never really spotted any apps starting from the splash screen, and the overall memory management was effective too. The multitasking menu is super responsive, even when gaming and animations flow smoothly. Apps would load immediately, even the tricky ones like Google Maps, and touch responsiveness was snappy.
Redmi isn't marketing this phone to gamers, but it can ditch its heels to provide a decent enough experience. It's got a Vapor Chamber dedicated cooling system to tame it down during sustained workloads. In Apex Legends, it defaults to Normal graphics and frame rate settings. We played a thirty-minute long game with HD graphics and a High frame rate and observed an average frame rate of 40 fps. Call of Duty: Mobile ran steadily at 40 fps while gaming on High graphics at a Very High frame rate. To get even more competitive, we turned the graphics down to Low and frame rates to Max, and here we consistently got 60 fps. This makes it a decent phone to game on to blow some steam off, but if you really want to take things to the next level, the iQOO Neo 6 and Poco F4 are still better gaming options.
Our only gripes were with the tiny little quirks of MIUI 13. Apart from the bloatware, the interface has some issues that only come to notice when you start digging your teeth in. For example, there was a bug in which notifications would appear in low-contrast background and text when the dark mode was enabled – very disconcerting when you receive something outdoors, especially when the phone is mounted on a navigation unit. Our unit also had this really annoying auto-rotate bug which made the phone super-slow while switching between orientations. And while the bloat is far less than what its competitors have to offer, we wish it had a single kill switch to disable notifications from GetApps and Themes. Finally, the speakerphone volume is also low, even when yanked to the fullest. This was observed in WhatsApp and regular calls too, which is a bummer because the speakers sound decent otherwise.
Call quality is subjective; currently, all networks are undergoing frequent call drops as 5G infrastructure is being implemented. That said, the Redmi Note 12 Pro+ supports 10 5G bands and latches on quickly to 5G networks on both Airtel and Jio networks. We spotted top download and upload speeds of 216 Mbps and 52 Mbps, respectively, indoors on Airtel, which was very good. Unfortunately, the phone also didn't heat up while 5G was being used.
Redmi Note 12 Pro Plus Review: They didn't entirely forget the display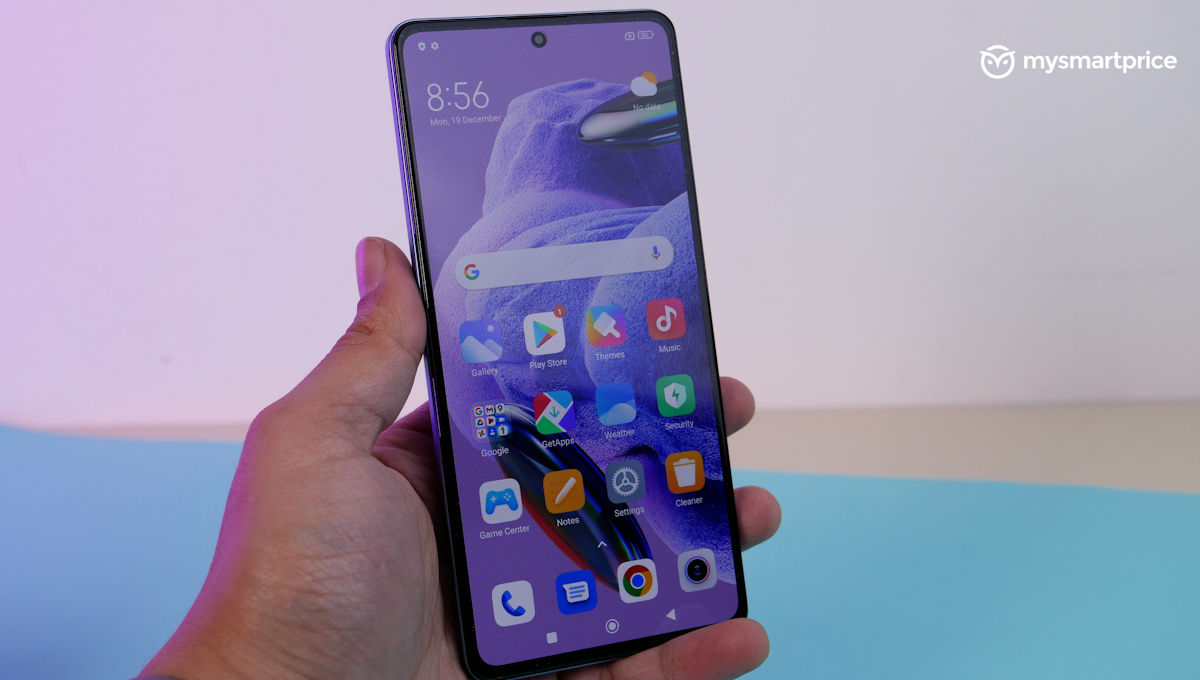 At the front, the Redmi Note 12 Pro Plus is lit by a 6.67-inch display with a refresh rate of 120Hz and Full HD+ resolution. All this is identical to its predecessor, but here's what's new – 10-bit colour depth, so it's capable of producing 1.07 billion colours. This is at the expense of lower peak brightness, so now it's down to 900 nits in high brightness mode. Outdoor legibility is fine, and the difference is somewhat evident when you keep the two phones side by side. So, if you're someone who watches a ton of content indoors, this is the one for you. But, if you like to go outdoors and navigate with your phone, you don't really need an upgrade if you have the Note 11 Pro+.
You also get HDR10+ and Dolby Vision support, along with Widevine L1 compliance. Netflix takes advantage of the Dolby Vision certification, and we enjoyed the dark episodes of The Serpent reasonably well. For people with OCD for display bezels, the forehead and chin of the display are nearly identical in width.
The display is excellent and responsive, but we set the colour scheme in the settings to Saturated instead of the default Vivid profile to suit our palate.
Redmi Note 12 Pro Plus Review: Verdict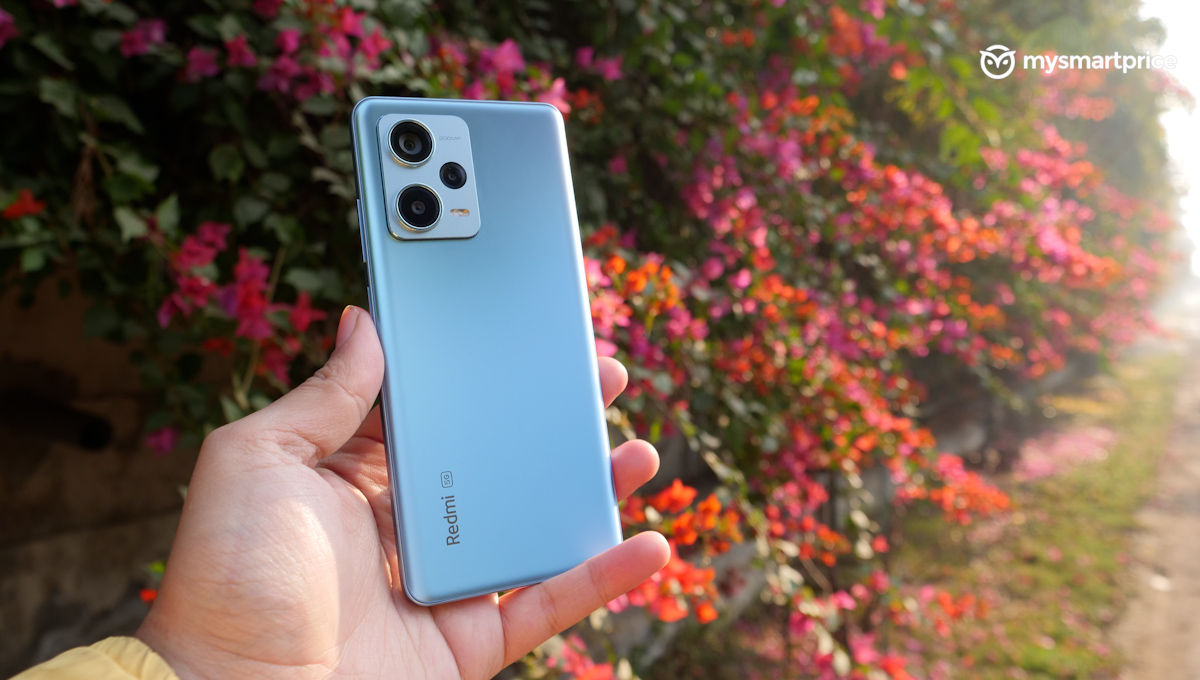 Given how risky it is to be the first smartphone of the year, the Redmi Note 12 Pro Plus has done alright. At Rs 29,999, its 200-megapixel camera brings unparalleled quality to the masses, the 120W charging is a meaningful addition to the feature package, and the Dimensity 1080 is a reasonable refresh in terms of performance.
We wish the display was brighter, the ultrawide camera had better functionality, and there were fewer bugs in MIUI, but it's still a very Note-worthy smartphone.
The Realme 10 Pro Plus immediately comes to mind as a contender, with the same SoC and similar pricing. But having a clutch camera is a far more practical thing than having a curved display. It also needs to catch up slightly in terms of charging wattage, but we are willing to overlook that.
The same price will also get you gaming focused goods such as the iQOO Neo 6 and Poco F4, but at the expense of slower charging and camera. The Nothing Phone (1) with its LED back panel also awaits to get your attention here.
Will the Redmi Note 12 Pro Plus command this respect as the competition gets juicier over the year? We don't really know. But it'll be interesting to see what innovations become mainstream this year.