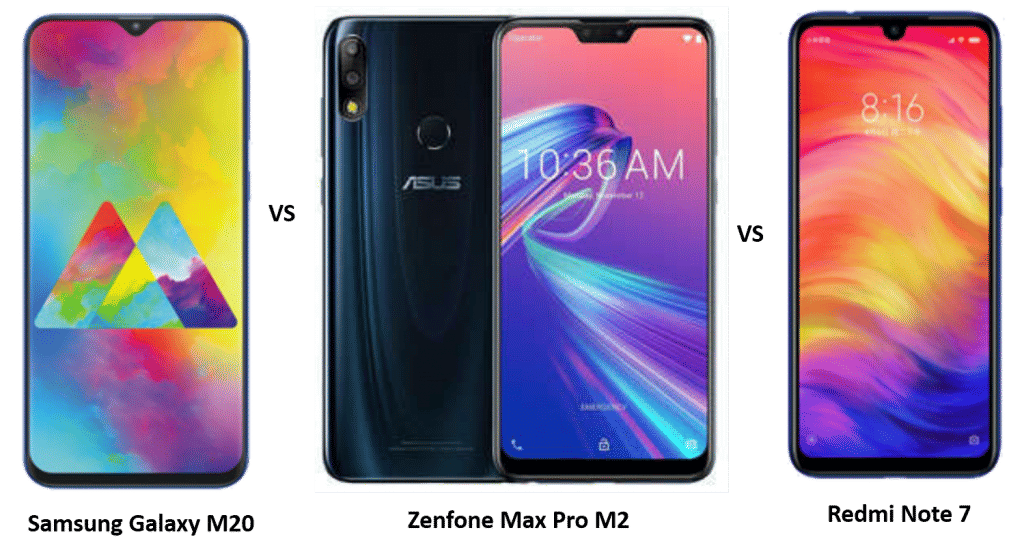 For the past 2-3 years, the Indian smartphone segment has grown immensely. Much credit for this growth goes to the budget segment (under Rs15,000) and Xiaomi was the one company that was riding this wave successfully till now. Last year, when Asus launched the Zenfone Max Pro M1 and then followed it up with the blockbuster Zenfone Max Pro M2, all of us (me included) thought that maybe Xiaomi's time as the undisputed budget king is over. A couple of months back, even Samsung decided to get serious about this segment and launched the Galaxy M series, which is more or less, its first serious contender in the budget segment. But Xiaomi had other plans, and today it has taken the tech world by surprise by announcing the Redmi Note 7 Pro and the Redmi Note 7 in India. So who will have the last laugh in this battle of budget phones? Let's find out.
Redmi Note 7 vs Samsung Galaxy M20 vs ASUS Zenfone Max Pro M2: Price in India
All three of these smartphones come with 3GB of RAM and 32GB of storage for their base variants. The Max Pro M2 is the most expensive of this lot, coming in at Rs 12,999 for this variant. The Galaxy M20's base variant sells for Rs 10,990 and the newly launched Redmi Note 7 undercuts both of these easily coming in at Rs 9,999 for its corresponding variant. The 4GB RAM/64GB storage variants of these phones cost Rs 14,999; Rs 12,990 and Rs 11,990. The Zenfone Max Pro M2 was one of the most aggressively priced handset when it launched, but it's clear that Redmi has there's no beating Xiaomi when it comes to pricing your phones right. The Zenfone Max Pro M2 sells another variant with 6GB RAM and that's priced at Rs 16,999.
Redmi Note 7 vs Samsung Galaxy M20 vs ASUS Zenfone Max Pro M2: Specifications, Features
Despite being the cheapest phone of the lot, the Redmi Note 7 features the most premium build here, with a Corning Gorilla Glass 5 back, which looks stunning to say the least. And more so, when you compare it against the bland plastic back of the Galaxy M20. The Max Pro M2 tries to redeem itself with its glossy plastic back, but there's no denying that the Redmi Note 7 is the clear winner when it comes to the design. That being said, all three phones feel pretty solid in the hand and considering that the M20 and the Max Pro M2 feature massive batteries, it's amazing that none of these phones feel too bulky in the hand (unlike the Motorola One Power).
Coming to the front of the devices, all three phones here feature FHD+ resolution LCD screens. The Zenfone Max Pro M2 comes in last in terms of aesthetics as it features a 5.99-inch screen with a full-size conventional notch. The Galaxy M20 features what Samsung likes to call 'an Infinity-V' display, which is basically a 6.3-inch screen with a V-shaped waterdrop notch at the top. Talking about fancy naming conventions, the Redmi Note 7 comes with a 6.2-inch 'Dot Notch' display with a U-shaped notch at the top. The M20's screen gets really bright and it's an absolute joy to consume content from it. The screen brightness is one area where the Zenfone lacks behind the other two here.
Now coming to the internals, as mentioned earlier, all of these phones come in similar memory configuration – 32/64GB of storage options, coupled with 3/4 gigs of RAM (with the Zenfone Max Pro M2 having an additional variant with 6GB RAM). The Zenfone Max Pro M2 and the Redmi Note 7 both are running on Qualcomm's Snapdragon 660 processor, which is one of the best mid-range chipsets available in the market right now. The M20 runs on Samsung's own Exynos 7904 chipset, which is not as powerful as the SD660, and is more comparable to the SD636 chipset. Day-to-day tasks run smoothly on all these devices. However, when it comes to gaming, the Note 7 and Max Pro M2 have a fair amount of advantage over the M20.
Coming to the software side of things, the Zenfone runs a stock Android experience and it has already received an update to Android Pie 9.0. The Redmi Note 7 launched with Android Pie 9.0 with MIUI 10 on top. The M20 is still running on Android Oreo with Samsung Experience 9.5 on top. Now, one of the most important features of any phone in today's age is its battery; and all of these phones come pretty loaded in that field. The Max Pro M2 and the Galaxy M20 boast of massive 5000mAh batteries, while the Redmi Note 7 also features an impressive 4000mAh cell. The Max Pro M2 is the only phone here still missing fast charging and featuring a micro USB port, as both the other phones come with USB Type-C ports and support for fast charging.
Finally, the Cameras. As is the norm, all three of these phones feature dual camera setups at the back. The Max Pro M2 comes with a 12MP (f/1.8 aperture lens) primary sensor and a 5MP depth sensor. The Redmi Note 7 also comes with a 12MP primary camera assisted by a 2MP depth sensor. The Galaxy M20 features a 13MP (f/1.9) primary camera with a 5MP ultra-wide lens. I personally really like wide angle lenses as they add a whole new perspective to your images. On the selfie side, all three phones come with a 13MP camera. However the M20 features a slightly bigger aperture (f/1.9) as compared to f/2.0 on the other two.
Redmi Note 7 vs Samsung Galaxy M20 vs ASUS Zenfone Max Pro M2: Verdict
The Zenfone Max Pro M2 was one of the most impressive budget phones launched in 2018. But that's where the problem lies. It was launched 6 months back, and in consumer tech speak, that's a long time. It's still a very capable phone, with its super efficient processor, mammoth battery and stock Android experience. The Galaxy M20, is as 2019 as a budget phone gets, with a V-drop display, huge battery, USB Type-C, fast charging, plus it has the Samsung brand name to boast of. The only thing that lets it down is its processor. If Samsung had fitted this phone with a SD660 or even a Mediatek P70, the M20 could have become the phone to beat in the under 15k segment. But, well, for today's comparison, the clear winner, has to be the Redmi Note 7. It's amazing how much has Xiaomi managed to pack in a budget device. We've got a glass body, a SD660, Quick Charge 4.0, USB Type-C and all this for a price under 10K! I'm still shocked at that pricing and I will continue to be so for some time. But if you're looking to buy a budget phone anytime soon, look no further than the Redmi Note 7.