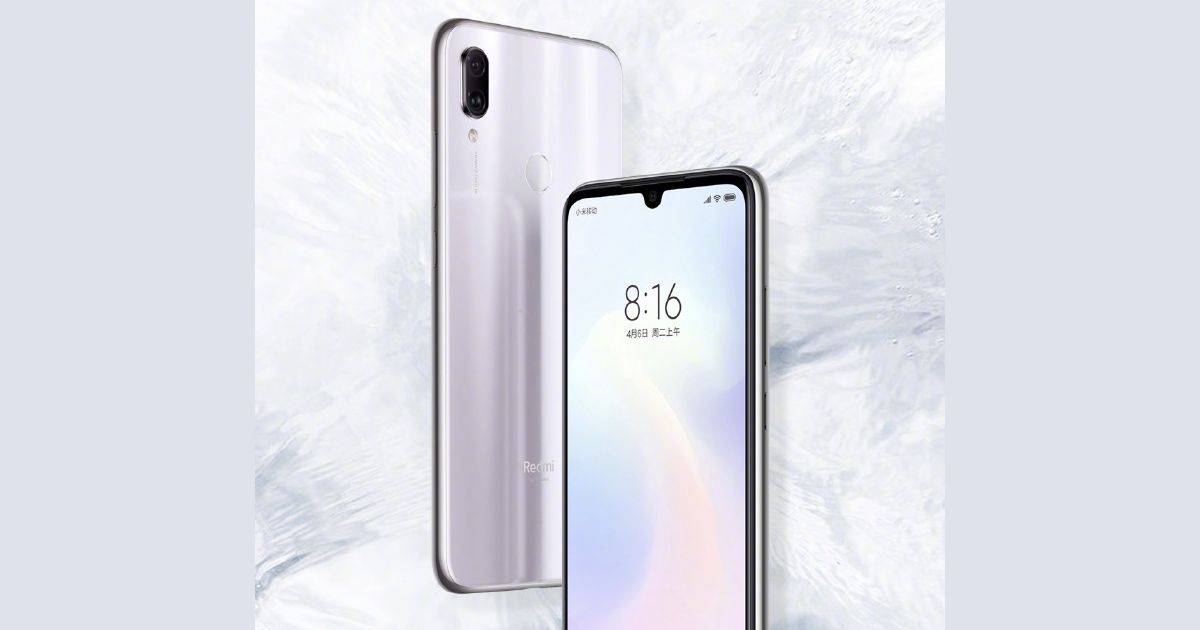 The Redmi Note 7 series smartphones have been very well received by customers not only in India but also in the brands home country. Now, Xiaomi has announced the release of a new color variant for the smartphone lineup. Potential buyers will soon be able to get either a Redmi Note 7 (review), Redmi Note 7S (review) or a Redmi Note 7 Pro (review) featuring a glossy white paint job over its rear panel.
The glossy white color on the upcoming Redmi Note 7, 7S and Note 7 Pro phones appears to have vertical patterns that will shift depending on how light falls on it. This color is quite similar to what we have already seen on one of the color variants of the recently unveiled Xiaomi Mi CC9 and Mi CC9e. One main difference, however, is with the Mi CC9 phones possessing rainbow-esque color shift effects, while the Note 7's white option seems to be monochrome.
The announcement of a new color model for the Redmi Note 7 series comes via a Weibo post by Redmi's official handle on the microblogging site. just a day before, the brand had teased that there would be a new color variant launching for the Note 7 series. While we now know that this will be a glossy white option, Xiaomi hasn't announced the official naming convention for this it. While our Chinese is not perfect, a quick run through Google translate confirms that Xiaomi is asking its fans to guess what this model will be called. It is possible that Xiaomi hasn't come up with an official name, and is letting its fans participate in the choosing process.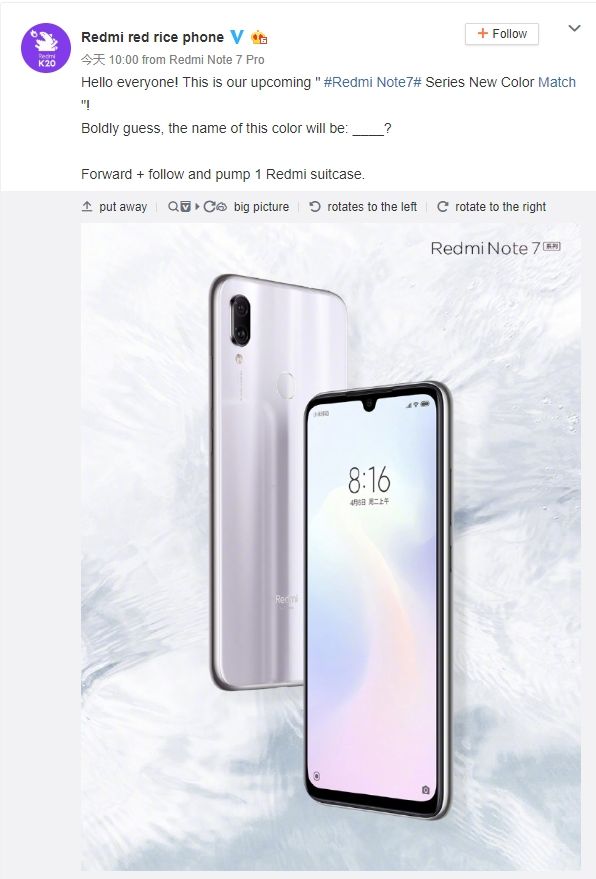 It can also be that this is simply an engaging little game and that the official name would be revealed in the coming days. Regardless of what the situation might be, Xiaomi is most certainly feeling generous as it has instructed fans to share the post and follow its Weibo account, and doing so will get one lucky fan a free Xiaomi suitcase. The phone maker conducted another such giveaway on yesterday's Weibo post where one lucky winner would have received a free pair of Bluetooth wireless earphones.
Redmi Note 7, Note 7 Pro Available Options
The Redmi Note 7 is currently offered in three color options – Onyx Black, Sapphire Blue, and Ruby Red. Meanwhile, the Redmi Note 7 Pro can be had in Nebula Red, Neptune Blue, and Space Black options. As far as the new color option goes, names such as Frost White, Pearl White, Ice Feather White, Milky White and more have been suggested by fans so far.
What do you think the new phone color should be called? Let us know in the comments below.