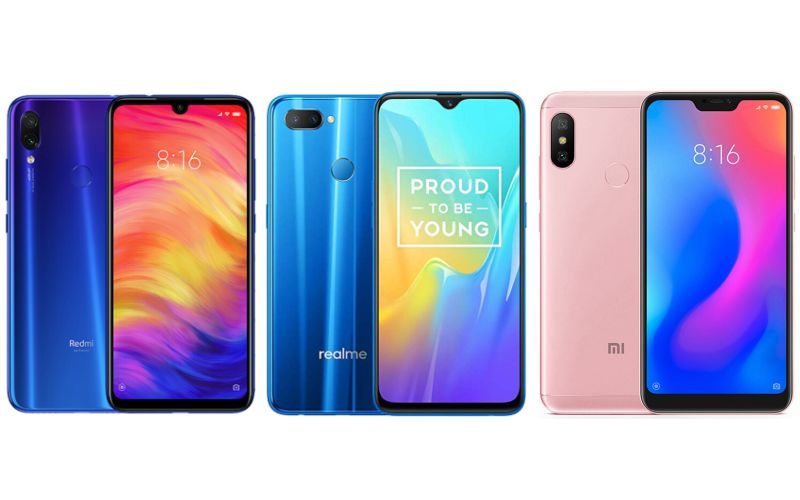 The recently launched Redmi Note 7 seems to be quite a success, with its recent sale being just as successful as its first one. When market disrupting smartphones like the Note 7 are released, other phone makers tend to slash their prices in order to remain competitive. The fact that Note 7 is selling out in mere minutes kind of puts other brands in a good position as their older offerings tend to remain in stock, attracting the eyes of prospective buyers urgently in need of a smartphone. Two such offerings we can think of that have become competitive thanks to recent price drops include the Realme U1 and Xiaomi's own Redmi 6 Pro (review).
Without further ado, let's compare these phones and see if the latter two are worth picking up or will you be better off waiting for the Note 7 to go on sale again.
Redmi Note 7 vs Realme U1 vs Xiaomi Redmi 6 Pro: Price in India
The Redmi Note 7 starts off at INR 9,999 for its 3GB RAM + 32GB storage model. Its 4GB RAM+ 64GB storage variant is priced at INR 11,999.
The Realme U1 also has the same storage setups as the Note 7, and even starts off at INR 9,999. Its 4GB model, however, costs INR 12,499.
The Redmi 6 Pro is a bit cheaper at INR 8,999 for its 3GB model and INR 10,999 for its 4GB model.
Redmi Note 7 vs Realme U1 vs Xiaomi Redmi 6 Pro: Design, Build
When it comes to build quality and design, the Redmi Note 7 easily beats out the competition thanks to its use of Gorilla Glass 5 on both the front and back. The other two phones are built using plastic, but at least the Realme U1's rear panel offers a glossy finish while the Redmi 6 Pro has a plain dull backing. Also, the 6 Pro's segmented design is quite dated.
Redmi Note 7 vs Realme U1 vs Xiaomi Redmi 6 Pro: Display
The displays on both the Note 7 and U1 are quite similar. Both LCDs measure 6.3-inches, offer 1080 x 2340 pixel resolutions, and bear waterdrop notches at the top. The 6 Pro, meanwhile, provides a 5.84-inch LCD with a resolution of 1080 x 2280 pixels and a relatively wider notch.
Redmi Note 7 vs Realme U1 vs Xiaomi Redmi 6 Pro: Camera
If we look at pure numbers, rear camera photography on all three phones should be comparable. The Note 7 offers a 12MP +5MP setup, the U1 has a 13MP + 2MP setup, and the 6Pro bears a 12MP +5MP setup. With that said, the Note 7 recently got an update for night mode photography, and a similar update is about to arrive for the U1 soon.
As for selfie performance, the U1 – a phone explicitly marketed as India's Selfie Pro – offers a superior 25MP front-facing sensor. The Note 7 is next with its 13MP front shooter, with the 6 Pro coming in at last place because of its 5MP selfie camera.
Redmi Note 7 vs Realme U1 vs Xiaomi Redmi 6 Pro: Software, Performance
In the performance showdown, it's not a surprise to see the Note 7 take the lead with its Snapdragon 660 chipset. It is also the only phone here to support dual-band Wi-Fi, a feature that makes all the difference if you are a competitive mobile gamer. The Realme U1's Helio P70 chipset is another decent performer for both regular use and games. The 6 Pro's Snapdragon 625, on the other hand, has begun to show its age and can no longer sustain heavy use.
As for software, the Note 7 comes with Android 9.0 Pie-based MIUI 10 out of the box. The 6 Pro has received this update, so the overall experience should be the same. The U1 still runs Android 8.1 Oreo with ColorOS 5.2, but an update to Android 9.0 Pie-based Color OS 6 is just about a month away.
Redmi Note 7 vs Realme U1 vs Xiaomi Redmi 6 Pro: Battery Life
Both the Note 7 and 6 Pro come with 4000mAh batteries. However, the former gets Quick Charge 4 support over its USB type-C port while the latter gets 10W fast charging over its microUSB port. Then we have the Realme U1 with its 3500mAh battery that supports 10W fast charging and charges over microUSB.
Redmi Note 7 vs Realme U1 vs Xiaomi Redmi 6 Pro: Verdict
In conclusion, waiting for the Redmi Note 7 to go on sale again is the most sensible choice if you are looking for the absolute best in this price segment. If you just cannot wait and have to grab a phone and the U1 and 6 Pro are your only options, then their new prices are relative to their values. At INR 1,000 more for the U1, you are getting a relatively better package. It even has the best selfie camera out of all the phones in today's comparison. As for the Redmi 6 Pro, even with it being the cheapest option here, it is hard to recommend the phone because of its outdated aesthetics and underpowered chipset.