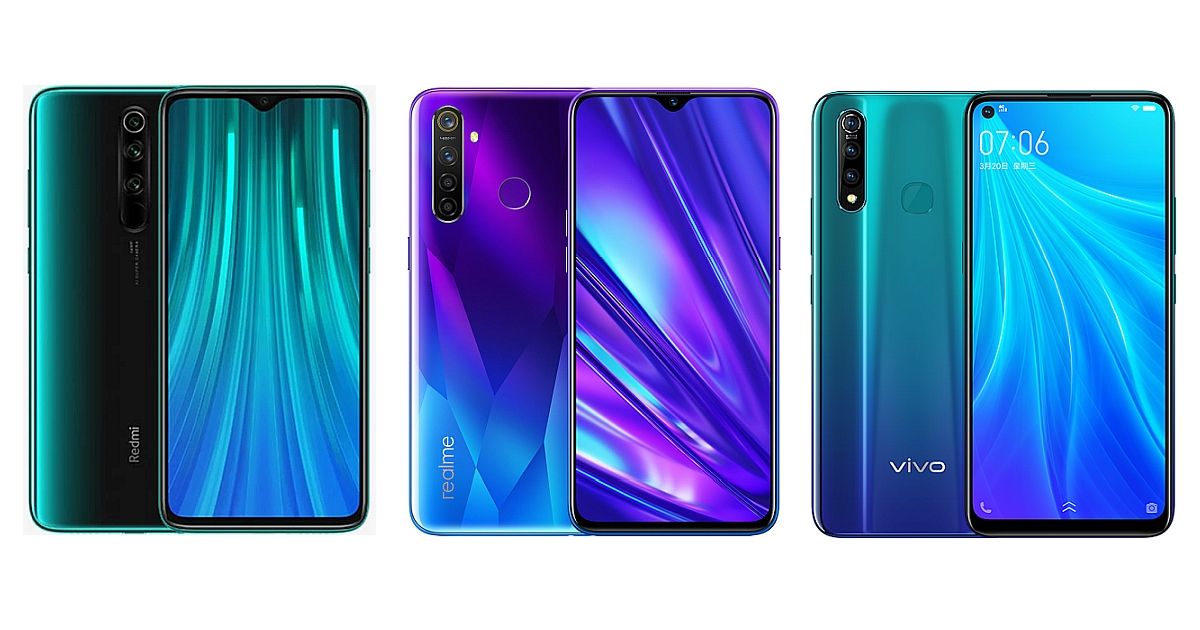 Xiaomi unveiled the Redmi Note 8 Pro in China just last week, meaning its launch in India should take place a couple of months from now. Meanwhile, Realme managed to get ahead of its rival by launching the Realme 5 Pro in India last month. Another phone that made headlines for offering incredible specs at an affordable price tag is the Vivo Z1 Pro (review). Can the Redmi Note 8 Pro entice users despite being late to the scene, or has the competition just become too tough for the Chinese brand? Let's find out.
Redmi Note 8 Pro vs Realme 5 Pro vs Vivo Z1 Pro: Price in India
Based on its Chinese pricing, the 6GB RAM + 64GB storage model of the Redmi Note 8 Pro will likely be priced at INR 14,999 when the phone makes its way to the subcontinent. This is the same price for the same storage configuration in which the Realme 5 Pro was launched. That said, a cheaper storage model with 4GB of RAM and 64GB of memory is also offered at INR 13,999. We then have the Vivo Z1 Pro that retails for INR 14,990 where you get 4GB of RAM with 64GB of storage, while a 6GB RAM + 128GB storage model costs 16,990.
Redmi Note 8 Pro vs Realme 5 Pro vs Vivo Z1 Pro: Design, Display
The Note 8 Pro is the only device here to offer a glass back panel. Both its front and rear panels get Gorilla Glass 5 protection. The Realme 5 Pro's display, on the other hand, gets Gorilla Glass 3+ protection. The Vivo Z1 Pro doesn't seem to feature any such protection rating over its display.
The most visible difference among these phones is with their selfie cameras. While both the Redmi and Realme smartphones offer dewdrop notches for their front cameras, the Vivo handset makes use of a punch-hole design. Which design is better is a subjective matter since both of these take up roughly the same surface area.
Redmi Note 8 Pro vs Realme 5 Pro vs Vivo Z1 Pro: Performance, Software
The Redmi Note 8 Pro comes with the new MediaTek Helio G90T that is built on the rather old and less efficient 12nm process. Both the other phones, meanwhile, sport Snapdragon 712 chipsets that are built on the 10nm process. On-paper, and based on early benchmark results, the Helio G90T has the potential to perform significantly better than the Snapdragon 712 despite being manufactured on a less efficient process. We cant make any definitive calls just yet as we haven't tested out this chipset for ourselves.
As for software, all three phones come with Android 9 Pie with their own customs skins slapped on top. Both Xiaomi's MIUI 10 and Realme ColorOS 6 have come a long way and offer refined interfaces. As for Vivo's Funtouch 9, we regard this as one of the worst Android skins to be offered by a mainstream smartphone brand.
Redmi Note 8 Pro vs Realme 5 Pro vs Vivo Z1 Pro: Camera
If you are a selfie fanatic, then the Vivo Z1 Pro is likely to satisfy your itch with its 32MP front-facing sensor. We then have the Note 8 Pro that offers a 20MP selfie shooter. Then comes the Realme 5 Pro with its 16MP front camera.
Rear photography is an entirely different ball game with both the Note 8 Pro and Realme 5 Pro offering quad rear cameras while the Z1 Pro only offers three. Xiaomi takes this a step further by being the first to offer a 64MP sensor on its smartphone. This is paired with an 8MP ultrawide sensor, 2MP macro camera, and a 2MP depth sensor. The only aspect different about the Realme 5's quad rear camera array is the use of a 48MP primary camera. The Vivo Z1 Pro takes the back seat here with its 16MP primary camera that is paired with an 8MP ultrawide camera and a 2MP depth sensor.
Redmi Note 8 Pro vs Realme 5 Pro vs Vivo Z1 Pro: Battery Life
The Vivo Z1 Pro manages to pull ahead in the battery life showdown with its 5000mAh battery that supports 18W fast charging. Unfortunately, this phone commits the cardinal sin of offering a microUSB charging port while its competitors have moved on to USB Type-C. With that into consideration, the 4500mAh battery of the Redmi Note 8 Pro that supports 18W fast charging is a better overall package. The Realme 5 Pro isn't too far behind with its 4035mAh battery that supports 20W VOOC 3.0 fast charging tech.
Redmi Note 8 Pro vs Realme 5 Pro vs Vivo Z1 Pro: Conclusion
From what we can gather so far, the Redmi Note 8 Pro certainly has what it takes to be one of the most feature-packed mid-range smartphone priced under 15k. We are excited to see just how well the Helio G90T and 64MP rear camera perform in daily use. That said, if you are in the market for a worthwhile mid-ranger and cannot wait a few months for the launch of Xiaomi's offering, then the Realme 5 Pro is indeed one of the best phones you can find right now. As for the Vivo Z1 Pro, it is another mediocre handset that struggles to justify its price tag considering how many compromises one must make for a handful of its standout features.